"One of the best things has been strategically replacing other systems. It's allowed us to take a step back and focus on what else we need to do, non-software speaking."
The Company
Funding Strategies is a capital market corporate advisory firm providing financial services to SMBs seeking capital for growth and expansion as well as larger businesses and individuals wanting to invest. Specialising in resources, technology, financial services, and property, the Funding Strategies team of 9 is built on the foundations of integrity, ethics, and establishing long-term relationships with investors and investees.
Managing Director, Dr Mark Rainbird, and Office Manager, Birgit Rainbird, founded Funding Strategies in 2012. "I love the variety. One day we'll be working with a high net worth investor from Taiwan and the next, a pharmaceutical company deal in Melbourne," Mark said, "We like to help people, and it's nice when can do that and see the progress they make with their investments."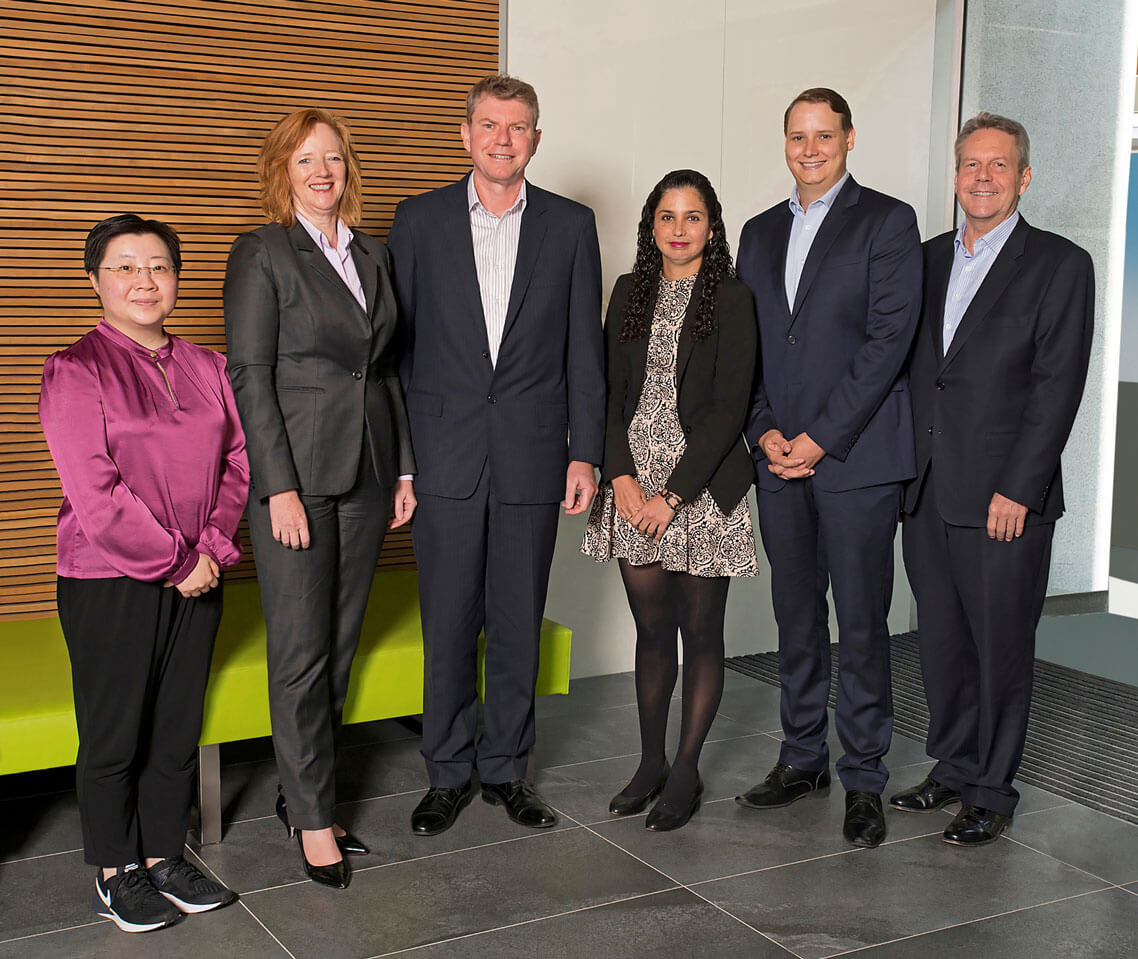 "A few of the Funding Strategies team members. From left to right: Flora Mok, Birgit Rainbird, Dr Mark Rainbird, Eugenia Arrarte, Stephen Varty, and Ken Freer
The Challenge
Up until 2015, the Funding Strategies team were using spreadsheets to track customer data, including each client's interested parties. They used Vision6 for email marketing, and had attempted implementing a couple of different CRMs. "Essentially we were managing each client using spreadsheets and often, we would have one investor looking at multiple investment opportunities. This was really messy to track," said Mark. This disconnect made employee to customer communication difficult. Mark continued, "We would be in meetings with investors and because the information was scattered across multiple sheets, we didn't have a good visual of everything they were interested in."
The Funding Strategies team had accrued over 30,000 leads. As such, a key requirement in deciding on a CRM was an integration with an email marketing program. Without that, it would be difficult to transfer and eventually make use of those leads.
In the early days of business, Funding Strategies also struggled with tracking potential clients. Collecting them in spreadsheet made it difficult to nurture the acquired leads until a sales person could get to them. This made it difficult to convert them and impacted overall sales. "Finding a CRM was also an opportunity to rationalise systems, become more efficient and manage our costs," said Birgit.
The Solution
The biggest challenge for Funding Strategies was finding a solution that integrated with an email marketing system so they could access and act on the leads stored in the application. "When we found out we'd be able to integrate it with Zoho One, it made the decision pretty quick and easy," said Birgit. With the help of a Zoho Partner, Brian Wolstenholme from IWT Consulting, the Funding Strategies team customised Zoho One to their liking, including using Zoho Campaigns instead of Vision6.
The fact that Zoho One was flexible and had customised reporting that could work with the modifications they were making was crucial to the Funding Strategies team. "We customised the system because it didn't do exactly what we needed it to do out of the box," said Birgit. Because of the way the business works, in Zoho CRM, they needed two clients for every deal, the investor and then the investee—or as the team calls them, "matters" they're engaged by. "Within the CRM we actually had to create another entity which is then linked to a contact [investor]. We can create an investment and now can track those alongside the investor and the matter, which are the clients," said Mark.
From there, the investment data is tracked through Zoho Analytics where they have customised a dashboard to show their clients, the investor and investment count, probable investments and a funnel for each matter. "We didn't have any of this functionality before Zoho. It's allowed us to run many more matters simultaneously, with additional team members. Essentially we can run 20 matters at a time. Anyone from the team can log in and get an update. We also give our clients access to Analytics so they can see the basic dashboard. This helps us with client reporting," Mark said.
In the Zoho CRM, the team uses notes in the contact module to track interest and send relevant and personalised emails to each client, which has provided a much better experience for their team and clients. "Because all matters are linked with the investors contact record, now when we get them on the phone we can have a general chat about everything they're interested in and record it in the CRM," said Mark. Similarly, when a potential client approaches Funding Strategies and chooses not to proceed at the time, but comes back six months later, they have that initial interest tracked in the system. Additionally, when an investee approaches them, they can find investors who are interested in that specific opportunity much quicker because of the records kept in the system. "It's about having all that history at our fingertips. We can quickly look them up and view all the relevant records. It doesn't matter who wrote it, it's visible. It's about finding the right information much quicker, which helps us better serve all our contacts," added Birgit.
When Funding Strategies made the move to Zoho One, the plan was to use as many apps as possible. Instead of Vision6, they now use to Zoho Campaigns to send emails to leads and clients. "One of the best things has been strategically replacing other systems. It's allowed us to take a step back and focus on what else we need to do, non-software speaking," said Birgit. In the CRM, they can filter records based on entries to create lists of people with similar interests and then target them with an email campaign in Zoho Campaigns. From a marketing perspective, Funding Strategies also uses Zoho Social, enabling them to post updates to social media such as Facebook, LinkedIn, Instagram and Twitter with ease.
While replacing old systems, Funding Strategies started using Zoho Sales IQ to track website visitors and offer a website chat facility. These visitors are sent to the CRM and placed into a lead nurturing funnel. The team now also use Zoho Meeting for internal and external virtual meetings and because some of the team often work from home and will continue to use this going forward.
After outgrowing spreadsheets and reviewing internal processes, Funding Strategies found a solution in Zoho One and replaced their old systems with a fully integrated software solution, with some of it purpose-built for their needs.
Benefits and ROI
"We love it and would never go back to pre-Zoho times." Since joining, Funding Strategies have found many benefits in using Zoho One.
The biggest and immediate benefit being the transition from spreadsheets to a fully-functioning system set up to track and nurture their leads and clients. "Rather than having multiple things that are not connected, not only do we now have a CRM, but we have it integrated with other applications," said Birgit. Having used spreadsheets in the past, their processes were not automated or intuitive and anything they wanted to track had to be done manually. Now with Zoho One, when they enter leads, a series of tasks are triggered and the sales team are notified so they can nurture the leads effectively. Once the leads become investors or matters, they are tracked closely to ensure each task is done at the right time to maximise customer satisfaction. "We couldn't imagine not using Zoho anymore. We track all of our sales and investments, as well as our clients' potential and actual investors. All of this functionality has been critical for us," said Birgit.
They've also seen improvements in productivity. "We can simultaneously run more clients at any one time, which has made it easier to launch, track, and manage things in general. I'd say we've doubled our efficiency," said Mark, "Now we can run 20 different matters with multiple team members involved and Zoho keeps track of absolutely everything. Previously if we'd run half a dozen, we'd be less efficient."
Another key benefit the team has experienced after using Zoho One for a few years is better customer relationships. By creating links and notes between investors and matters in the CRM, the Funding Strategies team has access to the background behind any call. If they are chatting with an investor, they can easily see what kinds of matters they could be interested in and vice versa. "It's a much better customer experience," said Mark. Zoho One has also improved the way they communicate and report data to their clients. "Before, we struggled with communicating to our clients what we were actually doing," said Mark. Now, in Zoho One, each client has a link to their own Analytics report, where they can view their dashboard with relevant statistics. "Giving our clients the ability to see a summary of our activities has increased transparency and looks more professional. It has helped a lot with our communication," said Mark.
Especially in 2020, due to the COVID-19 pandemic, when Australia experienced a shift to remote work, the systems they had set up provided a lot of relief for Mark and Birgit and the Funding Strategies team. "From a business point of view, we are very lucky to have good systems in place. There are still plenty of opportunities in the market, it's simply a matter of having the information at your fingertips no matter where you are working from." Mark explained, "We did see a temporary drop in business, however our team was able to continue working remotely nurturing our investors, clients and leads and access our systems, so it didn't change much for us." Birgit added, "A lot of our team already worked from home or remotely. Having Zoho One during COVID-19 has really helped manage everyone, we are now easily dealing with any surprise lockdowns the Government may throw at us. For continuity, there is value in having a single system our team can use remotely 24/7."
"When you first start, you're not really aware of everything available to you. From a small and medium business point of view, there are plenty of opportunities to continue growing into the suite. It makes sense to have that one stop shop, rather than acquiring other apps that are external," said Mark, "We just have to spend the time and money integrating them."
Funding Strategies are continuing to experience benefits, as they have since implementation. With Zoho One, they started to nurture leads through a journey and build a strong foundation with each one. This improved communication with customers, led to better relationships, and increased customer satisfaction. They also improved internal and external communication because they can track all the touch points with each customer and leave notes as a communication history for themselves and other team members. This also worked to improve productivity. Instead of the team needing to contact each other for information, they can see everything easily and complete tasks faster, contributing to doubled efficiency. Now coming full circle, because they are more productive, they have more time to foster better customer relationships, continuing the cycle of benefits. And the ability for them to expand their use of apps makes this cycle almost exponential.
Looking forward
Before Zoho, the Funding Strategies team was in search for a solution to manage their operations. The main goal was to find a CRM system that integrated an email marketing program, where their leads were stored. They have achieved that and much more with Zoho One. "It has been a huge opportunity to rationalise systems and build out our own integrated suite that suited our needs," said Birgit. "We wouldn't go back to pre-Zoho times."
While the team uses Zoho Analytics to track data and create dashboards for clients to see, they would like to start using it even more. They also have plans to improve automation within the CRM. "Now the goal is to improve reporting and building workflows. If we can do it, we'll probably grow another 20% because we'll actually have time to spare on new clients." said Mark.
Funding Strategies plans to start using Zoho Projects to manage their projects and Zoho Assist to provide remote support to their team members. Birgit is considering moving away from MYOB to Zoho Books and possibly the rest of the Finance suite for their finances.
"As we get to know Zoho, and with the help of [our Zoho Partner] Brian, we are keen to use more and more of the other apps in the suite," Mark said, "It's a business in a box."