Folders in Zoho Mail
Table of Contents
Using Folders
 Default Folders
Folders help you to organize your email in an efficient way. You can right click on the folders for the context menu with respect to the folder. The small triangle in the left of a folder name indicates subfolders to the folder. You can expland the folder by clicking on the triangle. 


The following are the default folders in the Zoho mailbox.
Inbox – Folder where the mails are received.
Drafts – Folder where the draft mails are saved.
Sent –Folder where the sent items are saved.
Spam –Among the mails received, the detected Spam mails are moved to this folder by default. On deletion from Spam folder, the contents get deleted permanently. They are not moved to Trash.
Trash –Mails deleted from any folder (other than Spam) are moved here before permanent deletion.
 Special Folders
Zoho Mail has the following special folders.
Templates – Folder where the template mails are saved.
Outbox – If Outbox is enabled, mails are stored in this folder for the defined time period before being sent from the mailbox.
Archive Folders – Whenever you archive a mail, the mail is moved to archive and the parent folder structure is replicated under Archive Folder.
Note:
The default folders and special folders cannot be deleted or renamed.
 Folder Statistics
When you click on a folder, you can view the Folder related statistics in the Preview pane, if you have chosen the three-pane view as default view for your account. You will be able to see the number of unread emails in the folder, the details of the most recent email received in the folder, details of conditions set in the filter that move the emails here. Additionally, you can view the number of emails with attachments.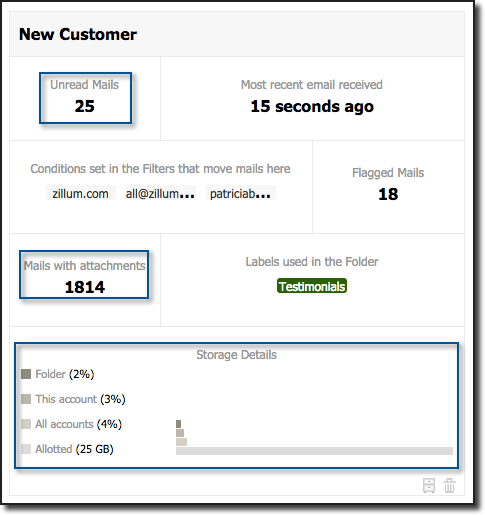 Further to these details, you can view the details of the storage occupied by the folder and the percentage of storage it occupies relative to your accounts allotted storage.
 Folder Details:
The collective statistics of all the folders can be viewed from Folder Details. The stats include the details like the total number of emails in the folder, the size of the folder, number of archived emails and so on.
Steps to view the Folder Details: 
Log in to www.zoho.com/mail
Click Settings >> Mail >> Archive Options

Select the link View Folder Details in the top
The dialog displays the statistics pertaining to all the folders.
 
 Folder Sorting
By default, the folders are arranged in the order they are created. You can sort the folders alphabetically or use drag and drop to rearrange them to your preferred order. Click here to know how to arrange folders alphabetically.