KPIs for measuring your digital transformation project
KPIs for measuring your digital transformation project
Last Updated: August 24, 2020
4.5K Views
5 Min Read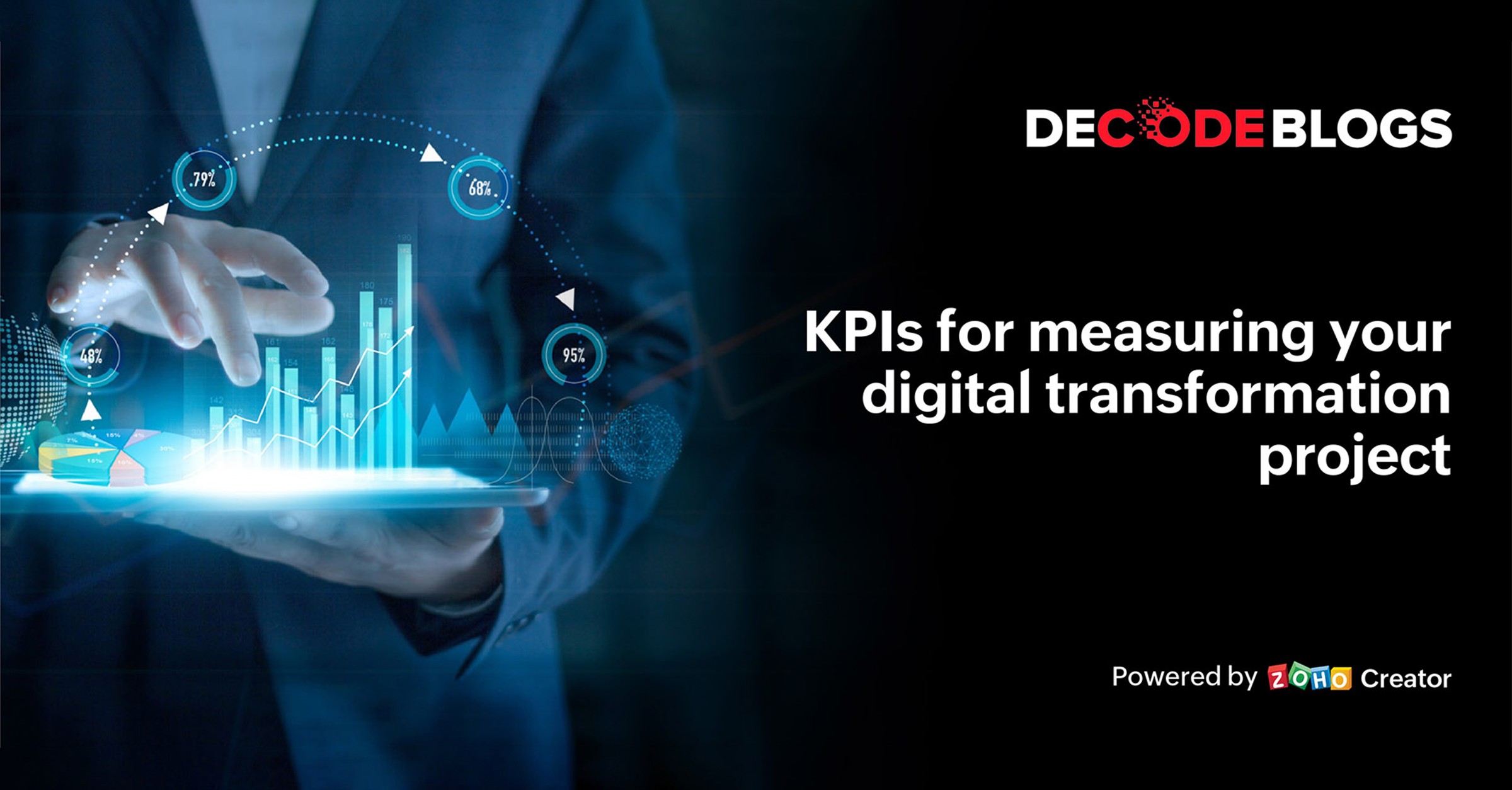 In 2018, about 89% of companies were already adopting or planning digital transformation strategies for their business growth. And while two years ago this transformation might have been forward-thinking, the current pandemic has made it business-critical for staying relevant under new market conditions.
From managing external stakeholders to aligning internal teams, businesses are re-evaluating their entire tech stack, and moving on to smarter, more capable technologies. This is not just to enable smooth operations while remote working, but to also ensure business growth in the future.
And while most businesses get the strategy right and initiate the processes, only 7% of companies are able to fully implement their digital-first approach and make it to the maintenance phase.
Why do some digital transformation projects fail?
The most crucial aspect of achieving your desired ROI is setting up the right benchmarks or KPIs—and it's also where most businesses fall short.
In fact, as per McKinsey's Digital Quotient Analysis, only 15% of companies are able to quantify the impact of their digital initiatives. While this stat is from a 2015 report, the current state of setting goals and measuring impact has not vastly improved since then.
Without setting goals, mapping out achievements becomes impossible. This is why KPIs are important. They help businesses pinpoint the exact strategic elements that are falling short of expectations and start optimizing or improving them right away. This is a more efficient way to pivot towards better results, rather than waiting for the entire cycle to end and then investigating what might have gone wrong.
That said, every business has different goals and objectives, so the KPIs for mapping progress will also vary. However, there are certain common headers that you'll need to look at, and some common KPIs within those, which can give you a more holistic view of your digital transformation initiative.
Setting the right KPIs for your digital transformation project
Businesses need KPIs that go beyond the traditional benchmarks of sales figures and financial performance, to accurately judge the ROI from digital transformation. They need to set the parameters that determine the scale of business growth, ease in operations, and the overall productivity of all stakeholders involved. Let's look at the KPIs that we can set to measure digital transformation success on different levels.
KPIs focused on customer experience
Improving customer experience is one of the core goals of almost all digital transformation strategies. Hence, keeping regular tabs on the customer experience being delivered is important for continued success. And this can be broken down into the following KPIs:
1.

Focusing on the user journey
Digital transformation aims at creating more intuitive and streamlined user journeys, to guide your audience towards conversions. Whether that's working or not can be measured by KPIs such as:
User engagement at different digital touchpoints in the user journey

Percentage of conversions attributed to digital channels

Percentage of drop-offs at each stage of the digital user journey
2.

Customer acquisition rate and lifetime value
Traditional KPIs, like website traffic, leads generated, or bounce rates might not give an accurate picture of your user's experience with your business. A more accurate reading of this can be gained through the following KPIs:
Customer acquisition rates

Customer retention rate

Churn rate

Average lifetime value of a customer
For instance, if you see a jump of 5% in your customer retention rate, you can increase your profit from 25-95%, which is much higher than the revenue generated by new customers. But if you're falling behind in these areas, then something might not be right.
KPIs focused on internal processes
With many businesses adopting agile practices, efficient channels for team collaboration and communication become a necessity. And aligning internal processes is even more important in a situation like this, where teams are working remotely.
Here's how you can set the right KPIs to check if your adopted technologies are performing well or not:
1.

Employee productivity
To determine whether the new tools are helping in improving the productivity of the team, businesses need answers to the following questions:
Are employees able to optimize their work hours?

Is the automation of simple tasks providing them with more time for strategic thinking?

Are they able to collaborate and work on their tasks more efficiently than before?
And based on these answers, some of the KPIs to check for this operational productivity can be:
Overall employee performance

Number of tasks being automated

Revenue generated per employee
2.

Adoption metrics
Another major parameter to check for whether you're on the right track when it comes to determining software performance is to have a look at its adoption and usage metrics.
For example, if the idea is to simplify daily operational or marketing tasks for employees, an ideal KPI for this becomes judging how comfortable they are with the given tool. This can be more tangibly broken down into:
Number of employees using particular software

How many are leveraging it efficiently, and utilizing all the features

Total time saved monthly via software usage
KPIs focusing on financial performance
Apart from optimizing productivity and customer experience, it's also crucial to determine whether the newly introduced digital solutions are having a positive impact on generated revenue and increasing your overall profitability. Here are the KPIs that you need to consider:
1.

Generated revenue
To judge the performance of any tool used internally, the KPI should be analyzing its financial output. Ideally, the usage of the tool should effect the revenue generated and indicate a future rise on the growth scale. If the figures state otherwise, then this is the warning signal that businesses need to reconsider this element in their overall strategy.
2.

Rate of innovation
Another crucial KPI to judge the overall performance of your business is tracking growth efficiency and the rate of innovation. This includes analyzing the ROI from technology-related changes in business models, your product offerings, and its subsequent effect on your business revenue.
Bottomline
Every business has its own digital journey. That's why setting KPIs that align with your business goals is crucial. By doing this, businesses can radically improve and optimize many processes along their digital transformation journey, and maximize their gains significantly.
Learn more about Digital Transformation
Rudhra Veena

A business analyst fascinated by the transformative power of technology on business growth. She writes about what businesses can do in a digital world— effectively leveraging software and data.
Leave a Reply
Your email address will not be published. Required fields are marked