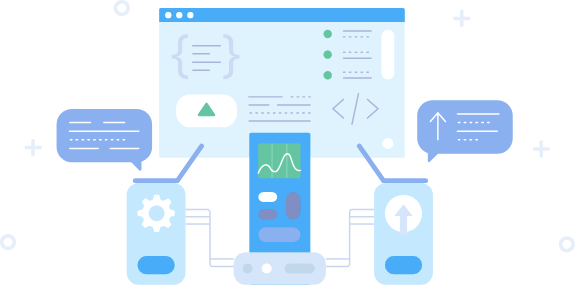 What is agile?
Agile software development is a methodology that focuses on an iterative, incremental, and evolutionary approach, where requirements and solutions evolve through collaboration between self-organizing cross-functional teams.
Agile software development promotes...
Individuals and interactions over processes and tools
Working software over comprehensive documentation
Customer collaboration over contract negotiation
Responding to change over following a plan
How does Zoho Creator help accelerate agile development?
Zoho Creator is a low-code rapid application development platform. Zoho Creator offers agile-oriented features such as:
Accelerated sprints and development process
Agile application development on a low-code platform like Zoho Creator is much faster than traditional agile. Visual development and low-code scripting greatly accelerates sprints, allowing you to deliver application iterations in hours instead of weeks.
Seamless collaboration between stakeholders
Zoho Creator's modular approach to application development allows the Product Owner, Scrum Master, and development team to be on the same page, at all times. This facilitates seamless collaboration between all stakeholders, ensuring all voices are heard.
Zero documentation
Applications built on Creator don't require huge manuals and supporting documentation, so there's no need to spend time creating them. This allows stakeholders to focus on what counts—the application development.
Deep customization
Robust customization options allow you to build applications according to the exact specifications described in user stories, providing more power to your application developers.
Faster time to market without compromising on quality
The need for quality assurance and application testing is minimal with Zoho Creator, as the platform is constantly tested for defects. Your sprints will now be able to deliver high-quality builds in a fraction of the time.
By design, Zoho Creator seamlessly fits into the mold of agile development's core tenets
Agile Software Development on Zoho Creator Empower individual developers
Seamless collaboration between stakeholders
Immediately respond to changing requirements
Rapidly deploy applications
Implementing agile application development on Zoho Creator
Gather

List of problems to be solved
Requirements and user stories
Product backlog items (PBIs)

Build

Applications based on gathered requirements
Drive sprints

Deploy

Applications faster than ever

Iterate & Improve

Iterate for efficiency
Improve deployed applications
Trusted by leading brands worldwide
zomato

Whirlpool

siemens

Samsonite

Saintgbain

Audible
Deliver results. Now.
Deliver the right software to the right customers at the right time with Zoho Creator.
TRY ZOHO CREATOR
Frequently Asked Questions
What's the difference between agile and traditional software development methodologies, like the waterfall model?
The waterfall is a sequential model whereas agile follows an incremental approach to software development. Agile is known for its flexibility in incorporating changes to requirements, whereas the waterfall model is structured and rigid.
What are the different types of agile development methodologies?
Scrum, Kanban, Extreme Programming (XP), Lean Software Development, Feature-driven development (FDD), Crystal, and Dynamic Systems Development Method (DSDM) are some of the different types of agile development methodologies.
What benefits does agile bring?
Agile reduces a product's time to market by delivering frequent incremental product updates. It promotes enhanced collaboration between stakeholders, improves the project's visibility, and increases the team's productivity.
How much faster is agile application development on Zoho Creator?
With Zoho Creator, you can deploy applications 10x faster. Your sprints deliver application iterations in hours instead of weeks.
What features does Zoho Creator offer developers?
Zoho Creator offers a unique drag and drop code snippet IDE. It also offers a sandbox, so you can test your application before deployment, and a schema builder provides an illustration of the logical structure of your applications' database.
Do I need to develop separately for mobile?
Zoho Creator offers a pioneering one-click deploy feature. You develop your applications once, and you can deploy it with one click to the web, Android, and iOS.
Is there a need to develop the application infrastructure?
No. Zoho Creator provides the servers and the databases for your application. They're abstracted away from you, so that you can focus on the logic and functionalities of your applications, instead of spending time on developing the back-end infrastructure. Your applications also scale automatically based on the number of users.
Do I need quality assurance?
The Zoho Creator platform is subject to stringent quality assurance practices, ensuring a low possibility of defects in the applications you develop. Hence, the need for quality assurance is minimal.
Is there a need for full-fledged user interface development?
No. Zoho Creator offers a drag and drop dashboard builder, complete with many widgets for your use. This reduces your development team's workload, and you can extend our prebuilt UI widgets to meet whatever needs you may have.