YouTube Analytics Tool: Unlock Your Channel's Potential
Get powerful insights for your YouTube channel with Zoho Analytics' YouTube analytics tool. Analyze your key metrics, understand your subscribers better using YouTube Analytics, in order to create content that resonates with your target audience . Share your YouTube analytics dashboards and reports with your team to make informed decisions for channel growth.
Sign up in less than 60 seconds
Unlock the Power of Your YouTube Channel with Our Analytics Tool
Leverage our comprehensive YouTube analytics tool to obtain, merge, and evaluate crucial social media metrics, and elevate your YouTube Channel with full-scale insights.
Track your channel performance

Establish a thriving YouTube channel by assessing the performance of your videos. Evaluate important metrics, such as impressions, watch time, and traffic from YouTube search, to determine what strategies are effective and not effective. Utilize these valuable insights to enhance your channel's overall health and growth.

Measure your engagement

Understand how your audience interacts with your videos. Analyze likes, comments, shares, and favorites - all at one place, to know what type of videos your viewers connect with.

Know your audience

Dive deeper into your audience analytics to explore their geographic distribution, age, and gender. Utilize these valuable insights to personalize your content according to your audience's preferences. Discover additional data, including the source of video traffic, the devices used for content viewing, and more, to optimize your content strategy effectively.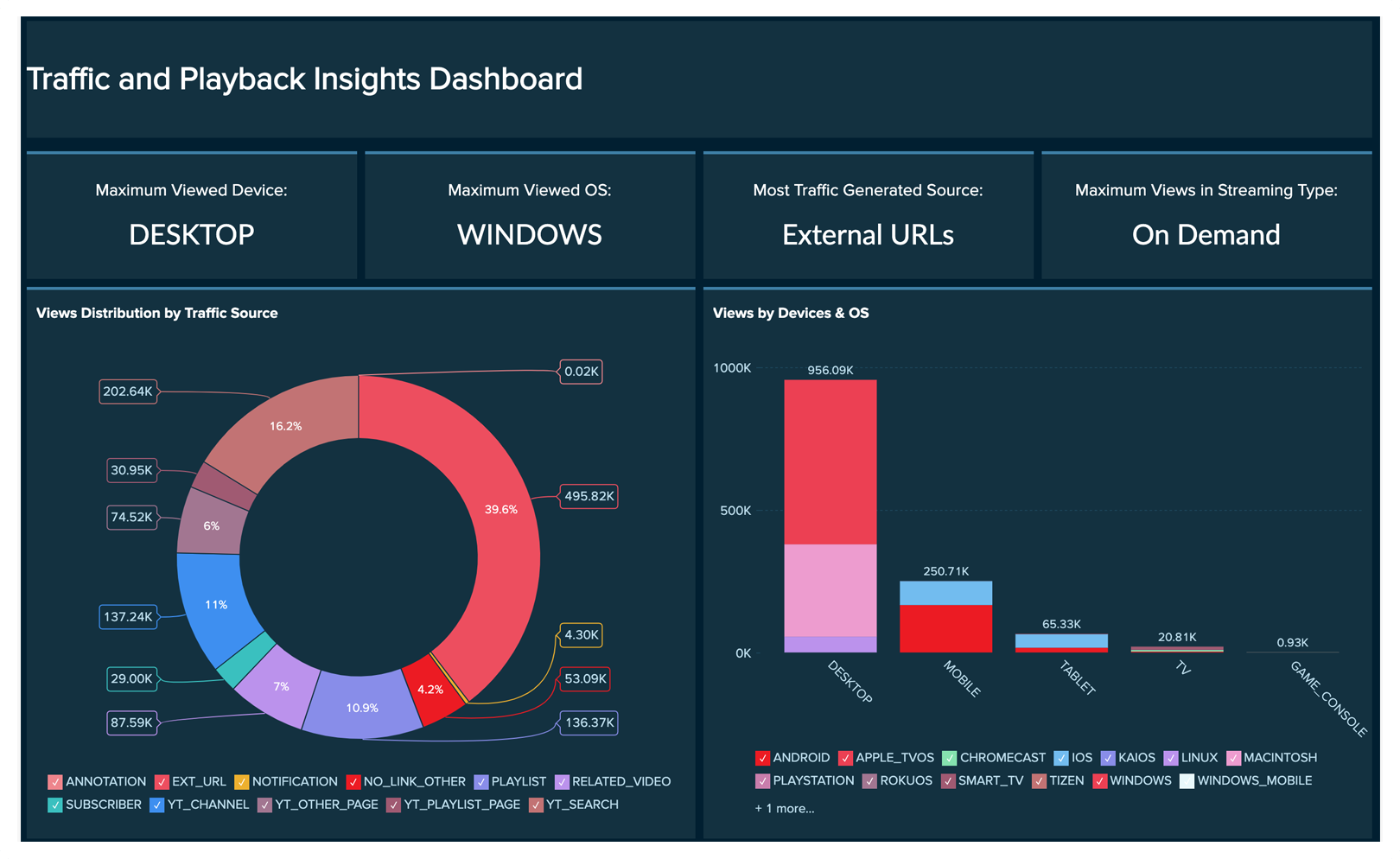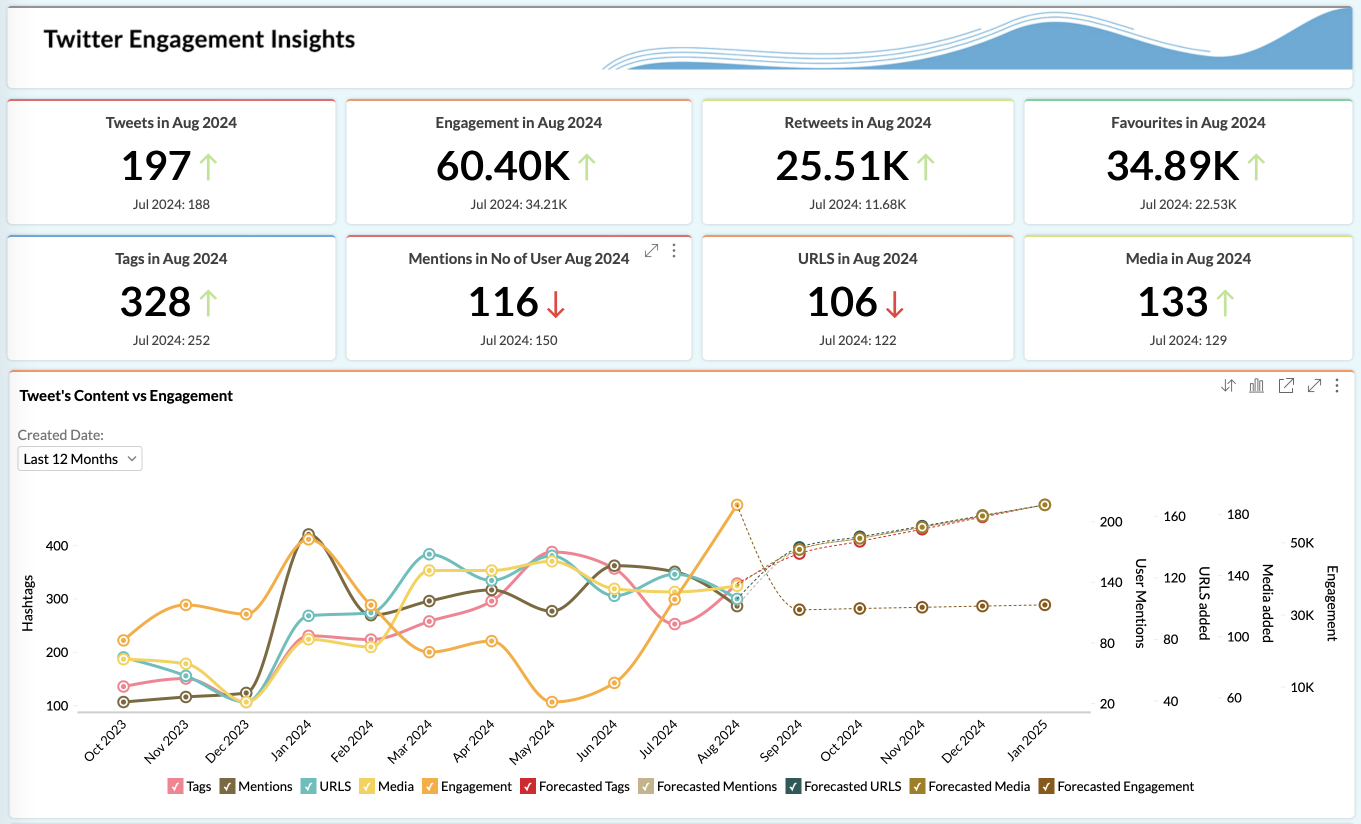 Key features of our YouTube Analytics Software
2 Million Users. 50 Million Visualizations. 1 Analytics Platform.
Collaborative analytics

Develop and analyze reports together with your social media and content marketing teams. Share and embed your visualizations for wider consumption.

Pre-built visualizations

Instantly kickstart your analytics journey with over 75 pre-built reports and YouTube dashboards on your channel's performance.

Email, export, and print reports

Export or print reports for offline access. Schedule your YouTube dashboards and reports to be emailed automatically to the given recipients.

Data blending

Combine data from different sources and create cross-functional reports. Gain insights that wouldn't be possible with data from multiple locations.

Smart analytical assistant

Type out your questions, and see Zia, our AI-powered assistant, come up with suitable answers in the form of reports and KPI widgets.

Embedded analytics

Get a powerful BI, reporting, and embedded analytics solution in your own brand name, embedded within your product/application or setup as a standalone portal.
Hear it from our customers
"My company uses it to connect different systems that otherwise don't talk to each other. It's extremely helpful to be able to take data from multiple sources, dump it all into Zoho, and then draw correlations. It helps us track performance, revenue, and more. You can create user-friendly reports and embed them in other websites. I also like that you can drill down as much as you want and customize it for client-facing apps. "

Analyze your YouTube data today with our YouTube analytics software
Sign up for free
Overview of YouTube Analytics
What is a YouTube analytics tool?
YouTube analytics tool helps content creators and marketers analyze and understand the performance of their YouTube channels and videos and make data-driven decisions to improve their YouTube presence.They often offer more advanced features and in-depth analytics to gain deeper insights into audience behavior, engagement, and video optimization.
Why you should have a YouTube analytics tool?
A YouTube analytics tool provides you with invaluable insights and data to optimize your YouTube presence and achieve your goals. Here's why having a YouTube analytics tool is crucial:

Channel and Video Metrics:YouTube analytics tools provide detailed metrics on channel-level performance, such as subscriber growth, total views, watch time, audience demographics, and engagement metrics like likes, comments, and shares.
CContent Performance Analysis:YouTube analytics tools offer insights into how individual videos are performing, including their reach, engagement, and audience retention.
Competitor Analysis:YouTube analytics tools often include features to track and compare the performance of competitors' channels and videos.
Revenue and Monetization Analytics:For YouTubers monetizing their channels through the YouTube Partner Program or other methods, analytics tools provide insights into revenue generated, ad performance, monetization metrics, and potential earning opportunities.
What are the key metrics to track your YouTube performance?
When it comes to evaluating your YouTube performance, keeping a close eye on specific metrics is essential. By monitoring these key indicators, you can gain valuable insights into your channel's growth, audience engagement, and overall success. Here are the crucial metrics you should track:

Views
Quarter-over-quarter growth
Watch Time
Audience Retention
Engagement Metrics
Click-Through Rate (CTR)
Subscriber Growth
Traffic Sources
Revenue Metrics
Conversion Metrics
Demographics
What are the key features to consider for a YouTube analytics tool?
When choosing a YouTube analytics tool, it's crucial to consider the features that will provide you with the most comprehensive insights and help you make data-driven decisions. Here are the key features to look for:

Comprehensive Metrics
Customizable Reports and Dashboards
Competitor Analysis
Trend Analysis and Keyword Research
Integration with Other Platforms
Collaboration and Sharing
Real-Time Data Synchronization
Why choose Zoho Analytics for your YouTube analytics needs?
Here are few compelling reasons why you should consider using Zoho Analytics:

Data blending & integration
Unified Social Media Analytics
AI-powered advanced analytics capabilities
Collaboration & Sharing
Customizable reporting
-html5-dom-document-internal-cdata]]>