LinkedIn Analytics Tool for Pages & Ads Reporting
LinkedIn Analytics tool helps you optimize content performance by utilizing LinkedIn Ads reporting and analytics to quickly measure outcomes and gain valuable insights. Make data-driven decisions by tracking key KPIs like traffic, engagement, follower growth, CTR, CPC, and much more. Effortlessly share your LinkedIn performance reports and dashboards within your marketing team, keeping everybody on the same page.
Sign up in less than 60 seconds
Uncover hidden insights using LinkedIn Page and Ads Reporting
Get, combine, and analyze all your critical LinkedIn metrics at one place and boost your ROI with end-to-end insights.
Maximize your ROI

Our LinkedIn Analytics Tool helps you optimize your ad campaigns and boost your ROI by providing insights on lead generation and conversion at both the campaign and account level. Analyze your performance metrics, compare your budget vs ad spending, and optimize your marketing spend efficiently.

Analyze your Ad creatives

With LinkedIn Ads Analytics, you can effectively measure the performance of your ad creatives by tracking essential metrics such as click-through rates (CTR), impressions, engagement rates, and followers added. Our comprehensive reporting allows you to analyze your data and refine your ad creatives for better results.

Track your Ad Campaign performance

Understand how your audience interact with your Ads and create targeted content that will resonate with them. Discover what content works and what doesn't by tracking your likes, comments, and shares - all in one place.

Measure your page engagement

Track reach, engagement, and impact to understand what types of posts resonate with your audience and when to post them for maximum impact. Visualize your data as LinkedIn analytics dashboards and make data-driven decisions to optimize your content strategy and drive engagement.

Understand your audience

Dive deeper and analyze the geographic distribution, language and age of your audience to tailor your content accordingly. Create content that will resonate well with your target audience.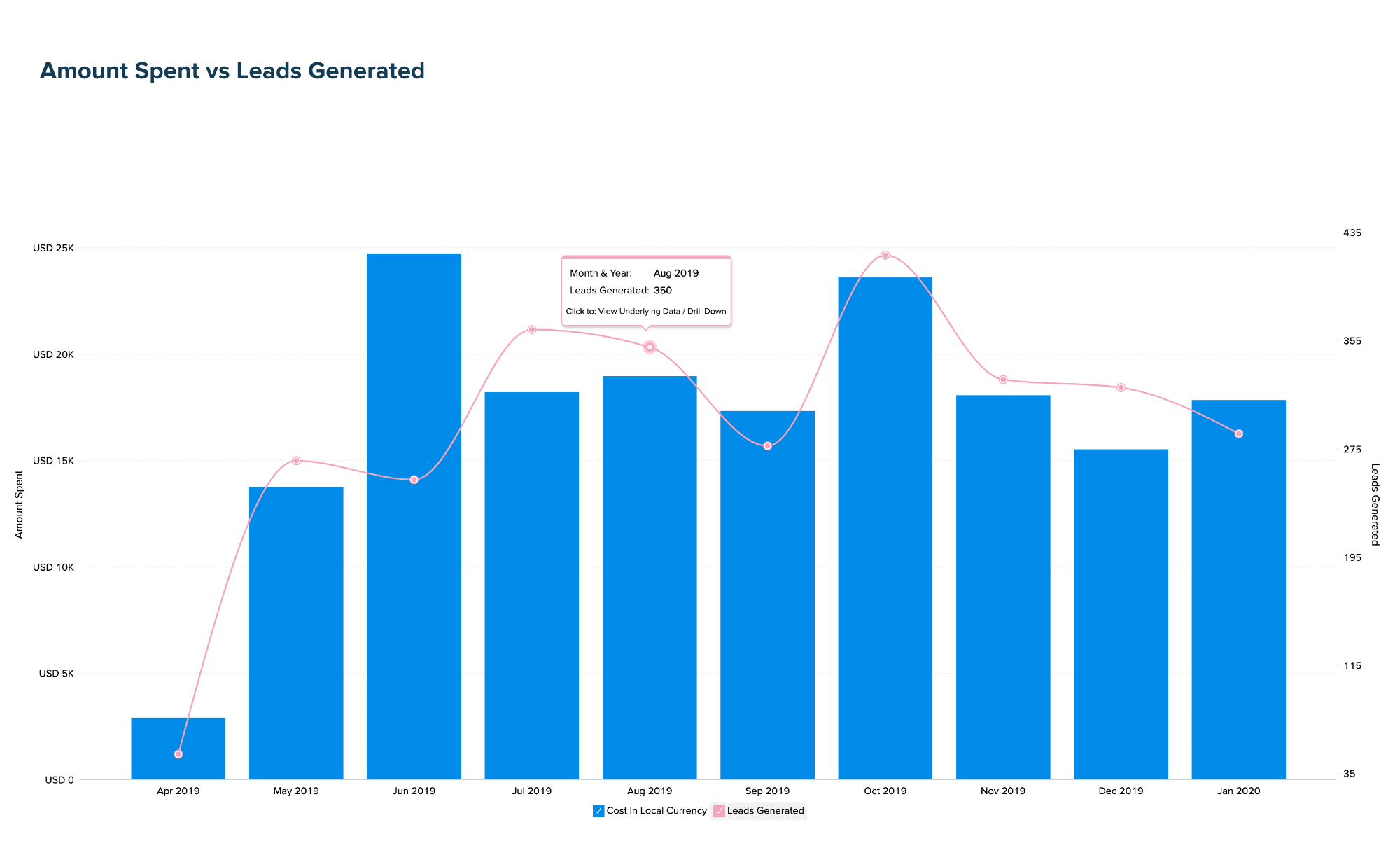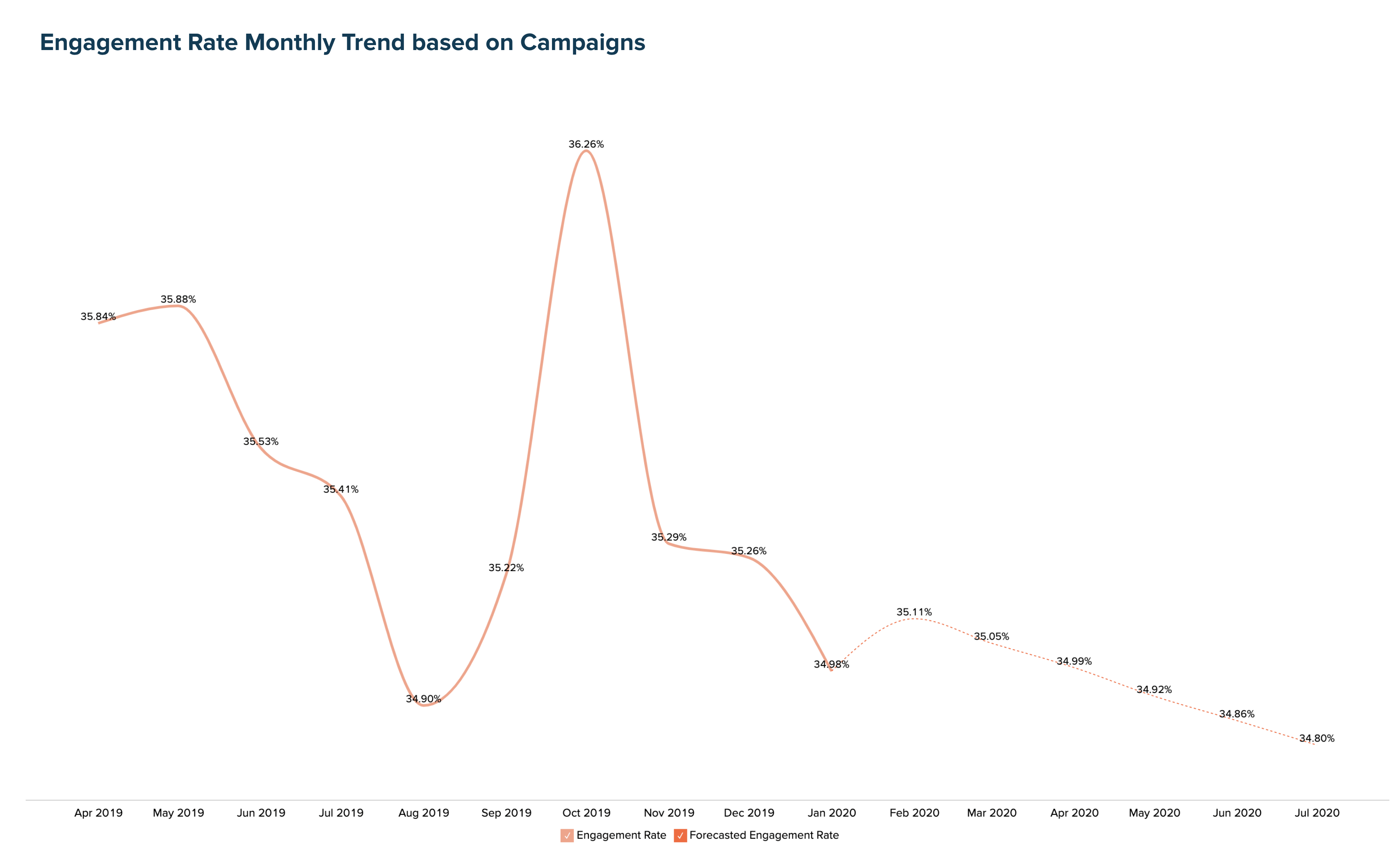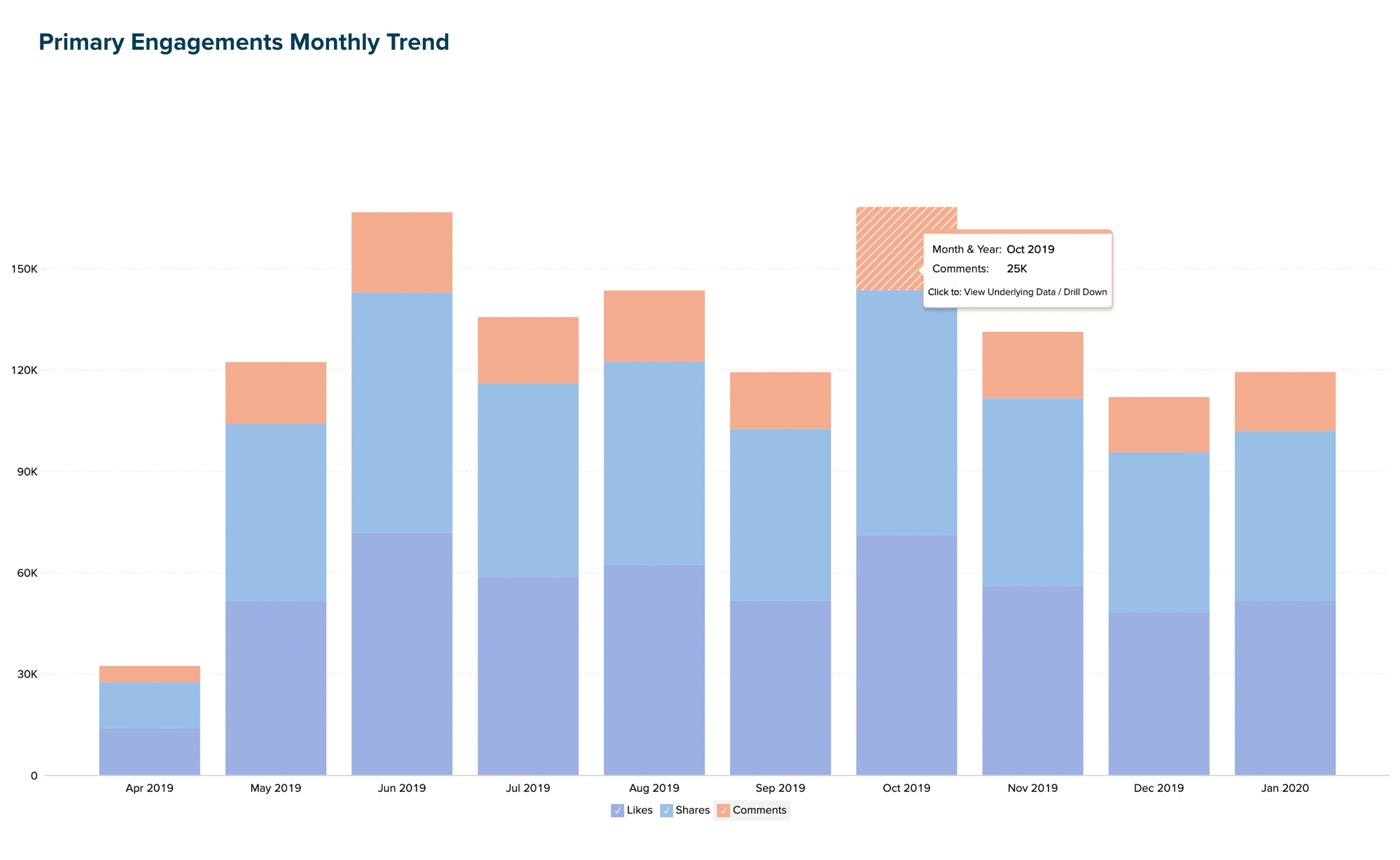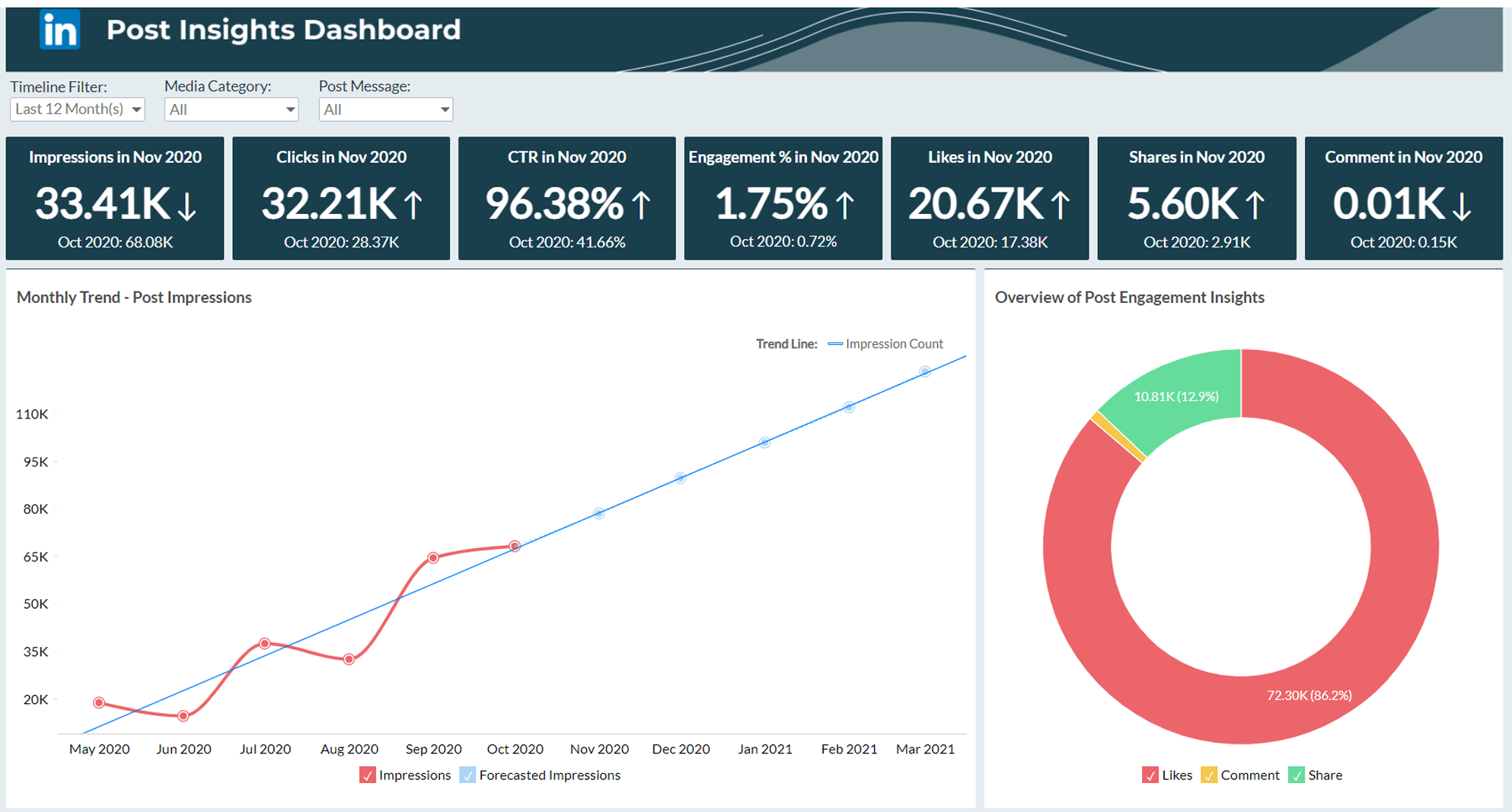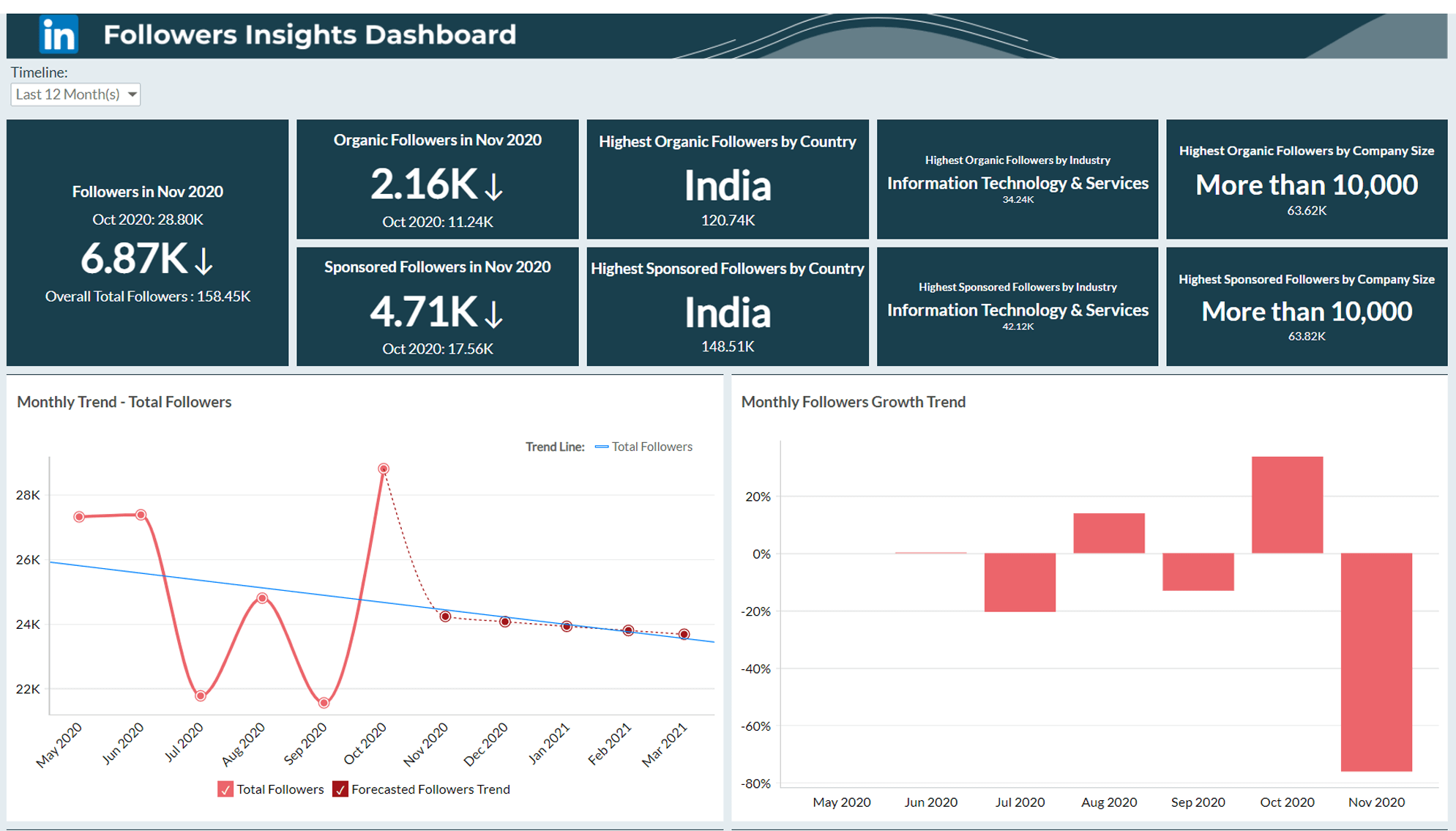 Key features of LinkedIn analytics tool
2 Million Users. 50 Million Visualizations. 1 Analytics Platform.
Collaborative analytics

Develop & analyze reports together with your digital marketing team. Share and embed your visualizations for wider consumption.

Pre-built visualizations

Instantly kick start your analytics journey with over 75 pre-built reports and dashboards on your Ad Campaigns' performance.

Email, export and print reports

Export or print reports for offline access. Schedule your reports and dashboards to be emailed automatically to the given recipients.

Data blending

Combine data from different sources with LinkedIn Ads data for create cross-functional reports. Gain end-to-end insights across all business processes.

Smart analytical assistant

Type out your questions, and see Zia, our AI-powered assistant, come up with suitable answers in the form of reports and KPI widgets.

Embedded analytics

Get a powerful reporting and analytics solution in your own brand name, embedded within your product/application or setup as a standalone portal.
Hear it from our customers
"Zoho Analytics is an excellent tool for tracking and optimizing campaigns. The scheduled mailers let us send weekly reports to all our clients in an automated fashion. I would recommend it to any mid-size company which deals with data."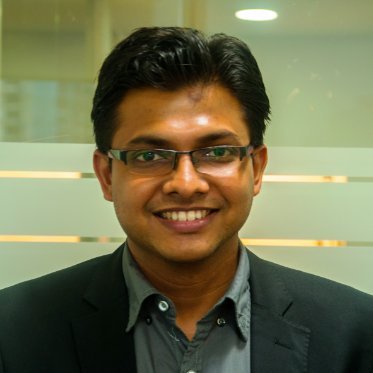 Anshuk Aggarwal
Co-Founder, Xplanck
Overview of LinkedIn analytics tools
What are linkedin analytics tools?
LinkedIn Analytics tool is used in collection and analysis of data related to your LinkedIn activities. It offers insights into various aspects of your LinkedIn profile, content, and audience engagement. This data-driven approach helps individuals and businesses in measuring their performance effectiveness and make informed decisions about their content strategy.
What are the benefits of using a linkedin analytics tool?
Using a LinkedIn analytics tool offers several benefits for individuals and businesses looking to utilize the platform. Here are some key advantages:

Content Strategy Optimization
Audience Understanding
Professional Branding
Social Selling
Strategic Decision-Making
What are the key linkedin metrics to monitor performance?
Employing a sales analytics tool offers businesses the advantage of comprehending their present sales performance while also predicting future trends. Such insights enable businesses to pinpoint key areas for focus and facilitate data-driven decision making. Ultimately, the use of sales analytics contributes to the enhancement of your overall business performance.

Follower Demographics
Follower Growth
Impressions
Engagement Rate
Click-through Rate (CTR)
Who can use Zoho Analytics' linkedin analytics tool?
Here are different types of users who can utilize our Zoho Analytic's LinkedIn's analytics reporting:

Individual Business Users
Companies and Organizations
Content Creators
Advertisers
Sales Professionals
Why choose Zoho Analytics for your linkedin analytics and reporting needs?
Zoho Analytics allows users to create reports, dashboards, and analyze linkedln data. Here are few important capabilities that you can leverage as a linkedln analytics user:

Data Integration
Data Visualization
Predictive Analytics
Scenario Analysis
Collaboration