In-depth email marketing analytics for Zoho Campaigns.
Visually analyze your Zoho Campaigns data. Create insightful reports and dashboards to track your critical email marketing metrics. Share your reports and dashboards with colleagues and clients.
Sign up in less than 60 seconds
Analyze your campaign performance
Analyze your campaign performance

Track and analyze critical email marketing metrics like open rate, click rate, bounce rate, etc. Get real-time insights on your campaign performance at your fingertips and optimize your email content to increase your engagement.

Subscriber Analytics

Analyze and discover the exact geographical locations of recipients who open your campaigns, along with open dates and times. Find out the best time to send out campaigns and customize the content according to your target location.

Data blending

Track everything from clicks to purchases using data blending. Combine data from CRM and Campaigns to measure the conversion rates and find out which customers made a purchase after opening your campaign, and how much money your campaign has earned.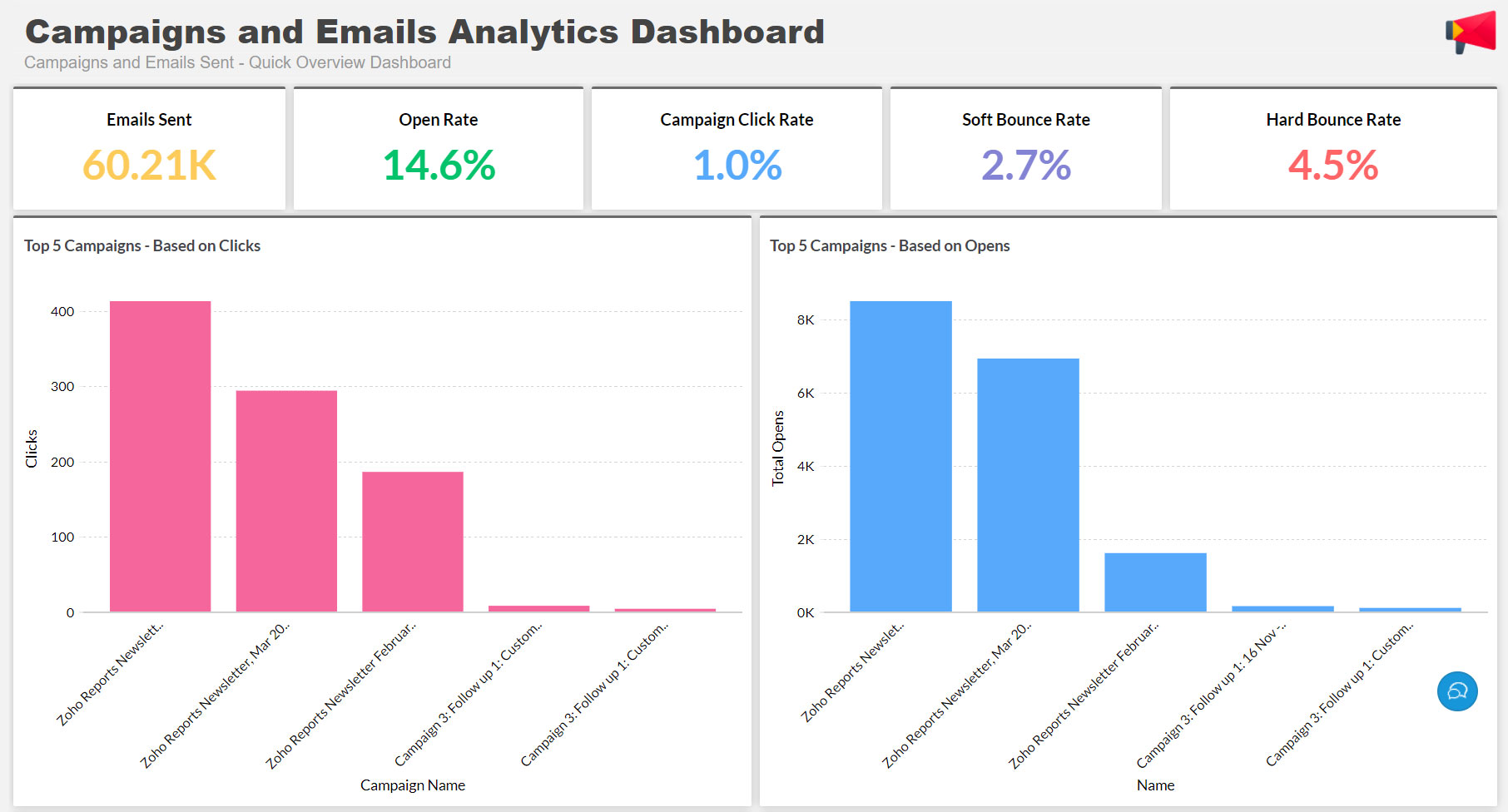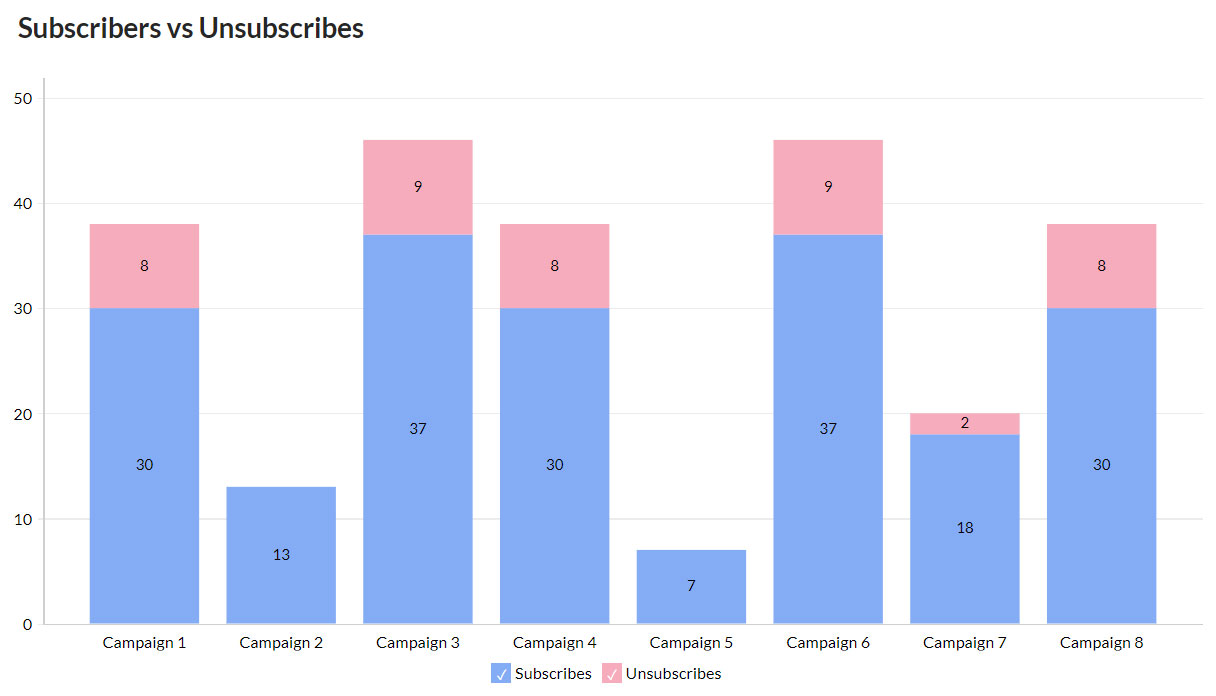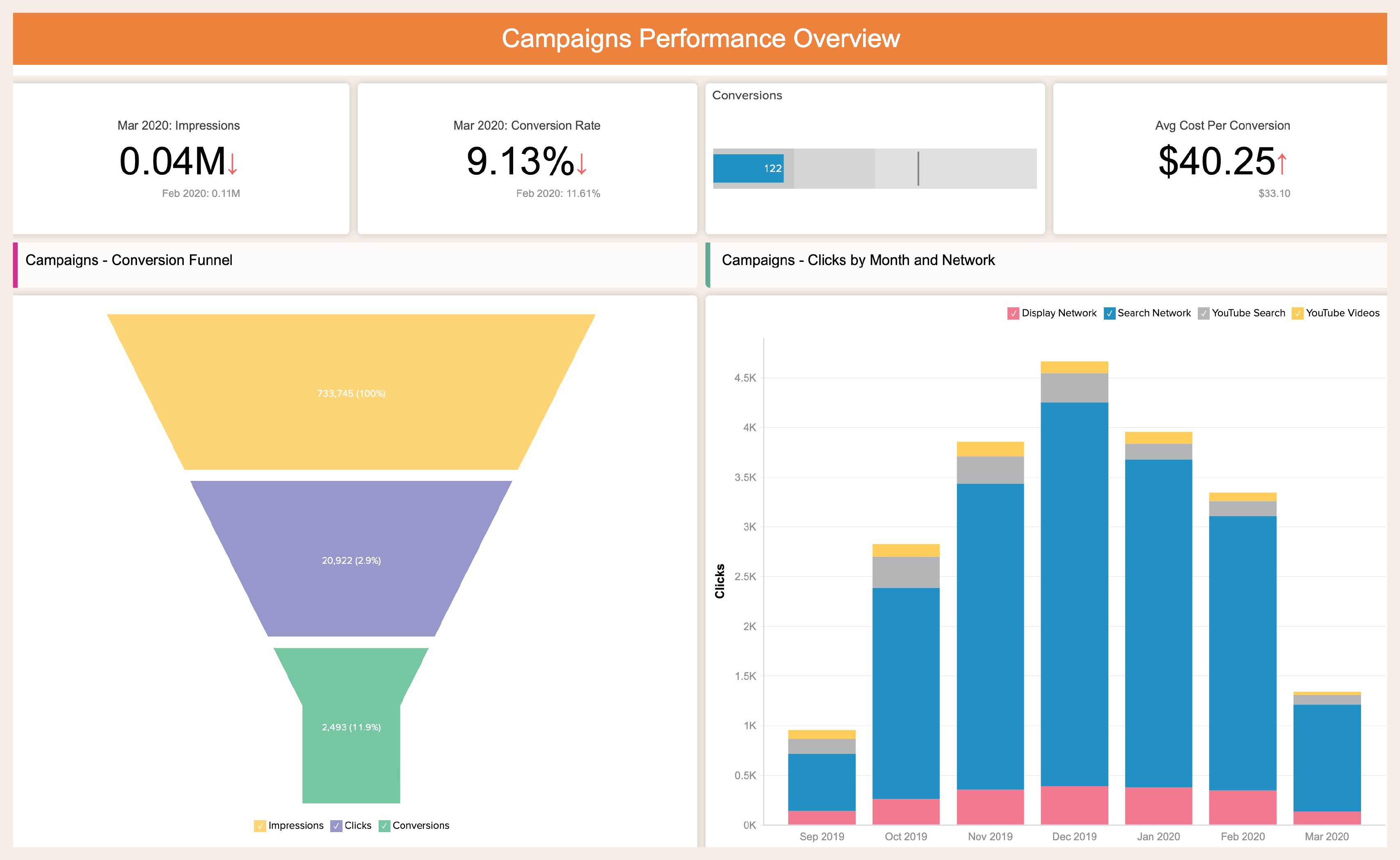 Uncover hidden insights from your marketing data
Zoho Analytics enables you to easily analyze your email campaign data present in Zoho Campaigns. It lets you slice and dice your Zoho Campaigns data the way you like and create reports & dashboards. You can analyze your open rates and click rates, create conversion funnels, track your overall email marketing campaigns' performance, and do much more.
Seamless integration

Access a full-fledged BI tool seamlessly from within your Zoho Campaigns account. Your Zoho Campaigns data is synced automatically to Zoho Analytics.

Ready-made visualizations

Get access to 75+ hand-picked, ready-made reports and dashboards that you're sure to love and use on a daily, weekly, or monthly basis.

Data blending

Combine data from different sources for cross functional analysis. For example, blend your marketing spend data in excel files and sales data in CRM to create a spend vs sales report.

Smart analytical assistant

Type out your questions, and see Zia, our AI-powered assistant, come up with suitable answers in the form of reports and KPI widgets.

Embedded analytics

Get a powerful BI, reporting, and analytics solution in your own brand name, embedded within your product/application or set up as a standalone portal.

Email, export, and print reports

Export or print reports for offline access. Schedule your reports and dashboards to be emailed automatically to the given recipients.
"I needed a rigorous way to analyze and display calling data for our B2B Appointment Setting campaigns. Zoho Analytics was the perfect solution to be able to do deep data analysis and show it visually so we could get daily insights for our calling campaigns. By using Zoho Analytics we are able to greatly increase the effectiveness of our campaigns for our clients."
David Kreiger
President Sales Road