Data analytics
for small and medium businesses
Transition to an analytics-driven business with Zoho Analytics
Sign up for free
Why Choose
Zoho Analytics for Small & Medium Business?
1
Insights as a differentiator
Today, data touches every aspect of business and is available in abundance. By making data analytics as priority and investing in Zoho Analytics, you can create and sustain your competitive edge through deeper insights-driven decision-making.
2
Data Democratization
Zoho Analytics' self-service BI & Analytics capabilities are augmented with latest AI and ML technologies such as search-driven conversational analytics, automated insights, predictive and cognitive analytics to ensure that analytics is accessible by all.
3
Unified Business Analytics
Zoho Analytics' built-in business apps connectors provide powerful cross-functional analytics, which help with a 360-degree view of your business. It also enables automatic blending of business apps data along with combining data from other discrete sources too.
4
Economical
Zoho Analytics' licensing and pay-as-you-go pricing have always been simple and transparent. Our cost of BI and Analytics in terms of licensing, implementation, customization, training, and support is the least among our market peers.
SMB Data Analytics using

Zoho Analytics
Data Integration

Zoho Analytics offers 250+ native and live data connectors including Files and Feeds, Cloud Storage, Cloud and Local Databases and Business Applications. Data synchronization happens automatically and can be scheduled at convenience.

Data Preparation

Our advanced, self-service data preparation & management capability enables you to model, cleanse, transform, enrich and catalog data with exceptional quality for further analytics. Data preparation is extensible to data collected from any type of source.

Data Visualisation

Create insightful and interactive reports and dashboards with an easy-to-use and intuitive drag-and-drop interface, choosing from a wide range of visualization options.

Augmented Analytics

Get instant insights using Ask Zia, Zoho's conversational AI assistant. Also Zia Insights offers automated contextual insights through narratives. ML based advanced analytics for prediction, cognitive analytics, and scenario analysis augments the capabilities further.

Collaborative Analytics

With clearly defined roles and access control, users can easily collaborate with fine-grained access controls. Publish or embed reports in business workflows, or set up automated email schedules to deliver reports. Communicate with users through comment threads and facilitate discussion.

Data Storytelling

Create immersive presentations with Zoho Show by embedding live, interactive reports and dashboards. Set up purpose-built analytics portal or micro-sites for easy consumption and exploration by business users.

Mobile BI

Access business critical insights easily on-the-move with our immersive, interactive and powerful mobile Business Intelligence(BI) apps, native to both android and iOS platforms.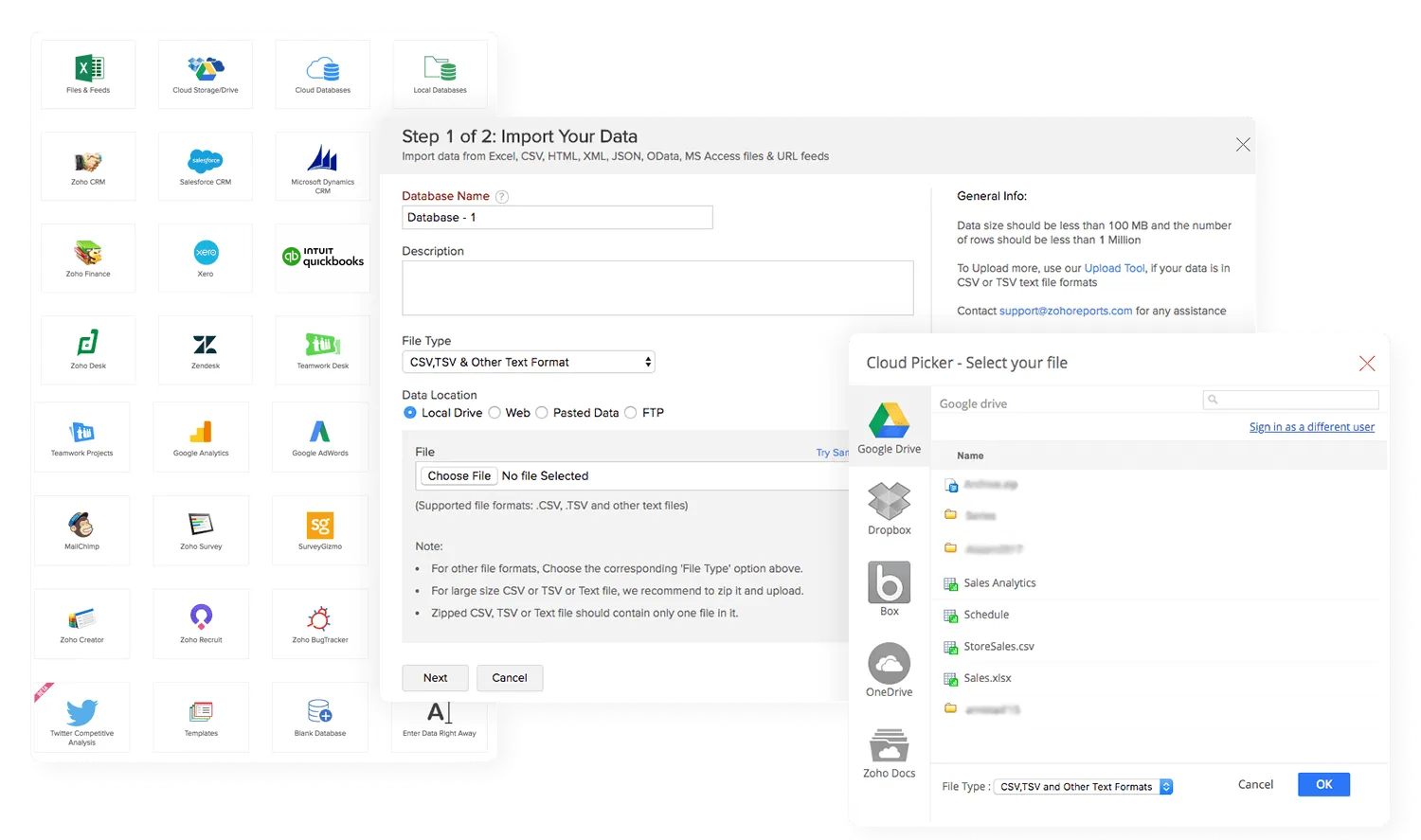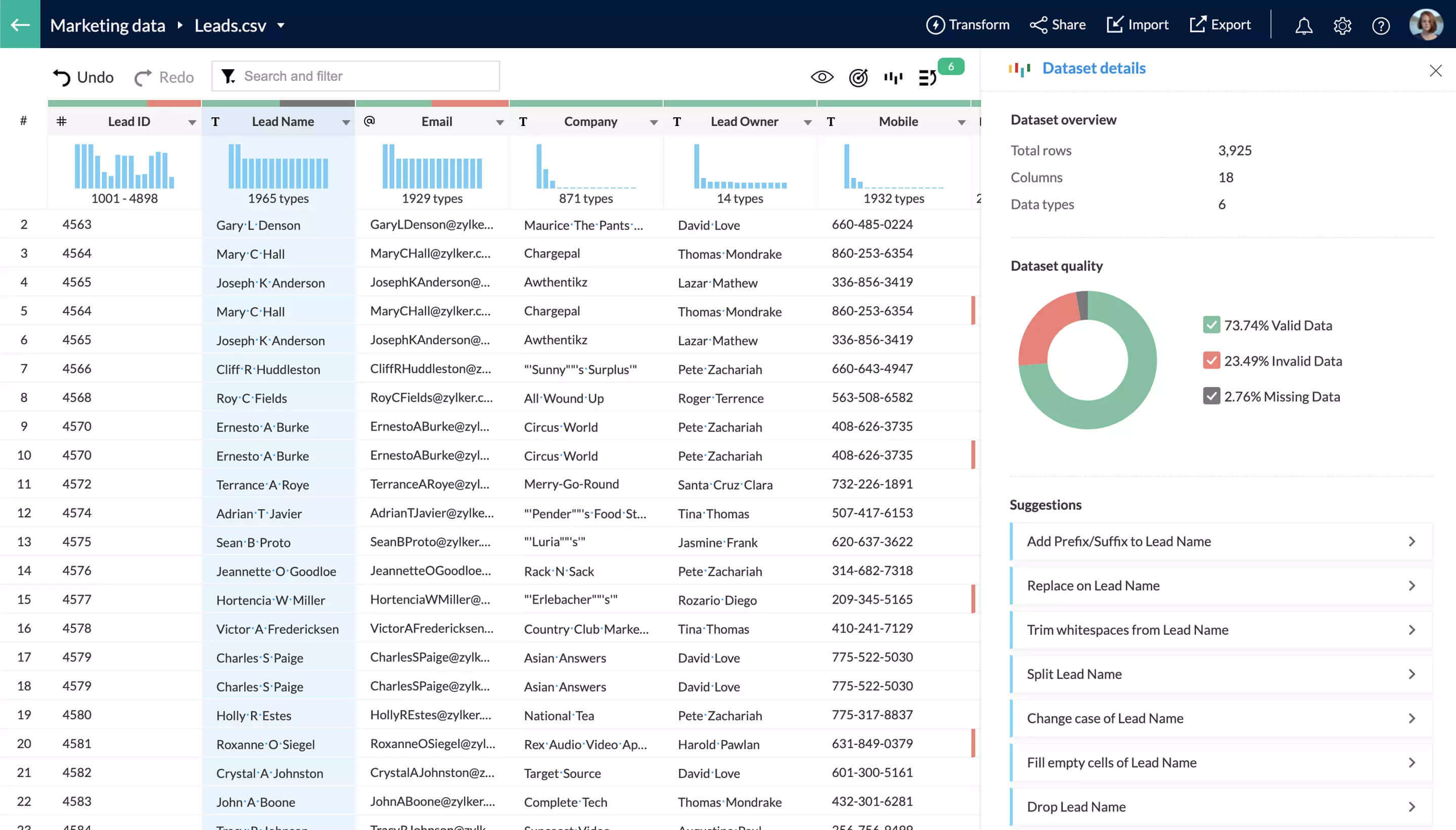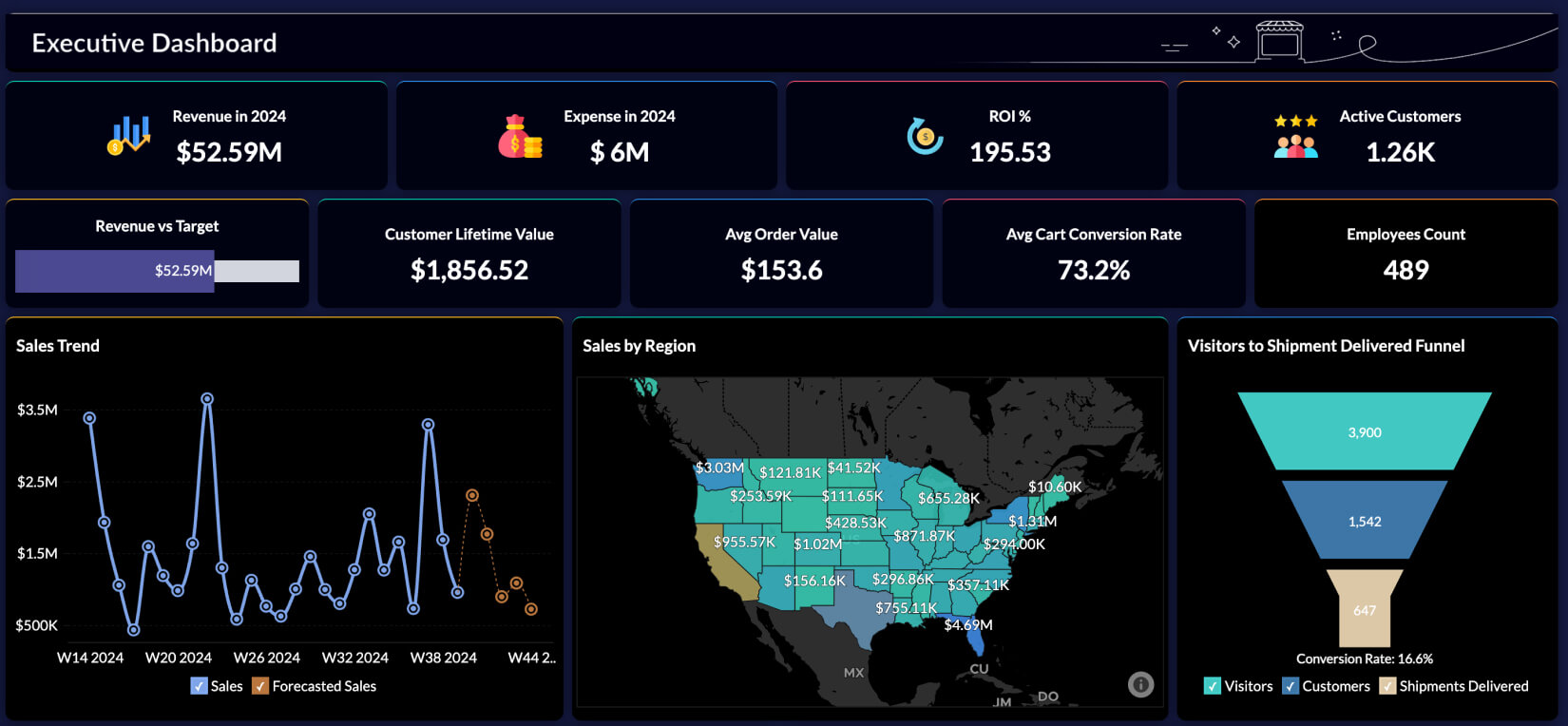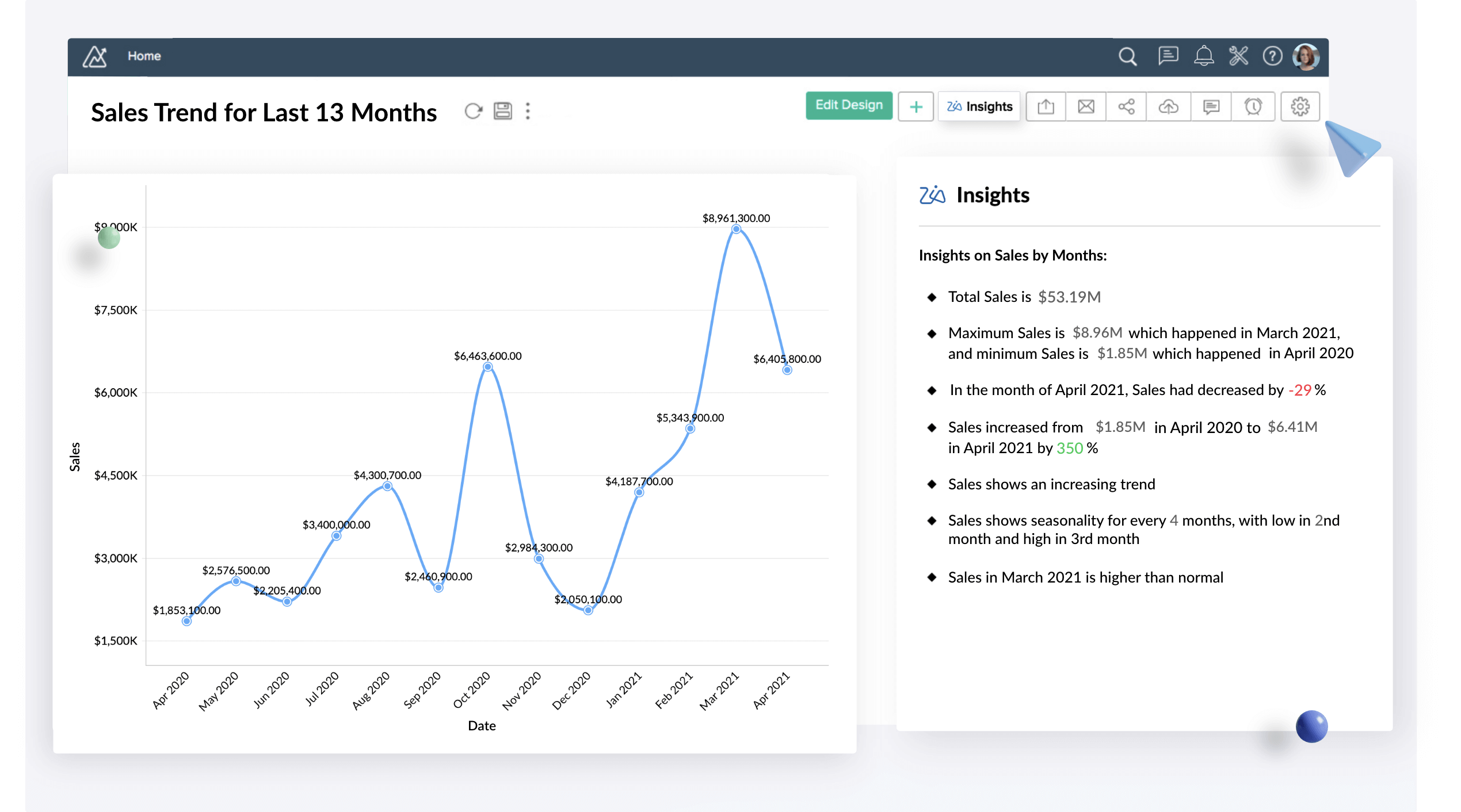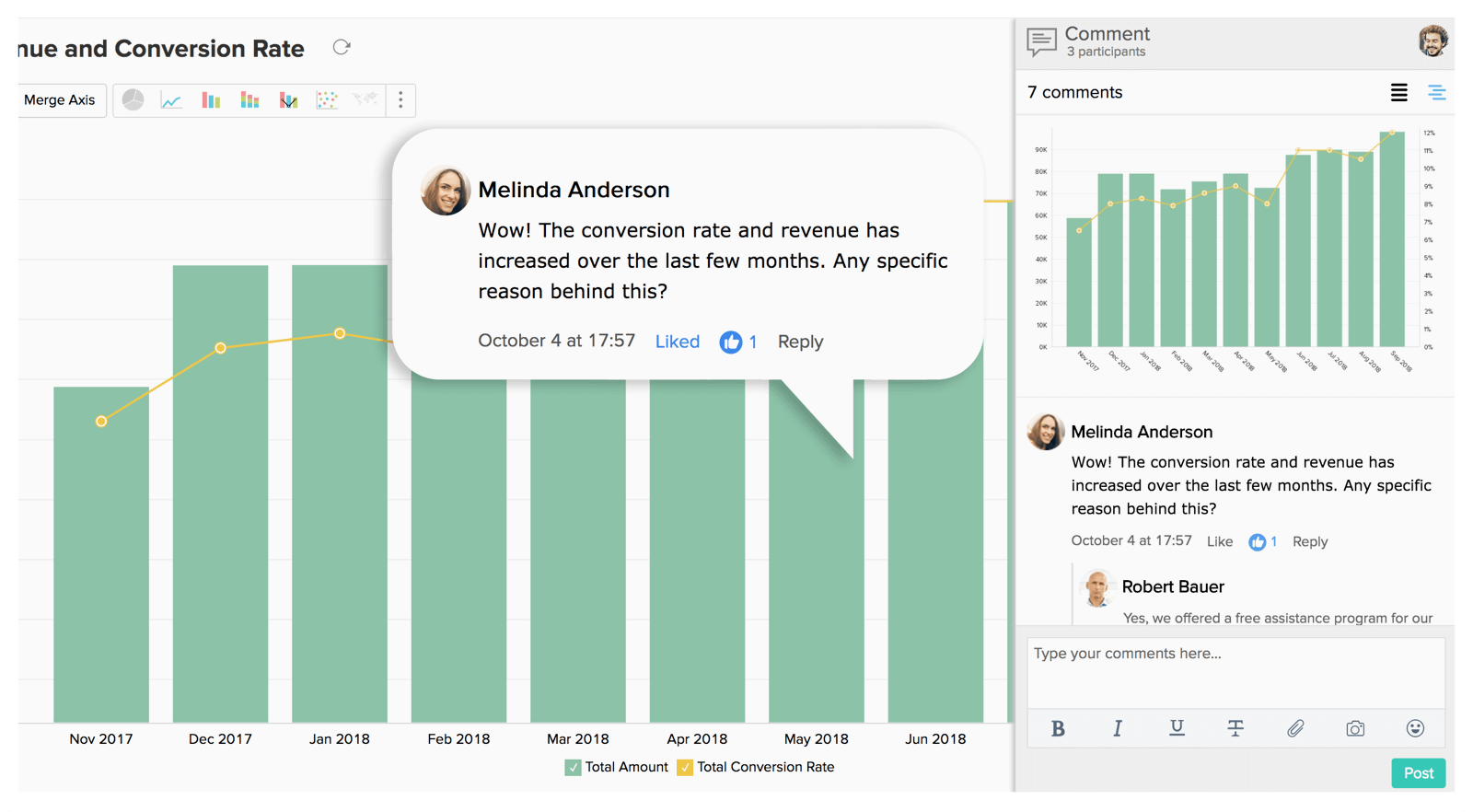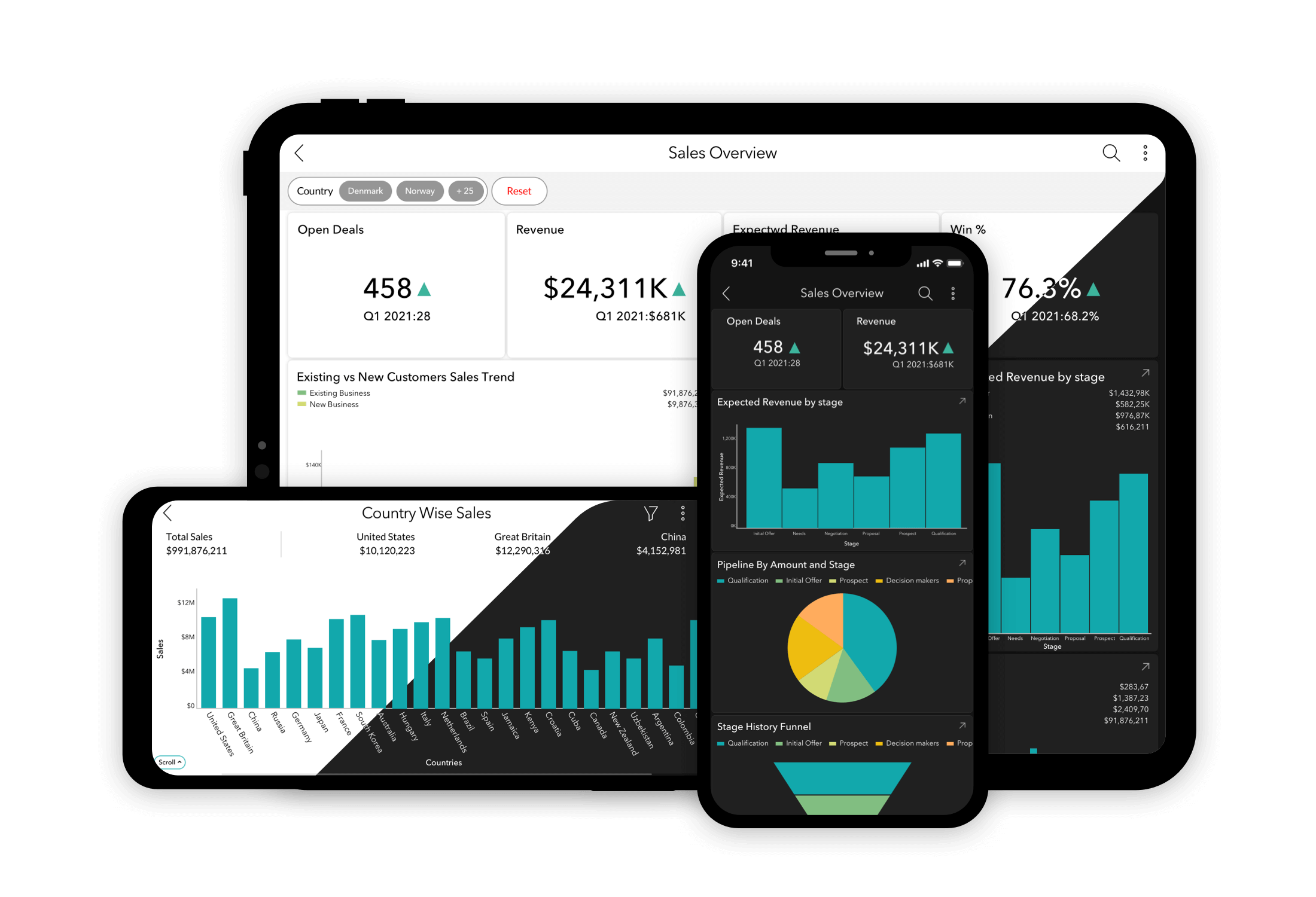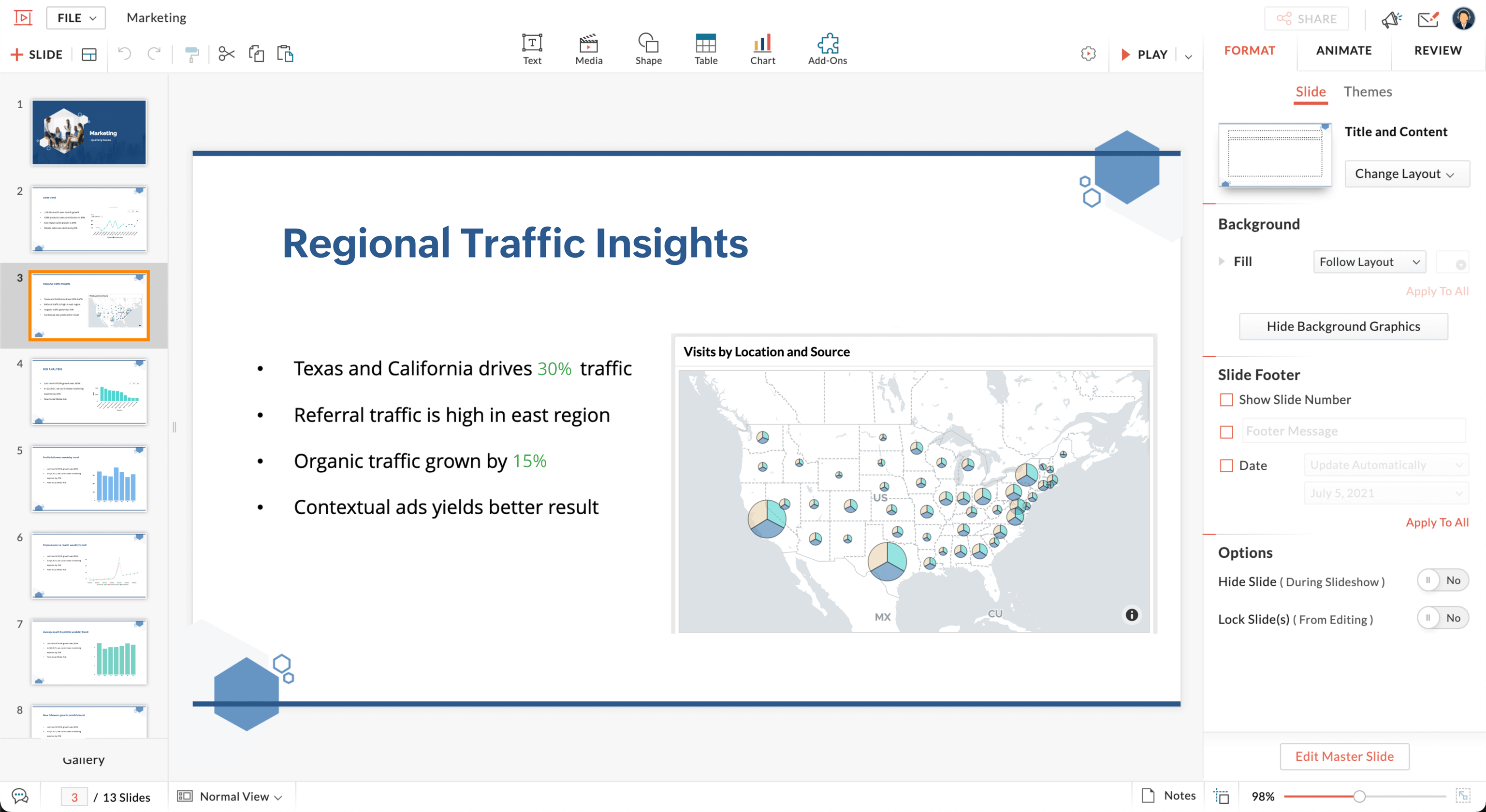 How Zoho Analytics

helps your business?
What
customers say
Zoho Analytics was our first choice because of the compatibility and integration it offered with our systems, since most of them were Zoho. Other products were either too expensive or too complex, and didn't integrate well with our systems. Zoho Analytics had everything that we needed.
Zoho Analytics' ability to integrate and blend data from multiple sources and create deep valuable insights out of it is the key. Once you sync the data and build reports there is no necessity to go back and re-feed the data into it. It does it automatically.
The ability to blend data, filter, and build so many KPIs with ease is a key aspect in Zoho Analytics. Its interactive charts are awesome. I can now select or unselect certain parameters to slice and dice the data for each line of my business, and show its performance to our partners.
Zoho Analytics has allowed easy access to reporting and metrics across the organization. With this solution, even non-technical resources were able to quickly develop and publish reports. This has freed us from relying on one of our technical consultants and kept them available for customer-facing billable time.
Zoho Analytics is the only product with the right mix of cost and value—with features like data visualization, integration, data blending, collaboration, user filters, drag and drop, geo maps and much more, at an affordable price.