Make data driven decisions with in-depth Financial Analytics
Financial analytics software helps you with effective visual analysis of your financial data. Visualize data using interactive dashboards and gain meaningful insights using our financial analytics tool.
Sign up in less than 60 seconds
In-depth financial analytics powered by Zoho Analytics
2 Million Users. 50 Million Visualizations. 1 Analytics Platform.
360° view into your business

Forget having to wait till the month end to know how your business has performed. Build powerful reports like Profit & Loss, Balance Sheet, and Cash Flow Statement for your business any time you want. Analyze them in real time, devise actionable plans, and stay on top of your business.

Cashflow Analysis

Analyze your invoices and financial statements to extract insights on key metrics such receivable-to-sales ratio, top suppliers, pending balance, and payment status. Discover how much you owe vs how much you are owed under one roof.

Data blending

Combine data from different sources and create cross functional reports. For example, combine your financial data along with CRM data to create an activities/lead report.

Contextual alerts for financial metrics

Set conditions and get notified of any anomalies in your financial data through contextual alerts. Track financial KPIs and quickly arrive at informed business decisions.

Ask questions, get insights

With our AI-powered assistant Zia, all you need to do is ask your questions. Zia uses NLP and machine learning to come up with suitable answers in the form of reports and KPI widgets on your financial data.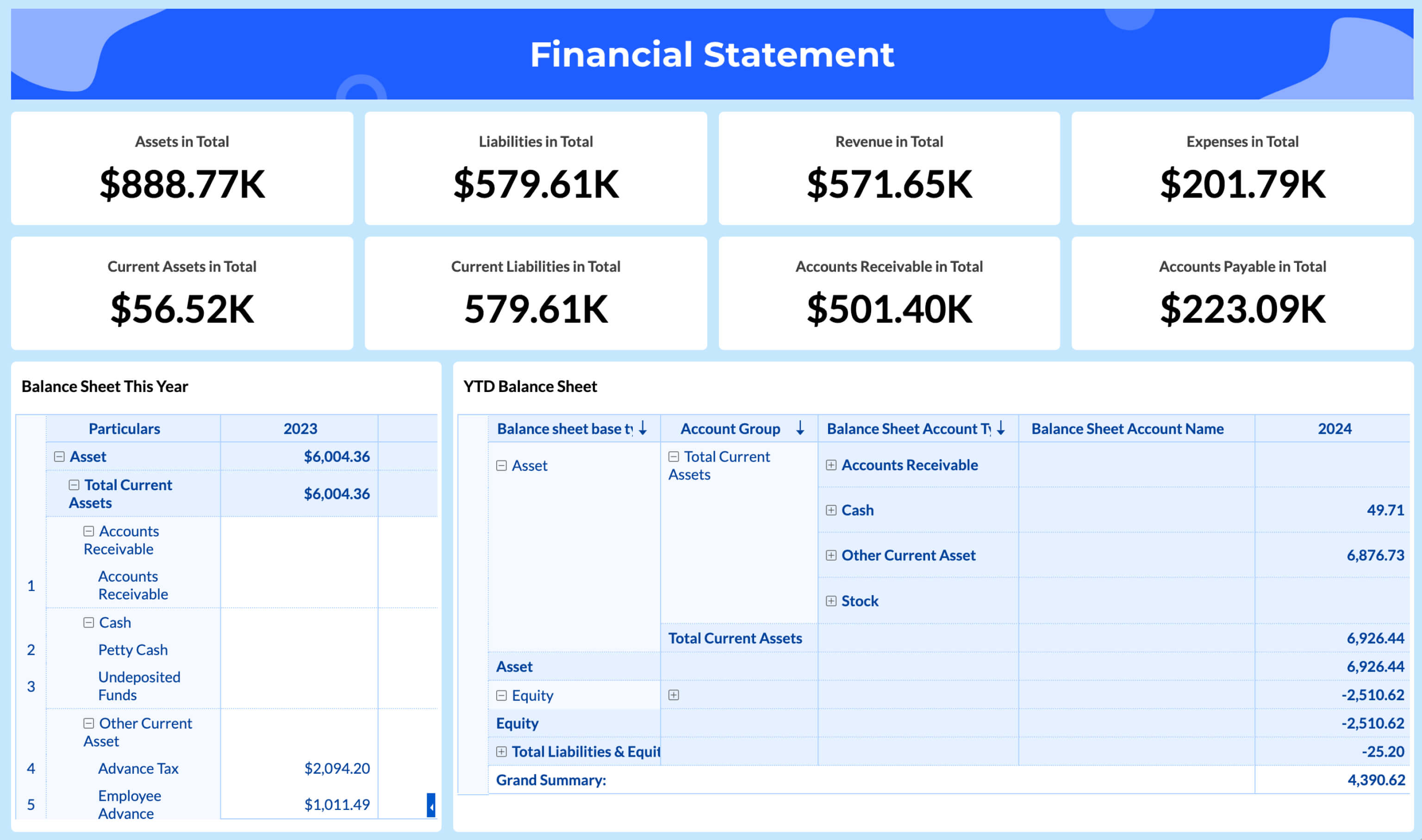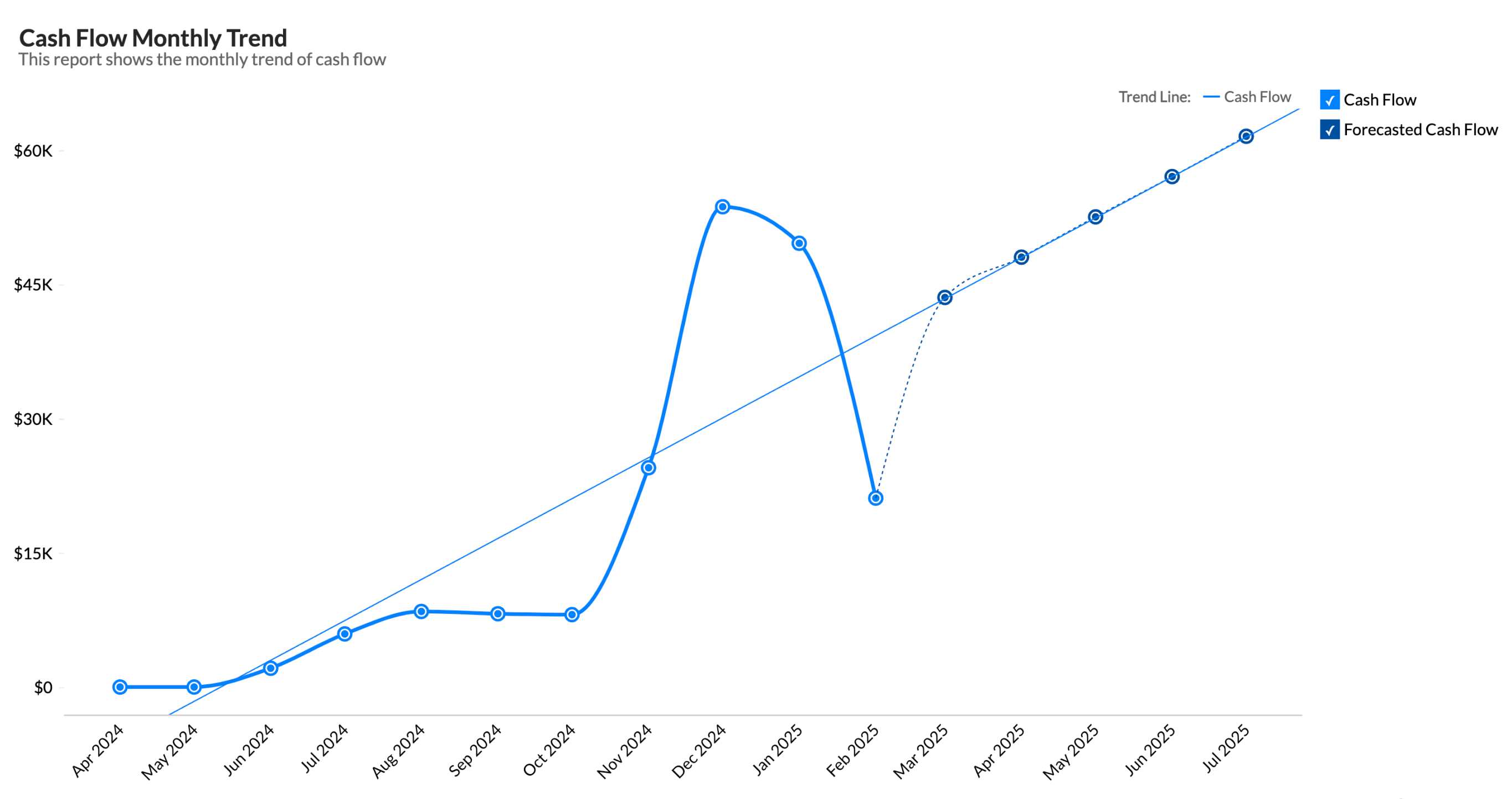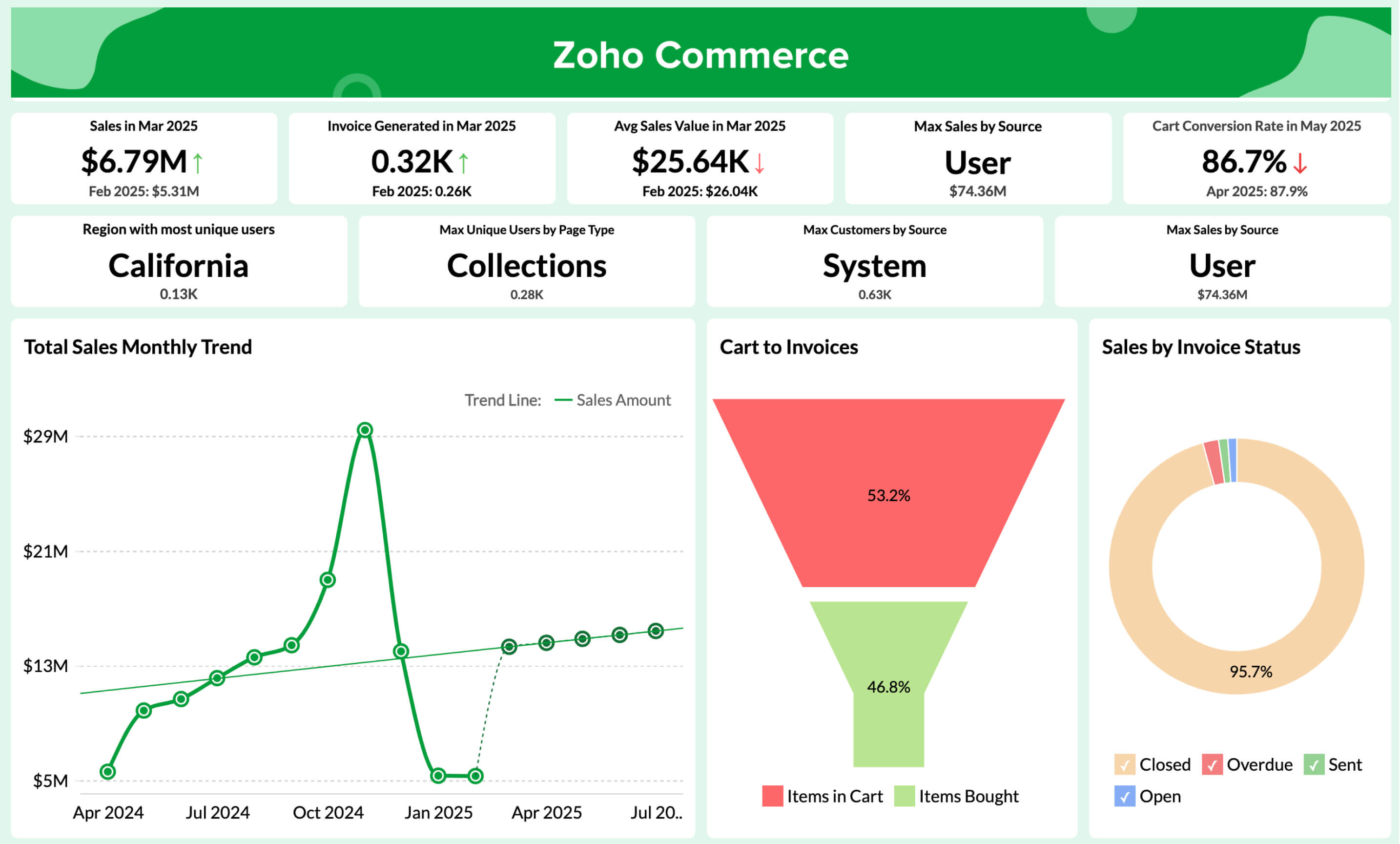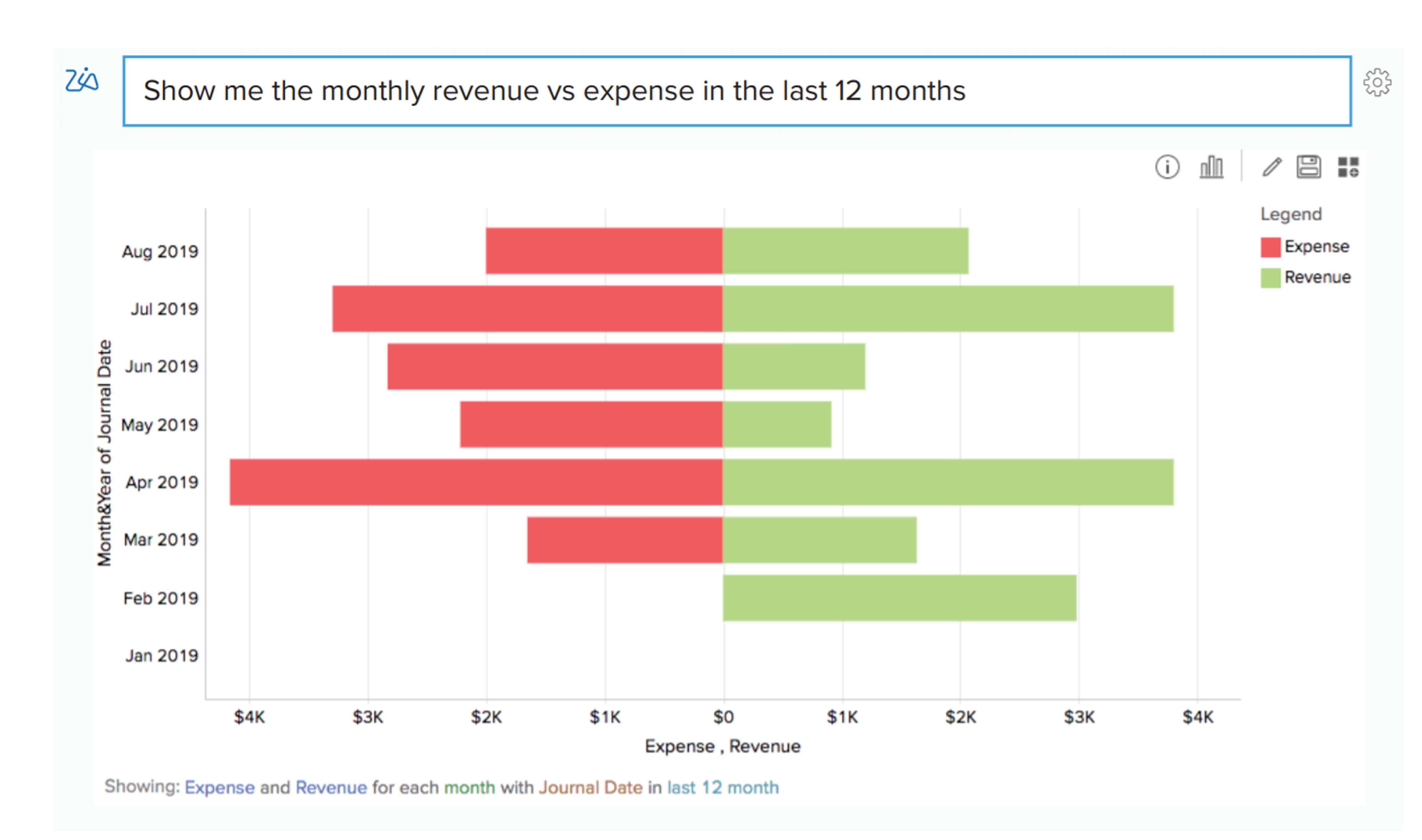 Key features of Financial Analytics Software.
Email, export, and print reports

Export or print reports for offline access. Schedule your reports and dashboards to be emailed automatically to the given recipients.

Integrate with your preferred tools

Access a full fledged BI tool by automatically syncing your data from various financial tools such as Zoho Books, QuickBooks, Xero, and more.

Forecast financial performance

Make informed decisions from your finance data and in turn manage your cash-flow, workforce and resources. Predict revenue, and plan for future growth

Collaborative analytics

Develop & analyze reports together with your finance team. Share with each other privately. Embed your reports and dashboards for wider consumption.

Pre-built visualizations

Kick start your analytics journey with 75+ pre-built visualizations or build your own with the drag-and-drop interface.

Embedded analytics

Get a powerful BI, reporting, and analytics solution in your own brand name, embedded within your product/application or setup as a standalone portal.
Financial analytics dashboards
Zoho Analytics lets you slice and dice your finance data the way you want. The pre-built dashboards give you a quick birds-eye view of all your financial metrics like purchases, invoiced amount, profits, churn rate, budget vs spend, etc.
Purchase and Payables
Get an in-depth understanding of purchases, average purchase value, and billable expenses in a single view and make sure there are no overdue invoices.
Marketing ROI
Analyze your marketing return on investment, campaign spends and revenue generated, and acquisition costs. Also, filter ads' ROI based on region and campaigns.
Inventory Sales and Orders
Track the number of orders received, sales growth percentage, and the sales trend and invoiced amount for the month and identify whether they are improving or not.
Purchase and Payables
Marketing ROI
Inventory Sales and Orders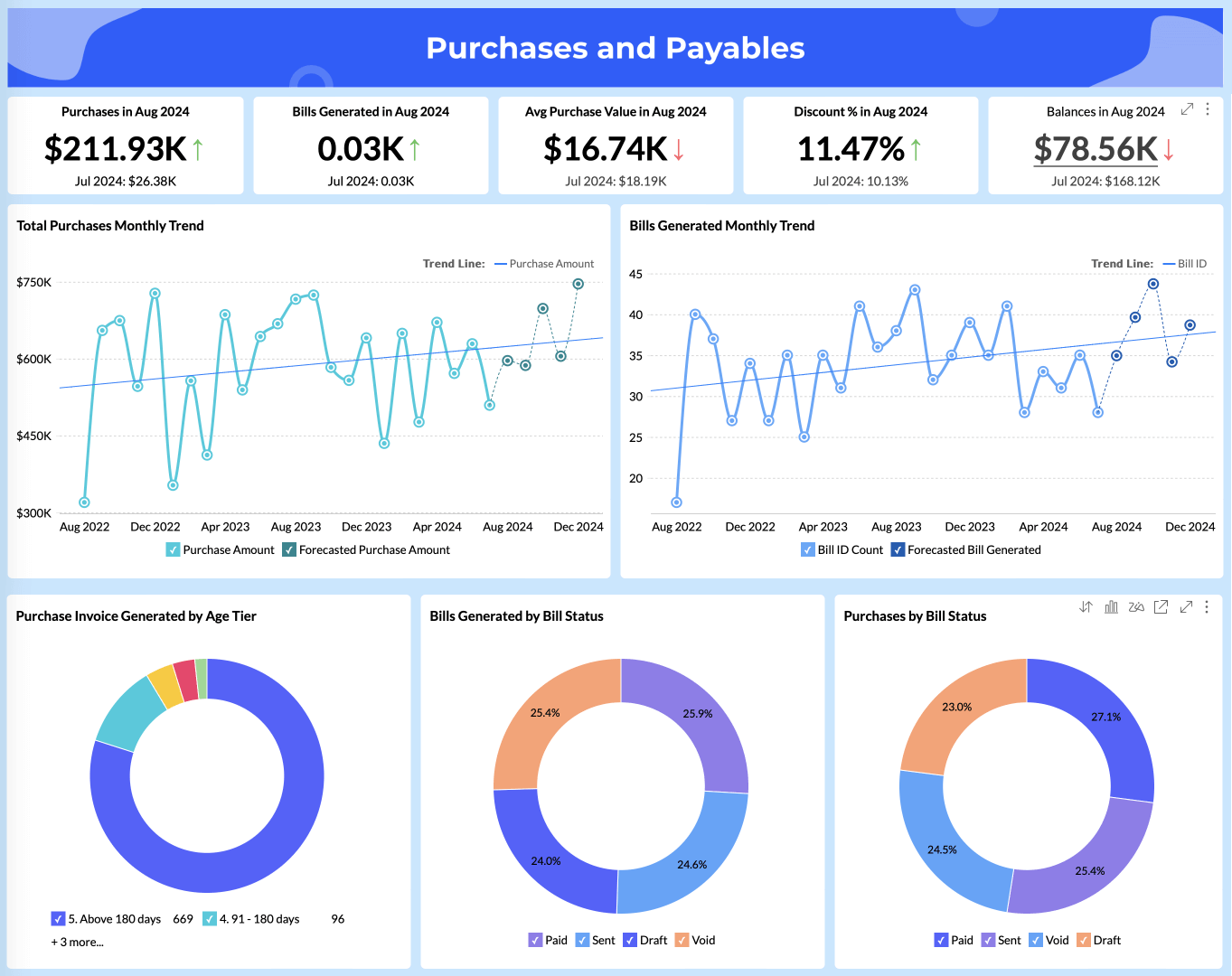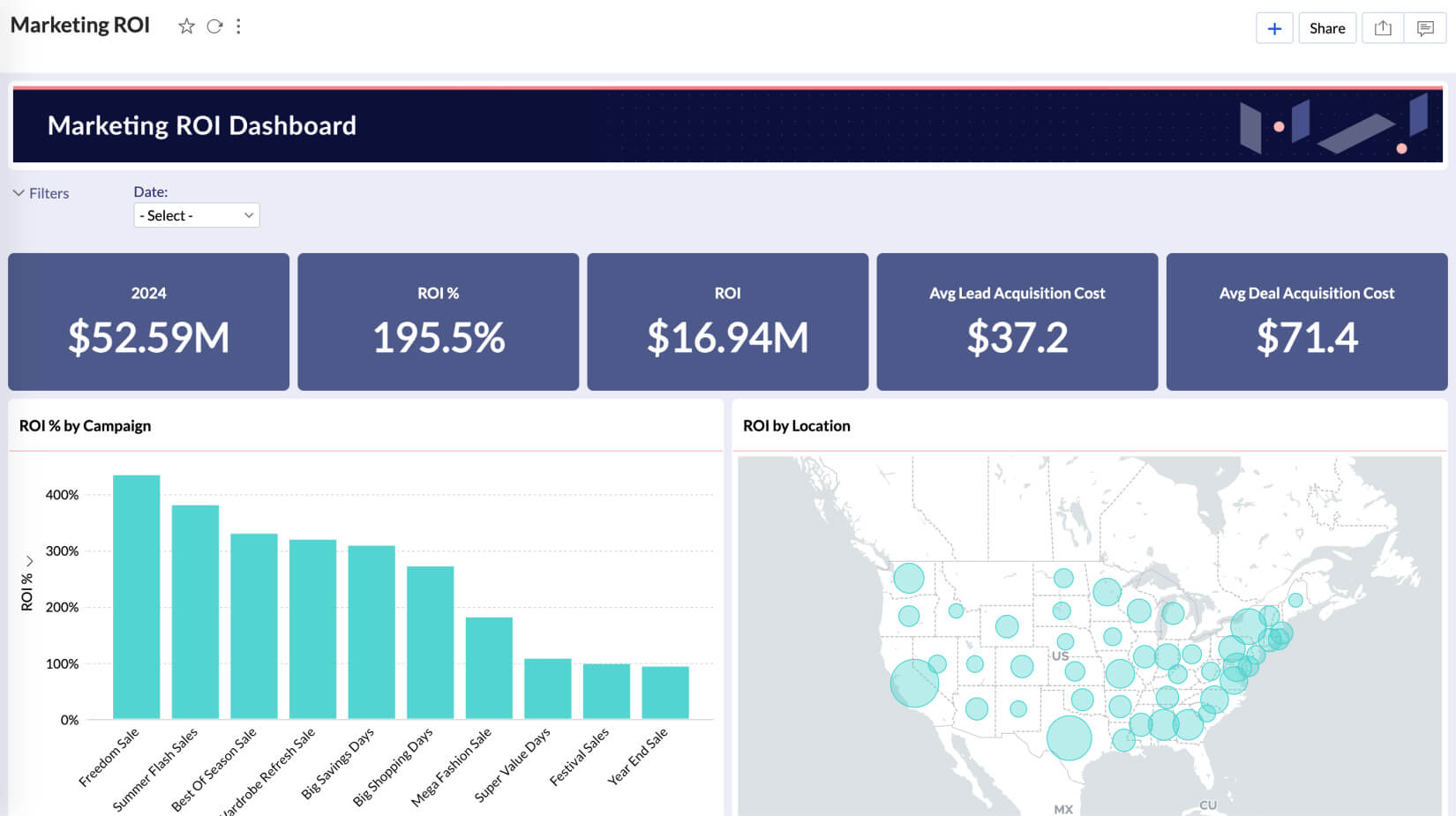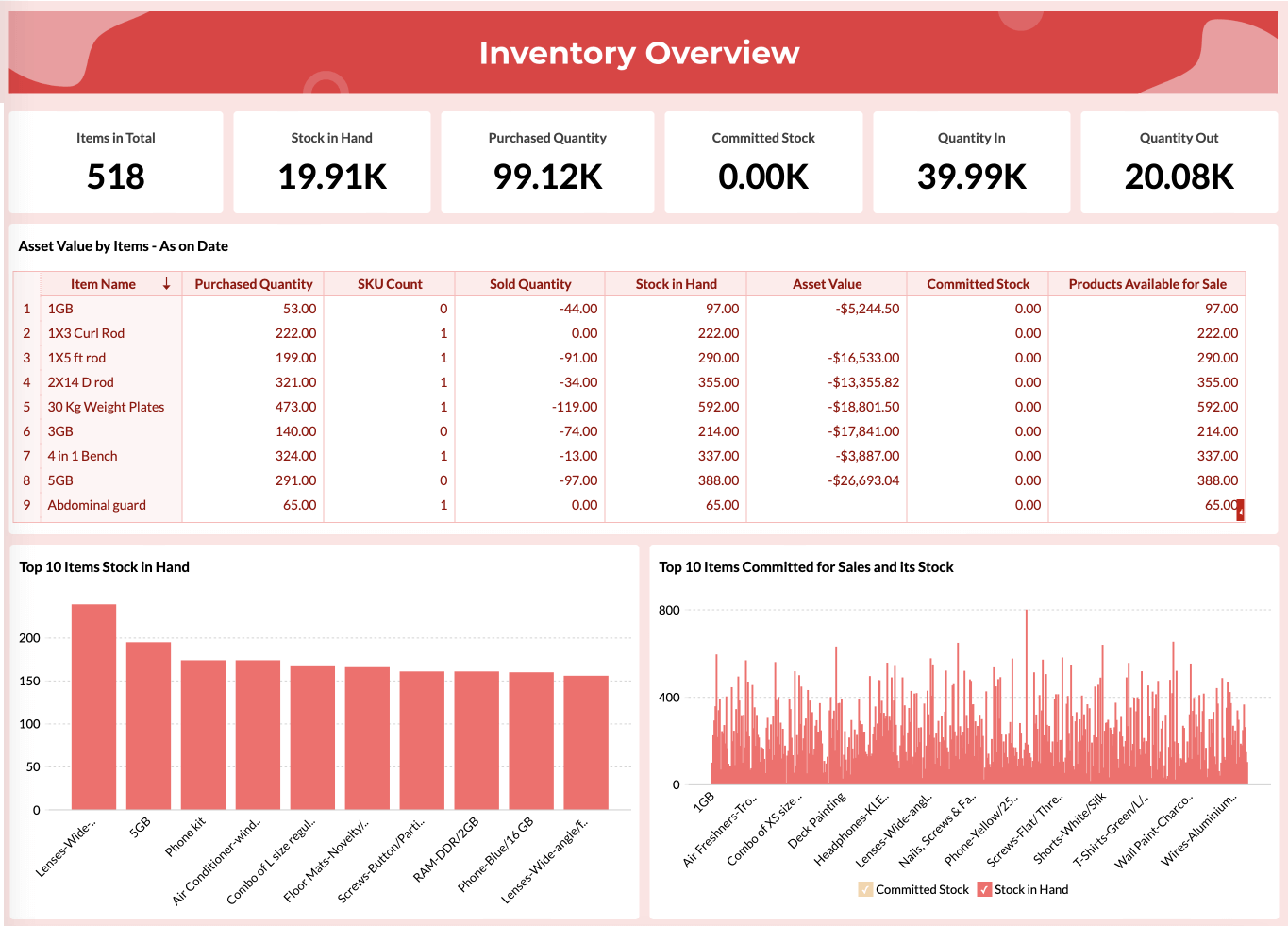 Hear it from our customers
"We obtain Zoho Analytics as part of our Zoho One suite. I did not expect much from the solution, seeing it initially as an 'add-on'. However, after using it to pull data from eight different sources and present activity reports and dashboards - including those we can expose directly to our customers, I was sold. This beast packs almost everything an SME will want for analytics, and then more. In addition, the support services from Zoho are second to none."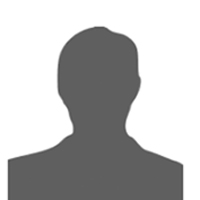 Joseph Sweeney
Verified Reviewer, Capterra
Overview of Financial Analytics
What is financial analytics?
Most businesses rely on financial analytics to make better business decisions. Financial analytics, in simple terms, helps you evaluate your business' performance and forecast its future performance. It gives deeper insights into revenue and sales growth, cash flow, etc.
Why is financial analytics important?
With financial analytics, you can make data-driven decisions and plan strategies for your business by visually analyzing multiple charts and reports. Financial data analysis helps you track and identify patterns from your data and predict future business performance so that you can plan or rethink your strategies earlier.
What can you do with a financial analytics tool?
A financial analytics tool will help you transform your business' raw financial data into visually appealing charts and reports and provide meaningful insights and trends with the help of artificial intelligence. The financial analytics tool will also enable you to collaborate with your team.
What are the benefits of financial analytics software?
By using financial analytics software, businesses can visually analyze their financial data with different chart types and identify underlying trends from the data in less time. These insights and trends will help businesses in decision-making and strategy planning.
Why choose Zoho Analytics' financial analytics software?
Zoho Analytics' financial analysis software offers data blending from different sources, multiple visualization options, AI-powered analysis, collaboration with the team, and reports and dashboards embedding. You can also check our interactive sample financial dashboards and reports to get started with in-depth financial analytics.