Amazon Redshift

Connect to efficient analytics tool that matches the speed of data processing in Amazon Redshift.

Learn more

Amazon Athena

Serve the best business insights using serverless Amazon Athena data.

Amazon RDS

Connect your fully managed RDS data with self-service BI tool, Zoho Analytics.

Google Cloud BigQuery

BigQuery's ML and Zoho's Augmented Analytics can together deliver advanced analytics.

Google Cloud SQL

Analyze large scale Google Cloud SQL data, simpler and faster using Zoho Analytics.

Microsoft Azure

Interpret enterprise data in Azure to gain insights using Zoho Analytics.

IBM Cloud

Enrich your business decisions by visualizing your IBM Cloud data in minutes.

Rackspace

Add value to your cloud deployments by analyzing data in your Rackspace-hosted databases.

Oracle Cloud

Securely analyze your data in Oracle Cloud with the award-winning, privacy-centric analytics tool.

Snowflake

Unleash the full potential of your Snowflake data by setting up integration with Zoho Analytics.

Panoply

Data analytics made simple, quick, and easy by connecting Panoply with Zoho Analytics.

MongoDB Atlas

Make the data in MongoDB Atlas easily consumable and digestible for all using Zoho Analytics.

Heroku PostgreSQL

Heroku with Zoho Analytics provides you with a hassle free data analytics experience.

SingleStore

Make the fullest use of your Singlestore data, by connecting and analyzing it with Zoho Analytics.
MySQL

Popular Analytics tool to visually analyze your data in the most popular database, MySQL.

Microsoft SQL Server

Your data in MS SQL will become visually appealing and meaningfully connected with Zoho Analytics.

Oracle

Provide multi spectral analysis to your Oracle database, a multi model data management system.

PostgreSQL

Augmented Analytics lets you take smart decisions like you chose advanced RDBMS, PostgreSQL.

Microsoft Access

Elevate your organization with business insights connecting Microsoft Access with Zoho Analytics.

Maria DB

Give shape to your Maria DB data using Zoho Analytics by wide range of data visualization capabilities.

MongoDB

Full focus on your code. We take care of data analysis.

Firebird

Unlock the crucial business insights by analyzing your Firebird data.

SAP Hana

Data analysis in Zoho Analytics is as quicker as you fetch data in SAP Hana.

SQLite

Upgrade your IoT automations to the next generation by taking actions using your SQLite data insights.

DB2

Add more power to your Database with extensive predictive analytics functions.

Pervasive

Extend your Business Intelligence capabilities and make smarter decisions by connecting Pervasive with Zoho Analytics.

Progress OpenEdge

Enhance the performance of apps deployed on Progress OpenEdge with Modern Analytics platform.

IBM Informix

Analyze the OLTP and IoT data in your self-managing Informix DB with self-service Analytics tool.

Sybase

Strategize your organization growth plans with in-depth analysis by connecting Zoho Analytics.

Cubrid

Connect Cubrid with Zoho Analytics and see your data transforming into meaningful insights.

Derby

Foster Business Intelligence across your organization by analyzing your Derby data using Zoho Analytics.

Denodo

Make data virtualization smoother by visually analyzing your Denode data in Zoho Analytics.

H2

Take progressive decisions by interpreting your H2 data with Advanced Analytics.

HyperSQL

Gain insights from your HyperSQL data faster than you think with intuitive drag and drop interface.

Greenplum

Enjoy seamless data analytics experience by integrating your Greenplum database with Zoho Analytics.
Besides the available integration, Zoho Analytics supports all databases that run on JDBC/ODBC driver. You could seamlessly import data from JDBC/ODBC supported DB's and visually analyze in Zoho Analytics.
Import Data
Zoho Databridge establishes a secure connection between your on-premises data source and Zoho Analytics server. Interpret data by keeping it where you want irrespective of your data source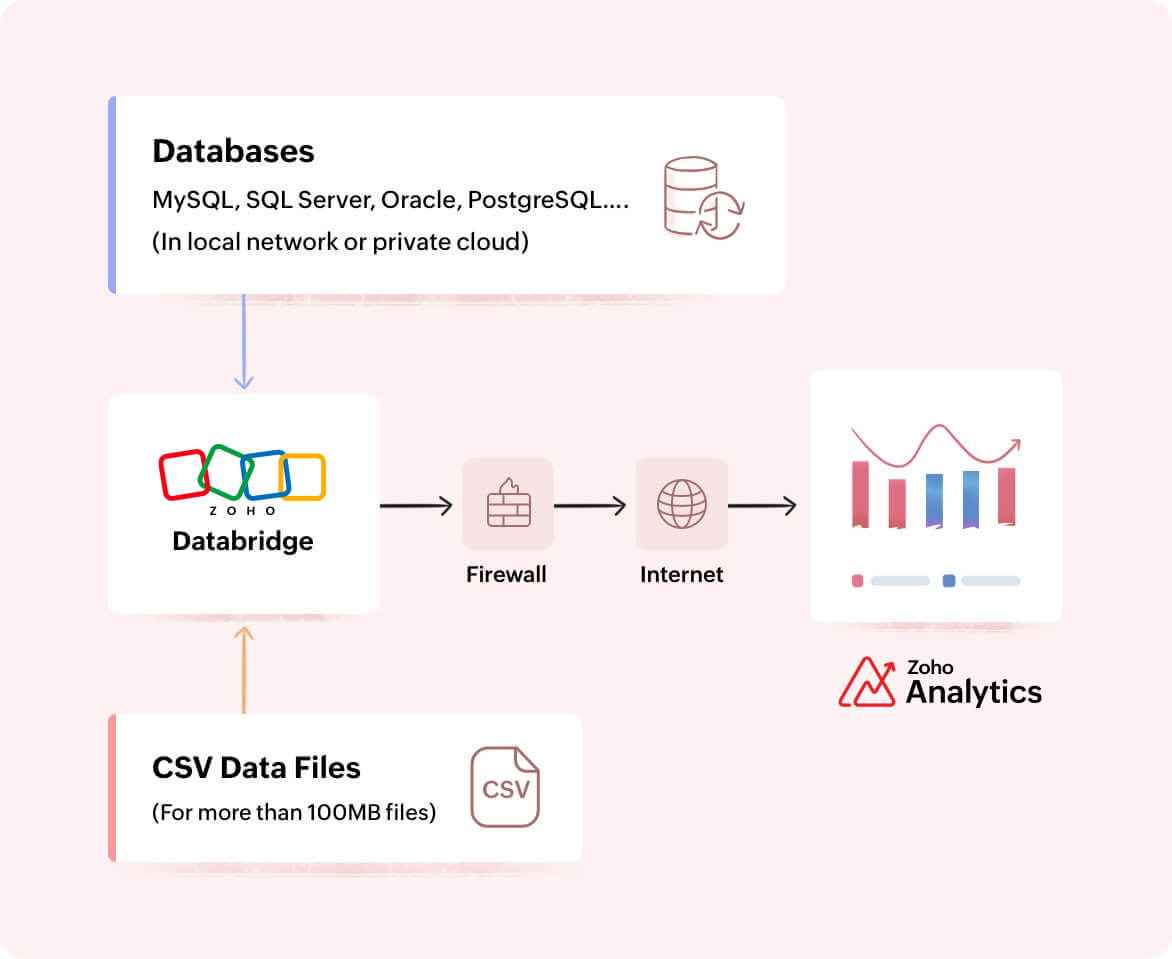 Live Connect
Setting up Live Connect will enable you to build live data visualizations by making direct queries to your database. Your data will not be stored in our servers.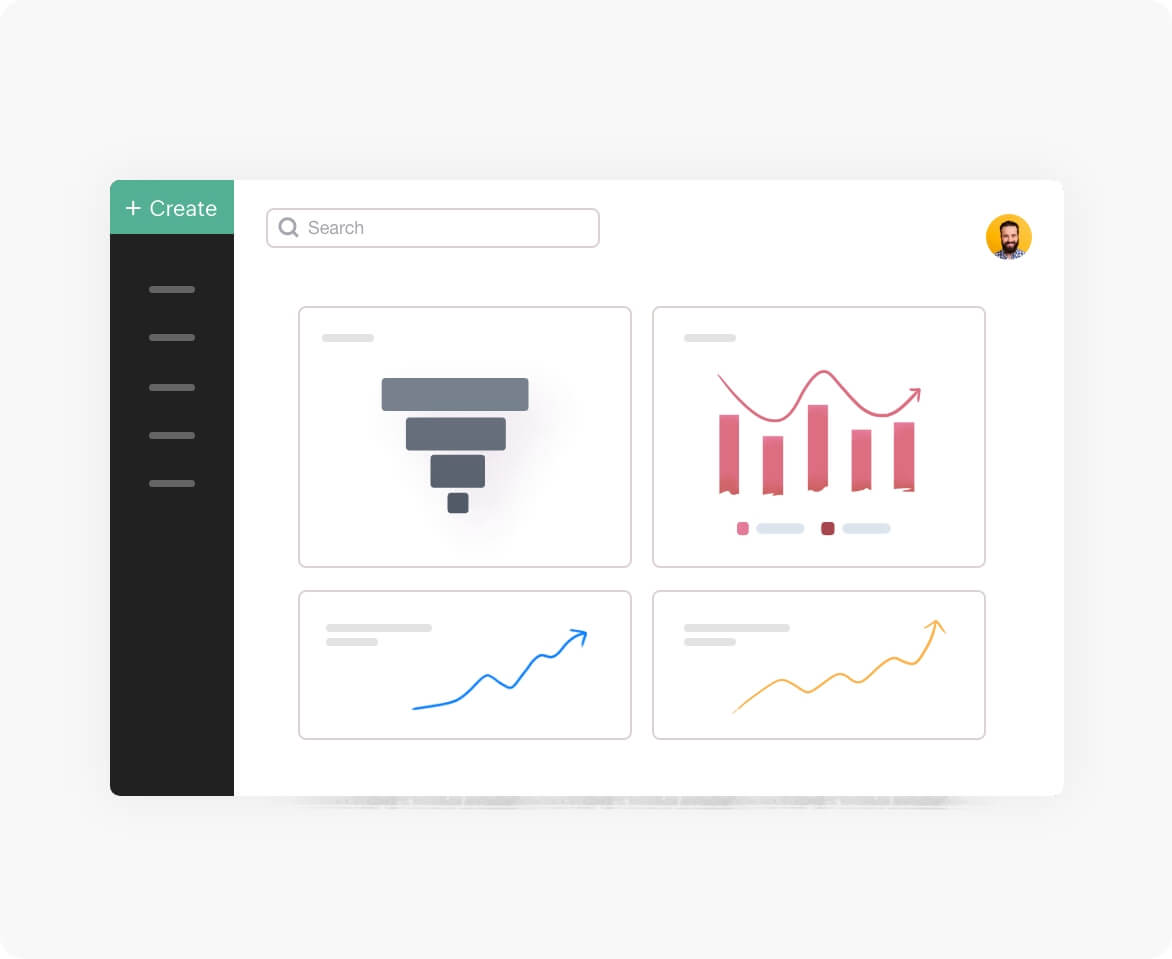 Connecting Your Database With Zoho Analytics helps you to stand out with
Secured Data transmission

We respect your privacy and your data will always be safer in our hands.

Automated Data Sync

You can fetch your data periodically by scheduling the data synchronization.

Encrypted Data Storage

When comes to PII (Personally Identifiable Information), Zoho Analytics offers an option to store it as encrypted columns, adding an extra layer of data security.

Faster Analysis

You can import data and create reports in minutes using Zoho Analytics. We have our own servers that provide you with faster data analyzing.
What Customers say