Streamline your hiring process with WorkDrive
Streamline your hiring process with WorkDrive
Last Updated: February 28, 2022
325 Views
2 Min Read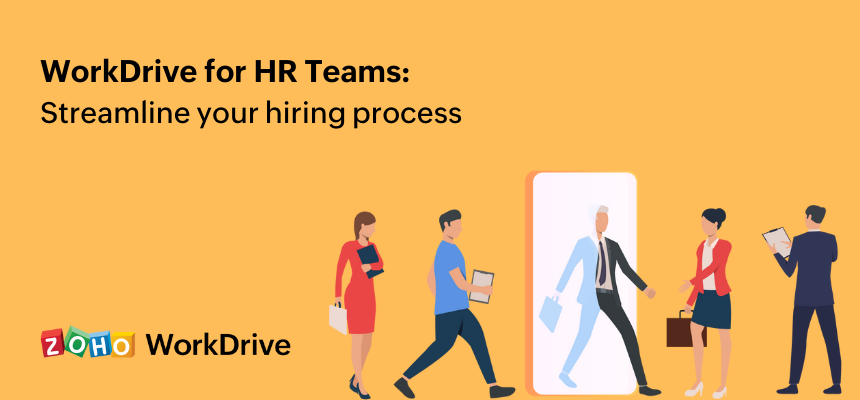 As a human resources professional, you know it's crucial to select the right talent for your company. It's easier to attract qualified candidates when you have a well-planned recruitment strategy and a screening team empowered by the right tools. In this blog, we'll discuss how WorkDrive can help with everything from recruitment to onboarding.
Organize applicant files in a Team Folder:
HR teams regularly handle a significant number of documents, such as resumes and cover letters. With applications pouring in every day, you'll need a way to organize and share candidate documents with your team.
To manage applications better, create a Team Folder. You can share it with the members of your recruitment team, and store all candidate resumes in a central location.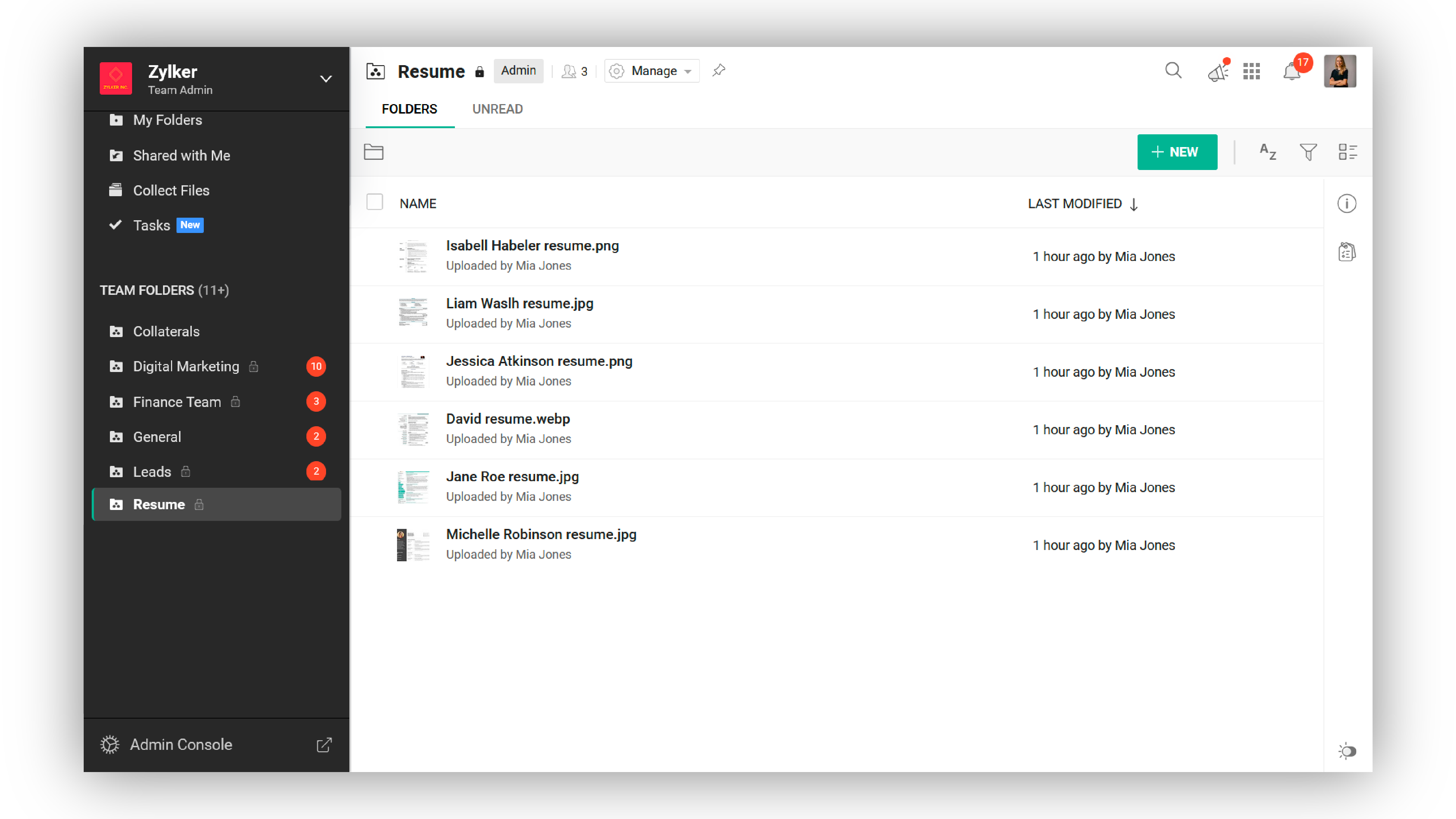 Team Folders bring your files and team members together in a single place for seamless collaboration. Find something interesting about a candidate? Simply highlight it and tag your team in the comments to assess the profile.
Discover the right candidate instantly
Finding the right candidate in a pile of resumes is a painstaking process. WorkDrive's advanced search functionality supports optical character recognition (OCR) and object detection, which helps you quickly access the files you need.
You can locate documents by file name, or with keywords, image content, author's name, and objects within images. For example, if you're looking for candidates with SEO experience, you can run a keyword search for "SEO" to quickly find relevant resumes—even if they are in image formats.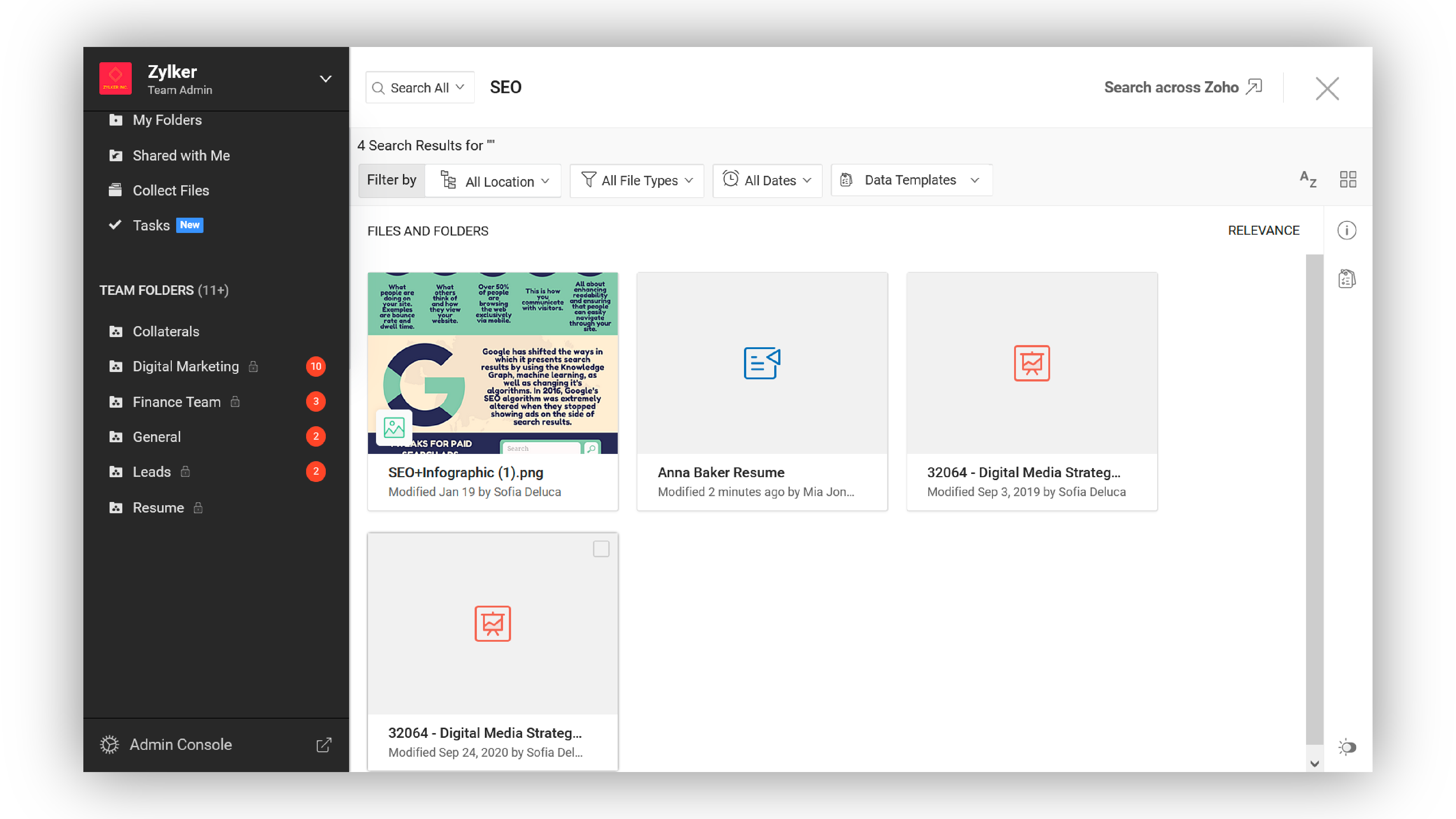 Go paperless with the Zoho Sign integration
Once you successfully identify a qualified candidate, send a job offer to get them on board. Zoho WorkDrive's integration with Zoho Sign helps you send employment offer letters for e-signature. Save time by completing most of the recruitment process digitally.
Securely collect documents for background verification
Gathering documents from applicants is easier than ever with WorkDrive's Collect Files. Your HR team can create a collection link and request for candidates to submit their documents securely.
You can also customize the upload links by setting limits for file size and the number of files a user can upload. The uploaded files are automatically stored in your desired Team Folder.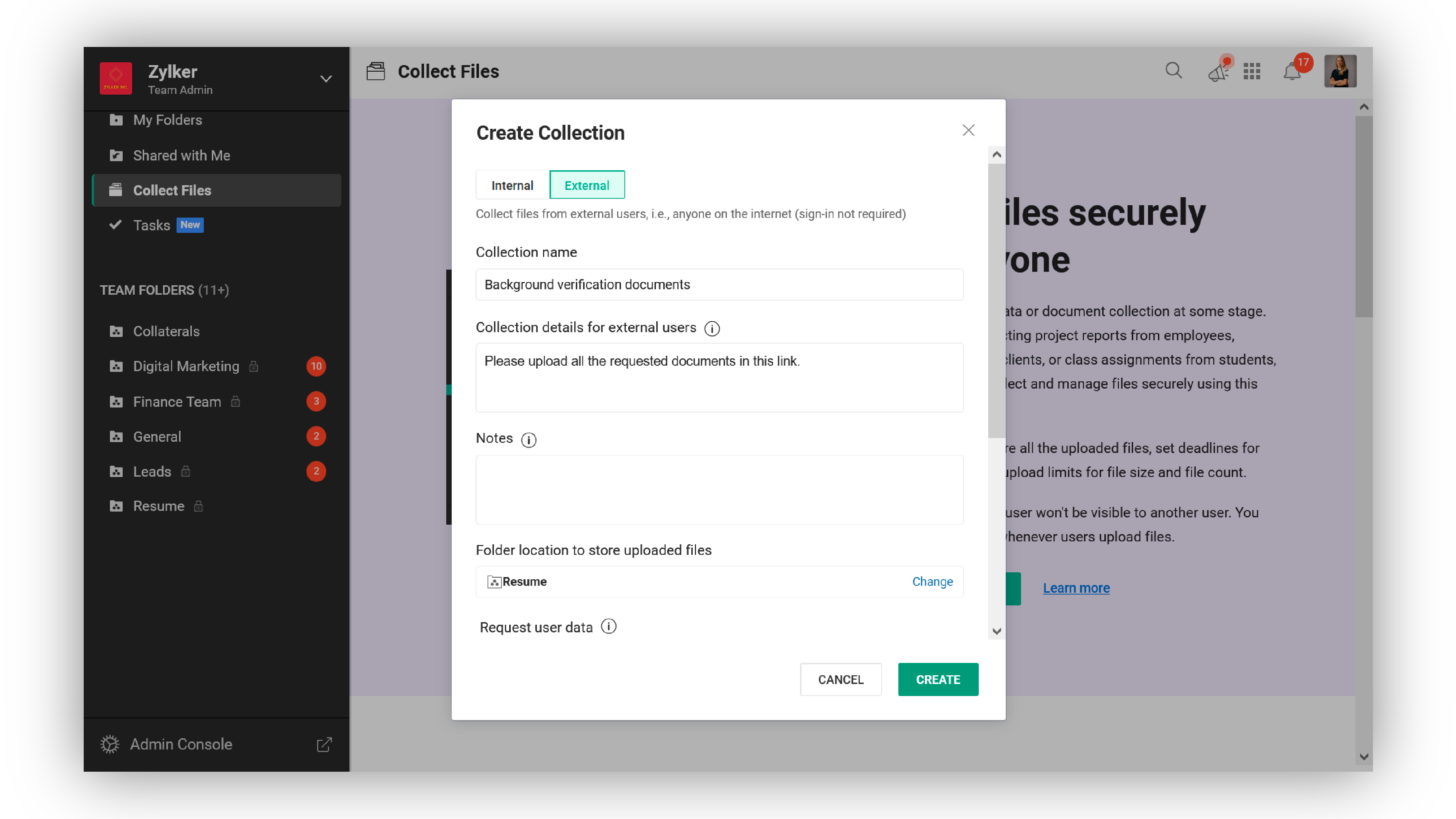 If you have outsourced the background verification process, you can give the outside company access to relevant document folders by adding them as a client user.
Streamline training and development
Did you know having an organized onboarding program can increase employee retention by 82%? With WorkDrive, you can provide a seamless onboarding experience for all your new hires.
Create a group for all new employees and share your onboarding kit (training materials, reporting instructions, company policies, and more) in a snap. This comes in handy if you have important announcements or updates to share with the group.
With these features, WorkDrive helps you focus on your most important asset—people— instead of spending time managing files. Accelerate your organization's recruitment process with Zoho WorkDrive.
Leave a Reply
Your email address will not be published. Required fields are marked