How can Zoho WorkDrive help teams that use Gmail for work?
Last Updated: November 9, 2023
78 Views
2 Min Read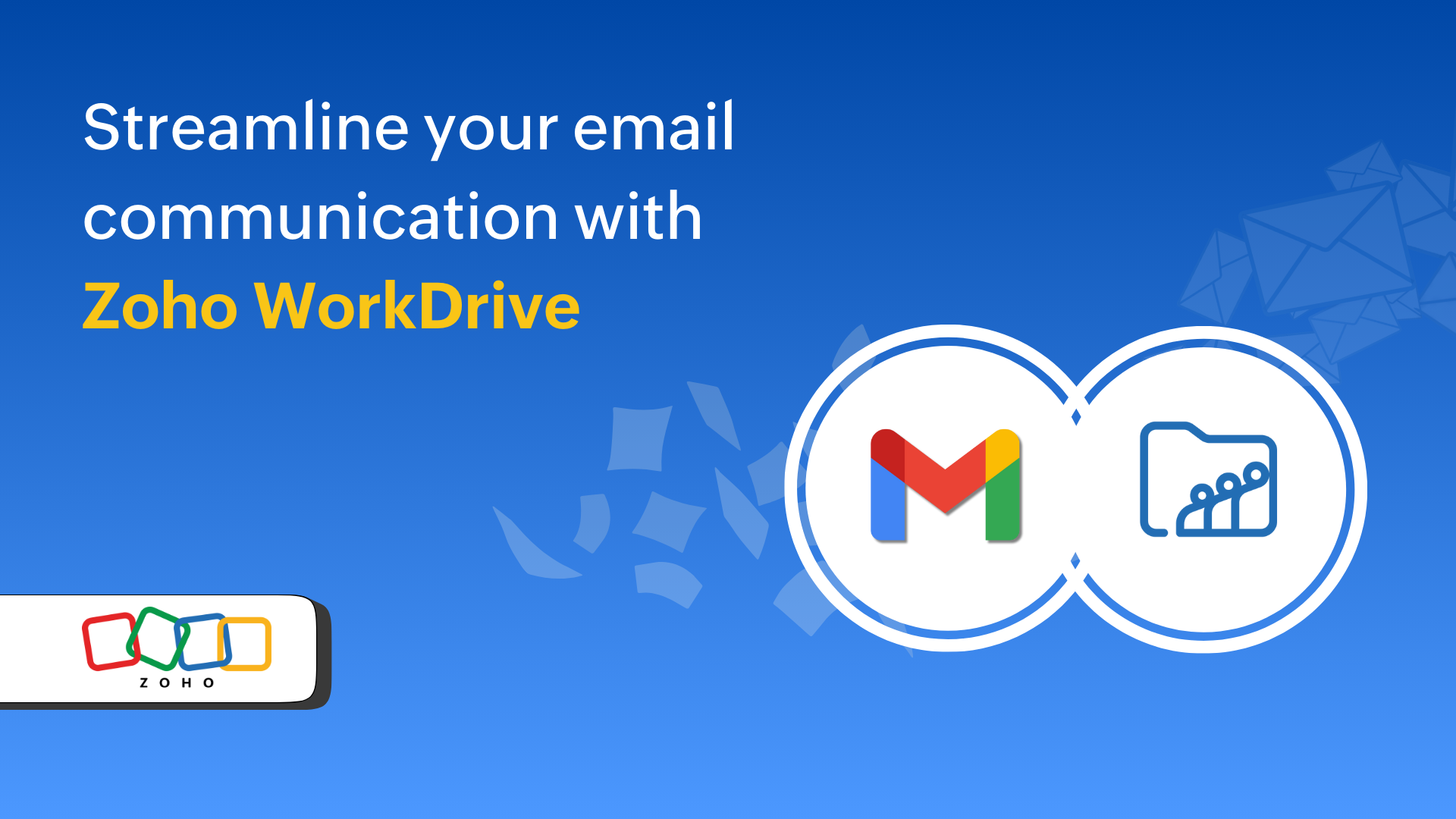 Finding the right solution to your business needs is essential. However, it's crucial to ensure that the apps you choose are centralized and don't function in silos. When implementing any software solution, a good rule of thumb is to make sure that it optimizes your business process, rather than burdening you with manual tasks.
At Zoho WorkDrive, we make it a top priority to ensure that data retrieval and integration with other apps is seamless and efficient. In this post, we'll explore how you can connect your Zoho WorkDrive account with the Gmail app and efficiently manage email attachments—all without ever leaving Gmail.
Save email attachments to WorkDrive in a single click
Say goodbye to endlessly searching for files in your inbox or on your desktop. With the Zoho WorkDrive add-on for Gmail, you can save all your email attachments to a folder in WorkDrive right from the Gmail app.
Say you're constantly bombarded with email attachments from clients. You can simplify your workflow by saving all the email attachments to the appropriate project's Team Folder in your WorkDrive account. This way, you can keep all your important email attachments organized and easily locate them in the future.
Attach WorkDrive files to your emails
With the Zoho WorkDrive add-on for Gmail, you can securely share your WorkDrive files or folders with share links right from your Gmail window.
Here's how the Zoho WorkDrive add-on for Gmail helps you optimize communication:
Save email storage space:
Sharing WorkDrive files as links saves your Gmail storage space, freeing up more room for business communications.
Send large files without size limits:
Having trouble sending large attachments over Gmail? With the WorkDrive add-on for Gmail, you can easily share files of any size as links without worrying about email attachment restrictions.
Manage file versions:
When sharing important files with clients or stakeholders as links, you can easily manage versions and eliminate duplicates, because you don't need to send multiple copies of the same document.
Own and secure your shared links:
Take file sharing to the next level by customizing share permissions for a file or folder. You can adjust the properties to require passwords, set expiration dates, and allow or disallow downloads from the shared link.
How to get started with the Zoho WorkDrive add-on
To connect your Zoho WorkDrive account with Gmail, you need to install the add-on from the Google Workspace Marketplace and complete the simple set-up process.
Then, you're all set to streamline your email and file management workflow and boost your productivity. Try it today.
Follow us on YouTube, LinkedIn, and X for interesting tips and new updates from Zoho WorkDrive.
Leave a Reply
Your email address will not be published. Required fields are marked