File synchronization and why it's important today
Last Updated: March 12, 2021
615 Views
3 Min Read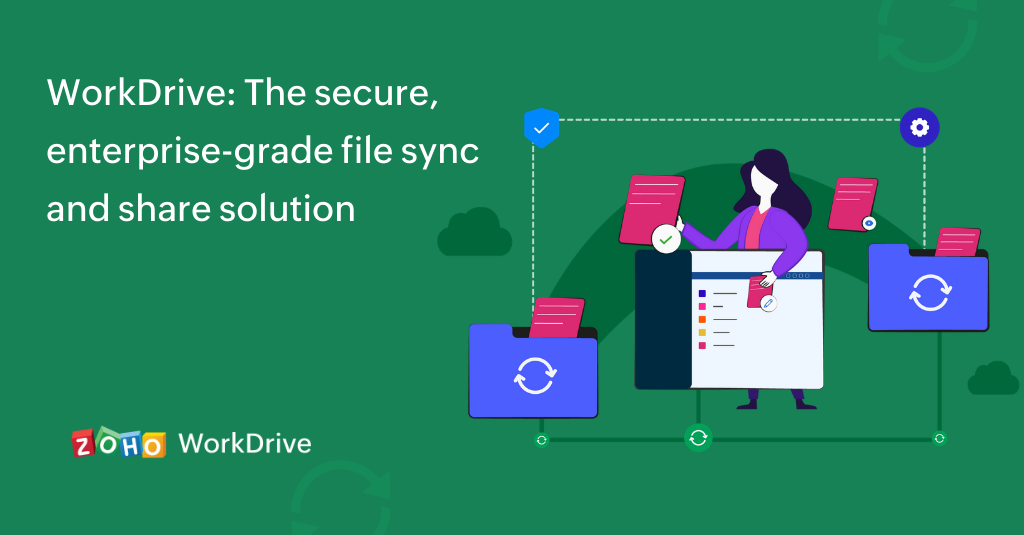 Gone are the days when you had to be in the office to stay connected with your team. Now, teams can work from anywhere and stay updated on any changes made to their documents in real time. File sync offers the ability to collaborate and work as a team, ensuring access to the same set of up-to-date files.
Data sync is the ongoing process of managing data from a central platform, enabling users to access it from various devices. The changes made to a particular file are automatically reflected in every system.
Sending emails or using USB drives will be soon forgotten methods of data sharing. WorkDrive facilitates real-time collaboration by providing role based access to your team members over company files. Securely collaborate with your peers and work in sync from your desktop or mobile devices.
TrueSync from WorkDrive
Your computer's hard drive space may look sufficient, but somehow it always seems to fill up. Many cloud storage solutions provide a desktop sync option where your offline files end up occupying your desktop space.
With WorkDrive's TrueSync, you can easily create a virtual drive of your WorkDrive account on your desktop without using up your device's hard drive space. Access your files locally and spend less time managing your storage and more time doing the work that matters.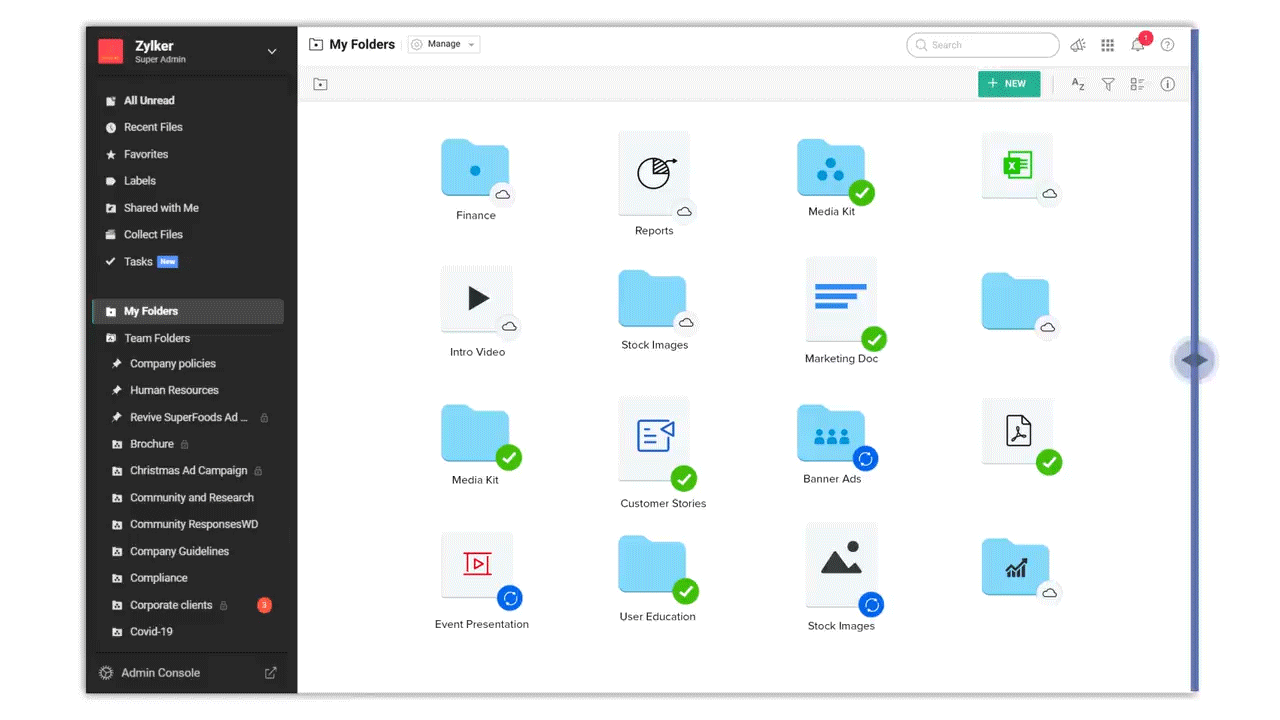 Simply drag and drop or copy and paste files from your system to the TrueSync virtual drive to upload them to the permissible Team Folders or My Folders, or vice versa. Any changes made to your files will be automatically be synced with the WorkDrive web app.
The WorkDrive TrueSync app offers two modes: online-only and offline.
Online-only
In this mode, you can view the listing of available files and folders in your WorkDrive account. These documents don't occupy any hard drive space until you open them to view or edit.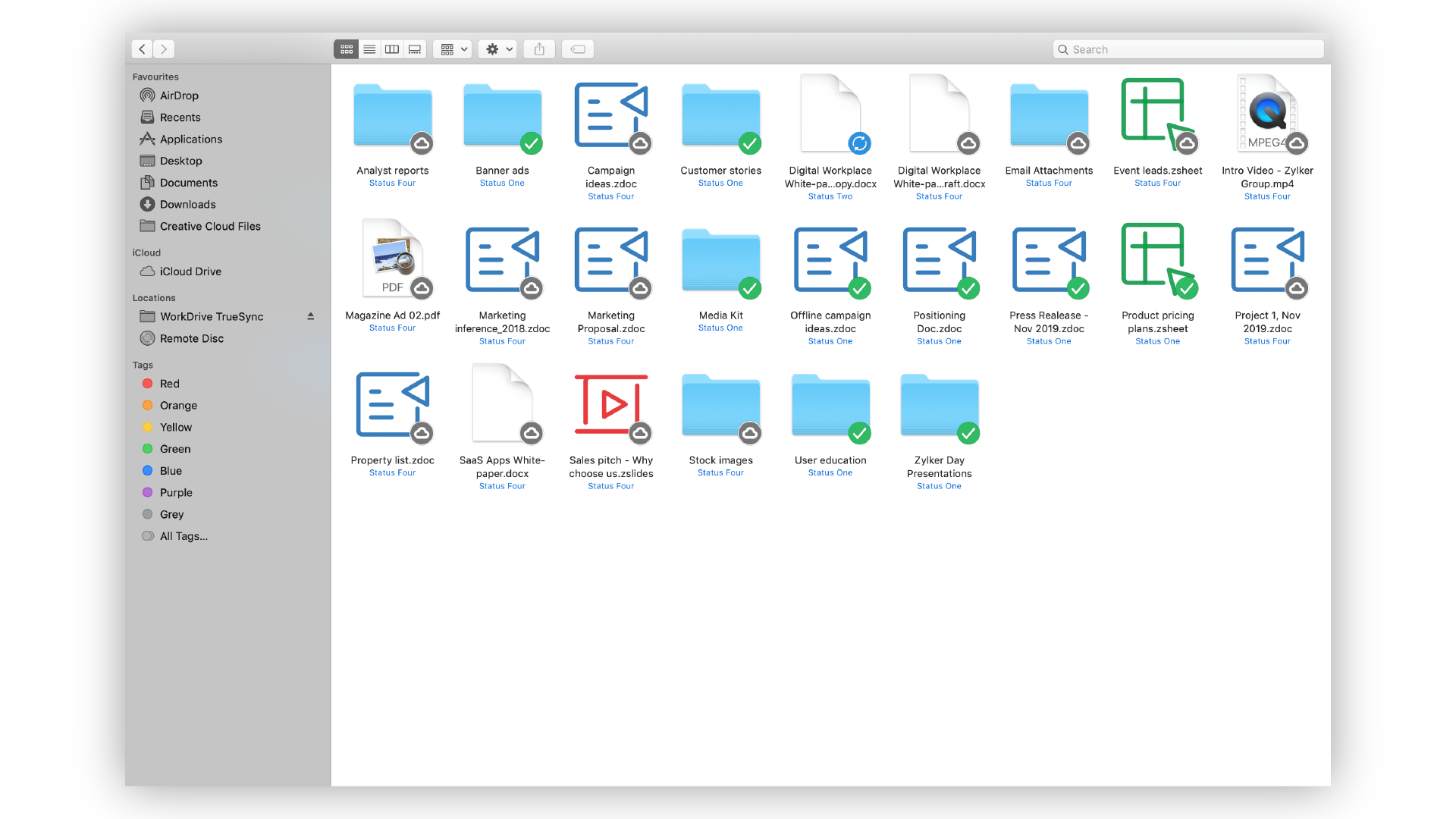 You will be connected to the WorkDrive's cloud all the time. If you preview or edit a file from your TrueSync app on your desktop, that particular document will be downloaded temporarily. Once you are done editing or working on the file, the occupied space on your hard drive will be released.
Offline sync
Whether you're in a coffee shop or on vacation, you can work from anywhere, at any time. With TrueSync, you can view and work on your downloaded files from your own devices. The changes you make will be automatically synced once you are back online.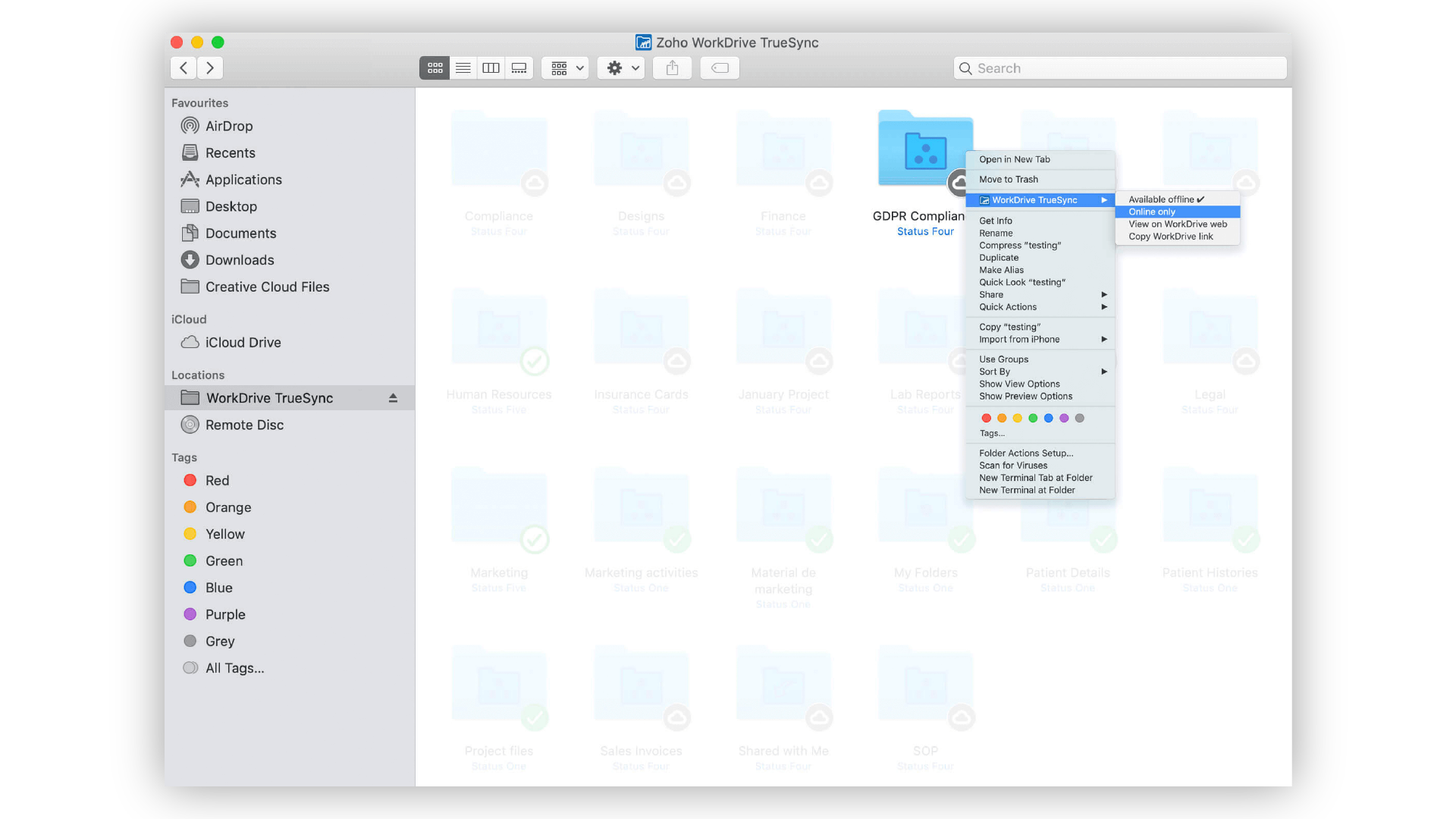 Choose this mode if you want to access a file or folder offline. These selected files and folders will occupy your hard drive space.
Locate your synced files faster
There's no need to scroll up and down through a list of synchronized documents to find the right file. Now you can search for files and folders from the TrueSync app on your computer and instantly access the data you need.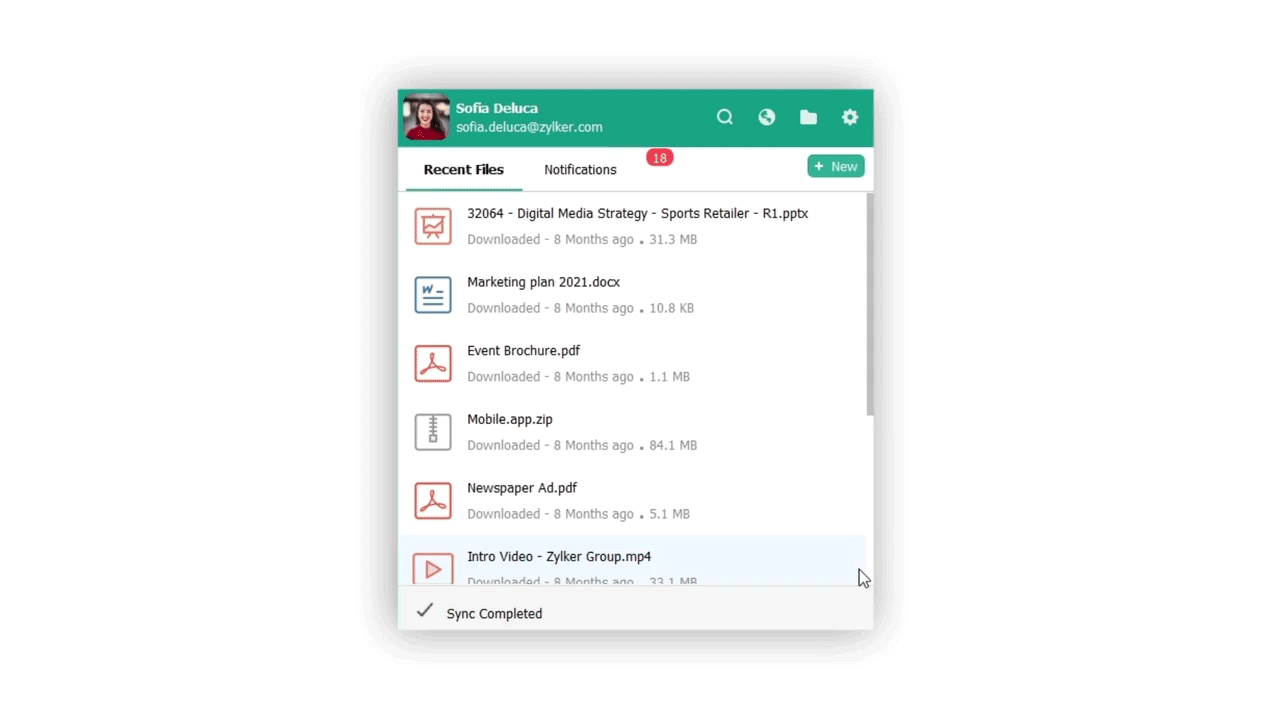 Sync multiple accounts
Do you have two or more WorkDrive accounts to sync? Multiple accounts can now be synced to your computer with TrueSync. This is especially useful if you belong to multiple teams while maintaining an individual account. You may now sync all your accounts to your PC.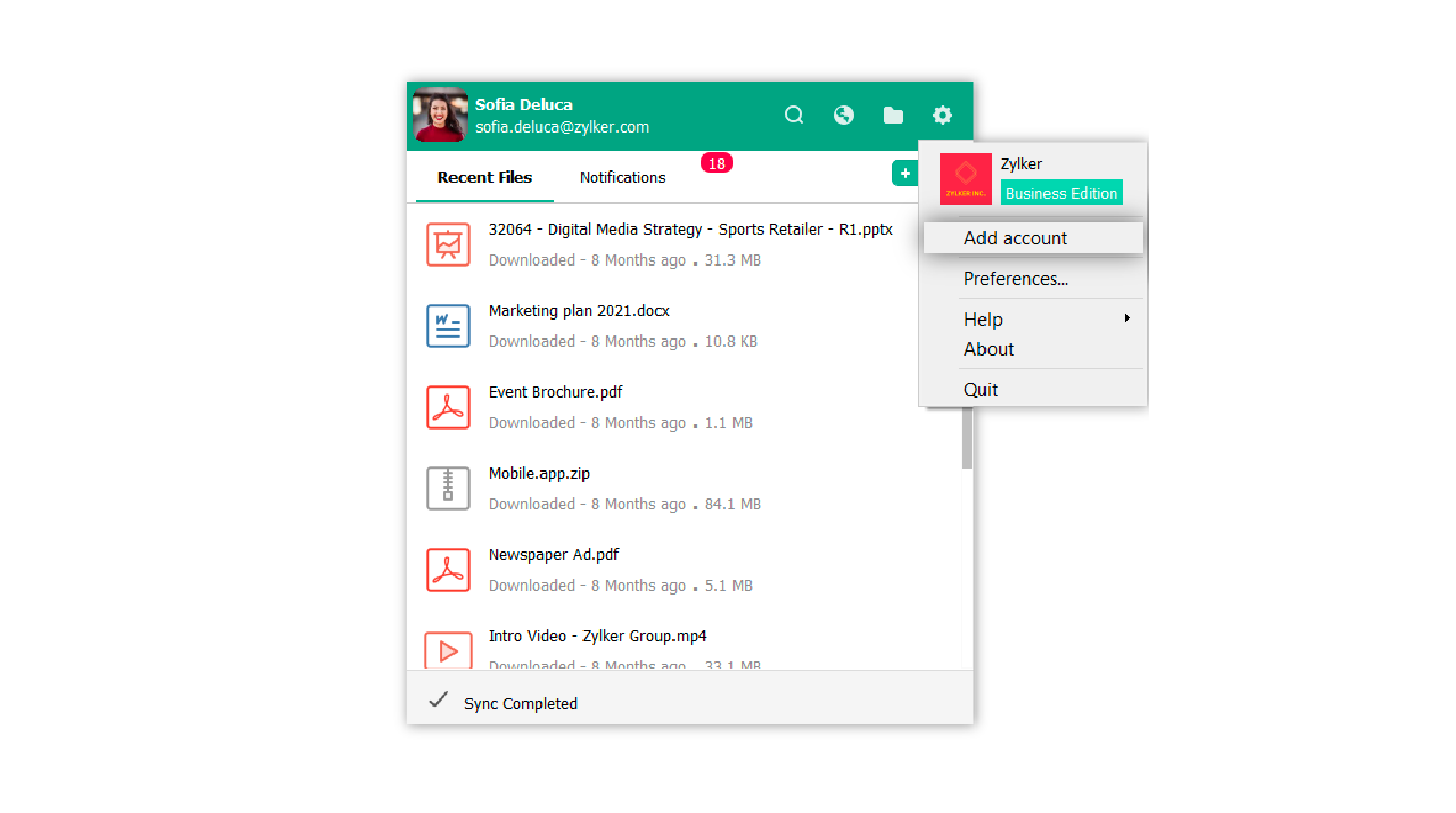 Data is structured differently throughout its lifecycle, with multiple users using multiple systems. Without a synchronization solution in place, data management can be a challenge for organizations.
WorkDrive is a comprehensive document management system that combines data from different sources into a single, unified view. From capturing your data at the point of entry to sharing it with different user groups, WorkDrive helps you sync your corporate data across devices.
Data synchronization is vital in today's data-driven world. Without it, every facet of your business will risk miscommunication, errors, and delays, affecting your overall productivity. A good data integration solution can set your business on the right track, ensuring the consistent file organization you need to run a successful venture.
Leave a Reply
Your email address will not be published. Required fields are marked