Group meetings made easy with Departments
Keep your organization's meetings organized across different user groups. Add your workforce to their respective departments and schedule team meetings without any hassle. Monitor department-specific meetings from one place.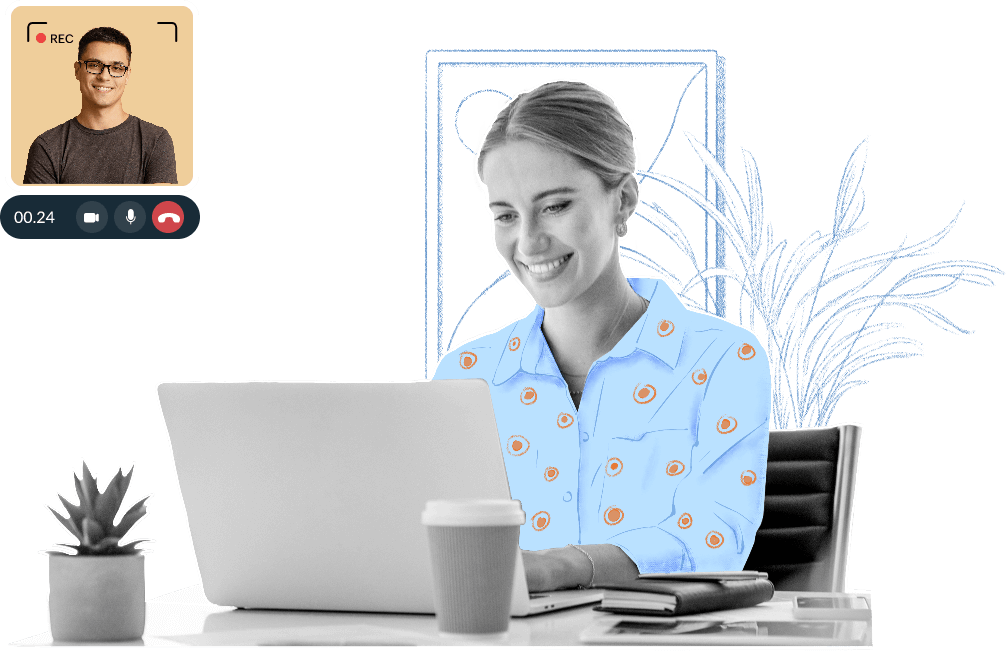 Streamlined
communication
Launch seamless audio conferencing and video conferencing sessions from one place. Schedule and conduct department-specific meetings in your organization from one Zoho Meeting account.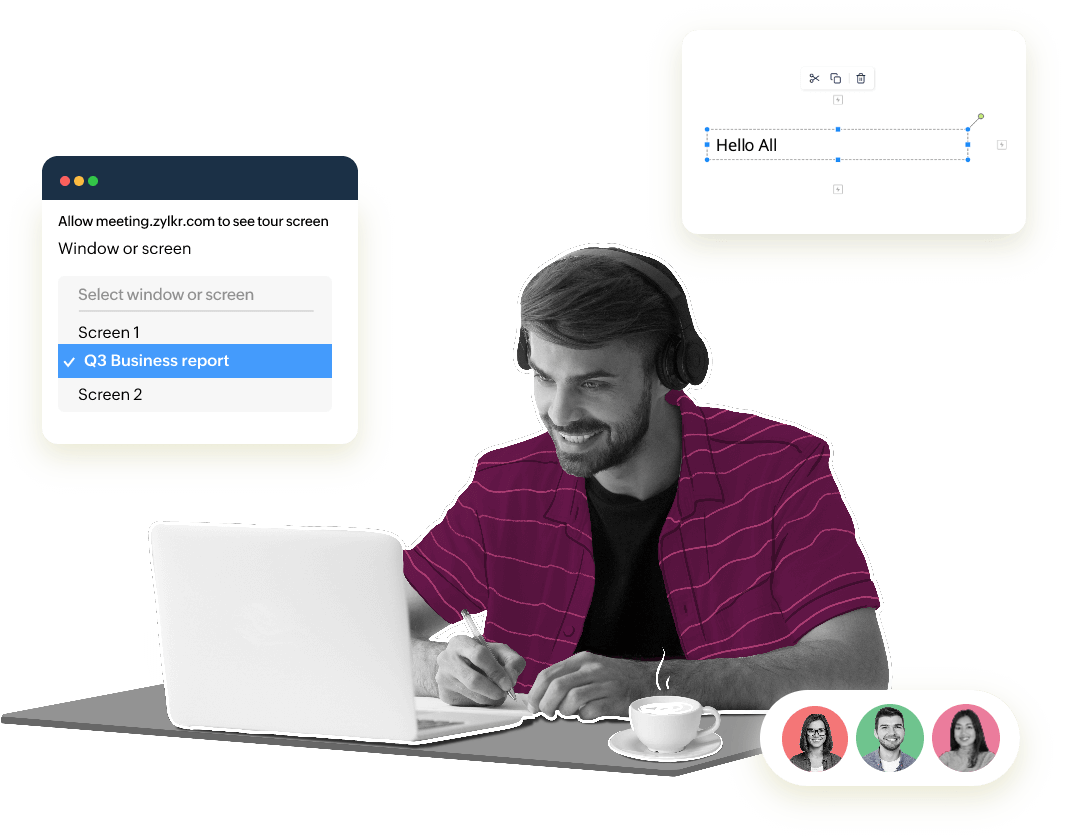 Effective
collaboration
Work together with your workforce without having to be in the same location. Use Zoho Meeting's highly collaborative features like screen sharing and whiteboards to effectively work with remote teams and boost productivity.
Secure online team meetings are now a reality
Zoho Meeting's audio and video feeds are protected by DTLS-SRTP encryption, keeping the hackers at bay. You can seamlessly connect and collaborate with your entire team without worrying about security threats. Also, lock your meetings and use effective security measures such as two-factor authentication to safeguard your account. Learn more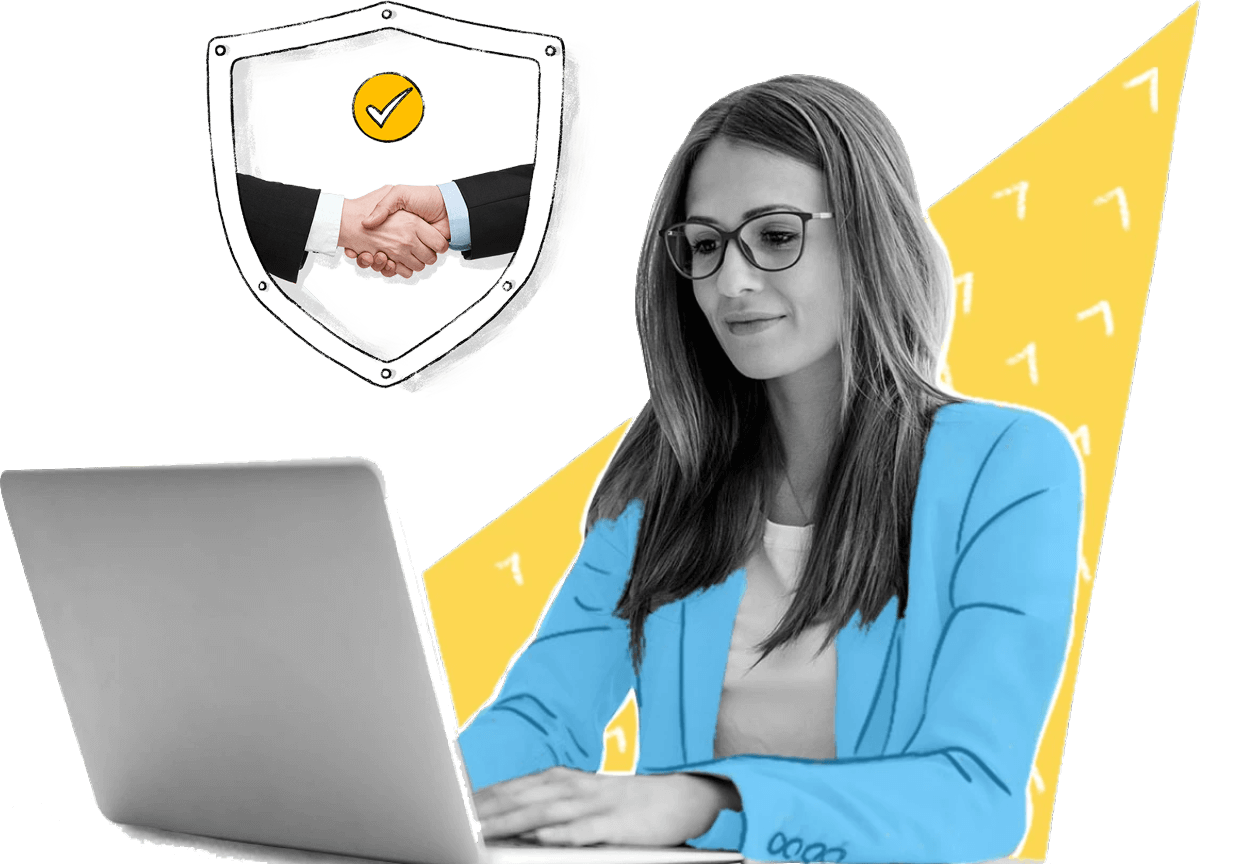 Zoho Meeting:

Your go-to group collaboration software
Share your screen in real time

Get your team on the same page and collaborate in real time using our secure screen-sharing feature. Share your entire screen, a specific application window, or just a browser tab with meeting participants.

Learn more about screen sharing

Brainstorm on whiteboard

Collaborate in style using meeting whiteboards. Prepare flowcharts with ease using the advanced shape recognition feature that converts rough sketches into basic shapes. Save meeting whiteboards after the session with the click of a button.

Learn more about whiteboards

Chat and share files in an instant

Chat and connect with meeting participants using the Meeting Chat feature. Seamlessly share files up to 1023MB with meeting participants. Also, download your past meetings' chat transcripts with the click of a button.

Learn more about meeting chat

Take quick,in-session notes

Use the exclusive Notes tab for quick note taking in your online team meetings. Prepare minutes of the meeting in an instant with the built-in template, and export associated notes in no time, thanks to Zoho's Meeting and Notebook integration.

Learn more about in-session notes

Download and share meeting recordings

Record your business meetings including audio, video, and screen sharing. Keep a copy of your online team meetings for future access, and download and share meeting recordings right from your Zoho Meeting account.

Record your business meetings

Monitor past meetings with ease

Download chat transcripts, save meeting notes and whiteboards even after the meetings are over. Use our advanced Analytics tab to analyze your past meetings and learn how actively participants were involved in the session.
Prepare a meeting agenda
Have a meeting agenda ready when scheduling online meetings and stick with it for an effective online meeting experience.
Invite relevant participants
Keep your meeting participants minimal and efficiently collaborate with only necessary members of your workforce.
Leverage collaborative tools
Make effective use of collaborative features like screen sharing and whiteboard to present your information.
Use meeting notes
Take advantage of Zoho Meeting's integration with Zoho Notebook to create quick notes and meeting minutes using the built-in templates.
Engage meeting participants
Ask engaging questions and use real-time polls to steer the conversation towards the meeting goal.
Follow up and feedback
Analyze how your online meeting worked with the participants using post-meeting analytics. Gather necessary feedback and improve on future meeting sessions.
How to run effective online team meetings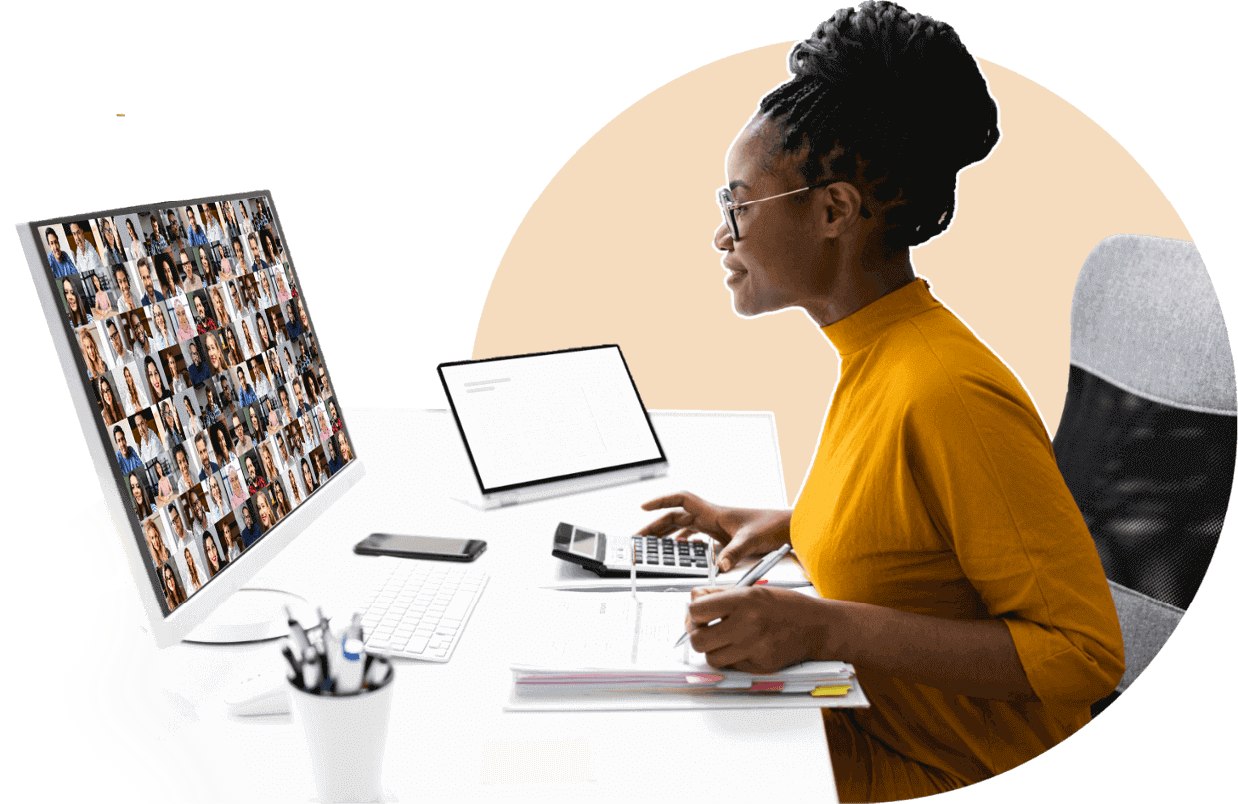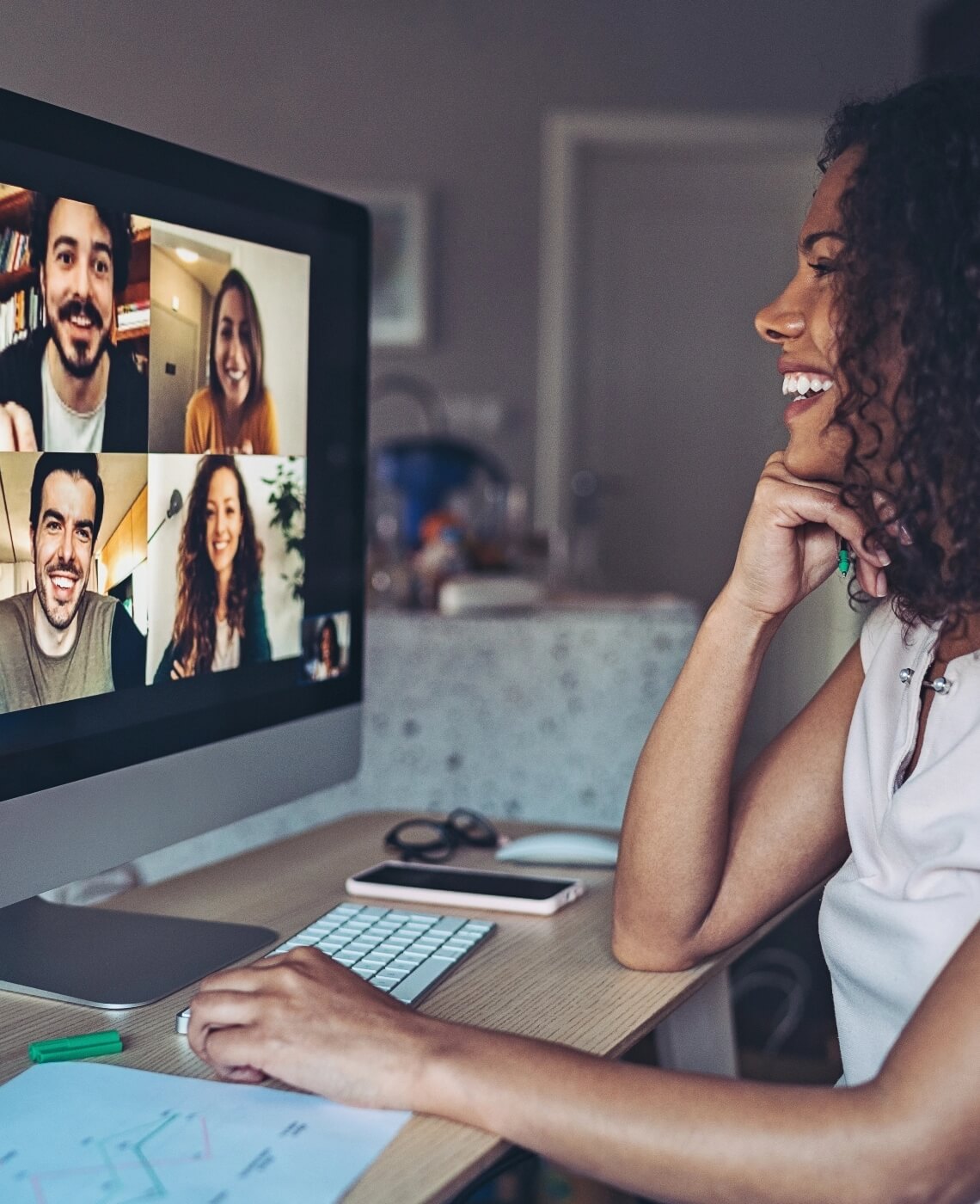 The importance of successful group collaboration
Team work, dream work

By efficient collaboration with hybrid and remote business teams, more can be accomplished with less effort.

Learn the entire picture

Group collaboration from time to time will be helpful for individual team members to easily understand the bigger picture.

Equal participation from the entire team

With effective group collaboration, team members can contribute their unique ideas equally, helping to accomplish the business goal.
Look at what our customers have to say about Zoho Meeting's team collaboration software:
"We now have several weekly team meetings that allow everyone to be in sync with each other. And for our customers we have created a series of live webinars and group meetings where they can speak directly with our team and learn about raising solitary bees."
Karl Alexander
Marketing Director, Crown Bees
"Very useful meeting tools, as we use for Zoho for our CRM and accounts, it was an easy choice to use Zoho Meeting as well. Very good for remote demo's."
Tolik Rozensteins
Business Development Manager, Security & Vetting Solutions Ltd
"Neat! Zoho Meeting is finally a true alternative to Zoom and GoToMeeting! I am so excited and I tried it out today."
Anita Campbell
Founder and CEO at Small Business Trends
Dedicated desktop app for quick team collaboration
Use Zoho Meeting's dedicated desktop application to launch and attend team meetings in a jiffy. Take advantage of the desktop shortcut to quickly initiate group meetings with your remote teams.
Secure group meetings right from your mobile device
Launch group meetings, collaborate with meeting participants, and attend webinars on the go. Use our custom-built mobile application to launch and connect meetings from the palm of your hands.
Frequently Asked Questions
How do team meetings work?
To start, you can schedule or launch instant meetings with your team via audio or video conferencing. Once the meeting is on, you can seamlessly collaborate with meeting participants using the screen sharing and whiteboard features.
Why are team meetings effective?
Team meetings provide the opportunity for your workforce to connect, collaborate, and brainstorm on projects. When done right, team meetings can immensely boost productivity and, in turn, grow the business.
What are the advantages of online team meetings?
By switching to online team meetings, you and your team can:
Save effort and cost
Reduce commuting time
Launch meetings on the go