Quick Launch from Desktop Plug-in
Get quick access to online meetings from your own desktop. You can log in to your Zoho Meeting account from the desktop app for Windows, start a meeting, view scheduled meetings and manage all your meetings right from your desktop.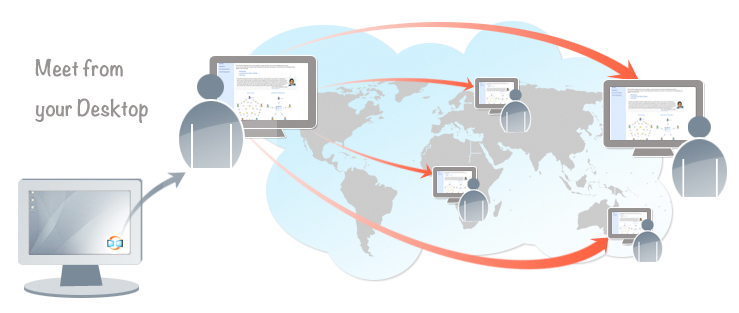 What do you get?
Easy Desktop Sharing with anyone at any time.
Quick access to all your organization members.
Keep track of your meetings and meet at the right time.
Collaborate in a better and convenient way.
Meet your prospects from other Zoho services.
Business Scenario
Marketing & Sales Executive
Being Marketing or Sales Executive, you may need to conduct online meetings very frequently in a day. It will be hard and time-consuming to go to web browser each time to conduct the meeting. Quickly access the meetings from your desktop and deliver your product demos.
Executive Training
Being an Executive Trainer, you will be providing training session each hour to different people around the world. Each time you don't have to go to the web browser for conducting an online training session. Host online training directly from your desktop.