DropBox Synchronization
Zoho Docs integration with Dropbox enables users to access their Dropbox files directly from Zoho Docs. Users can sync their Dropbox folders with Zoho Docs and the files are automatically uploaded, without having to download their Dropbox files to their desktop and then upload them to Zoho Docs Learn More
Zoho Mail Integration
Zoho Docs integration with Zoho Mail makes it easier to email documents directly from Zoho Docs, or attach files in Zoho Mail with the "Attach from Docs" option. You can also upload attachments directly from your Zoho Mail to Zoho Docs instead of saving them to your local drive. Attachments can also be moved to Workspaces in Zoho Docs and will be automatically shared to all the workspace users, without having to going through the tedious process of attaching files and then emailing them to users you want to share them with.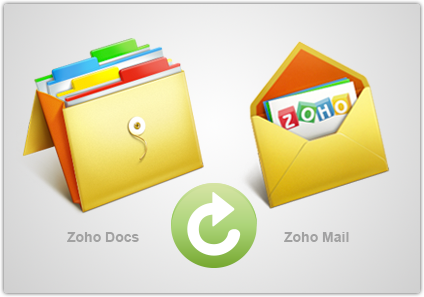 Upload from Google Drive
Zoho Docs provides integration with Google Drive, which enables Zoho users to directly import any existing documents from Google Drive to Zoho Docs. This integration feature saves time and effort, as the users no longer have to save their existing documents to disk storage before uploading to Zoho Docs.