Store all your Files. Access them Anywhere
Zoho Docs gets you started with 5 GB free space to store and access all your files. Sync folders on your desktop and access them anywhere, anytime and from any device.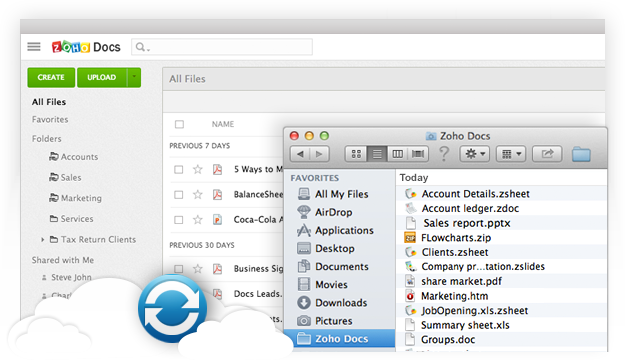 Forget the hassle of carrying documents wherever you go. Store all your documents in the cloud, and access them conveniently from anywhere.
Don't search for documents in the pile! The multi-level folder structure lets you stay organized with your files and quickly locate the important ones when you need them.
PC, tablet or laptop - the device no longer matters. You can instantly sync your files across devices and access the latest version of the document from anywhere.
Share files as a link, publish it on the web, or send password protected files to external partners - you have complete control over how you share your files. Learn More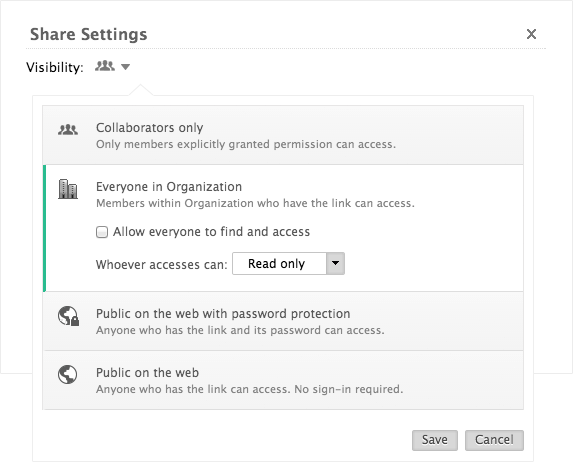 Instant File Sharing
Goodbye email attachments, zip files and FTPs. Now share files as links with your team or post it on a forum or blog. It's that simple.
Password-Protected Sharing
Sharing files outside organization? Send files with password protection and expiry dates to avoid the chances of your data being compromised.
Empower your Team with the Right Tools
Work efficiently with the right tools. Create word documents, spreadsheets and presentations; share and collaborate in real-time.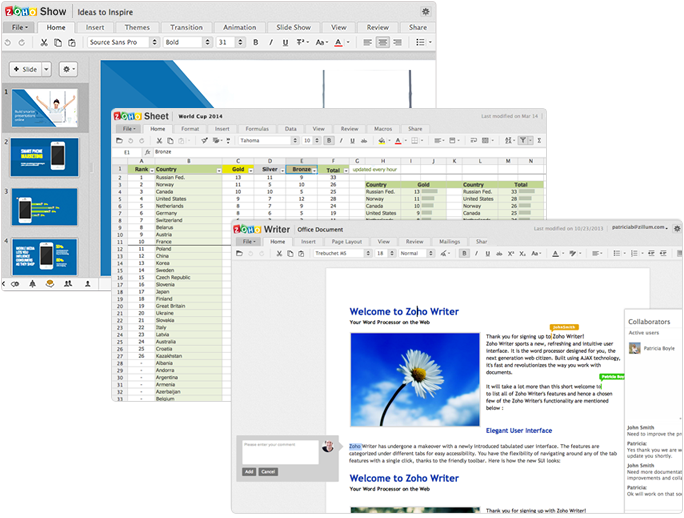 Creating and collaborating on files is a major part of any business scenario. Create, edit, manage, and share your documents using the powerful, inbuilt document editor.
Manage those endless financial calculations by organizing and analyzing data in tabular forms. Use the pre-defined conditional expressions, functions and formulas for day-to-day financial operations.
Business deals are incomplete without great presentations. Persuade your clients with the elegant themes, embedded videos, impressive flowcharts, live twitter feeds and remote broadcasting.
Collaborate and Get Work Done Faster
When you work in teams, quick decision making can be a challenge. Zoho Docs allows you to chat, share, and ideate together - anytime, anywhere and on any device.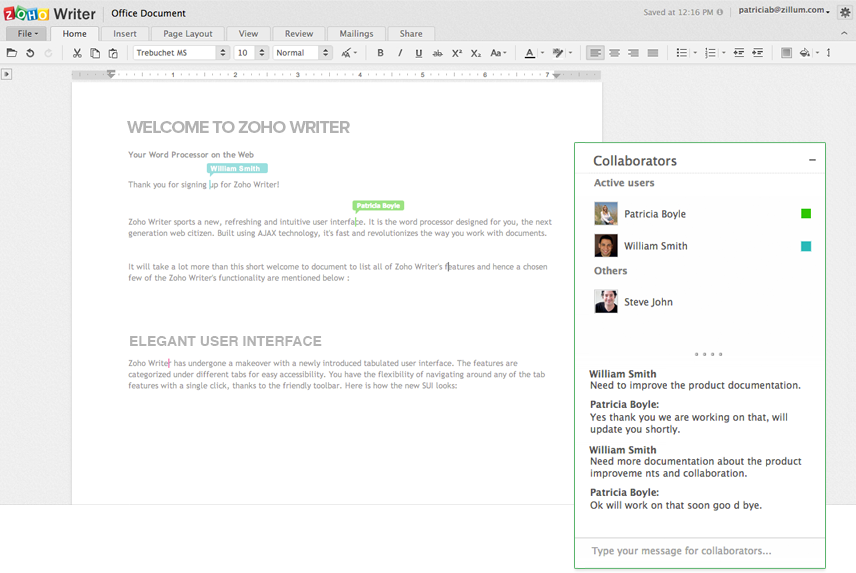 Managing work in a large team is absolutely painless with Zoho Docs. Assign tasks, set deadlines, review content and keep a check on all your files!
Need to finish more in less time? Create project folders, invite your colleagues, start collaborating together and experience seamless, real time editing.
Get all the control your business needs by setting up your organization and establishing strong password policies. Gain better clarity with admin reports, monitor and track user activities and control how information is being shared within and outside your organization. Learn More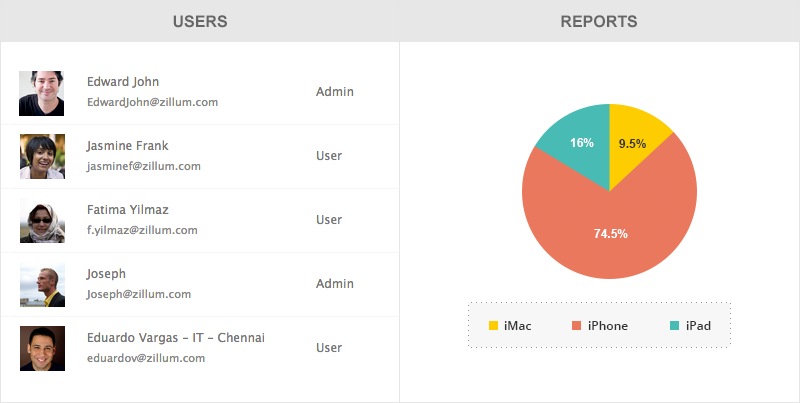 Manage Users and Groups
Manage individual users and groups from one place. Add, import and invite users to be a part of your organization.
Manage Security Policies
Protect your sensitive business data by setting up stringent security policies and assigning specific access privileges to the users.
Gain Clarity with Admin Reports
Monitor the types and volume of content produced by the users in your organization and track user activities periodically.
Give your ideas a base, even when you are on the go! Create, edit, share, and collaborate files with our native Zoho Docs apps. Learn More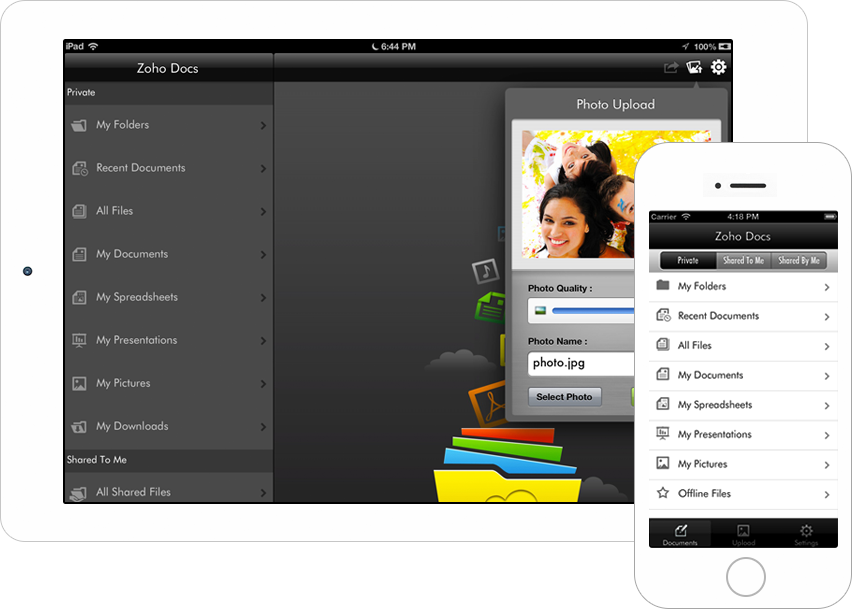 Mobile Apps
No matter where you are, carry your documents right in your pocket. Access Zoho Docs from your tablet or mobile phones, and manage your documents on the go.
iPad Apps
With Zoho Docs iPad app, you have the luxury to work from anywhere. Thoughtfully crafted for an iPad, this native app is easy and user friendly - so you can get working right away!
Extending the Document Management Possibilities
Leverage the power of document management with the integrated services of Zoho Docs. Manage your content from cloud services and experience seamless business integrations with your native applications.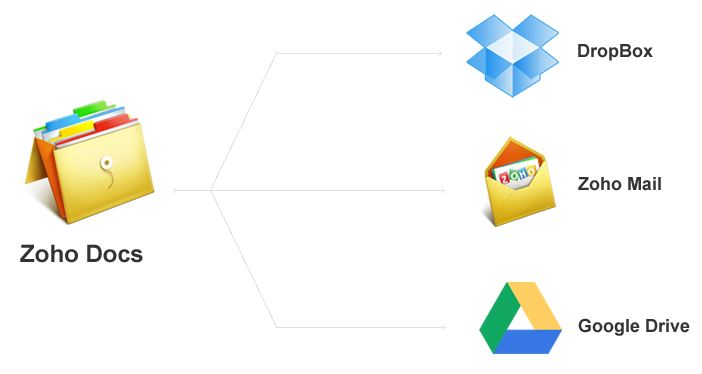 Zoho Docs integration with Dropbox makes it possible for you to sync your Dropbox files and access them directly from Zoho Docs, and also access your Zoho Docs files across various computers and mobile devices through Dropbox.
Zoho Docs is integrated with Google Apps to make your document management more powerful. Get the intuitive document management features and tools combined with Google's varied collaboration, storage and communication products and services.
Zoho Docs API provides organizations with a more comprehensive way of interacting with Zoho's applications. They can build their own applications and leverage the collaboration and document sharing capabilities of the integrated Zoho services.