Store your files. Access them anywhere.
Zoho Docs gets you started with 5 GB for free to store and retrieve all your files. Sync files and folders on your desktop and work in them from any device.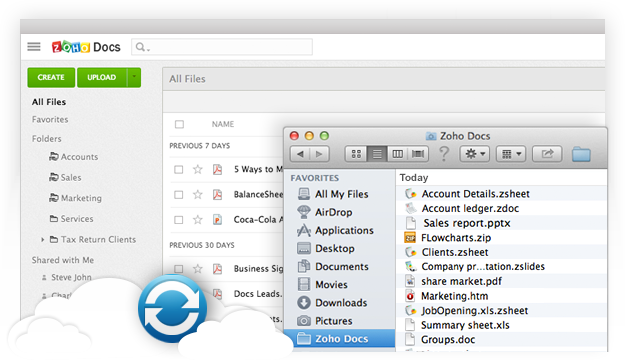 Forget the hassle of having to carry a thumb drive wherever you go. Store them in cloud, so you have access to them.
Searching for documents shouldn't have to be like scavenging through a pile of paper. The multi-level folder structure lets you organize your files and quickly locate the important ones.
PC, Mac, or tablet - the device doesn't matter. You can sync your files across devices and access the latest version of the document.
Share files as a link, publish them on the web, or send password-protected files to partners outside your organization. How you share your files is in your control. Learn More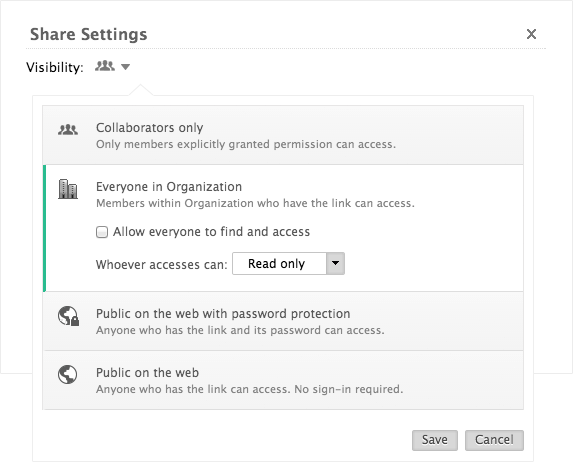 Share in no time.
Say goodbye to email attachments, zip files, and FTPs. Now, share files as links with your team or post them on a forum or blog.
Share with care.
Sharing files outside your organization? Send files with password protection and expiration dates to prevent your data from being compromised.
The toolbelt for your team.
Get your work done with the right tools.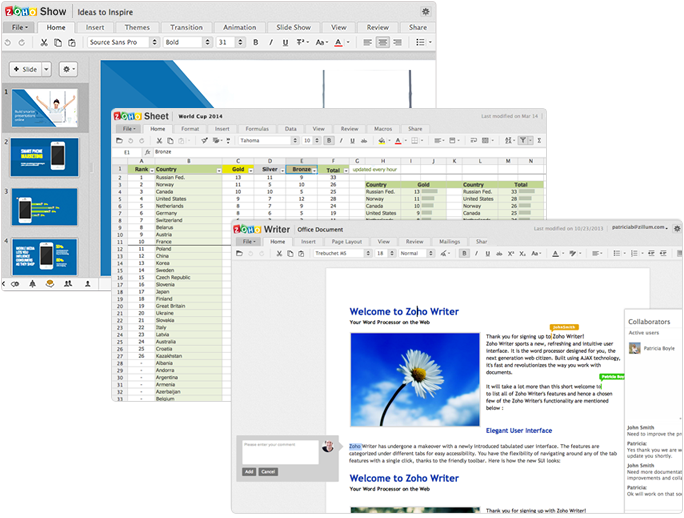 Drafting documents is a major way that work gets done. Get it done with the built-in document editor.
Manage what seems to be endless financial calculations by organizing data in separate sheets. Use the pre-defined conditional expressions, functions, and formulas to analyze your finances.
Business deals are incomplete without persuasive presentations. Impress your clients with the elegant themes, embedded videos, impressive flowcharts, live twitter feeds, and remote broadcasting.
Collaborate to get work done faster.
When you work in teams, quick decision making can be a challenge. Zoho Docs allows you to chat and brainstorm together - anytime, anywhere, and on any device.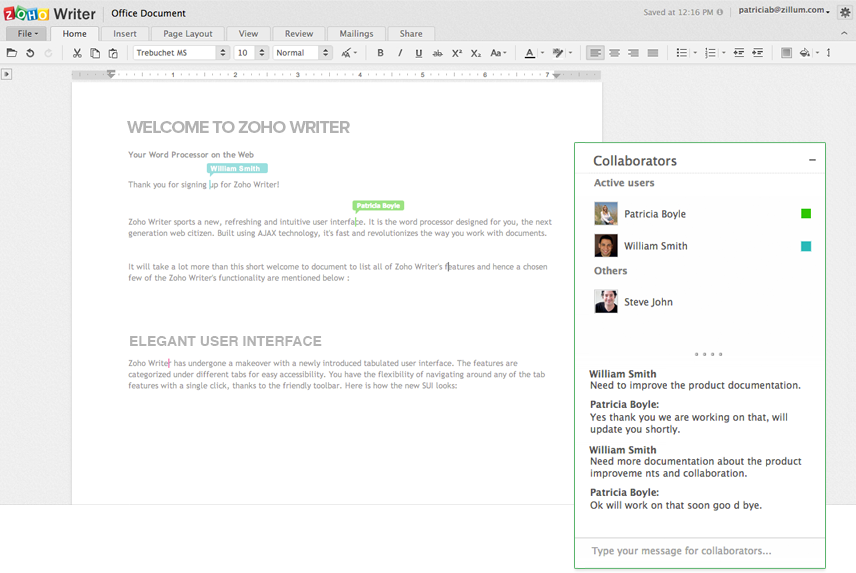 Managing work in a large team becomes easier with Zoho Docs. Assign tasks, set deadlines, review content, and keep track of the progress.
Need to get more done in less time? Create project folders, invite your colleagues, start collaborating together, and edit faster.
Know how information is being shared inside and outside your organization. Establish strong password policies so that you decide who should have access to certain documents. Learn More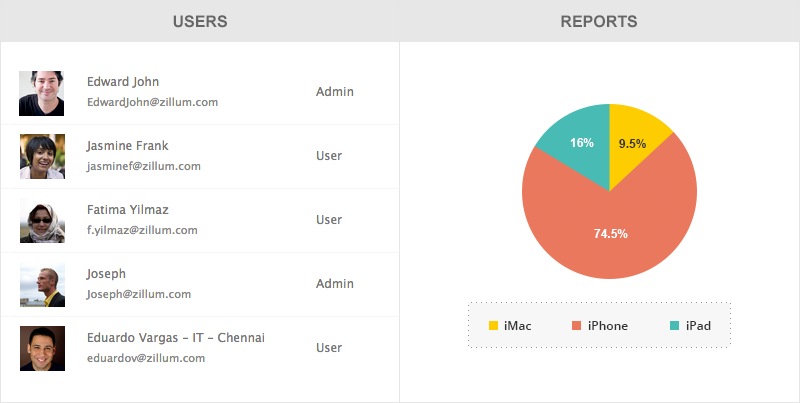 Manage users and groups.
Manage individual users and groups from one place. Add and invite users to be a part of your organization.
Manage security policies.
Protect your sensitive data by setting up stringent security policies and assigning specific access privileges to the users.
Gain clarity with Admin Reports.
Monitor the type and volume of content produced by the users in your organization and track their activities periodically.
Have a place to share your ideas, even when you are on the move. Download Zoho Docs for both your mobile and desktop.Learn More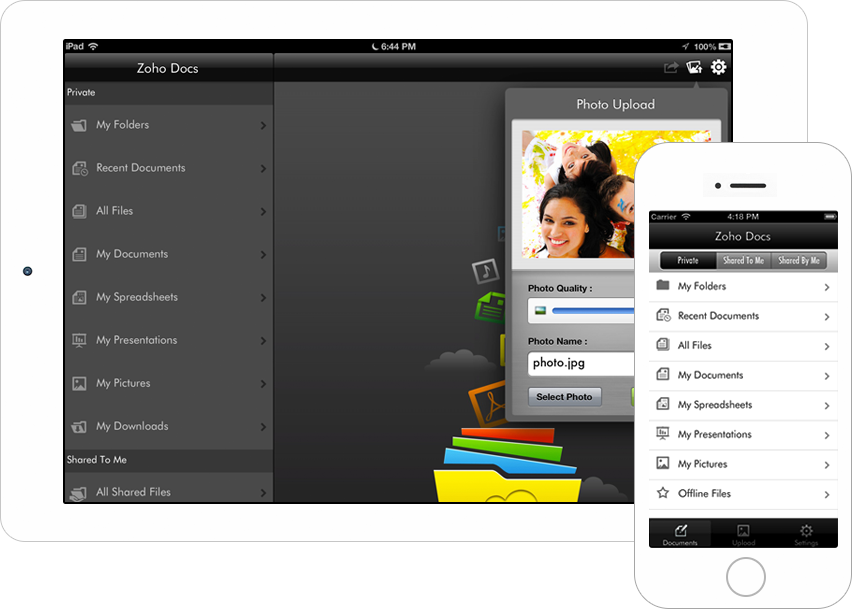 For your desktop.
Have all your files synced to your computer and available in a single folder, so, no matter where you're working from, you always have access to the most updated files.
For your phone and tablet.
Get started with a wide range of mobile apps, so you have everything you need to manage your files.
Extending the document management possibilities.
In your native applications, manage your content from popular cloud services, integrated with Zoho Docs.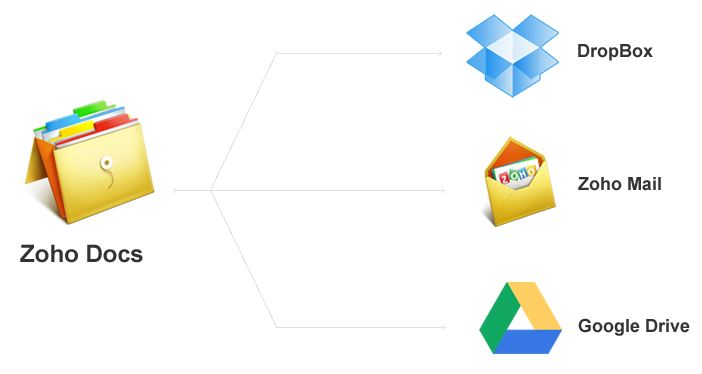 You can access your Dropbox files directly from Zoho Docs, because our integration keeps your files synced. Similarly, you can also work on your Zoho Docs files from Dropbox across your devices.
Zoho Docs is integrated with Google Apps to make your document management more efficient. Pull documents from your Google Drive and start working with it in Zoho Docs.
Zoho Docs API provides individuals in organizations a more comprehensive way of working with Zoho's applications. They can build their own applications and leverage the collaboration and document sharing capabilities of the integrated Zoho services.