How to leverage business intelligence to drive business growth
How to leverage business intelligence to drive business growth
Last Updated: October 30, 2023
190 Views
6 Min Read
Today's digital world operates on the sheer volume of data generation, making it crucial to not only utilize all of that data, but to derive actionable insights from it— turning raw data into a calculated asset for businesses.
Business intelligence (BI) is the set of strategies and practices for converting this deluge of data into meaningful business insights that help businesses make informed decisions.
Forbes highlights the importance, saying that, "The motive of business intelligence is to encourage easy interpretation and representation of data and implement an effective strategy for long-term business stability."
However, the term business intelligence wasn't on the radar of many businesses until recent years, and its importance often went unnoticed, despite its 150-year history. While we won't delve into the full 150 years, it's important to understand its recent rise in significance.
In 1989, Howard Dresner (then a Gartner analyst) described "business intelligence" as an umbrella term involving "concepts and methods to improve business decision making by using fact-based support systems."
Today, business intelligence has developed into a technological ecosystem embracing and improving decision-making processes encompassing the very core of business strategy. This evolution of modern BI helps organizations maximize efficient data collection, storage, processing, data analytics, and visualization of the relevant data, aiding in understanding the performance metrics of an organization. Many businesses use BI; it is now considered as a fundamental and strategic asset for organizations across industries.
BI helps businesses comprehend their performance through data analysis and foresee their organizations' future performance to make better decisions. This data-driven insight and information can predict trends, understand customer behavior, comprehend challenges and opportunities, and pinpoint organizational problems.
In this blog post, we'll explore BI's significance in data-driven decisions as well as practical insights into BI platforms, emphasizing its role in driving business growth.
Understanding BI
Let's understand BI by exploring the essential stages of business intelligence, the types of BI platforms, and the invaluable benefits of using BI.
Stages of business intelligence
Business Intelligence (BI) involves the following stages:
Data collection
The first stage of business intelligence involves gathering data from various sources, whether internal or external. This step makes sure that all of the data required for additional analysis to gain insights is available.
Data preparation
The obtained information is prepared for further analysis during the second stage. Before analyzing data, unorganized data is cleaned, converted, and organized for easy access to data.
Data storage
This part of business intelligence is all about storing the data that you've gathered in a centralized repository known as data warehouses. This stage ensures the security of the stored data.
Data analysis
Using analytical tools, the obtained and stored data are processed and analyzed to get useful business analytics and insights.
Data visualization
The fifth stage of business intelligence involves visualizing the data and presenting it in the form of graphs, charts, and dashboards. This facilitates effective decision-making.
Decision-making
The final stage of business intelligence involves utilizing the insights to make informed business decisions and determine the suitable plan for the company. This aids in strategic planning within the company, leading to growth and competitive edge.
Click here to learn more about the stages of business intelligence.
Now that we've explored the stages of business intelligence, let's move on to understanding the benefits of using BI tools.
The benefits of using a BI platform for business operations and strategy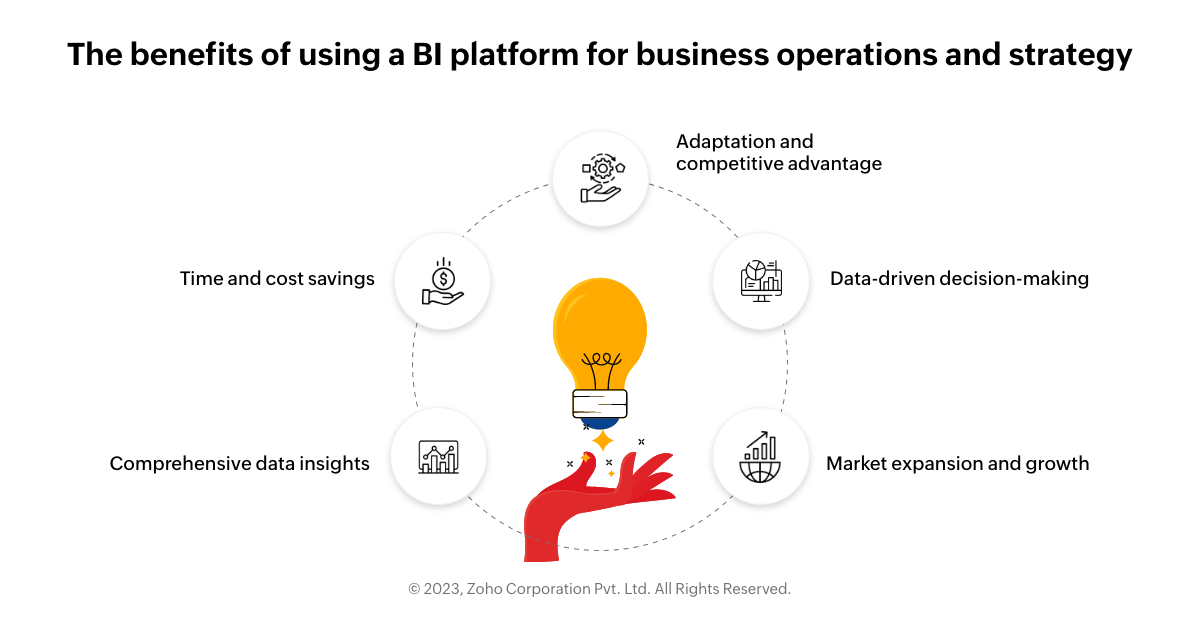 There are many ways businesses can benefit from using BI platforms, including informed decision-making, improved efficiency, sharper competitive advantage, and enhanced customer experience.
The operations and strategies of a corporation are among the most crucial areas where a BI platform can be used.
BI software gives an organization a complete picture of its data, which helps in data analysis and understanding the trends and dynamics of the market along with the customers' preferences.
It automates the processes involving gathering data, processing it, and reporting it, which helps to save time, and saving time equates to saving money.
Understanding the market and the competition is essential for a business to expand across industries. BI tools make it possible to monitor all of these equipping businesses to adapt to new opportunities and strategies to stay on top.
This way, BI empowers strategic decision-making, aiding in the development of effective business strategies and operations of a business.
Business intelligence comes in various forms, from mining data for hidden insights to real-time visualizations. Let's explore the different types of business intelligence.
Different types of business intelligence
Data mining BI
Data mining BI involves the in-depth analysis of the sheer volume of datasets to discover insightful trends and patterns. Using mathematical and statistical methods, data mining extracts valuable information from the datasets. This process helps organizations advance strategic initiatives and gain an advantage over competitors.
Reporting BI
Reporting BI entails creating reports—which can be either static or dynamic—presenting all of the data in an organized format. It offers a historical view of the data, which allows users to analyze performance and metrics.
Dashboard BI
Dashboard BI is the visualization of real-time data and presenting it in a graphical format. This offers a comprehensive view of key metrics, making it easier and more effective to monitor the performance and goals of an organization.
Predictive analytics BI
Predictive analytics BI develops algorithms and models that can predict future trends and outcomes using historical and current data to offer results that can facilitate improved decision-making and strategic planning.
To learn more about the different types of business intelligence, click here.
Tips for effective utilization of BI platforms
If your business needs BI platform to facilitate the transformation of data into valuable insights, here are some essential factors to consider when exploring suitable options.
Clear objectives
Establishing your objectives and anticipated outcomes using BI is an important step. Having a well-defined vision, whether it involves enhancing customer service, streamlining business operations, or driving sales through BI, is crucial for effective strategic planning.
Understanding user needs
Prioritizing user engagement is key. Understanding the specific needs and expectations of end users is essential for tailoring BI solutions to their needs. By involving users right from the beginning, you can ensure that the BI platform aligns precisely with their specific requirements.
Regularly review BI performance
Evaluating the performance of a BI system is necessary to identify any issues, analyze user feedback, and find areas for improvement. Flexibly modifying the system increases its efficiency and relevance. A successful BI strategy requires recognizing and overcoming any challenges associated with using the platform. Strategies to mitigate risks should be explored.
These foundational steps lay the groundwork for an effective BI strategy, but leveraging a business intelligence platform within an organization has its own challenges. Recognizing and overcoming these hurdles is essential for successful and impactful BI adoption. Let's explore these difficulties and strategies to mitigate these risks.
Addressing challenges and mitigating risks in BI adoption
Fragmented data sources
One of the primary challenges in utilizing business intelligence is managing fragmented data sources. The data is typically dispersed across multiple platforms, databases, and applications, making it difficult to aggregate and analyze efficiently. To overcome this obstacle, organizations should consider investing in robust data integration tools that can effectively combine data from various sources.
Cost management
Cost management is a significant concern when implementing BI solutions. The investment required for the integration and maintenance of BI platforms can be considerable.
To justify this investment, organizations must do a detailed cost-benefit analysis. This will showcase the potential returns and long-term benefits of the BI platform, helping in efficient cost management and informed decision-making.
Alignment with organizational goals
It's important to ensure that business intelligence strategy is aligned with the organizational goals in order to avoid any disconnect between BI activities and the organization's mission. Involving stakeholders from all levels of the organization in BI implementation can help to ensure that the strategy is in line with the goals and objectives, providing a plan for achieving the overall objectives.
By understanding these challenges and implementing the corresponding mitigation strategies, organizations can navigate the complexities of BI adoption effectively.
Maximizing growth through leveraging business intelligence
To sum up, business intelligence, or BI, is the compass to help you navigate vast seas of data. It is the transformative power that translates data into actionable insights, assisting in the development of well-informed decisions.
By mitigating challenges and maximizing benefits, BI emerges as a strategic tool for organizations seeking growth. When you embrace and leverage BI, you'll watch your business flourish in the data-driven era.
Zoho Creator is a powerful low-code solution that can help your company gain a competitive advantage. You can also explore Zoho Analytics, our comprehensive data analysis and business intelligence platform for all of your analytics needs.
Explore More About Business Intelligence
Varna C V

Varna is a Product Marketer at Zoho. After her higher secondary education, she discovered Zoho Schools of Learning and chose to pursue her education in a non-conventional way. Outside work, she loves spending time with her friends. She sings all the time, sometimes on key.
Leave a Reply
Your email address will not be published. Required fields are marked