How Zoho Uses Creator #4 - Bringing order to chaos with a customized project management solution
How Zoho Uses Creator #4 - Bringing order to chaos with a customized project management solution
Last Updated: December 27, 2021
266 Views
6 Min Read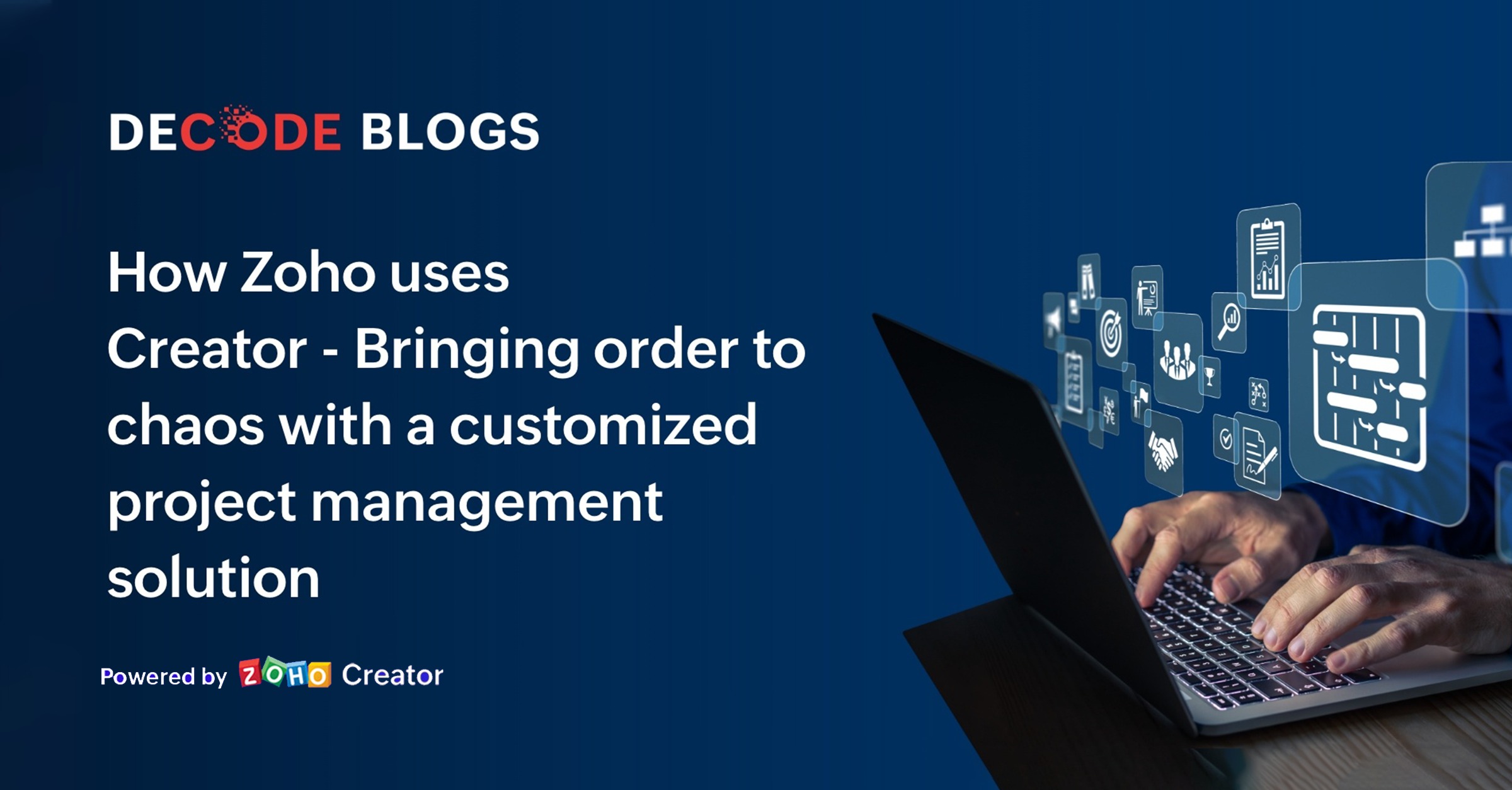 When your organization is small, there's less scope for error. But to scale, repetitive and manual tasks need to be automated to improve efficiency and reduce the complexity of business expansion. A multifaceted solution builder like Creator can truly revolutionize how you work and empower your team with tools that'll help them concentrate on your core processes. Previously we read about how our HR, marketing, and content review teams use Creator for their day-to-day activities. Now we bring you a story from our own product management team.
There are mountains of options out there for software development life cycle methodologies, but nothing beats personal experience. In almost every instance, a tech leader settles on their preferred methodology after studying various tried-and-tested practices from across the industry. While some experts stick to a single method, others combine technologies to create a hybrid approach. The next biggest challenge is finding the right project management solution that incorporates your unique requirements, handles numerous jobs without increasing licensing costs, and integrates key functionalities.
But does the perfect off-the-shelf solution exist?
Building a purpose-driven project management system
Most IT teams work with disparate toolchains, managing and integrating dozens of tools to make software delivery happen. This not only hinders visibility across involved teams but also increases overall complexity and confusion.
"We all want to create solutions that continually enhance our processes and keep us ahead of the competition. The only way to do that is to combine development and operations, and focus on being agile. Previously, we had a lot of disconnected applications used by different teams and departments to keep track of all the tasks at hand. We wanted to bring all the smaller apps together, build a centralized release management application, and make it accessible to all relevant stakeholders.
We can't afford lengthy development cycles or miscommunication between siloed teams. CRAFT solved this by bringing everyone together around shared goals, to drive more rapid and effective innovation. It also gives us a comprehensive view of the entire development cycle." - Prakash Rathinam, Lead - Product Management
CRAFT: Creator's Release Administration FacelifT
CRAFT focuses mainly on eliminating steps that don't add value, as well as increasing efficiency, productivity, and swift delivery, and ensuring quality through it all. It also mandates trust and creates alignment among product development, engineering, and any adjacent teams involved in getting the final product to our customers.
"CRAFT has become the core of Creator's project development process. Two critical aspects make CRAFT different from any other commercial off-the-shelf project management software. One is the way we interact with it, and the other is its ability to cater to specific process needs associated with our development approach.
It's tightly integrated with Zoho Cliq to ensure the participation of all relevant stakeholders in the release process. It doubles as our compliance management tool, and we also track and document mobile app crashes with it. From minor feature updates to significant version rollouts, it's our holistic SDLC tool." - Baburam Sathiya and Vignesh Selvaraj, Quality Engineers - Release Management
The application in focus
Conceptualization: Product development is a never-ending process. As the product gets more users and reviews, you gain more insights into what you can do to improve the product's features, and what to exclude or include in future updates. Because customer preferences are constantly evolving, the app captures requests from varied sources, such as events, internal observation, and support tickets. The product management team analyzes these customer voices, and feasible suggestions are added to the app as work items.
Design, engineering, and documentation: The work item is further broken down into various tasks spread across design, engineering, user education, and marketing teams.
The design team makes initial sketches and visuals for the different screens and functions of the feature. They ensure that the visual elements of various components are harmonious and feed the overall user experience. The development phase mainly focuses on building a robust backend that connects multiple elements of the task to our clients, servers, databases, and APIs. Any source code change to the repository is automatically converted to a task, and gets linked to the testing team's task list. Accompanying user guide documents and release notes are also added to the application.
Testing and deployment: If you don't keep quality and testing at the heart of the development process, the team will not achieve optimal performance. Newly developed features are put through a rigorous testing and automation process and subjected to a wide range of relevant real-world test cases. The insights gathered are added back to the app as bugs. Automation testing reports with a list of defects mapped to different severity levels are generated.
Once the final adjustments are made to the feature, the update is made live and available to our customers. A group of features is termed a milestone in the app, and it can either be deployed all at once or in phases. Post-deployment, our customer-facing teams provide support and guide our customers through the newly added features.
Advantages of automating common processes
The current wave of digital transformation is driven by a need for fast, safe, and robust solutions. In this context, the ability to deliver real value to your customers by automating various end-to-end processes and keeping your team at the center of this change becomes vital.
Work better, together: An essential part of project management is keeping your team informed so that nothing falls through the cracks. Manage everything from ideation to milestones from a single solution. Pitch ideas, make a list of what needs to get done, assign tasks, set due dates, and discuss with your peers.

Make informed decisions: Gain valuable insights into key metrics with the help of exhaustive reports and charts like Gantt, calendar, and so on. Organize essential documents, files, and product images under folders, so they're easy to find.

Intelligent automation: There's no automatic choice when it comes to automation. Analyze unstructured data, map out your workflows, redesign business processes, and build a customized solution on Creator. Extend your application and make it accessible to other systems via APIs.
Creator 6 and onward
"Looking for the right automation platform can be a draining experience, especially when you believe there isn't a tool that can handle the level of customization your organization needs. But that is not always the case. With a powerful solution builder like Creator, you don't have to fit your requirements into a precreated mold.
Creator 6 was one of the biggest version releases we've ever had, and most of the project planning and execution progressed during the pandemic. The need for a centralized solution like CRAFT became even more dire as teams worked remotely, and we had to find an efficient way to communicate and keep the project on track. It drastically improved our productivity and freed everyone to get on with more interesting and valuable work, while meeting our security and compliance needs. We've always been the team behind Creator, but with CRAFT, we get the end-user experience." - Prakash Rathinam, Lead - Product Management
And now you know how we meet our internal process requirements. We couldn't find any software that could fit into our unique working patterns. That's why we decided to build our own—and so can you! In the next blog, we have another story from our CEO's office, so stay tuned!
Zoho Creator is a pioneer in the low-code application development space, empowering enterprises across industries for over a decade. With over 13,000 customers across the globe and over six million solutions built on the platform, Zoho Creator continues to empower digital transformation. So what are you waiting for?
Sign Up Now
Preethi Ravishankar

Preethi Ravishankar is a Product Marketer at Zoho. She's passionate about everything low-code and loves writing about it. When not being a tech geek, you can find her reading literary classics with a steaming cup of filter kaapi in her hands.
Leave a Reply
Your email address will not be published. Required fields are marked