How Zoho Uses Creator #2 - Marketing at the speed of tomorrow with automation
How Zoho Uses Creator #2 - Marketing at the speed of tomorrow with automation
Last Updated: December 11, 2023
458 Views
4 Min Read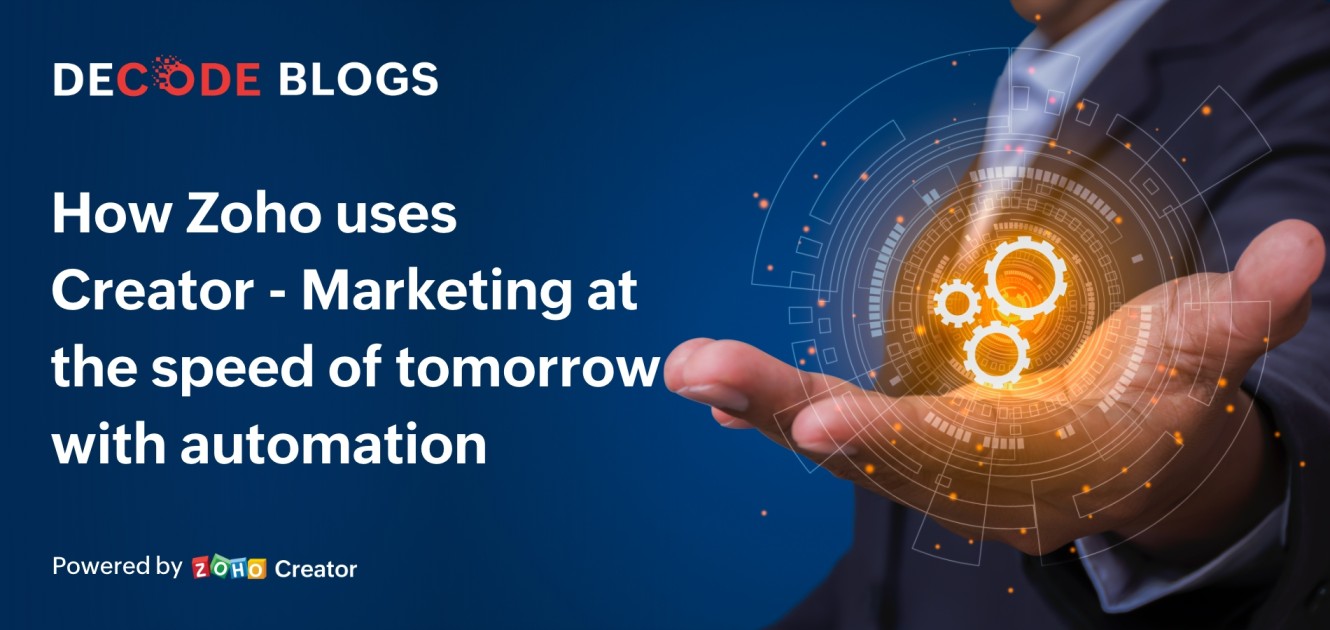 With Creator, the possibilities are endless, and that's not just a tagline. From citizen developers to enterprise engineering teams, our customer community has time and again used our low-code platform to build innovative solutions that even we are in awe of. In our previous blog, we read about how our HR team uses Creator to automate day-to-day processes. Now we're going to go into another tech-spiring story from the central marketing team of ManageEngine, Zoho's enterprise IT management division.

Modern marketing moves at a breakneck pace. In today's business world, marketing teams must be capable of changing direction and making new plans in a heartbeat. The business landscape will alter, and course corrections will be necessary to take advantage of new opportunities. Productive marketing requires automation because it helps marketers gain data visibility, accelerate decision-making, and produce desired results. So what made ManageEngine's central marketing team build a customized solution on Creator?
Roadblocks to easy and efficient marketing
Marketing campaigns can be demanding to organize and run, especially when you have to multitask and collaborate with numerous teams. From creating and managing creative assets to addressing internal feedback, streamlining the process can be tedious.

"The central marketing team handles a multitude of activities, like global events, social media, public relations, content review, design, branding, video production, and so on. Our work also involves collaborating with various product marketing teams within ManageEngine for many of the above-mentioned activities. With so many moving parts, we wanted to centralize and automate workflows so that it was easy for all the stakeholders to collaborate seamlessly on various projects. That was the spark that led to the marketing dashboard. This was in 2013, when even Creator was in a more nascent stage. But we believed it had the potential to become the backbone of the dashboard." - Ajay Kumar K.G, Head - Global Marketing, ManageEngine
Centralized marketing management dashboard
With 450+ users accessing the dashboard every day, it wouldn't be wrong to assume that the ManageEngine marketers and designers start their workday with this game-changer.
"Whenever a new feature is required, we check for feasibility and add it to the dashboard. We've discovered new Creator features while working on the dashboard. It's been a process of learning for us too. Ideally, to create something like this from scratch, using any traditional programming language would've taken us up to three months. With Creator, it took us only a week. It drastically reduced the development time." - Vinoth Raja & Manikandan Arumugam, Senior Web Developers, ManageEngine