How Zoho Uses Creator #3 - Meet Zoho's Content Assistant powered by Creator
How Zoho Uses Creator #3 - Meet Zoho's Content Assistant powered by Creator
Last Updated: December 10, 2021
625 Views
5 Min Read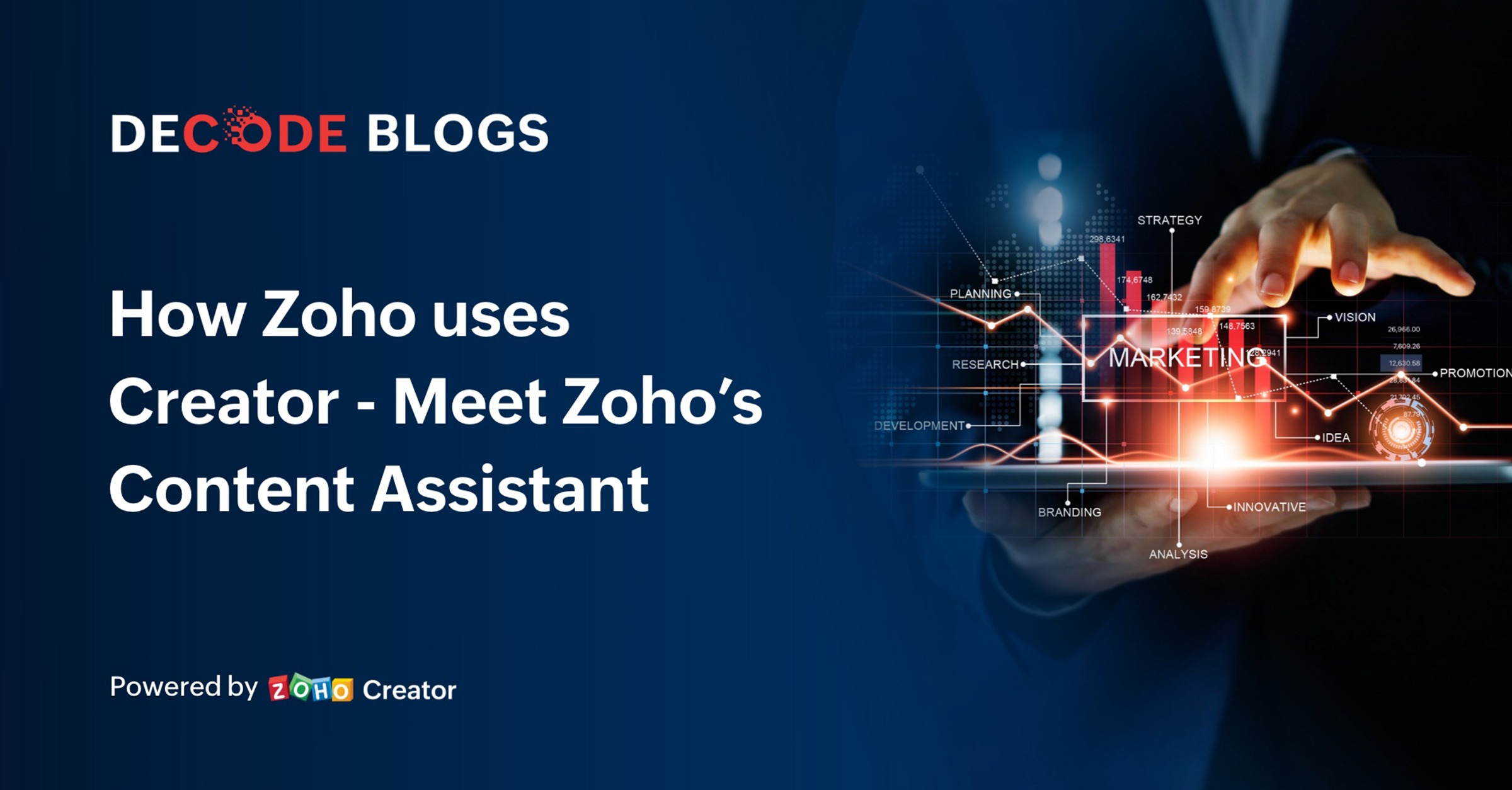 All businesses strive for efficiency—to do more with fewer resources and less friction, resulting in higher productivity and profitability. Creator helps your organization achieve precisely this. In our previous blogs, we read about how our human resources and marketing teams use Creator to build solutions for their various requirements. Here's another interesting Creator story from our content review team.
With over 10,000 employees and more than 50 different product teams, maintaining a clear brand voice across all of Zoho's blogs, webpages, technical documents, social media profiles, and products is a tricky task. To bring more consistency to our many content initiatives, Zoho has put in place a single centralized editorial team whose job is to advise and support all the marketers and technical writers across different teams as they work to create new content. This editorial process involves multiple drafts and lots of communication between people on different teams and in different time zones. Multiply that by the more than 20,000 documents that have been submitted and reviewed in the five years since the team started, and you can only imagine how many individual pieces of data need to be tracked, managed, and maintained.
Today, all of that is done by a custom app built on Creator. But that wasn't always the case. Read on to learn how our editorial team went from email and spreadsheets to an automated system specifically built with their particular needs in mind.
In the beginning
Our editorial team was initially tasked with building a system for writers from the product teams in Zoho to submit their web copy for review. Their goal was to have writers and editors collaborate to produce more redefined marketing collateral.
"Before the Content Assistant, we were doing all the reviews through email. We had dozens of product teams and hundreds of writers so keeping everything organized just wasn't workable. It ate up a lot of our mental bandwidth, organizing and keeping track of all the documents and making sure we weren't missing things. It's crucial to us that the writers view us as reliable and trust us with their documents. It was slowing us down and breaking down the flow of communication between us and the writers. Nobody knew what the status was for each document and it was just chaos. If you don't have the right system in place, you can't scale your operation. The larger the operation gets, the more of your time and energy goes into managing the system, rather than doing the work."- David Elkins, Head of Content Review
The solution? A content review management system
Zoho Creator acts as the backbone that links the flow of a document from one person to another. It automates the process by which 500+ writers and 12 editors exchange documents while tracking the various rounds of review, the re-writing, and the editing that each of our documents go through.
"We call it the Content Assistant for a reason: because it feels like another member of the team. We needed to customize every element of the process, every stage, every action, and every message that went out. We didn't want a tool that we had to learn and adapt to. We simply wanted to map our existing process to an app without having to change our process." - David Elkins, Head of Content Review
The application at a glance
Writer Resources: Writers can directly submit their drafts for review through the app. They can also easily communicate with the reviewers and keep track of the number of reviews each document has undergone.
Editor Resources: The editors can track the entire lifecycle of a document, as well as conversations from multiple products like Zoho Docs, Zoho Writer, and Zoho Mail, in a single place. The lead editor can effectively delegate tasks because they know how busy each reviewer is. With detailed reports, they can assess a reviewer's productivity by the number of words reviewed and documents finalized.
Manager Resources: Managers are aware of the status of every document and can assess the progress of every writer on their team.
Will automation work for you?
When it comes to organizational efficiency, many businesses scrutinize low-level details while overlooking high-level systems and workflows that could help them operate more effectively. They miss the forest for the trees.
Reign in chaos: Automating high-volume, complex, and repetitive tasks is a win-win; it drives value for customers and empowers employees to take on more challenging work. It also significantly reduces the time it takes to drive day-to-day activities without compromising on quality.

Effortless convergence: Creator integrates natively with your existing systems through in-built connectors, and a robust API. It also comes with plenty of room for extensions to support new technologies.
Personalization: Creator can replace most existing legacy software systems and empowers you to build custom solutions that focus on your core competencies.
Think about the present, the past, and the future all at once
"Creator is so empowering because it allows you to map and execute new and complex process exactly as you envisioned them. It lets you build the ideal solution that you've always wished for without having to make compromises. Compared to out-of-the-box solutions, it doesn't force you or your team to conform to someone else's understanding of how a particular process should look or work. With Creator, you're set free of the constraints of somebody else's vision, and you get to bring your own to life." - David Elkins, Head of Content Review
Solving these kinds of problems is exactly why we built Creator in the first place, and we're happy that other teams at Zoho have made such good use of it. Next up, we have a Creator story from our own project management team. Creator runs on Creator too!
Zoho Creator is a pioneer in the low-code application development space, empowering enterprises across industries for over a decade. With over 13,000 customers across the globe and over six million solutions built on the platform, Zoho Creator continues to empower digital transformations. What are you waiting for?
Sign Up Now
Preethi Ravishankar

Preethi Ravishankar is a Product Marketer at Zoho. She's passionate about everything low-code and loves writing about it. When not being a tech geek, you can find her reading literary classics with a steaming cup of filter kaapi in her hands.
Leave a Reply
Your email address will not be published. Required fields are marked