6 key benefits of low-code development
6 key benefits of low-code development
Last Updated: March 3, 2023
319 Views
5 Min Read
Low-code application development has rapidly become an integral part of modern app development. At the core of it, the idea is to accelerate and democratize the application development process. From a developer's standpoint, this means that they can build complex applications with minimal coding, making the development process faster, easier, and more efficient. And for business users, low-code development lets them stitch together simple-to-semi-complex business apps for their requirements—freeing up development teams to focus on core business software implementation needs.

The benefits of low-code are many and can be game-changers for business leaders looking to improve their app development operations. From increased productivity and reduced costs to greater flexibility and better collaboration, the impact of low-code on the software development process is expansive and can lead to innovative apps and higher user satisfaction. In this blog, we'll dive into the 6 key benefits of low-code application development and how it can speed up your business transformation process.

And before we dive in, here's an interesting stat for you on the adoption trend of low-code—60% of enterprises are planning to invest in low-code development in 2023, as per our state of low-code application development survey.
How does a low-code platform benefit a business?
1. Improving efficiency and productivity
First on this list is low-code application development's ability to increase the efficiency and productivity of developers and users. A low-code platform lets business users/developers build and deploy applications much faster than with traditional coding methods. This is because low-code platforms provide prebuilt templates and visual drag-and-drop tools that allow users to quickly put together and customize applications without the need for complex coding.
Other than speeding up the development process, low-code platforms also reduce the need for specialized coding knowledge. This means that non-technical team members can contribute to app development, further increasing efficiency and productivity.
If you want to be agile, have a non-complex solution, and go live quickly, without having integration and implementation difficulties, then Zoho Creator is the perfect solution." says Laila Kakar, lead data scientist at MTN. Read the full story here.
2. Enhancing user experience and satisfaction
The next key benefit is the improved user experience low-code development platforms can provide. One way that low-code platforms enhance user experience is through the use of drag-and-drop interfaces and easy-to-write-and-comprehend scripting languages. This allows users to build their custom requirements into the software, instead of having to use ready-made, but rigid, software. These capabilities of low-code development platforms also allow even non-technical users to build applications, by simply dragging and dropping prebuilt components into place, rather than writing complex lines of code.

Moreover, these platforms also allow for the creation of visually appealing and intuitive applications. The visual/no-code nature of low-code development platforms means that it is possible to create applications with a polished and professional look and feel, which can enhance the overall customer experience.
3. Maximize cost savings through resource optimization
Low-code application development allows organizations to create applications quickly and efficiently, without the need for extensive coding. Resource optimization is an important quality of low-code development, as it helps maximize cost savings.
Here are some of the ways in which low-code can contribute to resource savings:
Low-code provides reusable prebuilt components, templates, and modules which save you time and requires fewer resources compared to traditional development approaches.
Simplifying the app-building process with a variety of no-code features allows citizen developers to also contribute to the digital transformation push. This reduces the need to include skilled developers in every software-building project.
Customizing applications for specific needs can be time-consuming and expensive. Low-code's no-code development capabilities help with quick and easy customizations, which can help reduce the cost of development and deployment.
Here's what Shelby Spencer, CTO of Briotix Health had to say about their experience with low-code:

It's a HUGE difference. It's such an insane difference that I measured it, in both cost and time to market. One of our acquisitions was in the middle of developing an ASP.NET platform before they came on board. We let that project finish, and compared its progress to a nearly identical build out we had underway in our low-code platform—by the end, we'd saved 68.8% on the product built out in low-code, a savings of over $300,000!

You can read the story in detail here.
4. Augment flexibility in application development
Low-code platforms are built to be highly configurable and allow the easy modification of existing applications. This helps in increasing the flexibility of the software development process and enables organizations to respond quickly to changing business requirements. The results of utilizing low-code development tools are faster time to market, increased innovation, and improved overall agility compared to traditional software development.
The key is to get an MVP [minimum viable product] pushed out, and then enhance and add to that over time. Those rapid development cycles are accommodated by our low-code platform very well. - David Clifford, Chief Strategy Officer, T Bank

Read this story here.
5. Strengthen collaboration among users
Low-code platforms come with collaboration features, such as version control, team collaboration, and commenting capabilities, which amplify collaboration and help ensure that the app-building process is transparent and accessible to all stakeholders—be it professional developers or business users.
Another benefit of low-code is its short learning curve, which enables even business users create and modify application components with drag-and-drop tools, reducing the dependence on developers and freeing them up to focus on more complex tasks. This is partly because most good low-code platforms also support no-code development to a large extent. Since the core principle of low-code is the abstraction of programming complexity, they are built with no-code capabilities like drag and drop UI, analytics and workflow builders.
6. Scale up the quality of applications
Low-code platforms provide a standardized development environment and coding snippets, which ensure that development issues caused by variations in individual developers' coding styles are minimized. Also, these platforms often come equipped with built-in quality assurance tools and processes, such as automated testing and debugging. Employing low-code further helps to improve the quality of the final product by quickly identifying and fixing bugs, ensuring that end users receive a high-quality, error-free application.

Finally, most good low-code platforms provide version control and collaboration tools, which make it easier for teams to work together on a project and keep track of changes to the code—ensuring that only the most up-to-date and tested version of the application is deployed.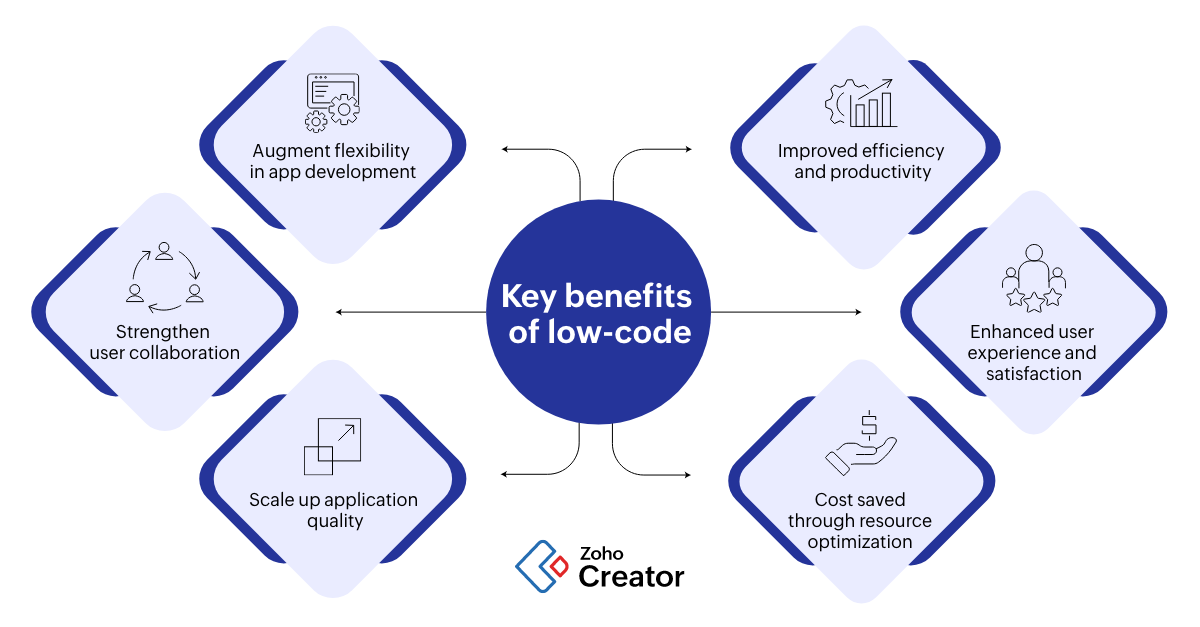 Role of low-code platforms in business-wide digital transformation
It's pretty evident from the benefits of low-code application development and its examples discussed above that, when utilized properly, these platforms can become a game-changer for organizations in their digital transformation journey. One major advantage for people starting out with low code platforms for software development is that the initial commitment costs almost nothing to explore, prototype, and implement.
We have a multitude of ways in which organizations are making the best of our low-code platform, Zoho Creator, for their business automation needs. You can take it for a ride too, if you'd like, with our 15-day free trial and experience the benefits of low-code for yourself.
Try Zoho Creator for Free
Rohith Krishnan S

Rohith is a product marketer at Zoho. He writes about low-code, workflow automation and follows the latest digital transformation trends. Outside work he enjoys spending time with family, watching football matches and reading about futuristic trends, in no specific order.
Leave a Reply
Your email address will not be published. Required fields are marked