What is low-code application development?
Low-code is a way to design and develop applications with little or no coding. Low-code platforms empower businesses to build custom solutions with innovative functionalities that cater to specific business models. These platforms offer intuitive visual builders, ready-to-use code snippets, form and report templates, and built-in connectors that speed development and extend the ability to innovate to a broader set of people.  Users can jump right in to building the application, as these platforms eliminate typical processes, like creating frameworks, modeling data, and developing user interfaces.
Visual Builder

Form and Report templates
Ready-to-use code snippets

Built-in connectors
What can you build with a low-code platform? 
Businesses can leverage low-code platforms to build applications that cover any number of use cases.
Customer engagement applications
Customer service management
Appointment booking
Point of sale 
Line of business applications
Operations management
Supply chain management
Accounting and financing 
Workplace applications 
Asset management
Task management 
Customer relationship management
Learn more about low-code platforms
Low-code vs traditional application development 
Low-code platforms offer several advantages over traditional development technologies. 
 Low-code PlatformsTraditional Programming
Who develops the application?
(Resources/Expertise)  

An intuitive drag-and-drop interface makes it easy for both users and developers to create applications.

Needs developers with expertise in programming languages for web (Javascript, Python, CSS, PHP), iOS (Swift), and Android (Java, C++).

What will be the cost of development?
(TCO) 

License-based pricing that allows you to pay as you grow and save on the massive amount needed for traditional development and infrastructure.

Upfront investment for infrastructure setup, developer fees, continuous maintenance, and more.

How fast is development?
(Development Time) 

Ready-to-use code snippets and templates allow you to accelerate application development by 10x.

Need multiple teams to build applications from scratch and involves extensive coding and multiple revisions of the prototype. 

What about mobile devices? 
(Multiplatform)

The same application works for mobile, the web, on-premise, and in the cloud.

Applications need to be developed separately for each platform, and code can't be shared between Android and iOS.

Is my data protected?  
(Security/Privacy)

Whenever an update is available, all the applications running on the platform are automatically updated, ensuring complete safety of your data.

Demands application-level security initiatives, which need to be manually configured by the developer.

Will it fit into my existing ecosystem?  
(Integration)

Easy coupling with external and existing systems with a wide array of out-of-the-box APIs and smart integration tools.

Requires considerable scripting and testing of compatible code to integrate with new external applications.

How do I update my applications to match latest technologies?
(Upgrades) 

Low-code tools periodically roll out latest updates and features to all applications built on them.

Difficult to integrate the latest technologies across platforms (web and mobile) once the application is deployed.

Can I scale my application?  
(Scalability/Changes)

Platform-level upgrades that integrate latest technologies and features occur regularly.

Scaling after deployment is a cumbersome task that demands the involvement of various teams—development, testing, production.

What support comes with my application? 
(Support) 

Lifelong support at a fraction of the cost, through AMC for the platform.

Needs developers with expertise in programming languages for web (Javascript, Python, CSS, PHP), iOS (Swift), and Android (Java, C++).
Simplify application development with
Zoho Creator
Zoho Creator enables you to build applications faster while giving you the freedom to customize your application considerably.  Switch to Zoho Creator and free yourself from some of the most challenging aspects of software development.
Form builder 

Collect data faster with online forms

Creating forms on Zoho Creator is faster than filling them out! Gain access to 30+ field types with auto-validation, customizable themes, and hundreds of form templates, to create just about any form you need, without writing a single line of code.

Workflow builder 

Get productive with automatic workflows 

Set up business workflows in a snap with our user-friendly, drag-and-drop workflow builder. Use our ready-to-use code snippets to create automatic workflows, send automated messages, trigger actions based on user inputs, schedule routine tasks, speed up multi-tiered approvals, and configure payments.

Report builder  

Drill down to specifics with customized reports 

Choose from a wide variety of report templates, and create reports that suit your exact needs. Analyze your data with features like custom filters, grouping, and conditional formatting, or leverage AI-powered features to drill down into your data.

Page builder

Track key metrics with interactive dashboards 

Bring all the important reports together to create meaningful dashboards and gain a 360-degree view of your business. Use components like widgets, gauges, buttons, and custom KPI panels to add everything you need and get a quick understanding of what's happening.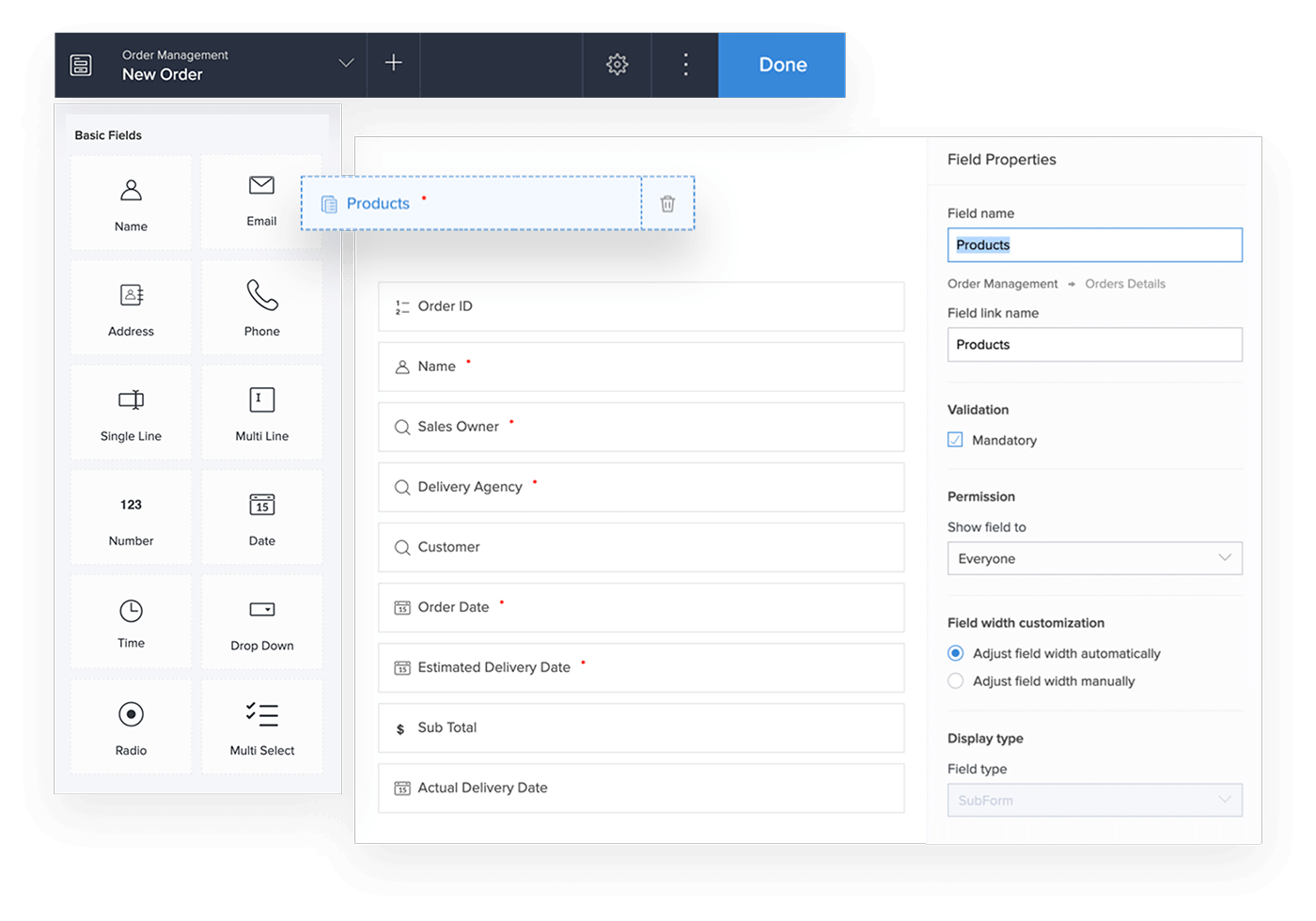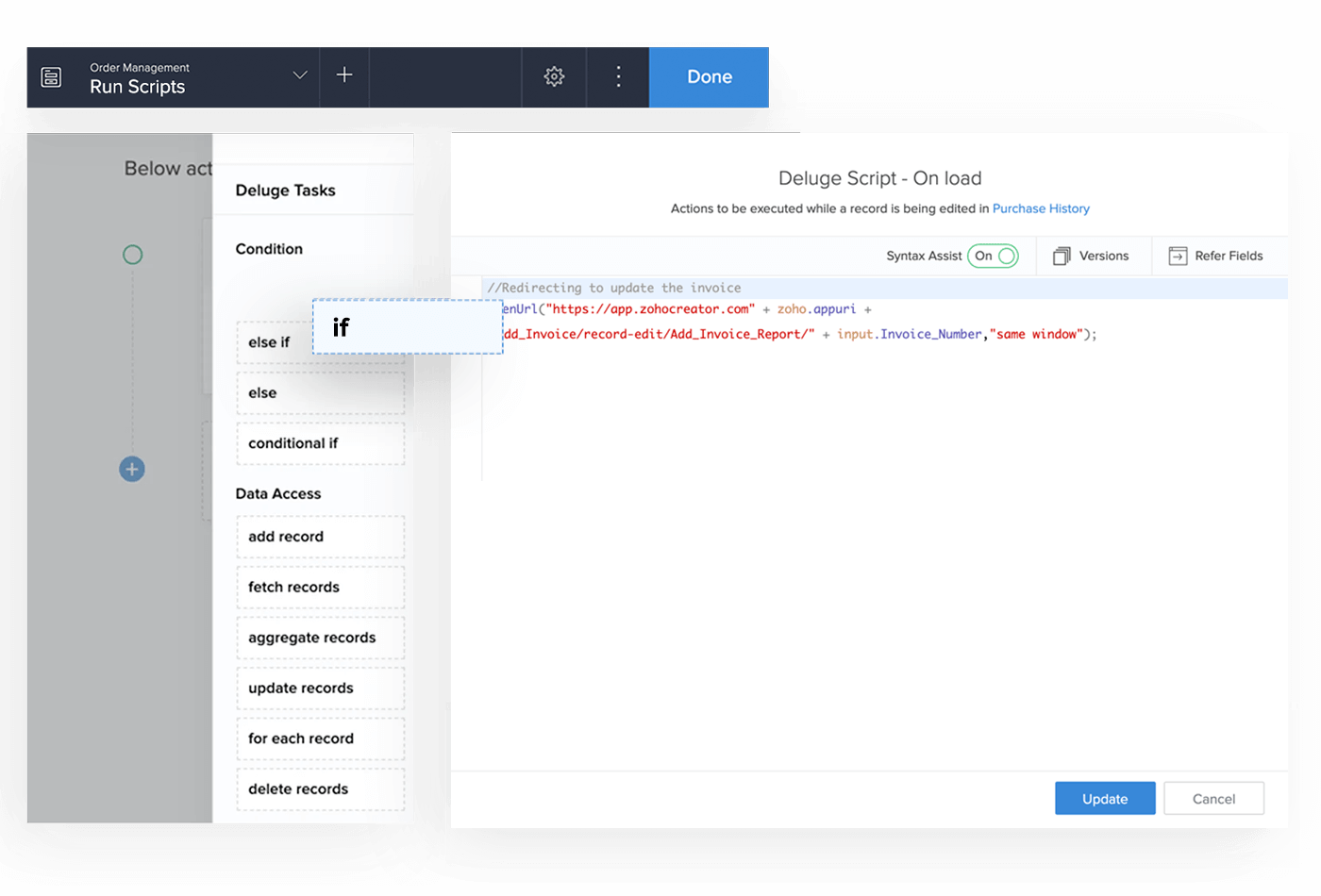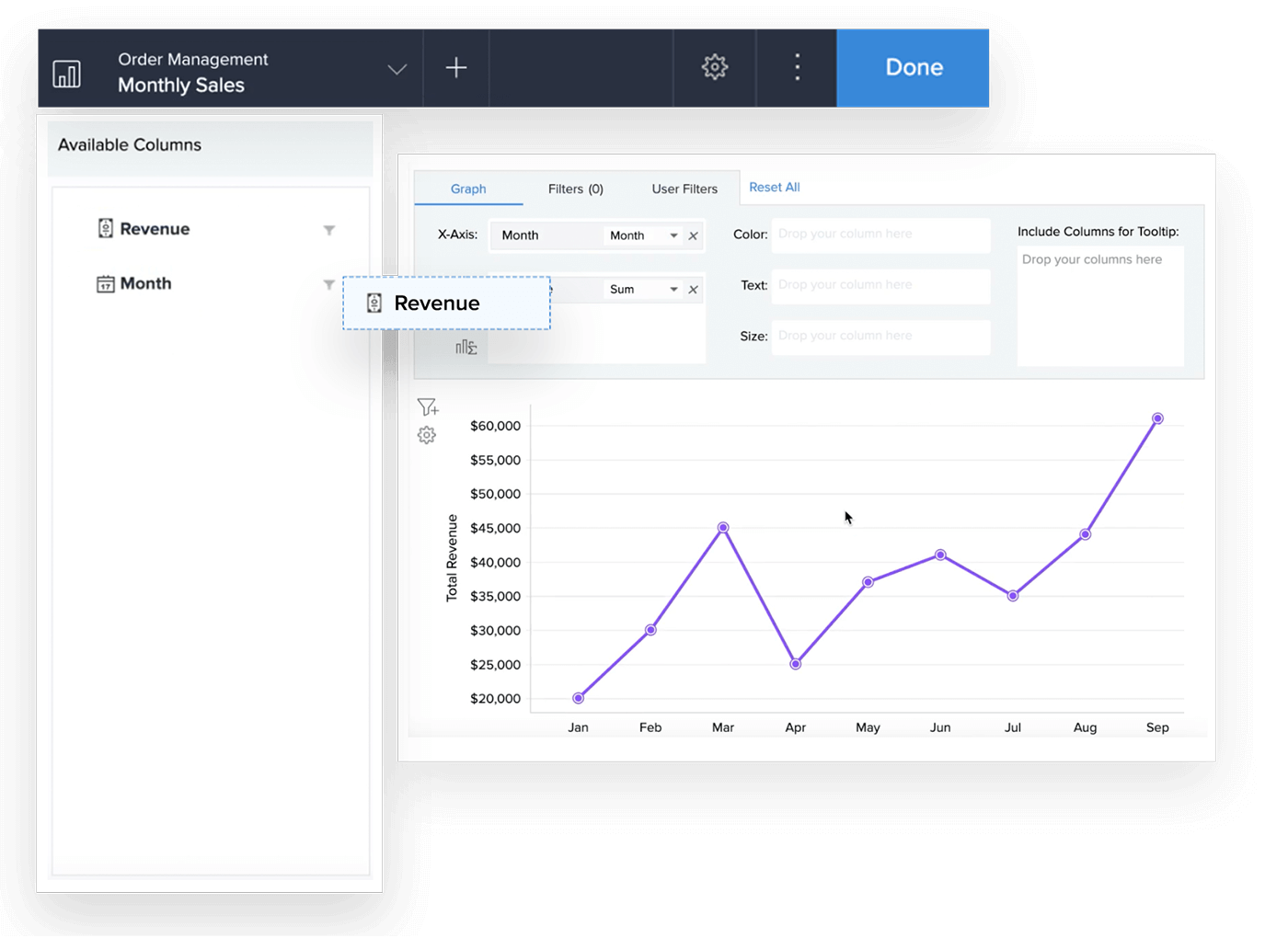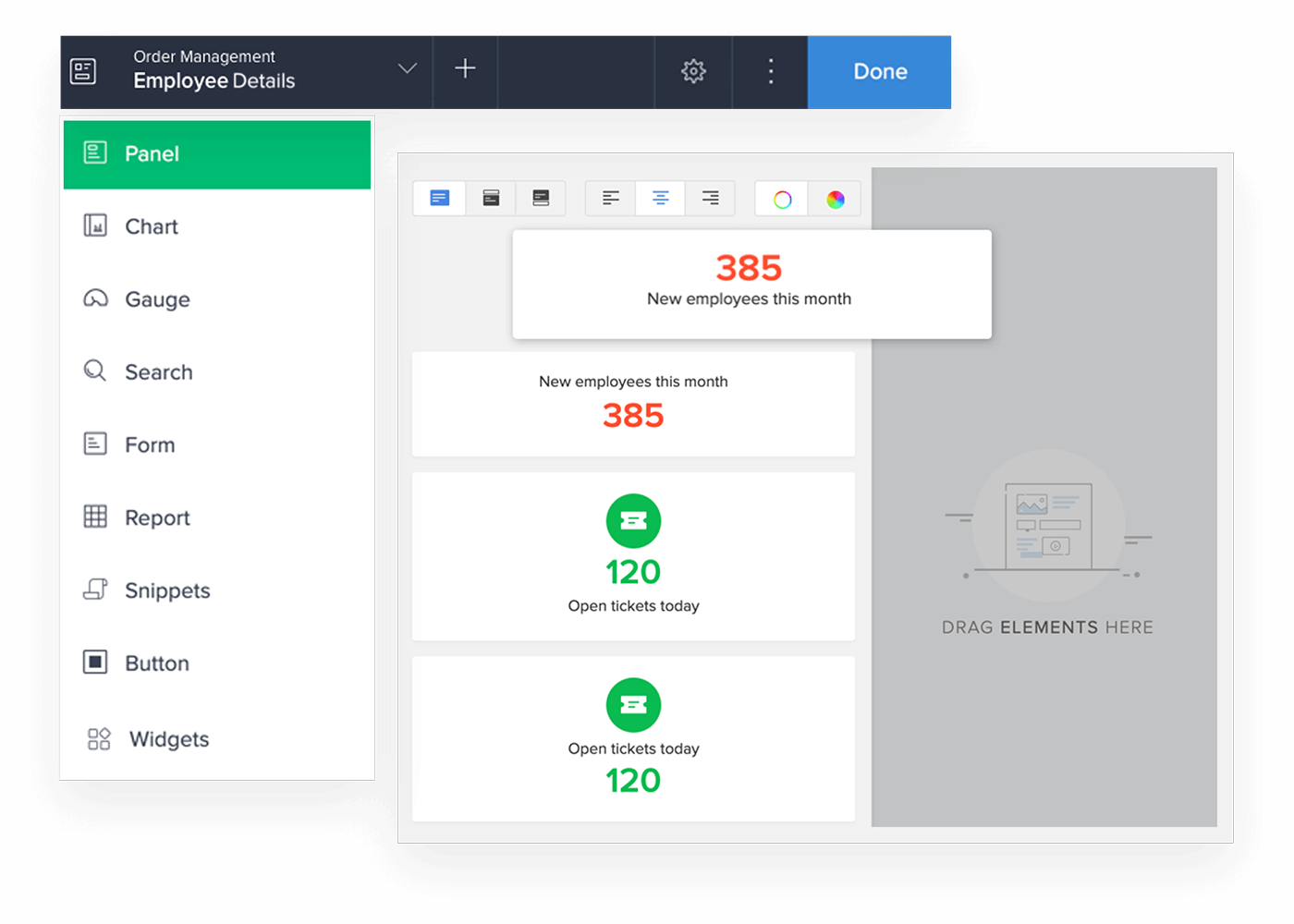 Find out why our customers choose us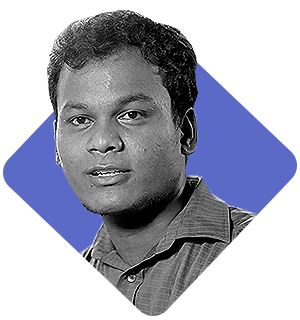 "To build an application the traditional way, we had to learn Java, PHP, and more. With Zoho Creator, we can save 90% of the development time, and build even a critical application in a fraction of the time."
A.K. SaravananDeveloper, Team Everest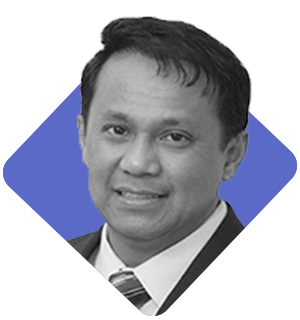 "I was so delighted when I saw members from the accounting team, from admin, from HR—who are not even programmers—developing web and mobile applications with minimal help from IT. To date, we have 46 applications hosted using Zoho Creator."
Jojo GuingaoChief Digital Officer, AEV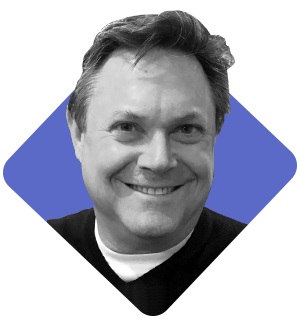 "Zoho Creator's cool because it's cloud-based, easily customized, and accessible from lots of different devices. It automated a ton of what we do and made our lives a lot simpler."
Clint Baller, CEO, Avid Payment Solutions.
Break down silos with prebuilt connectors 
It's simple to integrate your Creator applications with other business applications. Just drag and drop the built-in connector, choose the service you want to integrate with, and connect your key applications.
Zoho Creator
Zoho CRM
Zoho Desk
Zoho Books
Zapier
Twilio
QuickBooks
Paypal
G-Suite
Three ways

to get started

Ready to build your first application on Zoho Creator? You've got options!
Build your application from scratch.
Accelerate development using 100+ prebuilt applications.
Import an existing spreadsheet or migrate from MS Access.
Frequently Asked Questions
What is low-code?
Low-code is an easier, faster, and more inclusive approach to software development. Unlike the heavy coding involved in traditional development, low-code offers an intuitive drag-and-drop interface which requires very little coding—or none at all—to enable faster development and delivery. Zoho Creator, a pioneer in the low-code space, continues to empower businesses across industries to develop custom applications and grow their business.
No-code vs Low-code: What's the difference?
As the name suggests, low-code is a technology that includes prebuilt app-building components and easy to understand logical scripting language, while no-code is all readymade components and snippets that users can drag and drop to get results. Low-code is suitable for businesses who are looking to build customized applications with unique use cases, whereas no-code is best for applications where the degree of complexity is more basic. To learn more, click here.
Will low-code replace developers?
No! Low-code is a game-changer that'll benefit both nontechnical users and professional developers. It simplifies and abstracts complex code to provide citizen developers the power to create applications on their own, but to develop large-scale, enterprise-class applications, organizations still need high-skilled programmers. Low-code platforms offer prebuilt code snippets, reusable components, connectors, and more, that enable developers to develop applications faster and save time on repetitive coding. And on top of all that, low-code platforms, like Zoho Creator, offer developer-friendly features—such as sandboxing, cloud functions, and widgets—that enable developers to extend and customize their applications extensively.
Is low-code the future?
Low-code platforms are increasingly becoming the go-to platforms for developing web and mobile applications, as they offer increased agility, faster time to market, and a minimal learning curve, as well as requiring little investment in software maintenance and deployment. This trend shows no sign of slowing down.
Do low-code platforms help build scalable applications that cater to larger user bases or complex use cases?
Yes, most low-code platforms include features and functionalities that enable large organizations to build comprehensive applications that involve complex business workflows. To learn about Zoho Creator's enterprise features, click here.
How do I get started with Zoho Creator?
We offer a 15-day free trial period that includes all of our premium features. Sign up to kick-start your low-code journey with Zoho Creator.
Does Zoho Creator have a free plan?
Yes, Zoho Creator has a free plan. This plan comes with a limited feature set, and only allows for 1 user, 1 application, 25MB storage, and 1,000 records. However, you have the option to upgrade it to a paid plan whenever you wish. For more details, please visit our pricing page.