6 reasons to choose a low-code platform over ERP software
6 reasons to choose a low-code platform over ERP software
Last Updated: October 20, 2020
3.3K Views
4 minutes Min Read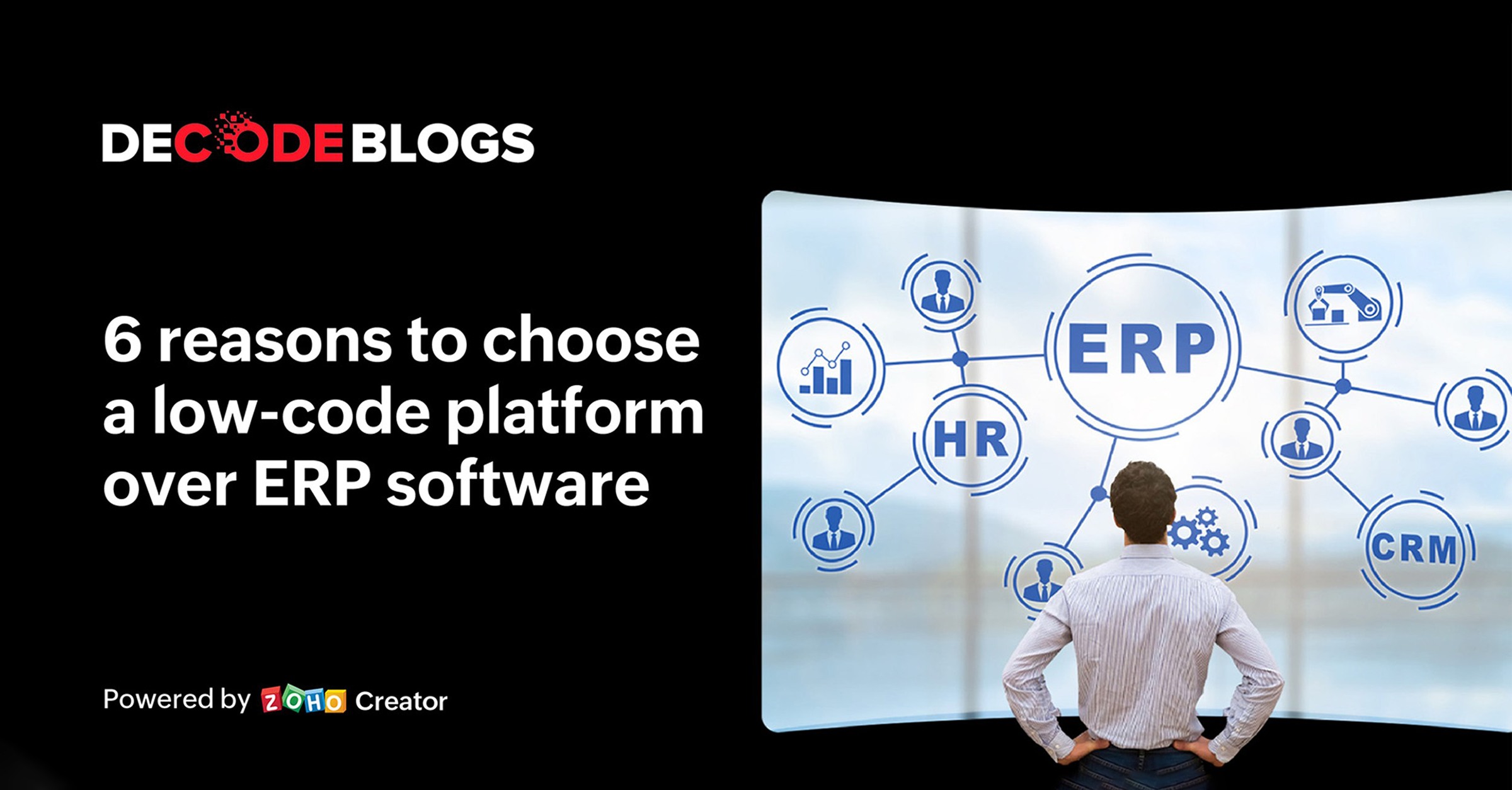 What is ERP software?
ERP software is designed to assist organizations in overcoming challenges and scaling up their operations. It allows decision makers to manage their business and existing resources and systems effectively. Some advantages of ERP software are improved business insights, risk mitigation and reduction, enhanced intra-organizational collaboration, and optimized customer and partner management. These advantages, however, come at a price. Let's take a look at some of the reasons why choosing ERP software might not be the right decision for your organization.
1. ERP software is expensive
The upfront cost of ERP software is exceedingly high. For example, a single license for an ERP suite, like SAP, can set you back by tens of thousands of dollars. And that's not the only way ERP software puts a dent in your budget. From installation to implementation, configuration, and deployment, every step involves spending hefty sums of money, due to factors like fees paid to vendors and subject matter experts, labor hours spent, and more.
2. ERP software is complicated
Typical off-the-shelf software can be installed in a few clicks, and cloud-based SaaS (software as a service) software is ready to use even more quickly.
ERP software, on the other hand, is complicated and intricate from the get-go. Installing it will require weeks of full-fledged effort by the vendor at the customer's location—and expense. After installation, a long and arduous process of training your users is required. This is because ERP suites aren't intuitive, and they come with their own set of technical specifications to understand. For example, the SAP ERP suite has its own programming language called ABAP. This makes it hard for an organization's employees, who may have little technical knowledge, to immediately get up to speed. Training for these technologies is hard to understand, complicated, and takes months of effort on the part of its end users.
3. Hard to customize
Every organization has its own unique demands for its day-to-day operations. Unfortunately, an ERP software suite will only include generic features, and customizing it to match the exact specifications of your organization is extremely difficult. This is because the ERP's architecture can't be easily modified. Customizing it requires expensive software architect expertise, and even then the modification effort will take a long time to reach completion.
4. Difficult to maintain
Once installed, the ERP suite needs periodic maintenance for optimal performance. This maintenance can be performed only by trained subject matter experts—and, you guessed it, these subject matter experts charge a hefty sum for their services. The whole process also consumes a lot of time, and during maintenance, the software platform is unusable, leading to suspended operations for the entire organization. The maintenance of an ERP suite is an all-around cumbersome process.
5. Difficult to get a return on investment quickly
Upon the installation and implementation of your ERP software, the benefits won't be realized immediately. It'll take a long period of time, often years, before any tangible advantages manifest. This is because of the high initial investment, the equally high maintenance costs, and the training expenditure involved. It's not easy to get even a moderate return on investment from ERP software in a short period of time.
6. Hard to integrate with existing and third-party systems
Organizations generally have an established bed of first and third-party systems in place, and these systems will be constructed upon legacy architecture. ERP software suites are known for their tendency to be difficult to integrate with an organization's existing systems. For an organization with an established way of functioning upon a pre-existing framework of systems, introducing an entirely new ERP suite will pose the difficult problem of getting it to integrate with legacy systems seamlessly.
The optimal alternative to ERP software
Given the various factors that make ERP software unviable for most organizations, we need to explore other alternatives. Enter low-code platforms like Zoho Creator.
Low-code platforms are:
Simple and easy to use: Being hosted on the cloud, they require no installation, and can be accessed simply by logging in and providing credentials. When compared to the complexity of installing and navigating an ERP suite, low-code platforms are both accessible and intuitive for users.

Highly customizable: Organizations can easily build custom applications on low-code platforms. These apps can be built according to their needs using their own employees—and in a short span of time. There's no need to hire expensive subject matter experts, like with ERP software.

Automatically maintained: Most low-code vendors take care of the maintenance of your organization's applications. Compare this with the need to maintain an ERP software suite on your own, and you can easily visualize the cost and time saved.

Affordable: You pay only for the number of users you have, and at a much more affordable cost per user when compared to the enormous price of ERP software licenses.

Rapid ROI: The applications developed on a low-code platform can be deployed for use, both within and outside the organization, within a span of days. The return on investment can be realized rapidly.

Easy to integrate with both legacy and modern systems: Low-code platforms can be easily integrated with existing and new systems.
When comparing the benefits of a low-code platform with the costs and trade-offs of running your organization on an ERP suite, low-code platforms are the clear choice for the vast majority of organizations. And if you're already using an ERP suite, don't worry. Migrating to a platform like Zoho Creator is fast and easy—and the benefits are numerous. Take the plunge today, and reap the rewards fast.
Explore Now
Prasanna Venkatesh

Prasanna Venkatesh is a Marketing Analyst at Zoho, for the low-code platform Creator. His work experience spans Marketing, Software Engineering, QA, and Customer Support.
Leave a Reply
Your email address will not be published. Required fields are marked