Key advantages:
Short deployment times

Faster time to market compared to traditional development

High scalability at low cost

From one small $10 application for a single user to 200 production applications and 68.8% savings

Real-time analytics

No time gap between receiving records and generating reports

Uncompromising security

The best security framework built with customers in mind
"Every business leader is looking for a solution that'll help them get ahead and solve critical pain points, and Zoho Creator has been the most transformative solution I've encountered in my 20 years of business. It has completely revolutionized the way we think about what we do and how we do it."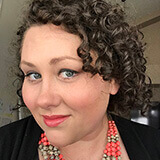 Shelby Spencer,
CTO Briotix Health
Briotix Health serves different clients, ranging from SMBs to Fortune 500 companies. While each of their programs follow a general model, they have different operating parameters that need to be customized and configured for each client.
Briotix Health evaluated multiple solutions to find one that fit their requirements, but the price points that were being quoted were infeasible. They also would have been forced to implement a standard operating model for all of their varying business problems.
Zoho Creator offered them a free developer license to see if it would meet the company's requirements. They'd only incur the cost of use and scaling if it did.
They used Zoho Creator to build a small $10 POC. Now, they have more than 10 full-scale commercial products and 200+ production applications built and managed.