Customize your Cliq experience with the internal tool builder
Set up Cliq the way you want. With our automation tools and custom integrations, you can personalize your entire Cliq experience by fetching data from third-party apps and automating day-to-day activities.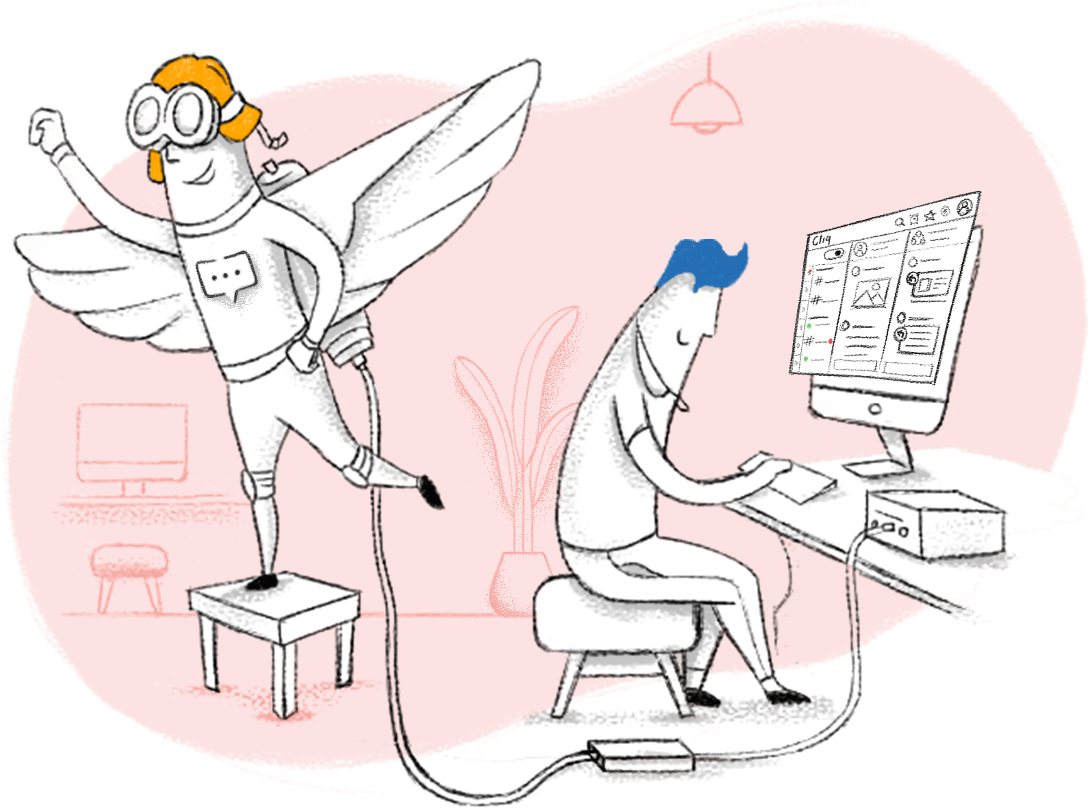 Stay better connected to the tools you love
Make the most of the other software you use every day by building custom apps and integrating them using the Cliq platform. Access the information you need and perform actions without switching between apps to improve your productivity.
Less time to build, more value.
With the easy-to-build components in Cliq's developer platform, you can spend more time identifying the tasks to be automated and less time building the apps.
Easy on you. Easy on your wallet.
The serverless developer platform comes with no additional costs for setup and maintenance, allowing you to create and manage apps according to your needs.
Develop and access from anywhere
Continue from where you left off while building your custom apps from any device. Get easy access to the apps from Zoho Cliq, no matter what device you are on, with options like Kiosk mode and QR code-based access.
Use across the organization
Build apps and deploy them for your entire organization. With the resource management dashboard, get a complete view of all the custom apps built in your organization and manage access for every app.
From simple to super complex
Cliq's versatile developer platform capabilities enable you to easily build low-code tools, as well as complex projects that involve pro coding.
Bring your existing workflows inside
You don't have to design your workflows from scratch. Use webhooks in Zoho Cliq to integrate with your existing technology setup and get going.
You don't have to be an expert programmer to start building
With Deluge, Zoho's user-friendly online scripting language, you can define your own workflows and build low-code integrations in the Cliq platform.
Simple steps, better solutions
Start building your automations in just a few straightforward steps.
Identify the task to be automated.
Pick the right automation tool for your task.
Start creating with the tool.
Customize your automation based on your needs.
Save and deploy your new automation.
One platform, endless possibilities
There are no limitations when it comes to automation in Cliq. From the simplest of tasks to the most complicated, you can automate everything to your own specifications.
Add tasks to your project management software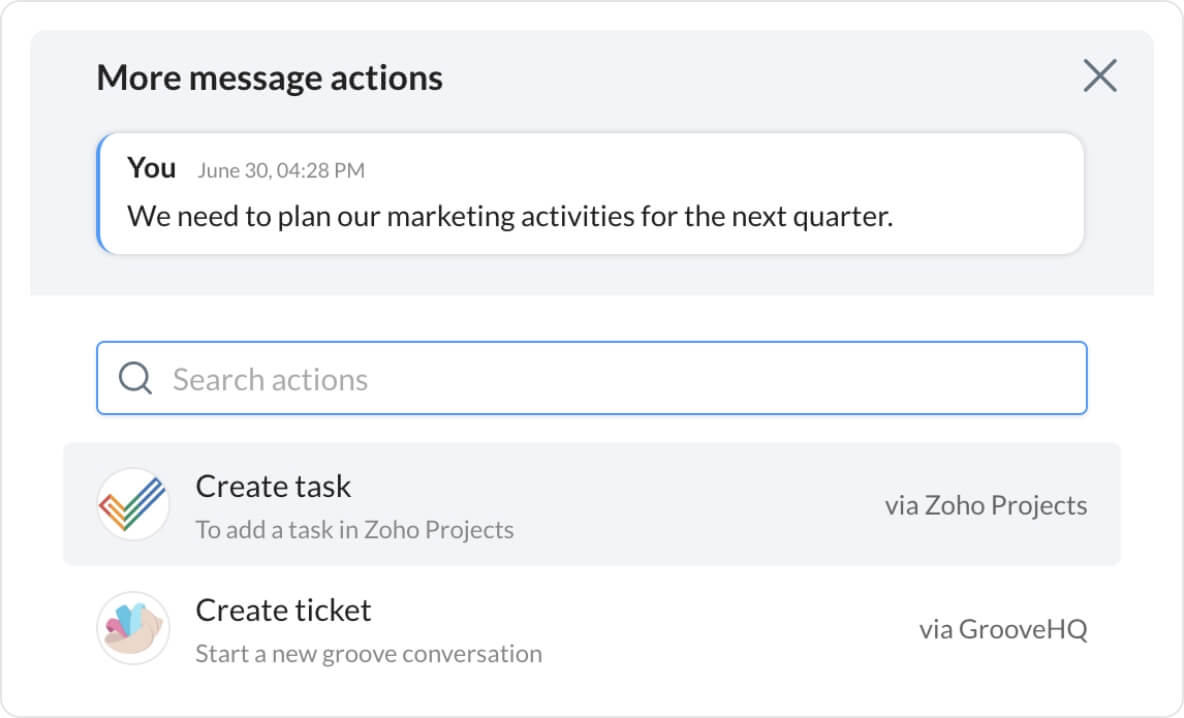 Move messages as tasks to your project management tool and get updates about pending tasks listed in your project management app inside Cliq.
View tickets from your support ticketing app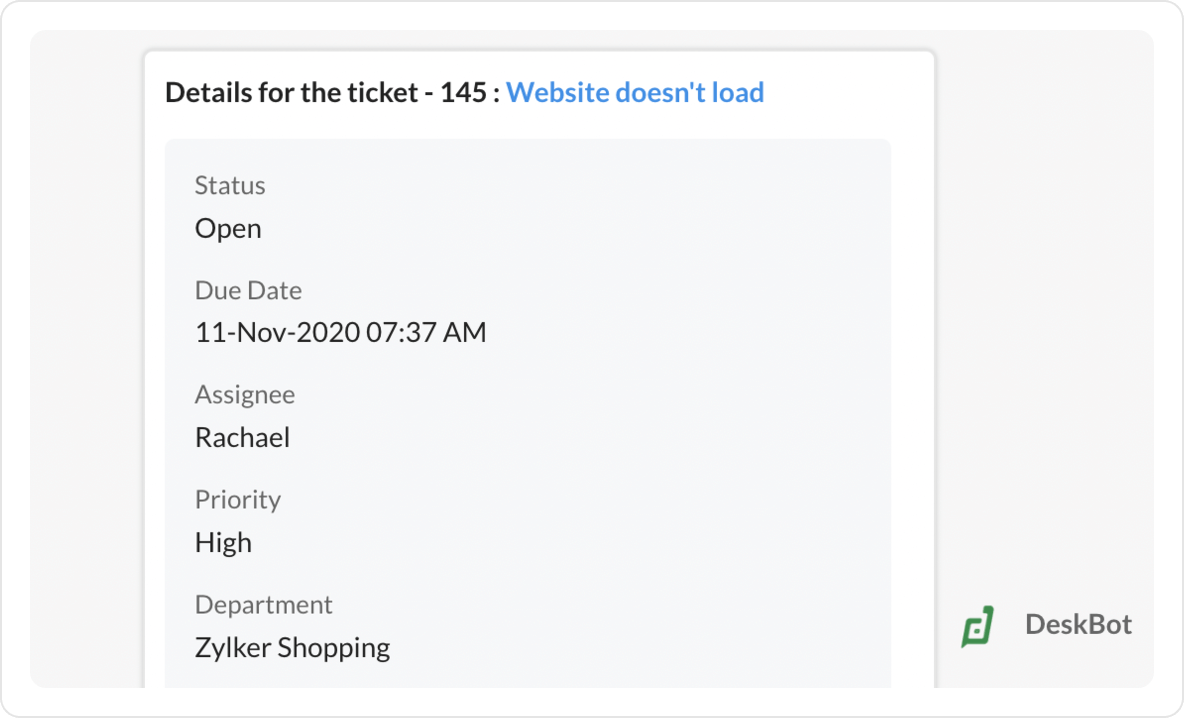 Receive notifications and stay updated on the support tickets raised by your customers, and take necessary actions from your chat window.
Manage your campaigns and activities
Set up automation for your Mailchimp account, get notified about campaigns in your chat window, and take action.
Upload files to your cloud storage app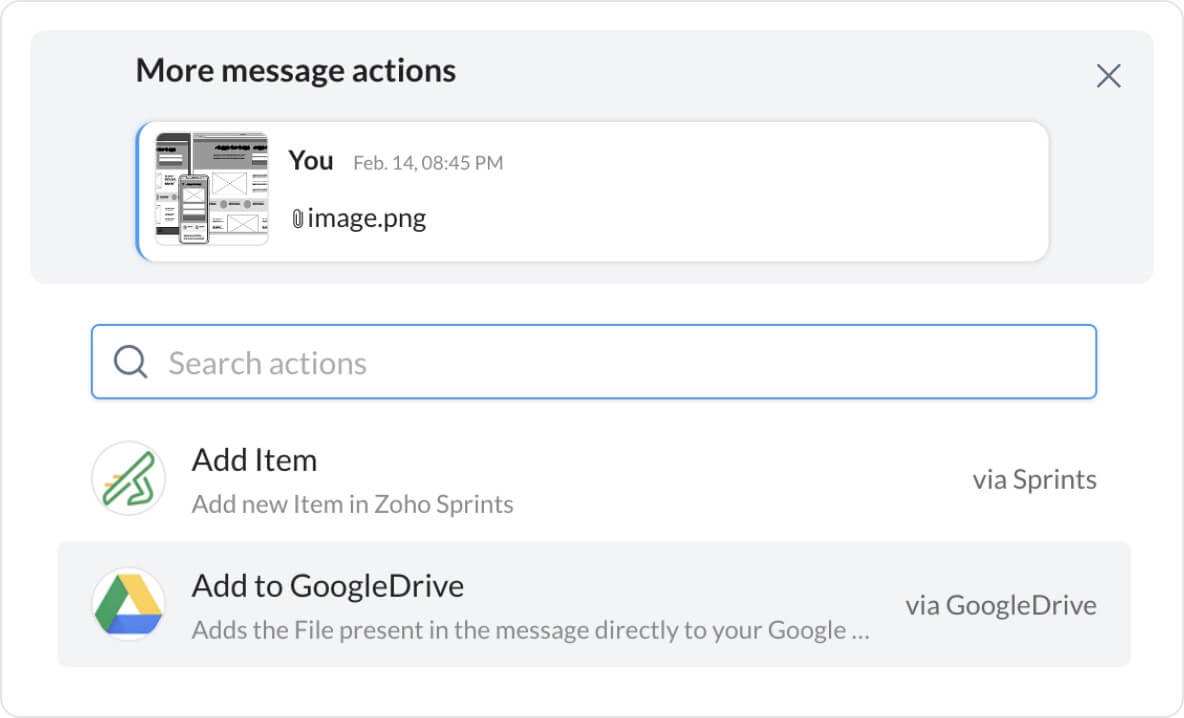 Move attachments sent through Cliq chat to your cloud storage app, and access files from the cloud to share with other users.
Collect feedback by sharing the form link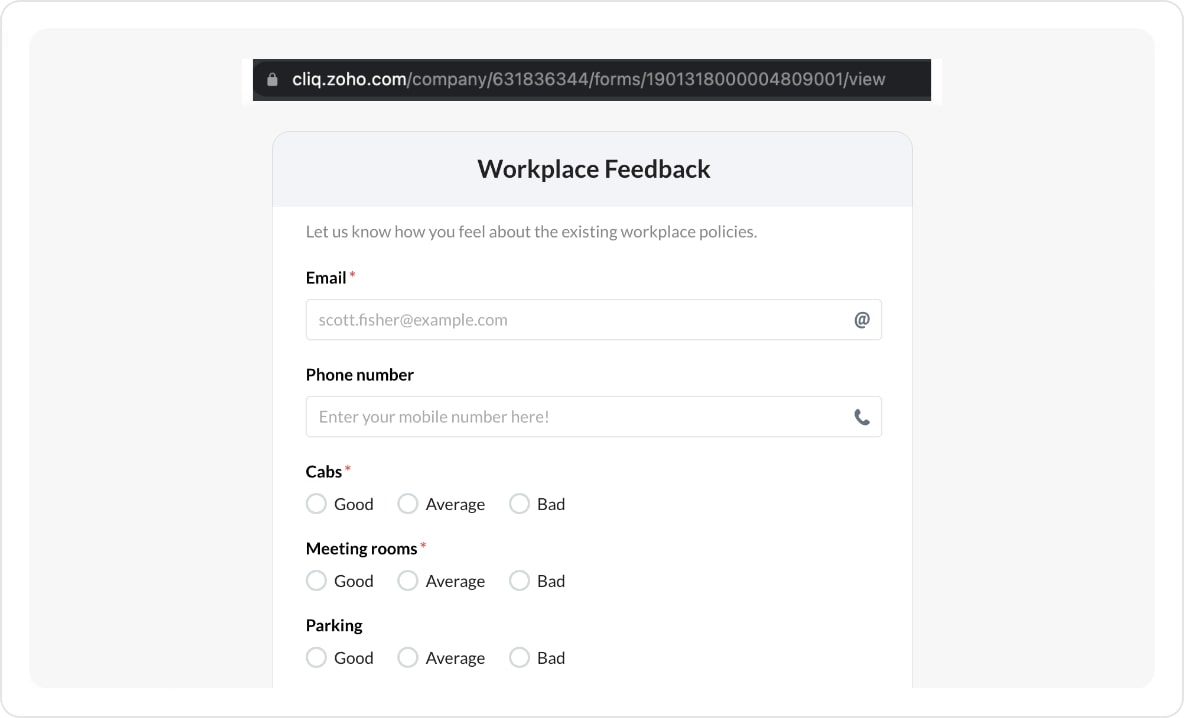 Use the Form View Handler to build forms and generate QR codes for the form links. Share codes through chat or use them on your survey materials to gather feedback.
Track and locate with the map view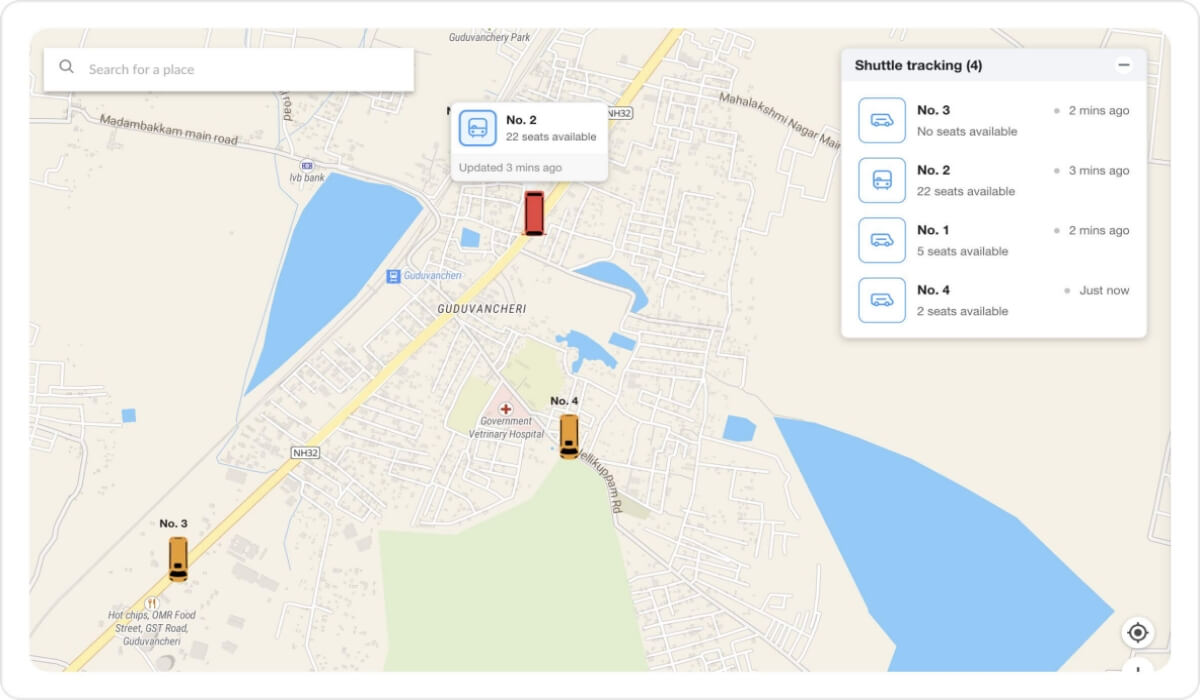 Embed the map view in your custom app for tracking and booking cabs, and get real-time updates.
Put your automation into action
The Cliq platform is bundled with bots, commands, message actions, and functions. Initiate integrations with external apps, bring the data into Cliq, and manage it efficiently right from your chat window.
Slash Commands
Bots
Message Actions
Forms
Widgets
Schedulers
Connect Cliq to third-party apps with automation platforms
Automate your workflows by integrating Zoho Cliq with a myriad of third-party apps in simple steps using ready-to-use IFTTT applets, Integrately, and Zapier.
For all kinds of teams
The Cliq platform offers solutions for every need. No matter your department, you can use Cliq to automate tasks and stay on top of your work, all from your chat window.
Bundle your automation tools into extensions
Along with installing the extensions available in Zoho Marketplace, you can develop your own custom extensions by grouping automation tools like bots, commands, widgets, and functions. You can also publish your extensions in the Marketplace and make them accessible to everyone.
Access code samples for extensions
Resources to help you out
Introduction to Cliq Platform and its components
Watch video
Start developing custom internal tools in Cliq Platform
Learn more
Frequently Asked Questions
Can I connect the Cliq platform to an external application?
Yes, you can. Zoho Marketplace offers extensions for third-party apps. If you would like to set up an integration that is not listed in Zoho Marketplace, you can build your own custom extension.
How do I build and access a custom extension in Zoho Cliq?
View our help guide to start creating your extension. You can access your custom extensions by clicking on your profile image, selecting Bots & Tools and navigating to My Extensions. You can also edit the extensions and publish them in Zoho Marketplace.
How do I access the automation tools in Zoho Cliq?
What is a no-code internal tools builder platform?
Why do internal teams need an internal tools development platform?
What are the benefits of using a no-code internal tool builder?
Why is Zoho Cliq's platform one of the best internal tool builder platforms?