What actions can I perform on a message? Are they customizable? 
Cliq offers a set of actions that you can perform on a message and they are known as Message Actions. There are 7 default message actions in Cliq, and more actions can be customized according to your need!
Hover on a message and in the right side you will be able to see the message action icons.
The first icon is the Reactions icon with which you can react with emojis for that message. 
The second icon, an arrow pointing left is the Reply icon. Clicking on this icon will allow you to send a new message quoting the original message as reference.
Hint: Just double tap on the space around a message for quick access to Reply. 
The third icon is the 3 dots that contain the rest of message actions. 

Copy: This action copies the message to your device clipboard.
Forward: This action is to forward the message/file to 1-1chats, group chats, channels and bots. For detailed info on forwarding, refer here.
Fork from here: This action is to fork from any point in a chat and start a new conversation from that point. Click here to view more details on fork chat.
Set Reminder: This message action is to help you set a reminder on the message. You can pick a time or set your own custom time for the reminder. 
Edit: This action is to edit a message that you've sent. You can edit messages sent in the last 3 days, i.e.72 hours. 
Delete: This action is to delete a message that you've sent. Messages sent in the last 3 days, i.e. 72 hours can be deleted. 
More: This action contains the customized message actions available in your organization.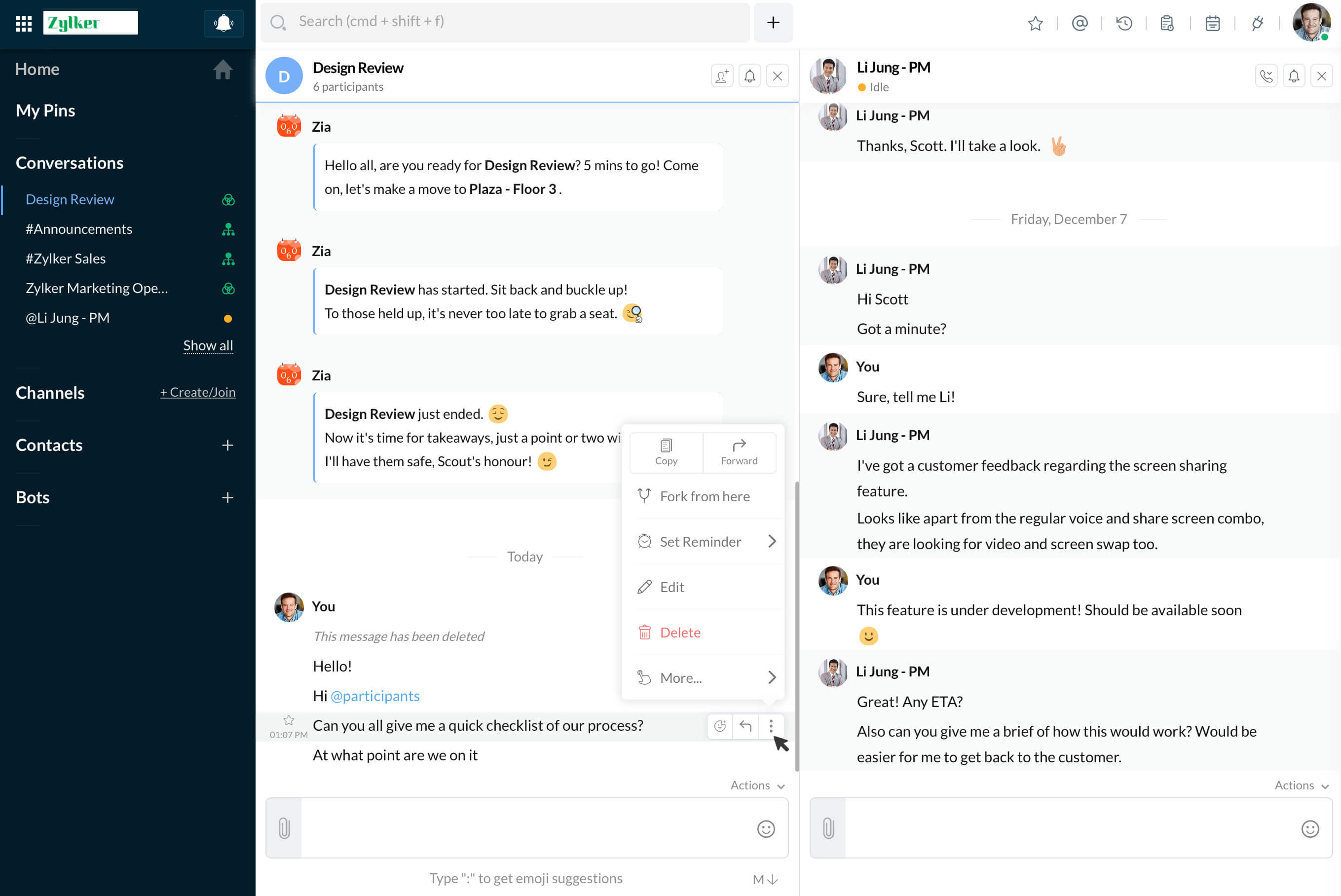 Apart from these actions, you can also configure your own custom actions that you need to perform on a message. 
Examples: 
 To send a file directly to your Google Drive
 To mark a message as a Trello card
 To mark a message as a task in Asana 
To know more on how to configure and build your own message action, check out the Message Actions page in Developer docs.