WorkDrive named Leader by Nucleus Research CSC Value Matrix
Last Updated: July 31, 2023
397 Views
3 Min Read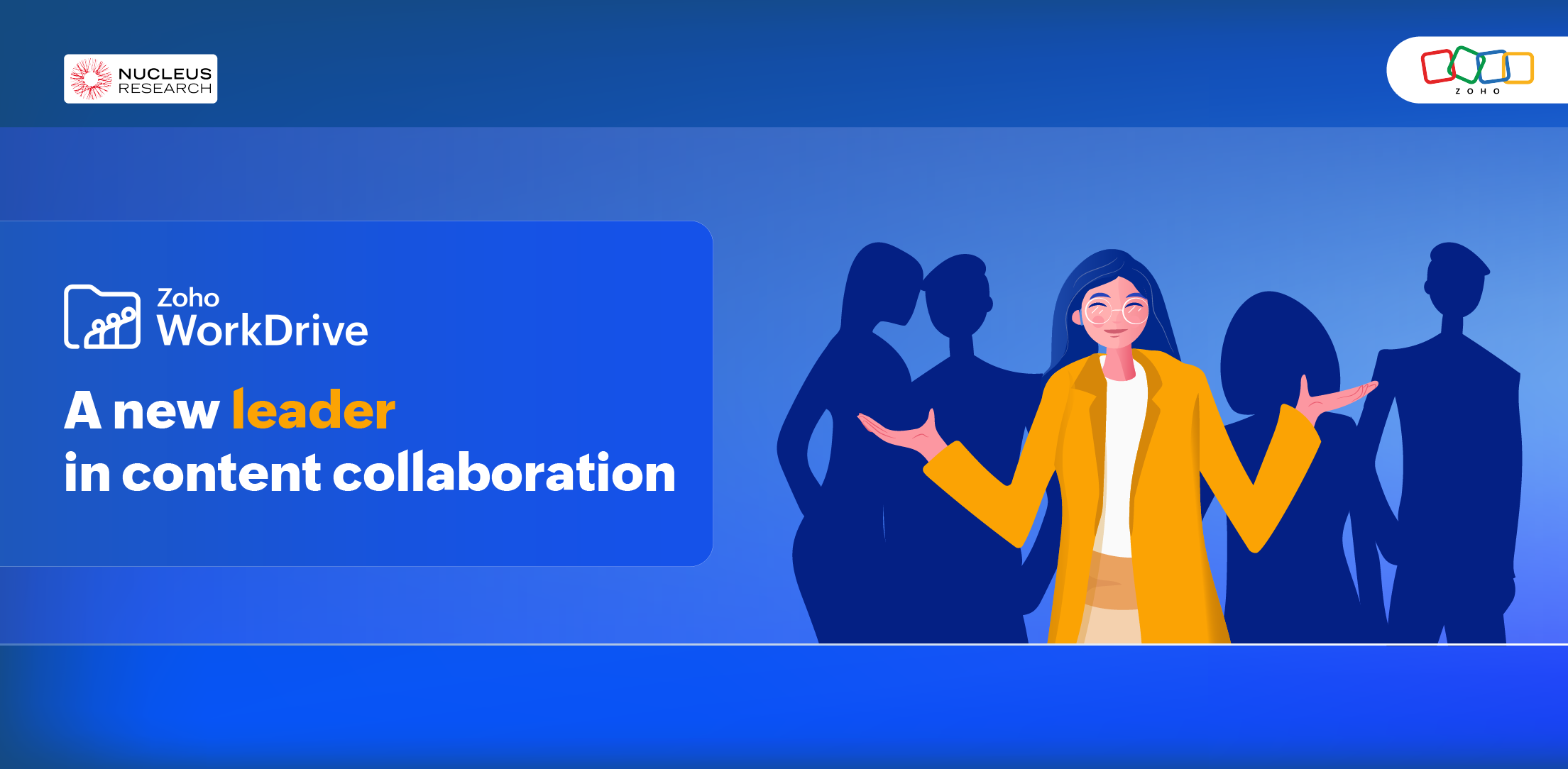 We are excited to announce that Zoho WorkDrive has been recognized by Nucleus Research as a CSC value matrix leader. This is a testament to the platform's continuous improvement and consistent commitment to complete data security and usability.
It's often said that "the journey of a thousand miles starts with a single step." WorkDrive began its journey as a simple solution for cloud storage and team collaboration, and has now reached a prestigious milestone. This article is about the origin of Zoho WorkDrive, what recognition from Nucleus Research truly means, and what WorkDrive has planned for the near future.
The evolution of WorkDrive
Zoho WorkDrive is a content collaboration platform that helps you create, edit, store, and collaborate on files in real time. Launched in 2019, WorkDrive was quickly adopted by Zoho Corp. employees. Using our own tool helped us collect spontaneous feedback and perform continuous product enhancements. By the time the product hit the market, any shortcomings spotted by our teams had already been addressed.
Today, with more than 7.5 million active users worldwide, Zoho WorkDrive remains an effective, reliable, and highly secure platform for content collaboration.
The team behind the Value Matrix
As a global provider of ROI-focused technology research and advisory services, Nucleus Research helps organizations make technology decisions based on value, and not just analyst opinions. With more than 1,000 business case studies published, Nucleus is the only research firm registered with the National Association of State Boards of Accountancy.
Another feather in our cap
Nucleus Research releases its Technology Value Matrix once every year in its core research areas. Analyzing the metrics from actual end-user experiences, Nucleus places vendors in four different categories: Leaders, Experts, Facilitators, and Core Providers.
In the year 2021, the research firm introduced the Content Services and Collaboration Value Matrix. For two consecutive years, WorkDrive positioned itself as a Facilitator.
With the release of the 2023 CSC Value Matrix, WorkDrive entered into the Leader segment. Entering this category of the Value Matrix highlights our evolution toward increased functionality.
It isn't how fast we get there—it's how we get there
Even though WorkDrive was released in 2019, it took less than five years for it to be recognized as a market leader. With new versions and updates released regularly, Zoho WorkDrive has grown consistently throughout its journey.
Speaking of updates, we've recently released WorkDrive 4.0. This time, we've focused on enhanced data administration and deeper app integrations. WorkDrive Snap, integration with Bigin, tree-based viewing, and hotkeys are some of the important features.
The best is yet to come
The tech industry is buzzing about generative AI and its capabilities.
WorkDrive has left no stone unturned when it comes to harnessing the power AI offers. Numerous new features and updates are in the works. Among them is the incorporation of OpenAI's ChatGPT in the Zoho ecosystem. By bringing in the API key from your existing OpenAI account, you can draft emails and social media posts, generate meeting minutes, and more.
Some other plans in the pipeline include:
• Harnessing Zia's built-in generative AI capabilities with high interoperability across the Zoho ecosystem.
• Automating business content processes using workflows, without requiring third-party applications.
• Automatic and manual classification of data into segments, like sensitive, personal, confidential, and public data.
• App platform support to simplify communication between applications.
It is not incorporating AI that matters, but also the continuity and compatibility of applications that work together. Plans for a tighter integration of WorkDrive with Microsoft Outlook and Zoho CRM are also underway.
Our goal is to make the future of work simpler and more secure for all WorkDrive users. We're proud to offer a unified platform that ensures effective team collaboration, provides for multiple verticals, and defends users against privacy and security breaches.
Catch our latest updates on WorkDrive's Announcements page.
Leave a Reply
Your email address will not be published. Required fields are marked