WorkDrive Genie: simplifying your file editing process
Last Updated: December 11, 2023
772 Views
3 Min Read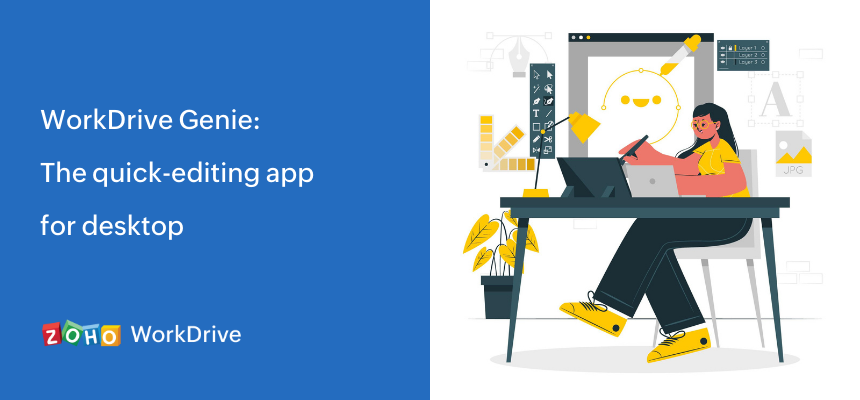 Say hello to your new work partner: WorkDrive Genie! You can edit files right away without needing to switch between applications to modify a document or file.
What is WorkDrive Genie?
Genie is an application that lets you open and edit your WorkDrive files on the web with your default desktop applications. In other words, it acts as a bridge between your WorkDrive files and your desktop applications. You can modify and manage both large and small files with WorkDrive Genie.
Edit without any limits
You can edit any kind of file—text, image, audio, video, CAD, or developer—that is stored in WorkDrive using Genie as long as you have the compatible application installed on your computer.
Upload your local edits automatically
Gone are the days when you had to upload files manually to WorkDrive each time you finish editing them on your desktop app. With Genie, you can set your changes to be automatically synced to WorkDrive every time you save a file on your desktop app.
Work faster
You don't need to open the Genie add-on every time as it has a default option to run automatically when your system starts. You just have to select a file and choose the relevant application from the "open with" option.
Keep up with your document version
In many teams, multiple people work on one project and collaborate on files. As the project grows, that file's data will be updated from time to time, which can result in multiple file versions.
Genie makes it easier than ever to manage your document versions. When uploading a file to the web app, WorkDrive notifies you when a new version of it is available. You can choose to upload your local version as a top version or continue with the new version saved in WorkDrive.
Manage your storage space
Storing our files on the cloud doesn't mean we're not also using our local storage. Many people download and install multiple applications, personal files, and store movies or images, which can fill up local storage quickly.
With Genie, you can edit your large files locally. The file is downloaded temporarily as you make changes on it using your desktop application. Then, once you save the file, the occupied space on your hard drive will be released.
Never lose a work in progress
Imagine you are editing a cloud file on your desktop application using Genie and you experience a power outage or your internet connectivity drops. Not to worry. Genie reflects the nature of your desktop application, so you won't lose your work in most cases. If the native app supports live sync, your work will still be there.
Work on your own terms
Every task has its own timeline: some may be time-sensitive while others can be less critical. Any document that you edit using Genie will remain in your local desktop or mobile device storage until you save it back to your WorkDrive. When you are away from the office or have limited internet connectivity, you can access and edit your files without any restrictions.
Simplifying the process of file editing can increase productivity for both individuals and organizations alike, and WorkDrive Genie can help you with that. With more productivity comes more valuable outcomes, which in turn increases the overall growth of the company.
Leave a Reply
Your email address will not be published. Required fields are marked