A short guide to data governance 
Last Updated: July 21, 2021
777 Views
3 Min Read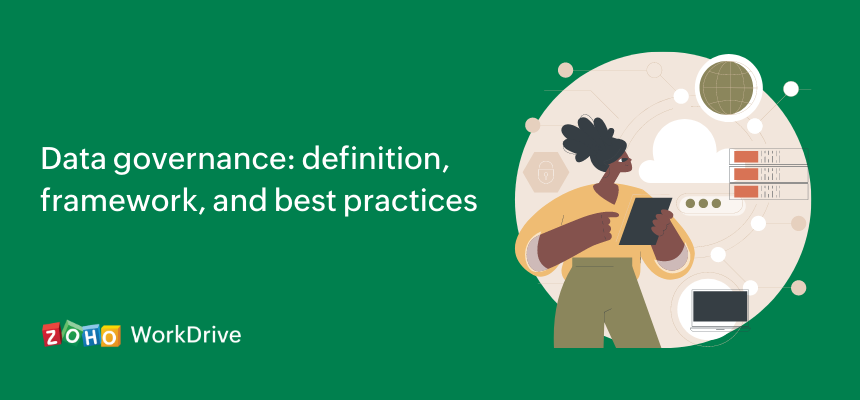 Data is the fuel for any business process. From life sciences to space exploration, information is powering innovation across all industries and markets. According to a study by Teradata, 91% of global business leaders said the pandemic has amplified the value of data to unprecedented heights.
Nowadays, many organizations are generating large amounts of data. This data must be organized properly, because not managing it can cause process inefficiencies, result in data duplication, and incur penalties for non-adherence to regulatory compliances.
Businesses need to ensure that their information is accessible and protected, and this is where data governance comes in. They need an online file management tool like Zoho WorkDrive to collect, de-silo, process, and manage internal and external data.
Understanding data governance
Data governance establishes a set of policies, processes, rules, and regulations that guide organizations on how to collect, store, and secure information. Every company must implement it to ensure security and compliance and to extract value from all the information collected and stored across their systems.
Data governance framework
The data governance framework explains how organizations set up and enforce it. Your framework should have:
Data architecture
This is a framework for how information is acquired, transported, stored, and secured. You should form a reliable data architecture to be followed across the organization.
Data quality
This is the ability of a given data set to serve an intended purpose. You should have tools to control how the information within your organization is stored, processed, and managed. This way you can ensure your information is accurate, relevant, consistent, and up-to-date.
Information storage and operations
Most organizations have various storage options (on-premises, cloud storage) and maintenance systems. You should keep a constant tab on your database environments, storage used, user activities, and corporate devices.
Data integration and interoperability
Data integration unifies information between systems and applications. You should frame sharing guidelines, establish procedures for data lineage, and implement them across your firm to accelerate integration and interoperability.
Content management
Unstructured data does not have a pre-defined information model. It could be a PDF, text file, JPG, and other documents. Your framework should have protocols to organize and categorize it.
Information security
From HIPAA to GDPR, there are many global regulations in place designed to protect sensitive information. You should follow these regulations to safeguard your data and avoid penalties. Many organizations use various tools and techniques like encryption, antivirus software, and malware protection to achieve these goals.
Data governance solutions
The most important step in your data governance journey is finding the best governance tool for the job. As data governance is more of a strategic undertaking, this is why management tools like Zoho WorkDrive can help organizations more effectively access, share, control, and protect enterprise information.
ROI of a data governance program
The ROI of a data governance program is value-driven, use-case specific, and does not always depend on tangible profits. So, to calculate the ROI, you have to look at data-driven decisions, compliance, and efficiency.
A Forrester study on modern data governance tools found that they provide 432% ROI to companies that use them. The study found that:
Improving customer experiences led to 5-7% conversion rate growth.

Streamlining the purchase flow eliminated 75% of customer journey disruptions.

Automating QA testing and ongoing monitoring saved teams 25% of their time.

Saving on their advertising budget helped recapture 75% of wasted ad spend.
The best way to unlock the full power of information across all business processes is with holistic data governance. This enables your company to collect information with consistency, ensure quality, and guarantee its security.
Data governance is the strategic approach, and a file management and content collaboration tool like Zoho WorkDrive is the tactical execution. Companies of any size, in every industry, across the globe can make use of these tools to implement data governance.
Leave a Reply
Your email address will not be published. Required fields are marked