Admins: The powerhouse of the modern document management system
Admins: The powerhouse of the modern document management system
Last Updated: January 4, 2021
479 Views
3 Min Read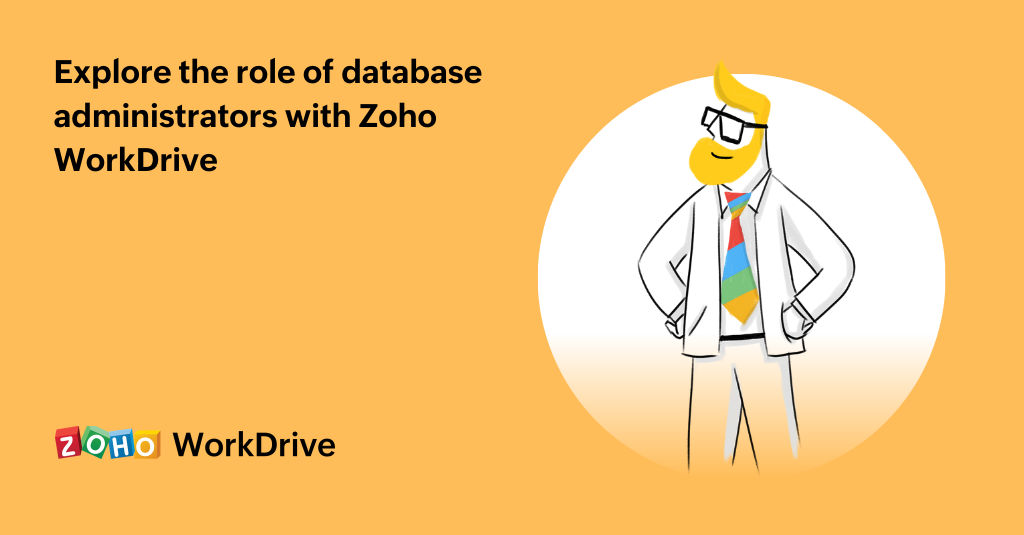 Data is the lifeline of any business. It has to be streamlined across the entire organization and should be kept safe from compromises. Data management has always been crucial, and with work going remote more often these days, the challenges are especially immense.
With large volumes of data generated across your organization, your database administrators must exercise best practices to manage your data, protect it from vulnerabilities, and ensure seamless access to your users.
To simplify the challenges many admins face, WorkDrive has developed a powerful, complex admin console to enable you to manage your organization's database, no matter what new challenges you face.
Database administrators: A complete analysis
Data accessibility is the top priority for every database administrator. The admin ensures their organization's data is available to its employees. The administrator maintains the database and keeps the information available and up to date, ensuring continuous functionality.
WorkDrive is a modern document management system that ensures seamless data accessibility. As a WorkDrive Admin, you can add your team members with a link using their email addresses and create Team Folders for a particular project, and to manage data. WorkDrive helps you preserve your team files even when an employee leaves your organization.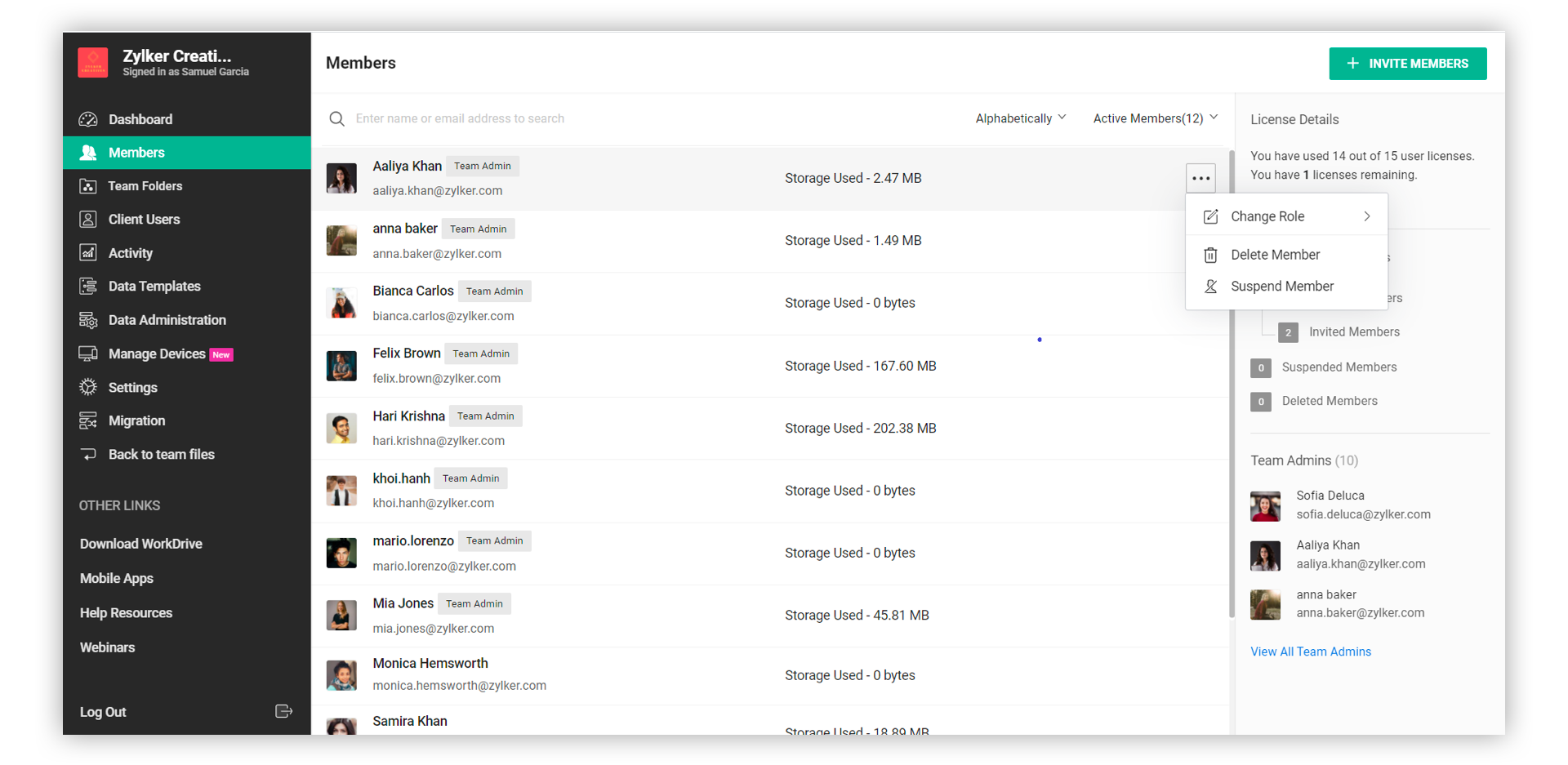 WorkDrive ensures secure data sharing within your team, organization, or with external collaborators. As an admin, you can allow or restrict files to be shared, and downloaded outside the organization. When enabled, Team Folder admins can choose to enable this option within their Team Folders.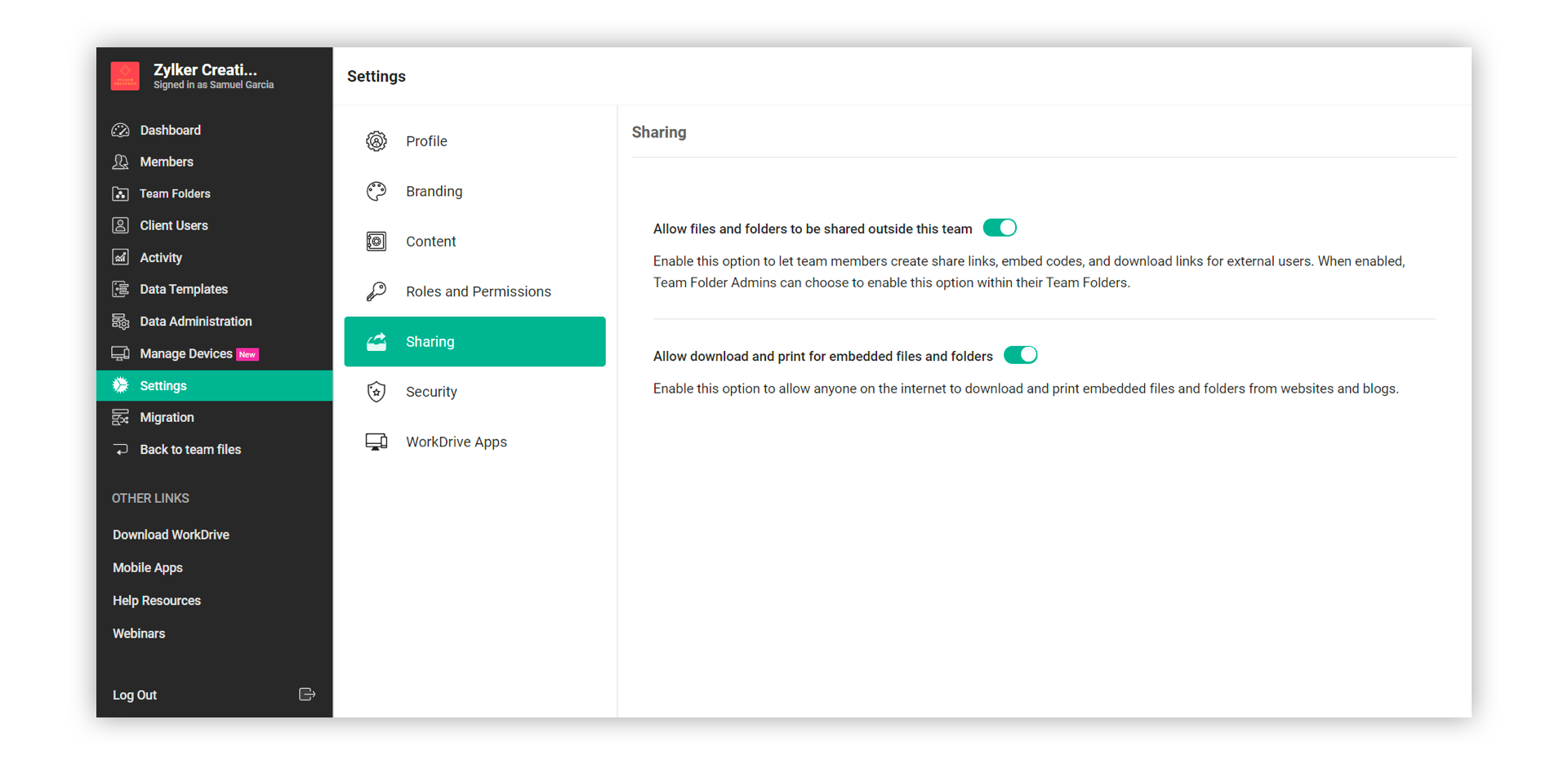 This option allows your organization users/team members to create share links for external collaborators. They can customize the shared link with password protection, expiration date, allow downloads, request user data options, and view the status of the file through the access stats tab.
Security
Database administrators make sure a user has access to the right files and help prevent data leaks and unauthorized access to documents. With much of the workforce going remote these days, data security is of utmost importance. An admin works to save data from external breaches.
With WorkDrive, you can assign various access levels and roles to your team members. Restrict permission to employee's devices based on their role. You can decide whether your team members can access files via Zoho WorkDrive mobile and desktop apps as well.
WorkDrive protects your company's data by integrating with Zoho Directory, where you can set password policies, enable two-factor authentication, and restrict unwanted IPs.
Storage
Database admins constantly keep track of the storage used by teams, ensure unwanted data is deleted or removed from the system periodically, and upgrade the storage space if needed.
WorkDrive offers a dashboard for you to track and manage storage from a single place. As an admin, you can get a summary of your team activities, view active members, monitor file activities, and much more.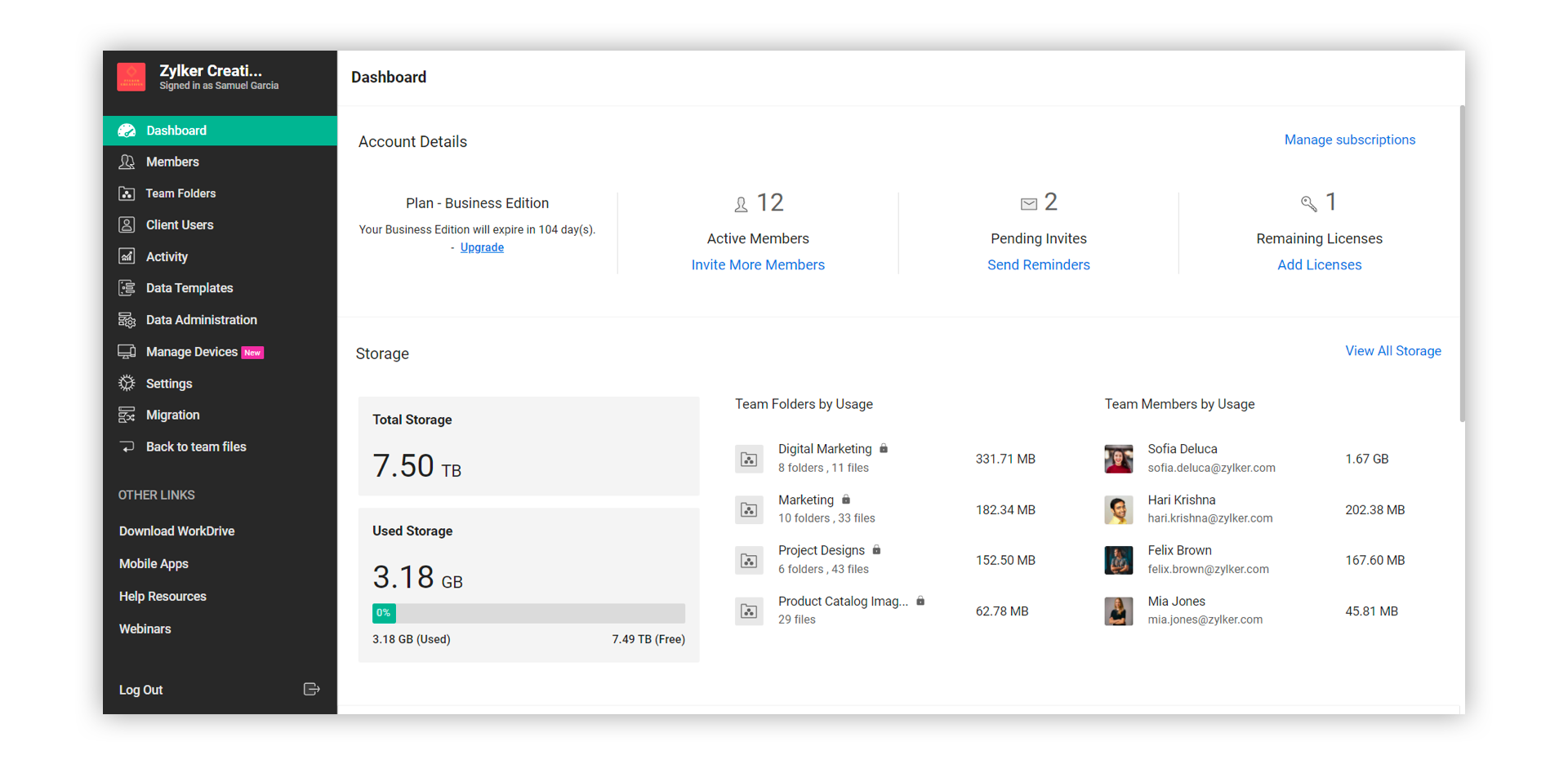 Making your workforce remote has its challenges. Your employees need company data to be available on their devices, and it should be secured as remote work is more prone to data breaches.
Many admins face new challenges in our current scenario, where teams need to work together from many different locations and time zones without compromising data security. This situation demands a cross-functional work culture.
As a WorkDrive admin, you can create teams in minutes, set roles and permissions, customize your Team Folders, and collaborate with your team members, manage and secure the data, create audit reports, monitor trash, and recover data.
You need not worry about transferring your company's data while opting for WorkDrive. Easily migrate your team's data to WorkDrive. You can transfer the data from G Suite, Dropbox, and OneDrive through our self-service migration tool.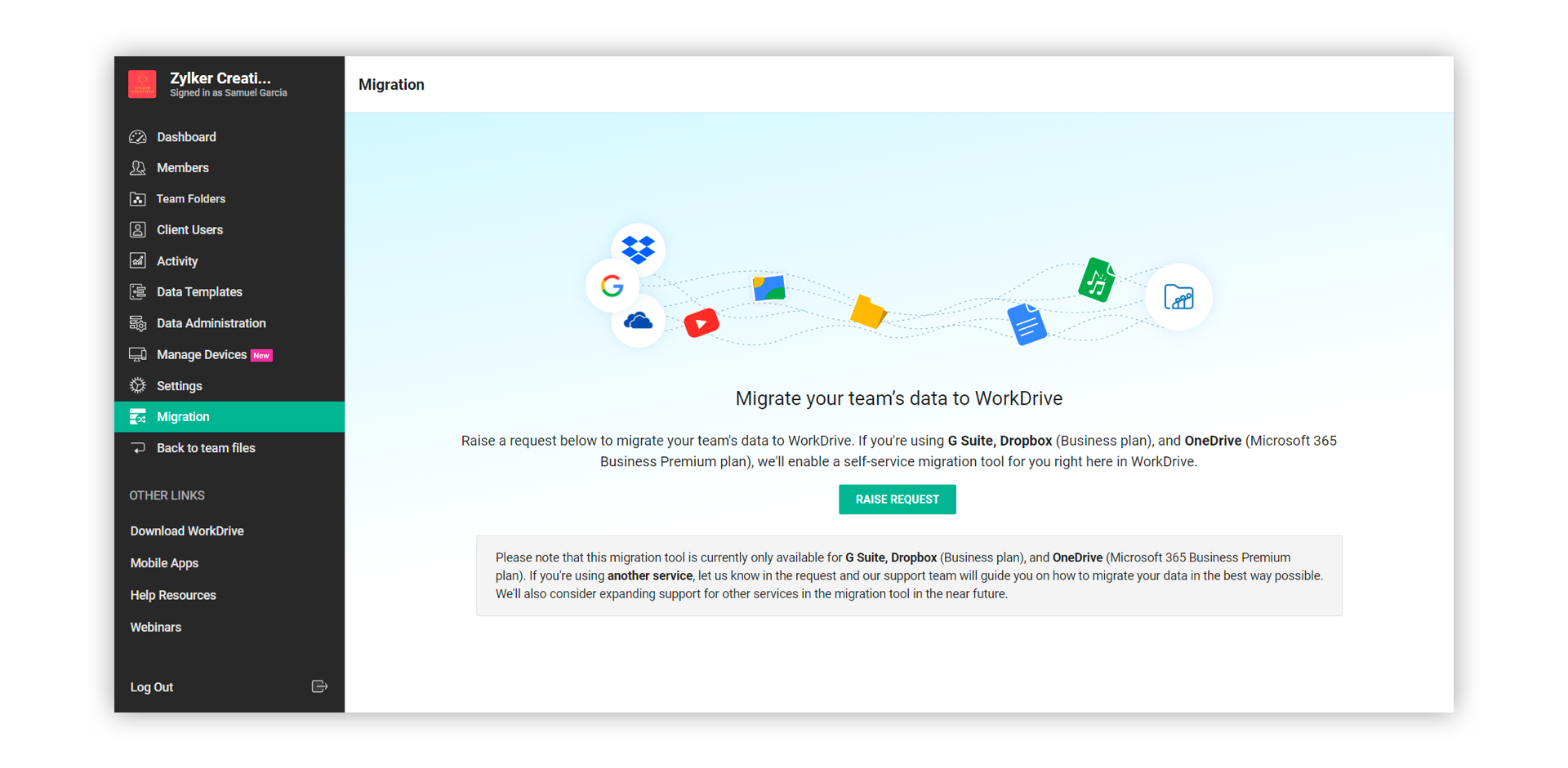 In many ways, the database administrator is the gatekeeper of an organization. An admin needs the right tool to manage their organization's data, and that's exactly what WorkDrive is: the perfect tool to support your database administrator.
Leave a Reply
Your email address will not be published. Required fields are marked