Kickstart your HR department's digital transformation (DX) Journey with a shared inbox tool
Kickstart your HR department's digital transformation (DX) Journey with a shared inbox tool
Last Updated: October 7, 2022
207 Views
9 Min Read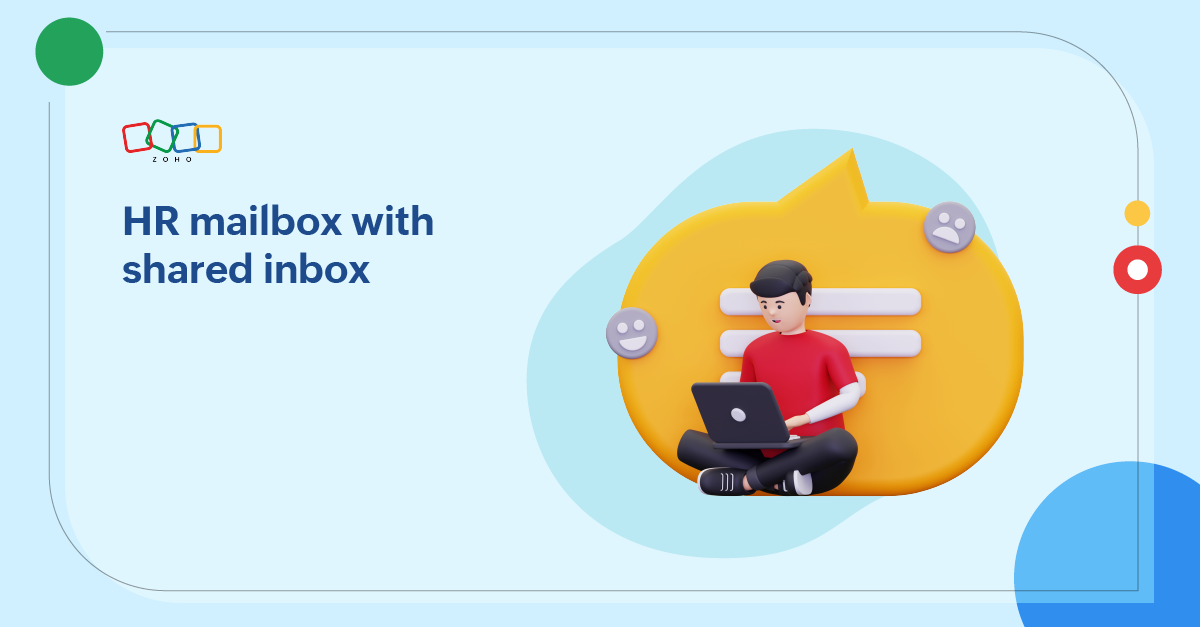 "It is not the strongest of the species that survives, nor the most intelligent that survives. It is the one that is the most adaptable to change." —Charles Darwin
The human resources team handles diverse responsibilities, from recruiting and onboarding to training and development, evaluation, budgeting, appraisals, and benefits.
HR is responsible for improving organizational work culture, conflict resolution, performance improvement, and overall employee satisfaction. Recently, enhancing the employee experience has become an integral part of HR teams' business-as-usual: managing rewards and recognition, gift incentives and team trips, celebrating special holidays and festivals, and conducting special events are just some of the activities now considered imperative to HR's new normal.
The pandemic has had a significant impact on most organizations, and business functions such as HR and IT have been the shoulders carrying the transition to remote or hybrid work, business continuity management, new and updated policies, and more.
HR teams that were previously confined to backend employee operations were suddenly thrust into the spotlight, and needed to quickly adapt to many new responsibilities.
The HR toolkit
Though digital transformation (DX) in HR functions lags compared to other enterprise functions, the pandemic pushed companies to mitigate complex HR tasks through ready-made tools, and paved the way for the rise of SaaS-based HR software.
Depending on their needs, scale, maturity, and budget, HR teams use one or more SaaS-based tools to go about their daily operations:
Some large organizations also implement HR intelligence or analytics tools to gain insights into their employees.
There are other products that cater to the needs of HR teams. But, successful implementation of these tools demands the buy-in and substantial support of the IT team. The tools need to be integrated with other systems in the organization, like e-mail and directory records. They cannot be operated in silos.
HR depends heavily on email for day-to-day operations, and is known to receive the highest volume of email in any business. Organizations that can't afford fancy tools conduct their HR operations by relying heavily on mail.
The HR mailbox
Irrespective of an organization's size, managing emails is one of an HR team's biggest challenges. HR receives a number of communications on their company email as well as in group or distribution lists such as:
HR@company.com: Corporate channel for all external mails to the HR department.
Recruitment@: Corporate channel for hiring agencies and college campuses to contact HR.
Resume@: For prospective candidates or referring employees to send resumes.
Payroll@: For payroll-related announcements and employees to send payroll issues.
Attendance@: For employees to report leaves or attendance-related issues.
Learning@: For announcements and issues related to training and development.
Med-claim@: For issues related to medical insurance and medical claims/reimbursements.
Admin-support@: For employees to report company-wide issues or to request support.
A majority of these emails translate into critical action items—whether they attend to the issue immediately via email or migrate it to a dedicated tool to address it, the team cannot drop the ball. They require robust processes so that these to-do items don't get out of control or fall through the cracks.
The challenges of managing an HR mailbox volume
An email to any group email address is delivered to the mailboxes of all subscribers of the group, therefore bringing in a large volume of email.
For example, if the HR director is on multiple distribution lists, their inbox will receive every email addressed to the lists. To keep track of these emails and avoid flooding inboxes, HR team members have to set up dedicated folders and automate sorting emails into these folders as they're delivered.
Duplicates
Another major challenge with managing emails is the duplicate copy of the email in every group member's personal inbox. Every team member's relationship with each email is mutually exclusive, which means that any team member can resolve the issue, respond to the email, and delete the thread, but the email will still remain in the other group members' inboxes unless they personally act on the email.
Ownership
Another scenario would be no one taking ownership of an email if it's not explicitly addressed to a specific team member, putting it in danger of slipping through the cracks.
Typically, emails requiring action must be converted into tasks in one of the platforms in the HR toolkit. Email services should either integrate with the corresponding tools, or a team member must manually create the tasks.
Teams without such tools should convert the email into tasks right within the mail. Some services have the provision to convert emails into tasks and add assignees from the email.
Collaboration
It's often necessary to discuss the task/email with members outside the group or with other distribution lists. One way to do this is to forward the email to the relevant members and carry the discussion forward as a reply.
Some email service providers offer the provision to tag anyone from the organization and collaborate right in the email by initiating a conversation on a chat.
Begin your HR team's DX journey using shared inbox tool
Shared inbox is an intuitive tool built to enable teams to work in unified inboxes. Managing, assigning, and working on volumes of emails delivered to the HR team, interdepartmental collaboration, and handling service requests are some of the use cases HR teams can leverage with the tool.
The shared inbox tool allows HR teams to create unified inboxes for their group IDs (e.g., HR@company.com, recruitment@company.com, mediclaim@company.com, etc.) and add team members to groups. They can also create temporary groups around ongoing projects.
Any group member can work on the emails—respond, add tags, color code, assign email to themselves or other group members, archive, snooze, and more. The status of the email will change for everyone else in the group.
The HR team can add members to groups and initiate conversations on emails, creating seamless collaboration within and across teams.
The team can define rules and configure the workflow of emails delivered to group inboxes. For example, the team can automate responses with pre-set help docs based on their subject.
HR teams can draft pre-set templates for repeated emails, create automated signatures, and use them as they send emails from group inboxes. This could include drafts of policy documentation, organizational process workflows, rejection mails, and more.
Teams can leverage analytics and track insights on inboxes and members as well as audit activity logs of team members.
Here's a useful article on how to use shared inboxes.
Let's look at a use case of a hiring process in a composite organization and discuss how a shared inbox tool facilitates this process.
Scenario 1
Team/ function: Recruitment team
Size: Six members
Use case: HR team is filling three different roles across different teams: A backend developer with 5+ years experience; a digital marketing associate with 3+ years of experience; and an area sales manager with 7+ years experience.
End goal: Reduce operational expenses while attracting and evaluating as many resumes as possible.
Shared inbox application
Recruitment team lists jobs on the company's career page as well as various other job portals (LinkedIn, Indeed, etc).

HR can create three different group inboxes for the three roles, or create a single ID for all three roles depending on the volume of applications they're anticipating.

The recruitment team members are added to the group inbox, as well as respective hiring managers/department heads.

When using a single group inbox for all three roles, the team can apply rules to auto-tag or color code the applications based on the role applied for.

Resumes are auto-assigned by availability or assigned by the team lead to relevant members.

On the shortlisted applications, HR marks the respective hiring manager for their feedback and comments.

The hiring manager can discuss this with HR or the rest of the team by adding notes on the email, with shared or privileged visibility.

HR uses templated responses to respond to rejected candidates. The email threads are archived and withheld applications are snoozed.

Shortlisted candidates are emailed with a calendar link to schedule further communication.

The hiring manager and HR have complete visibility at each stage by tagging email conversations by stages.

At the end of the hiring process, the team can track the metrics on incoming applications, shortlists, rejections, withheld applications, counts at each stage, and more.
The hiring manager and the HR team have full visibility of hundreds of incoming applications for the open roles.
The teams can "slice and dice" data on the applications received, assigned, and handled. They can also track the time to respond so they can analyze and realign their processes.
Any unattended applications can be immediately identified. Action on the shortlisted or rejected applications can be taken right from the shared inbox.
Collaboration between hiring managers, HR, and other stakeholders can take place right from the email, leaving enough context for others to evaluate throughout the applications' lifecycle.
Let's look at another use case of employee onboarding in a composite organization and discuss how a shared inbox tool facilitates this.
Scenario 2
HR recruits new employees every month. These employees need to be onboarded and signed up for their perks and benefits packages before being placed on their respective teams. This includes assigning mail accounts, building access cards or codes, a designated workspace (e.g., desk, chair, utilities), goodies bag, devices (laptop/phone), custom tools, salary accounts, medical coverage, etc. Onboarding new employees is a cumbersome process that involves different teams and stakeholders.
Team/ function: HR operations team
Size: Three members
Use case: Onboarding new employees.
End goal: Improve operational efficiency and effective liaising between HR operations and other teams that are responsible for onboarding new employees.
Shared Inbox application
The HR team onboarding new employees should have an internal group inbox: onboarding@

Next, the team adds members to the group, e.g., HR operations team, IT team members, for activating directory access, mail credentials, and internal organization chat channels; admin team members for assigning laptops and other peripherals; facilities team members to provide a designated workspace/cubicle, desk, chair, and other accessories; payroll team members to assist opening of attendance and salary accounts, signing up for the group insurance plan, etc.

The hiring manager will be a part of the onboarding group until the hired resource is fully onboarded.

HR begins the onboarding process by dropping a welcome email to the new employee introducing the employee's team manager and their onboarding credentials. HR can share all relevant policies and knowledge base for new employees to refer to.

The hiring manager can follow the thread until the new employee's onboarding is complete and they are inducted into their team.

The email will give them clarity on the salary and benefits they will receive and the workflow process that will be followed.

The employee can reply to the email in case of any issues. HR will facilitate the email and assign the issue to a corresponding group member to address the employee's issue.

In case any special approvals are required to process a specific asset to the employee, the assignee can tag the hiring manager, discuss the asset requested, and seek the approvals right on the thread.

Once the new employee's onboarding is complete, the hiring manager can exit the group.
The HR operations team can simultaneously facilitate the onboarding process for any number of new employees, leveraging the shared inbox tool seamlessly.
Service-level agreements of the provisioning teams can be tracked for each delivery request raised by the new employees.
To sum up
The shared inbox tool is best suited for HR departments because it helps the HR team manage the volume of email flowing through various group IDs into shared inboxes, and helps organize, sort, and tag them appropriately. Team members can assign emails, work on them by leveraging pre-drafted templates, rules, and workflows, and archive or snooze them when they are done.
If you're a growing organization and want to streamline your HR processes and operations before you implement the HR toolkit for your organization, you can begin your digital transformation journey with a shared inbox tool.
Sandeep Kotla

Sandeep is an inbound marketer with Zoho Corporation. Previously, he handled analyst relations and corporate marketing for ManageEngine (a division of Zoho Corp) and its suite of IT management products. He currently spends most of his time re-imagining and writing about how work gets done in large organizations, reading numerous newsletters, and Marie Kondo-ing his inbox.
Leave a Reply
Your email address will not be published. Required fields are marked