Shared inbox market landscape
Shared inbox market landscape
Last Updated: October 1, 2022
128 Views
4 Min Read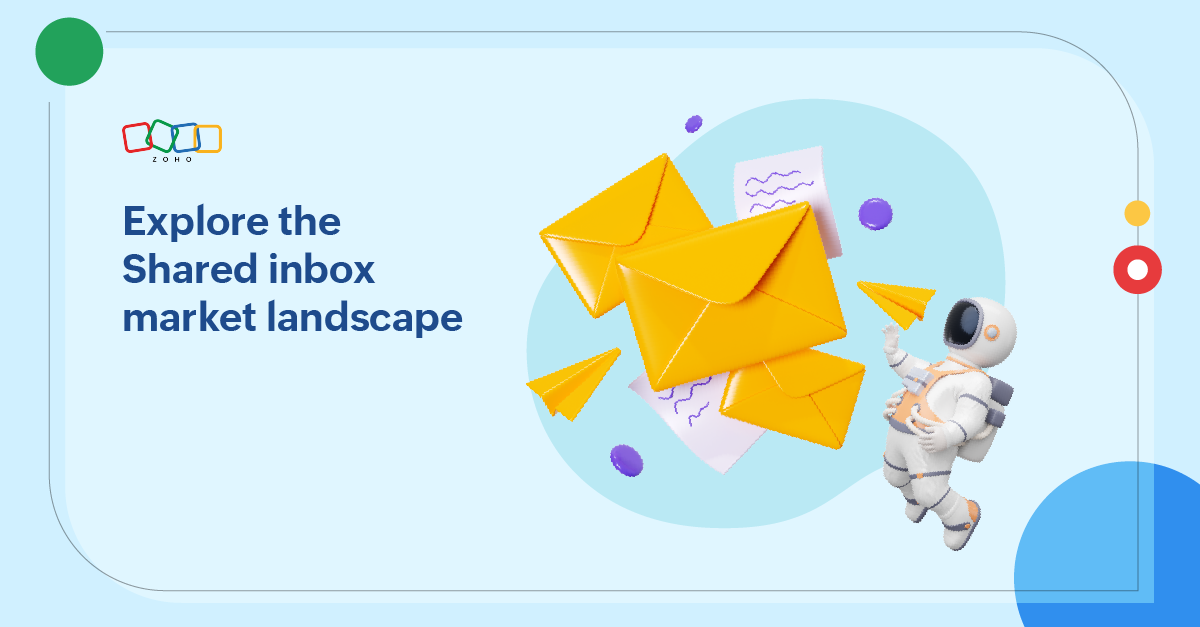 This blog post is excerpted from the Playbook: How to select the right shared inbox tool. In this post, we'll cover one of the key stages of shared inbox evaluation—researching and analyzing shared inbox vendors.
If you're reading this, you're probably looking to implement a shared inbox on top of your business email client. As you progress through your evaluation journey, it's important to understand the shared inbox landscape, as well as the vendors in the market, their positioning, product features and functionalities, supported use cases, and more.
It would be an expensive mistake to fixate on a particular vendor without understanding the market or the vendor landscape. This can cause you to make unnecessary changes to your processes or team structure, or stretch your budget to accommodate one specific vendor.
There are at least 70 vendors offering shared inboxes today. We have studied these vendors closely and sorted them into three categories.
Platform or full suite

Bundled

Standalone
Platform or full suite
These are enterprise-grade suites with point products and core offerings, such as ticketing tools, a support desk, or ITSM/ESM. A shared inbox is one of many features included in these products. Along with other features, shared inboxes help strengthen use cases supported by platforms or suites. For example:
HubSpot is a CRM platform for marketing, sales, support, CMS, and operations, with a built-in shared inbox feature.

ProProfs is a helpdesk that includes a shared inbox. To support its helpdesk use case, it also offers features like live chat and ticketing automation.

Freshdesk is a customer support desk built on top of a shared inbox (a support desk with a shared inbox offering).
Platforms like Hubspot, Freshdesk, ProProfs, and HappyFox are often included on "best shared inbox" lists, even though their core offering is something else. For use cases like CRM, customer engagement, sales force automation, and marketing automation, it would make more sense to evaluate them against platforms like Zoho, Oracle, Microsoft, Sugar CRM, ZenDesk, Salesforce, HubSpot, and Pegasystems.
Bundled
These vendors offer solutions and tools in a bundle, stacking diverse functionalities to support specific use cases. Shared inboxes are a critical offering in these bundles, even though the bundle's specific use case will vary depending on the other offerings included. For example:
Helpmonk bundles its shared inbox with live chat for customer service use cases. They also bundle shared inbox with email marketing automation.

Crisp provides tiered offerings with a shared inbox, ticketing system, CRM, campaigns, chatbot, live chat, knowledge base, and more to bolster customer support, marketing, and sales use cases.

Helpscout bundles its shared inbox, knowledge base, messages, and customer management tools to cater to use cases such as demand generation and customer support.
Standalone
Standalone shared inbox products include other built-in features. Some vendors offer a purpose-built interface that opens in a separate browser. Others build the shared inbox to work from within Gmail, Office 365, Slack, Microsoft Teams, or other communication platforms.
Because standalone products are integrated with an email client, their functional use case is email management with team collaboration, but they can be used for customer support as well.
Products with a separate interface: Zoho TeamInbox, Missive, Groove

Built on top of Google Workspaces: Hiver, DragApp, Gmelius, Mailflow

Built on top of Office 365: Emailgistics

Built on top of Slack: SharedBox, MailClark
We've done extensive research on the shared inbox market, the vendors, their use cases, features, and functionalities. Based on that research, we compiled an extensive list of 50 shared inbox vendors and segregated them into categories, use cases, features, pricing, and more.
*You can access our list of 50 shared inbox vendors here.
Serial No.
50
Vendors
Zoho TeamInbox
Category
Standalone
Description/ Keywords
Shared inbox for team collaboration
Interface
Separate browser/ app
Use cases
Email management
Demand generation/ Business development
Team collaboration (for remote and shift-based teams)
Core Features (of the shared inbox)

Group mail management and audits
Rules & automation
Migration
Canned responses
Personal inbox

Other key capabilities

Follow and Snooze
Track team activity and tasks
Co-author email replies
Integrate with Zoho CRM and Zoho Desk

Pricing and pricing strategy
$5/users/month
Custom pricing available
Vendors with shared inbox offerings are driving early adoption of help desk, ticketing, and customer service tools. Some vendors are building features and functionalities around their existing shared inbox and pitch themselves for internal team service management, as well as external customer support desk use cases.
Managing services for internal teams—such as IT, HR, facilities, and legal—are largely catered by ITSM and ESM vendors (that are framework based), such as ManageEngine, ServiceNow, Cherwell, Freshservice, SysAid, Atlassian, and BMC. External customer support desk use cases are best suited to customer helpdesk vendors, like Zoho Desk, HubSpot, Zendesk, and Freshdesk. Now, shared inbox vendors have emerged as email-based, lightweight, and low-cost tools catering to use cases that are otherwise exclusive to multi-billion dollar markets.
Applying filters
Once you have clearly defined your shared inbox requirements, including the necessary functionalities, features, and use cases, as well as your end goals for the product, you can easily filter out the categories that don't suit your defined purpose.
During this process, you may eliminate the tool or vendor with the most features or the highest rating. However, you should trust the process to ensure your unique requirements are met. The next step is to evaluate the individual vendors from your chosen category/categories and compare them to arrive at the most suitable tool for your organization.
Technology will undoubtedly play a critical role in solving problems, but when introducing a new tool that requires drastic investments in people, ways of working, and relationships with other teams and organizations, it should be a conscious and collective decision made with input from all stakeholders.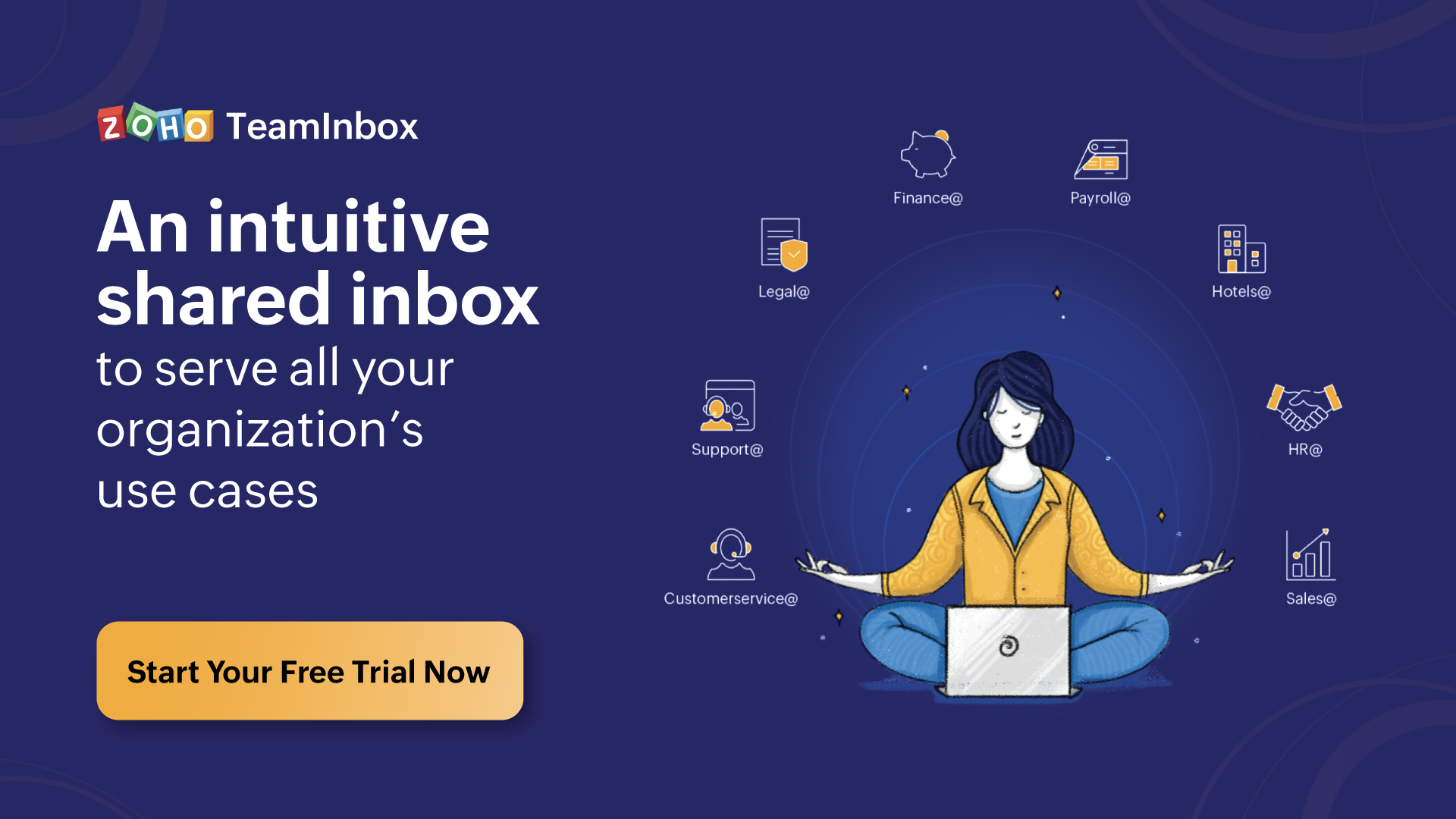 Sandeep Kotla

Sandeep is an inbound marketer with Zoho Corporation. Previously, he handled analyst relations and corporate marketing for ManageEngine (a division of Zoho Corp) and its suite of IT management products. He currently spends most of his time re-imagining and writing about how work gets done in large organizations, reading numerous newsletters, and Marie Kondo-ing his inbox.
Leave a Reply
Your email address will not be published. Required fields are marked