How to give your B2B marketing a facelift
Last Updated: August 16, 2018
8.2K Views
5 Min Read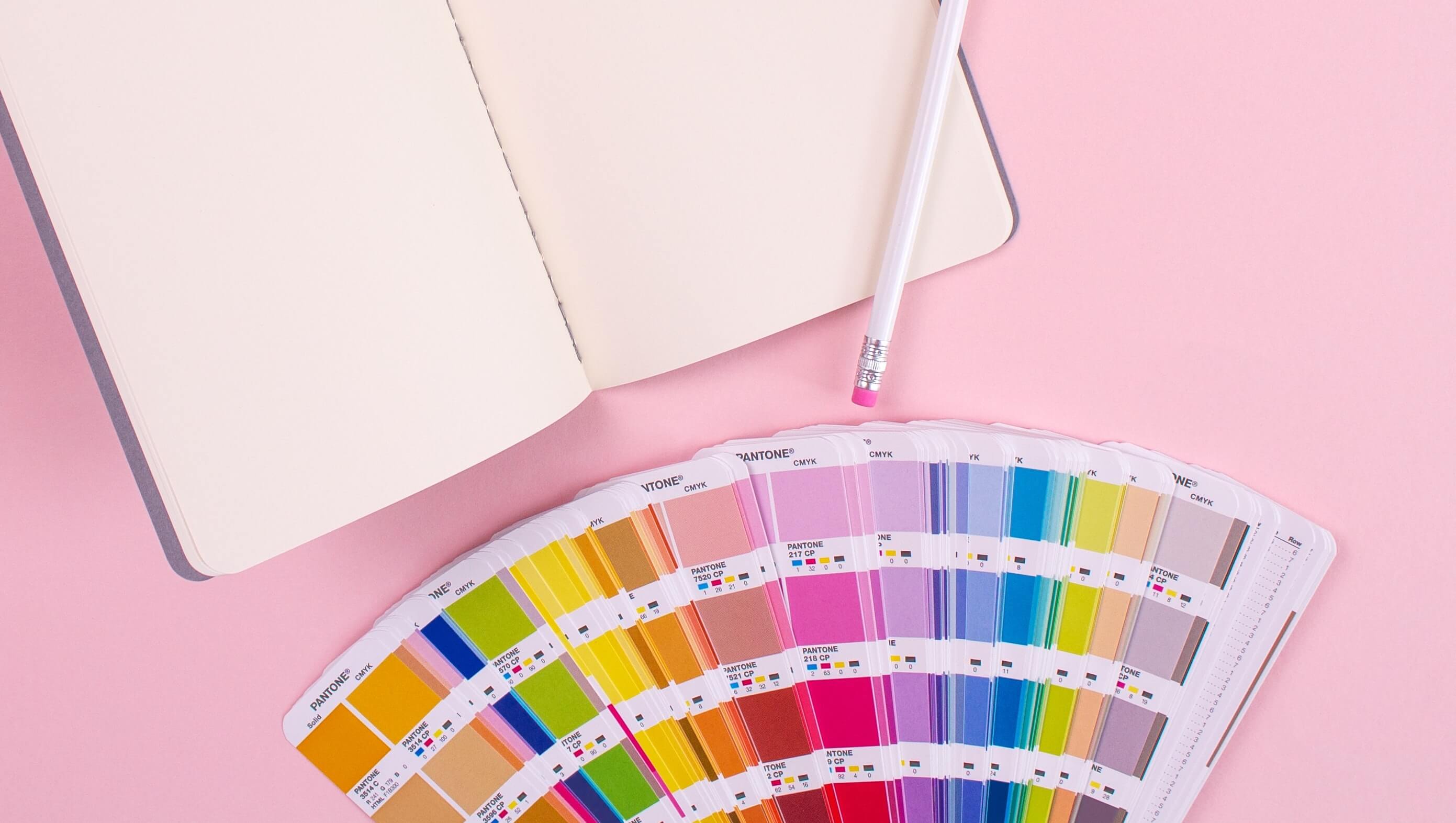 A windy evening by the Sydney Opera House. A window over-looking a dewy mountain summit. Dusty back roads framed in matching sepia hues. These must be from a traveler's camera roll, right?
Nope.
In fact, they're from a brand's social media feed—travelogue-esque photos are an everyday affair for this brand who is a leader in the B2B marketing space.
Take a look at this aerial photo overlooking the Sydney Opera House, featured on their Instagram. At first glance, it just looks like a tourism shot, but give it a moment and you'll see it. A small blue and white truck is positioned somewhere in a corner of the frame, without blending into the background or stealing attention from the scenery it sits in.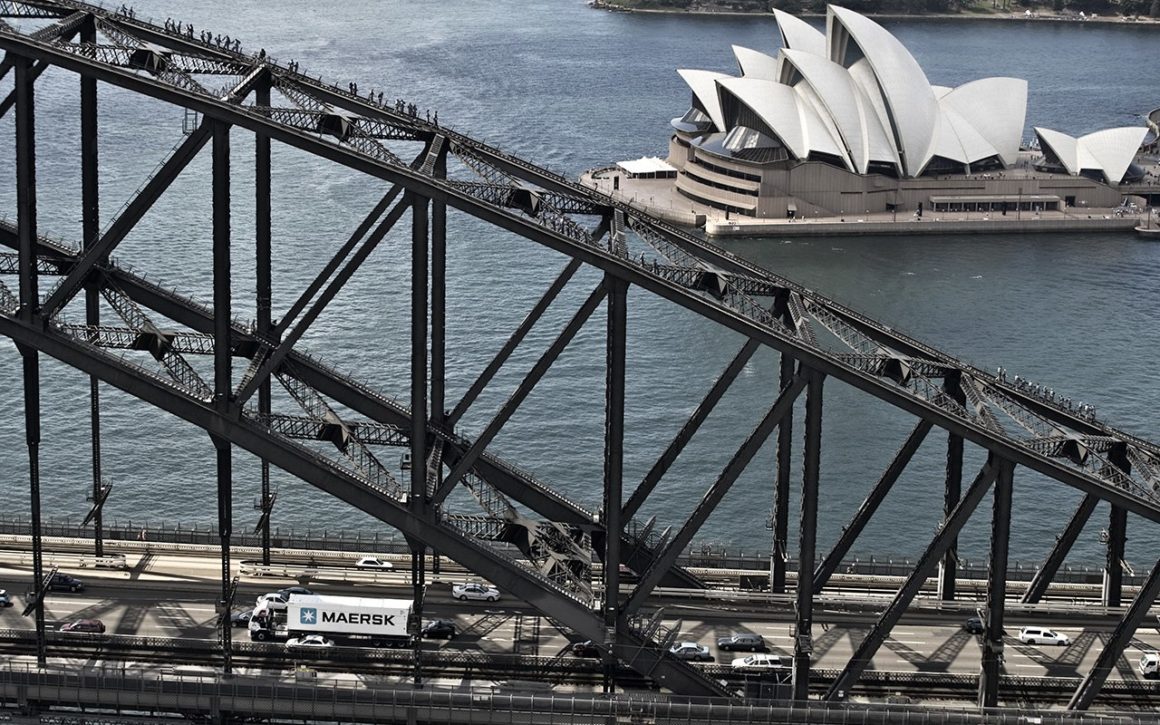 This is a shot from Danish brand Maersk Line, and a stellar example of a B2B brand taking advantage of the new avenues social media has opened up. They've taken their slogan 'Moving more than Cargo' and fit it in their social media marketing strategy—making a logistics company, seem suddenly interesting to the everyday social media user.
It's not simple for companies like Maersk, though. Marketing a B2B company is chock-full of challenges that require innovative solutions—after all, B2Bs aren't the most relatable of entities. These are businesses that target other businesses, not the everyday consumer. Sometimes, they only make up a tiny component of an end-product that eventually finds its way to the average consumer. Take your laptop, for instance. Chances are its parts are made by companies across continents, even if it reaches you as a single unit. Marketing the laptop is far easier than marketing one of the many parts inside it!
This brings up a question—what does "B2B" even mean? What are the images it conjures in your brain? Software services? Machine parts? Auditing companies?
Besides not having great recall factor, there are specific hurdles B2Bs face in marketing themselves. Let's look at some:
Businesses are aware – When it comes to marketed content, businesses are even more discerning than the average consumer. When your target audience is another business, your marketing strategy needs a perspective shift, because you're speaking to an audience that:
a. knows what it wants.
b. is cued into the market already.
Being cued into the market gives them an understanding of the options available and the risks involved. Standing out to them requires not only a grip on the industry but also the right marketing techniques—especially in the social media space, where a brand's reputation is on display for market players.
While more businesses are pumping investment into avenues like corporate training and learning resources, a B2B should not only be grabbing a company's attention but adding to their knowledge of the industry. Businesses already know more than a B2C customer, so you'll ultimately have to give them more.
Late is as good as never – If you're not up to date with what's happening around, you can't market for businesses. In a marketplace, the old adage 'better late than never' gets flipped on its head. Consumers and brand loyalists may wait for you to come out with new products, even if your competitors are already doing it. But businesses don't —they expect you to be on top of every change in the market. Integrating with new technology, following market sentiment, updating your services, and staying on top of trends are key factors in deciding how abreast you are of your market.
B2B products aren't the most relatable – This is perhaps the #1 reason why B2B marketing can quickly descend from routine to terribly boring. Most B2B products, at first glance, don't offer a lot in terms of innovative slogans or a kickass copy. I mean, you'd be forgiven for assuming there are only so many ways a company can market sticky notes—but you'd be wrong. There's no space that an excellent social media marketing strategy can't traverse.
Now let's take a look at some "dull" products and services that have made themselves fun and relatable on social media, using all the tricks up the B2B marketing sleeve. We hope, by reading this, you'll gain some pointers on how you can make any B2B product or service interesting, even if it seems like a bit of a snoozer.
1. General Electric – Showing you the bigger picture
When you think of Elon Musk, you don't think "engineer" or "entrepreneur." You think futuristic gadgets and revolutionary technology. General Electric is another company that uses this "bigger picture" hook to reel in its social media audience. Their posts—video and photo stories on social media—not only educate the audience on their projects but also help push campaigns with the ease of a master storyteller.
Being a global company, they focus a lot on their activities in the R&D sector, and this gives us a peek into what this technology means for the world. One informative yet stunning campaign that captures their strategy perfectly was #Droneweek. During this campaign, picturesque videos of several GE project sites across the globe were shot by hi-def camera drones. This gave us a glimpse into the projects GE undertakes and marketed it in a way that spoke to a wide social media audience.
2. Intel – Leveraging community
They make processors that go inside computers, and while this may be exciting for people knee-deep in technology, updates in their products don't stir excitement in the same way that a new iPhone does. In short, an Intel chip upgrade may be something you need, but it probably isn't something you're thrilled to hear or tweet about.
Intel understood this well. They figured out that if they can't tell relatable stories about their products on social media, they'll tell stories about the people behind the scenes, the ones who help build the product.
Beyond visual and entertainment appeal, they've aced social media through something that drives their message home strongly—social appeal. One instance is when they quickly hopped on the popular #looklikeanengineer campaign. This viral campaign was specifically aimed at breaking the stereotype that there aren't women in STEM fields, and Intel saw an opportunity to call attention to their progressive workplace culture through it. Here, the brand has figured out that they don't need to speak about their product incessantly, as it's well-established already. Showing us the faces behind the product brought people closer to the brand and made it more relatable.
3. 3M – Trendy to a T!
From mining to diamond-grading, 3M offers a wide spectrum of services and products in the B2B world—but its market cap alone doesn't make it a force to reckon with. Let's face it, neither consumers nor businesses are expecting an exciting social media presence from an entity that mass-produces tape and drills into the earth to make bank. And that's where 3M proves us wrong.
Not only is their social media feed bustling with beautiful behind-the-scene photos, but it's also pretty hip! Look at this picture!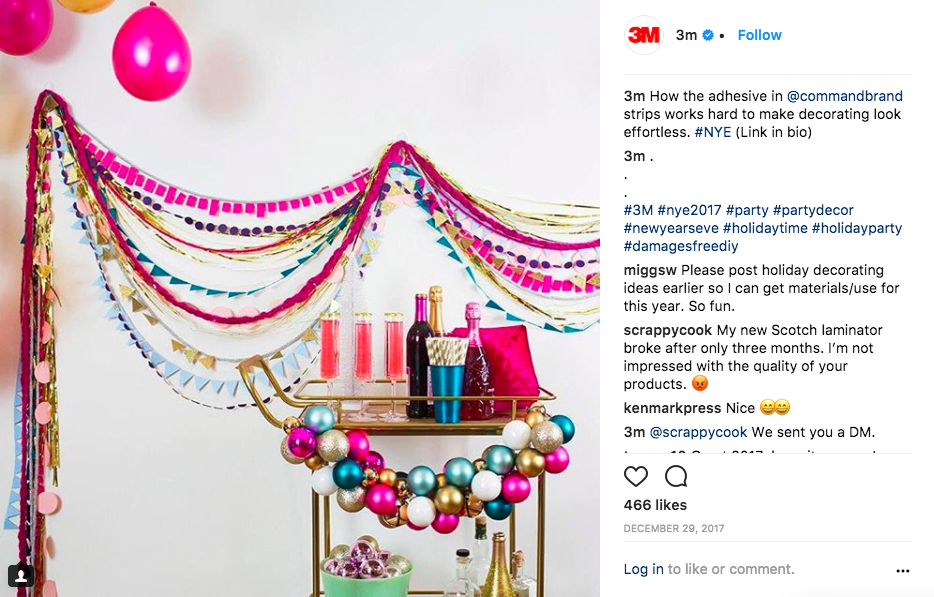 You may not care how strong their adhesive strips are, but DIY decoration ideas like these are fun and eye-catching on social media, especially on an image-centric platform like Instagram. All of 3M's social media posts are relatable and trendy because they talk about interesting things happening around us and how their products can help make that happen!
While these well-known secrets have been floating around for a while now, knowing where to apply them is key. Marketing a B2B can easily become a boring social media chore—but with a little bit of imagination, it can end up spearheading your marketing efforts.
Amruthavarshinii

Chats & writes about anything from social media, culture, to how chai latte isn't a real thing.
Leave a Reply
Your email address will not be published. Required fields are marked