5 ways to boost holiday sales using social media
Last Updated: December 25, 2022
413 Views
3 Min Read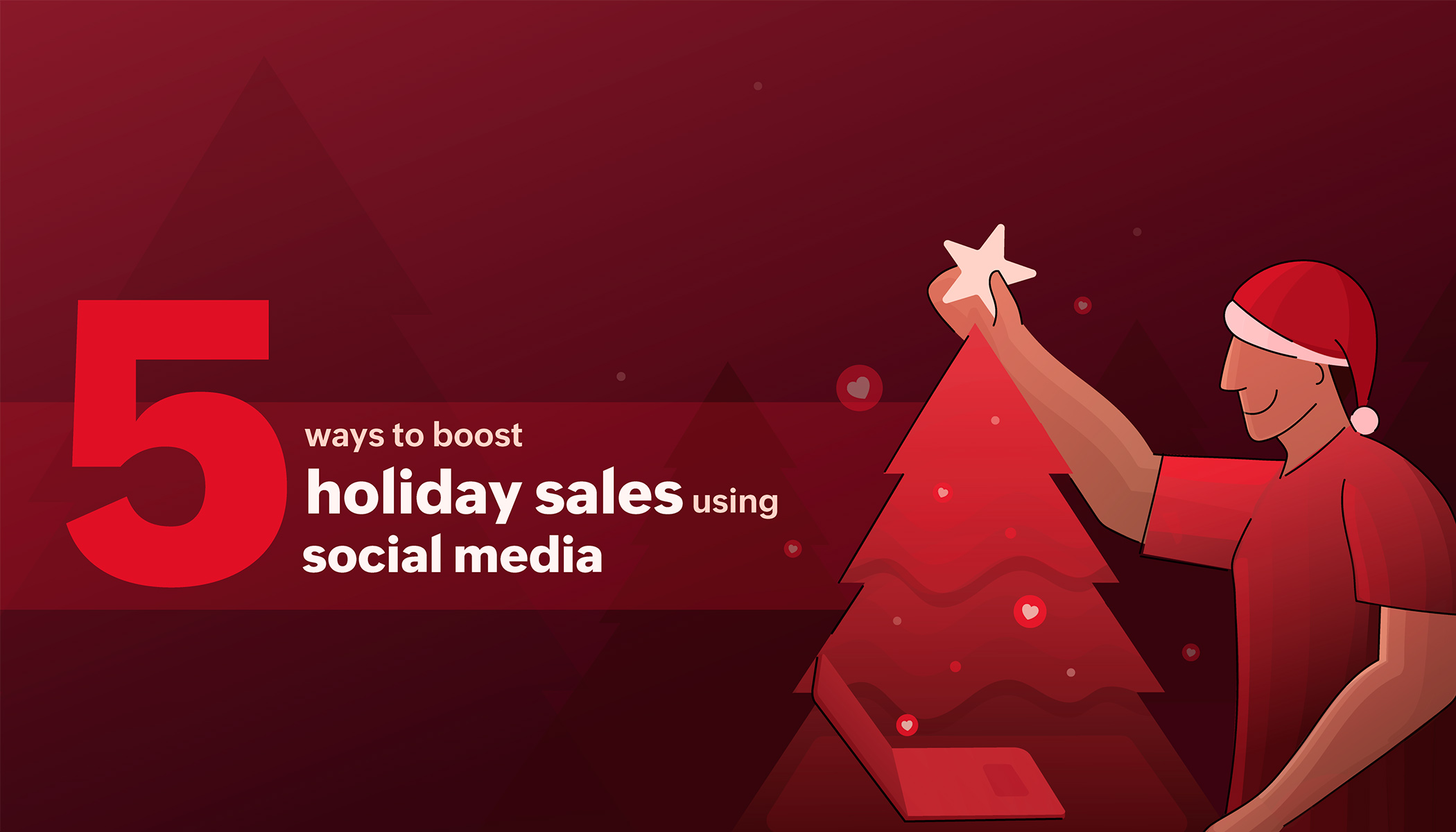 Lots of people's favorite time of the year is around the corner—yes, the holiday season is here! To match the happiness the season brings, brands try their best to ensure they make their customers feel involved. It's also the time of the year you can use to increase sales. Users are highly active on social media during the holiday season, so let's look at five ways to boost sales using those channels and how our fictional friend Max implemented these ideas with his travel agency, Zylker Travels. We'll also look at how our own platform, Zoho Social, makes it easier than ever for you to accomplish all of this.
Bring the holiday vibe
The first important step is to bring the holiday vibe to your social media channels and let customers know your brand is ready for the holiday season. This starts with branding—implementing new holiday elements in the design makes a huge difference. Pick the right colors for the posts on your social media channels that align with the season. Max started by including a Santa hat in Zylker Travels' display picture on all their social media channels and also included the season's colors, such as red and green, in all the posts. Accordingly, plan your content creatively without missing out on special days. A content calendar can help you stay sorted; Zoho Social's calendar will help you plan hassle-free.
Customize Channel-specific activities
Every social media channel has its unique features and advantages—understanding the strengths of each and curating holiday-specific content accordingly can help you yield good results. To lay out channel-specific activities clearly, you should start by analyzing what type of content has performed well on each channel and to focus your efforts. When talking of channel-specific activities, it doesn't mean you should leave out other platforms; start customizing content for each channel. Max's brand Zylker Travels has a good number of followers on Facebook, so he scheduled more offer promotional posts on Facebook and later boosted it as a Facebook Ad.
Quantify engagement
When we talk of boosting sales through social media, it isn't just about posting and promoting—it's also necessary to figure out ways to maximize lead generation. Max, integrated his Zoho Social account with Zoho CRM. The integration made it easy for him to identify and convert potential social engagements into leads. When you are aiming to increase website visits and purchases, include a source tracking way for every link or coupon code you share on your social media channels. This will help you quantify the results and improve.
Celebrate with customers
It's a must to master the boundary of being involved with the customers and refrain from sounding salesy. Involving your customers in the season's celebration will indirectly let customers build a bond with your brand. You could do this by conducting giveaways and sending personalized messages. Max ensured to post decor pictures of Zylker Travels on Instagram Stories on consecutive days and took followers on a tour of their office and how they are getting ready for the celebration. The main goal is to improvise communication and understanding between the customers; conduct interactive sections and get to know your users.
Collaborate with influencers
Influencer marketing can help a brand boost sales when targeted the right way. Pick influencers that have expertise in your market/niche. Have them talk about your biggest offer of the season and create influencer-specific codes to attract customers and measure results. Since Max owns a travel agency, he found the best travel vloggers and influencers that most of the users in his demographics follow and collaborated with them to talk about the holiday discounts Zylker Travels is offering. He also developed a unique discount code for each influencer that customers can use while booking tickets, this way he was also able to understand how well the campaign worked.
Conclusion
The holiday season is one of the busiest and most happening times of the year, so it's a great time for brands to try and skyrocket sales. Using Zoho Social to plan your marketing activities along with the strategies will make the process hassle-free. Try these five ways to boost sales during the holiday season and let us know how they worked for you.
Comments(
1

)
smash karts

May 31, 2023 at 12:08 PM

These ways are so useful for me, especially for sellers.
Leave a Reply
Your email address will not be published. Required fields are marked