What is a
social media calendar?
A social media calendar is a planner in which you can plan and organize what to post on your brand's social media channels. Your brand's social media game is essential as most brands today feature social media among their main marketing pillars. The major element in social media marketing is the content, but keeping up with content creation can get difficult over time. A social media calendar plays a crucial role here, simplifying the social media marketing journey by helping you stay planned and sorted.
Get Started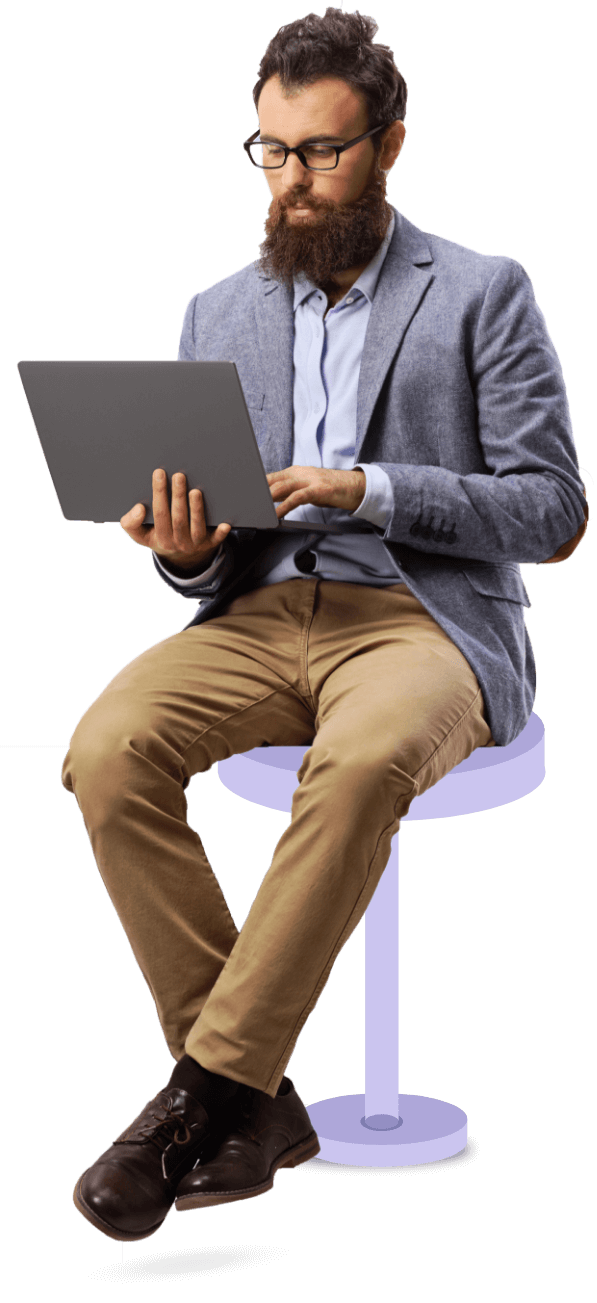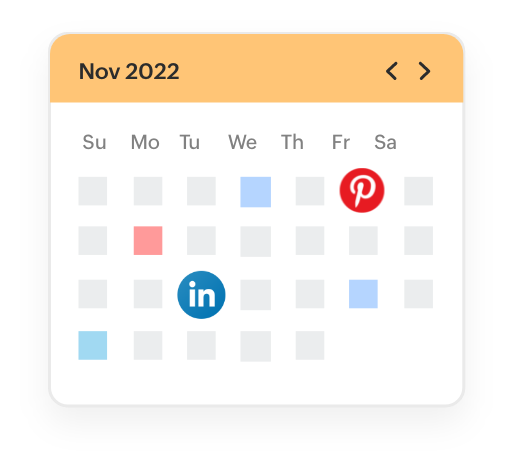 Why should you create a
social media calendar?
In today's marketing paradigm, creating good content will leverage your brand's social media presence, which in turn will raise brand awareness and visibility. Consistency is the key to understanding what type of content works for your target audience. A social media calendar will serve as a guide to help you regulate your content creation process and gain a clear picture of your social media offerings. Here are a few reasons why you should have a social media calendar:
Saves
time
Creating a social media calendar saves you time as you will be sorted with the content to be posted for a particular period. It also prepares you for upcoming events and keeps you in line with trends.
Ensures
consistency
When you start creating a social media calendar, consistency in posting content can be achieved easily. This will help you keep track of all the ongoing social media trends and the important events/dates in your market space.
Helps you understand your
social media game better
Analyzing the engagement rates and what social media strategies work best for your brand is a part of the content calendar creation process. By doing this, you will be able to understand your brand's social media presence and the target audience—not just to plan ahead, but also to be able to improvise better.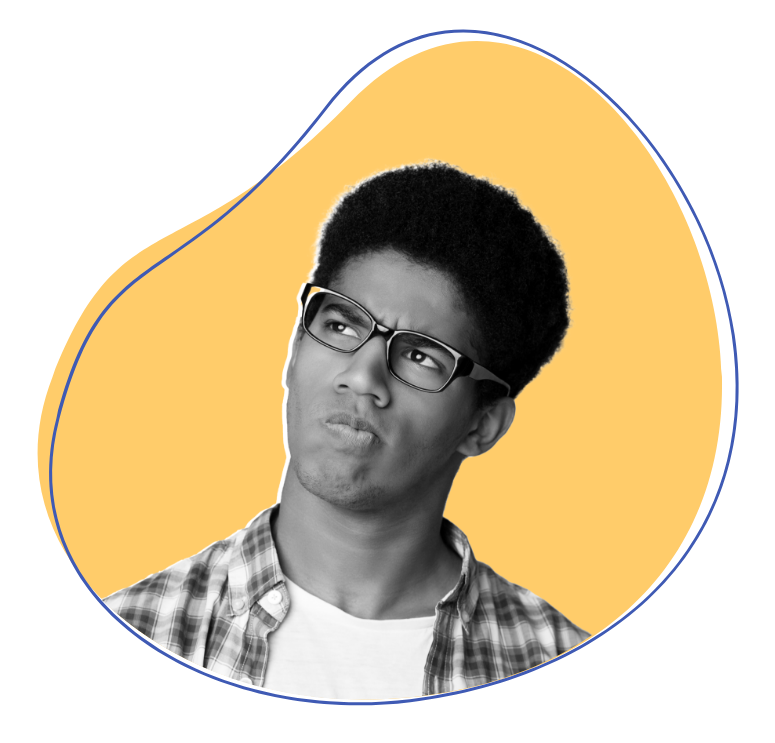 How to create an
efficient social media calendar
Creating an efficient social media calendar can get tricky at times. If you're new to curating one, here are a few steps that will help you in coming up with a perfect social media calendar.
Analyze your brand's social media accounts
It's important to understand what works well for your brand and what doesn't. To understand that, analyze the content performance reports on each of your social media platforms. By doing this, you'll get a clear idea of how to distribute your content and can curate accordingly.
Decide the content mix and dominant platforms for your brand
After analyzing the brand, you'll be able to identify which content has performed well and figure out the dominant platforms that your brand has more engagement on. List them and start deciding on the content mix.
Start with content creation
Once you get an understanding of the content mix that works for your brand, get started with content creation. One thing to have in mind before heading into the content creation process is to make note of the date of events and special occasions that go in line with the brand.
Ideate the content
This is the crucial part that involves brainstorming and creation. Start creating content and the required elements such as videos and images. As you are involved in the creative process, make sure you have your target audience in mind. Before finalizing, do a thorough check and make changes wherever required.
Execute the plan
After finalizing, start scheduling content as per the plan and double-check that you have lined-up videos/images for the suitable dates and events. Use a checklist to help. If you have to post an impromptu announcement, you can re-schedule the existing plan.
Get feedback and re-analyze
After a week or as per your customized calendar plan, start analyzing how the social media plan has performed. You'll be able to identify what worked well and get insights on the best-time-to-post audience and engagement rates. Use the report as feedback and apply changes accordingly to the next social media plan.
A step-by-step guide

to creating a social media calendar with Zoho Social

Let's look at how to create a social media calendar with Zoho Social by using the example of a travel agency called Zylker Travels. Remember, it's necessary to analyze your engagement rates, the best time to post, and other reports before posting.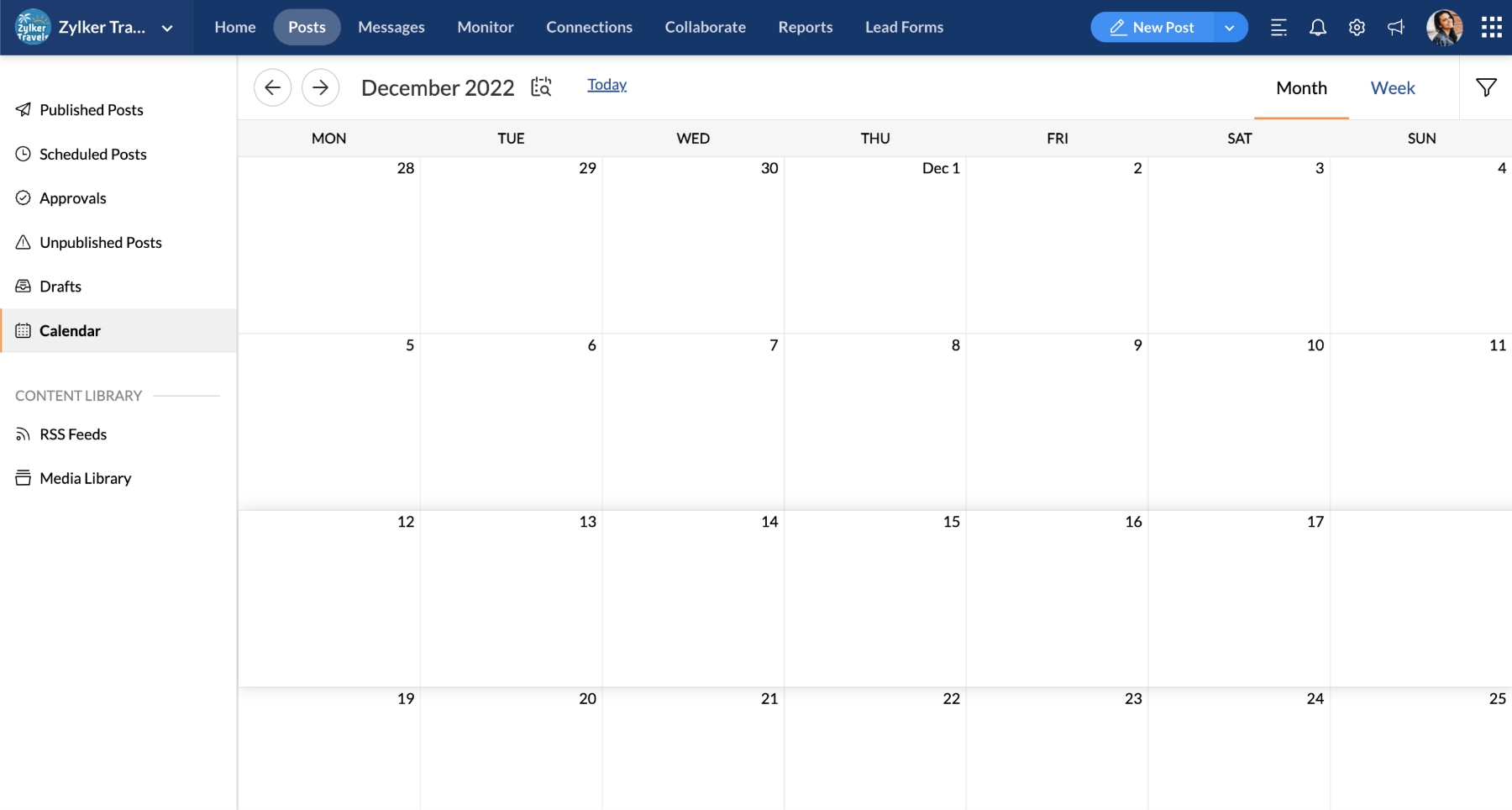 Step 1
Decide the dates
Assume we're creating posts for the week of December 12-18. Since Zylker Travels is a travel agency, the holiday period is crucial for them as a brand. Here we are marketing their holiday offers.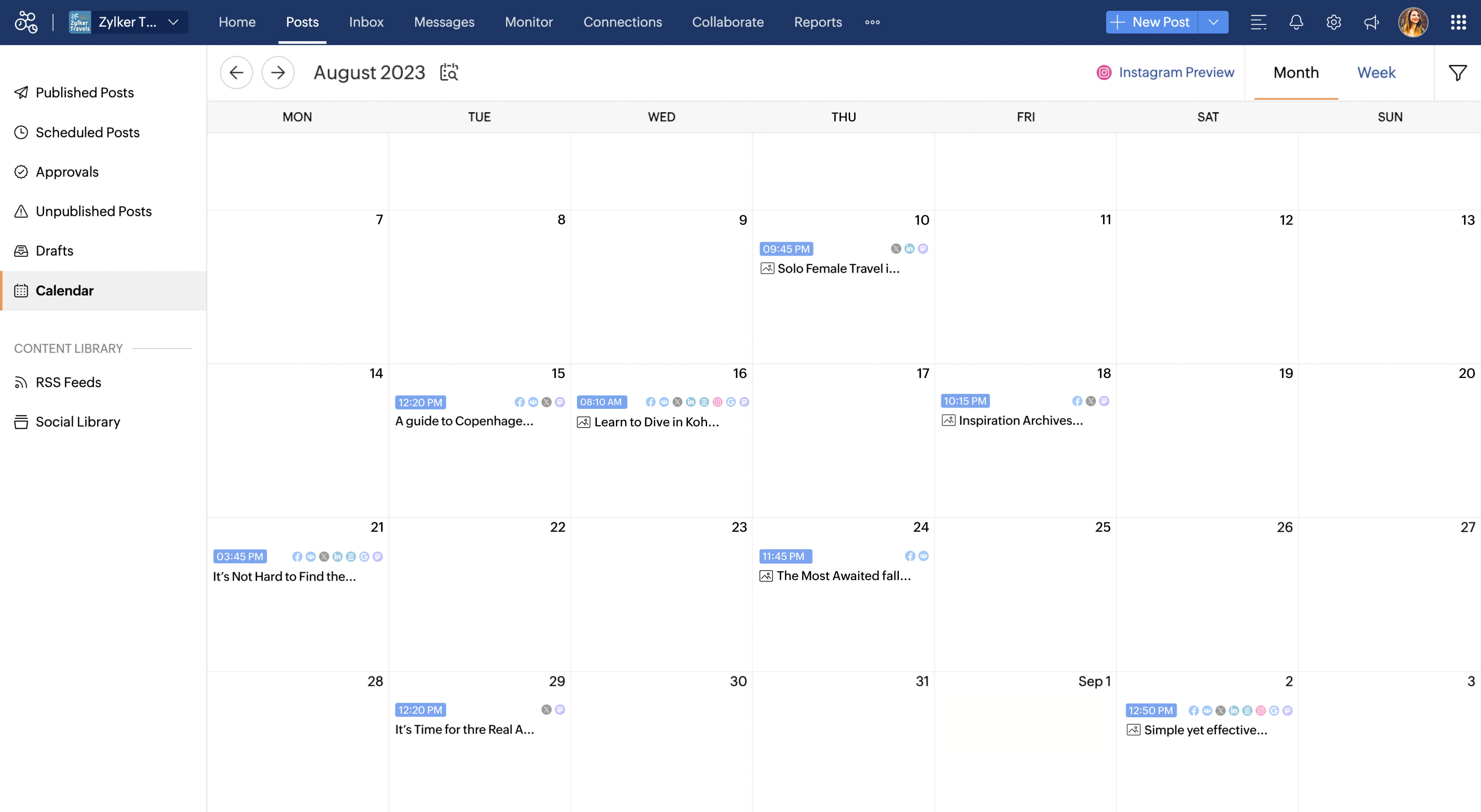 Step 2
Choose the platforms
Considering Zylker Travels has the maximum number of followers on Instagram, they might consider posting on Instagram at least three days a week. It is also necessary to pick other platforms along with Instagram.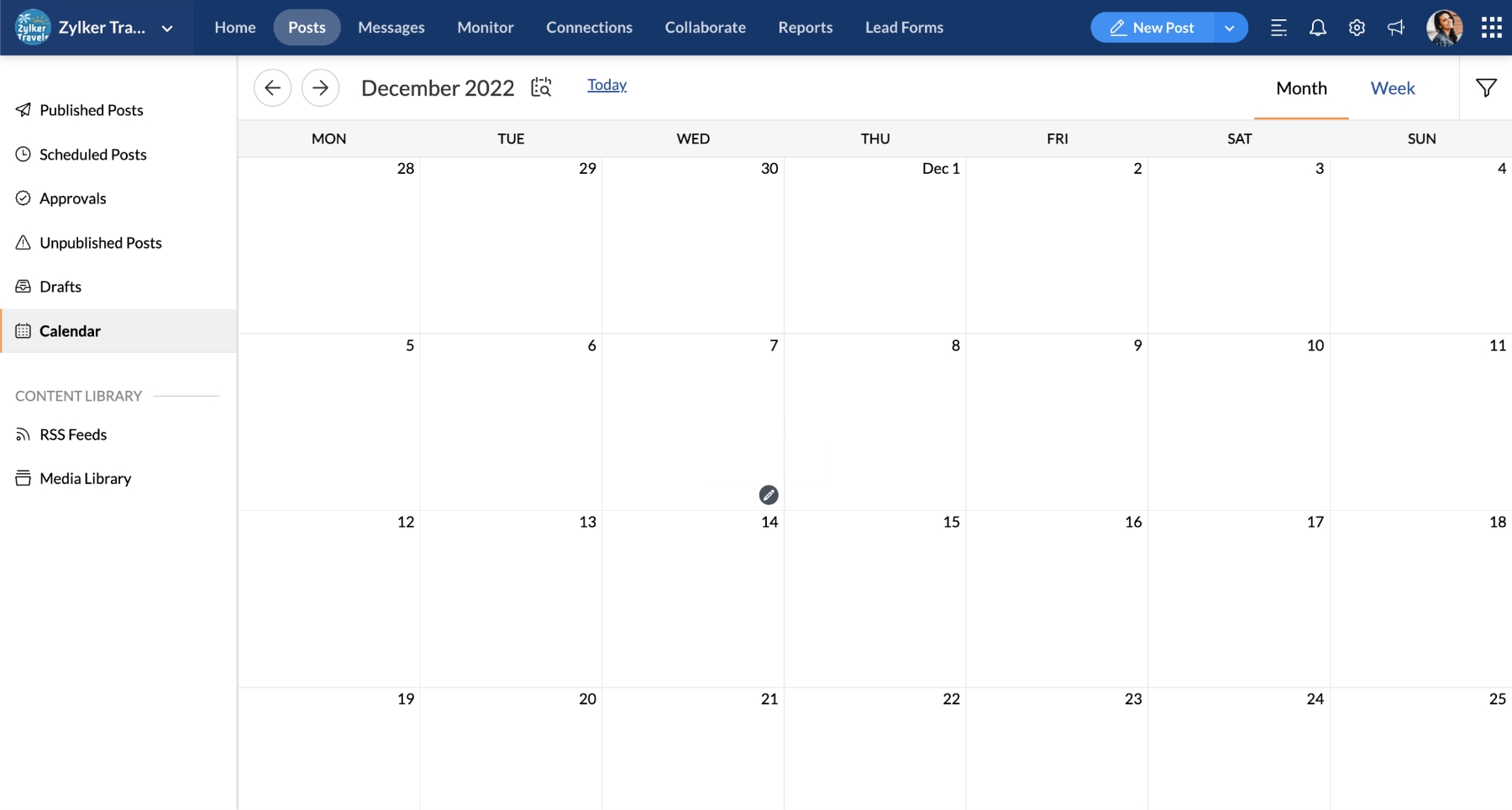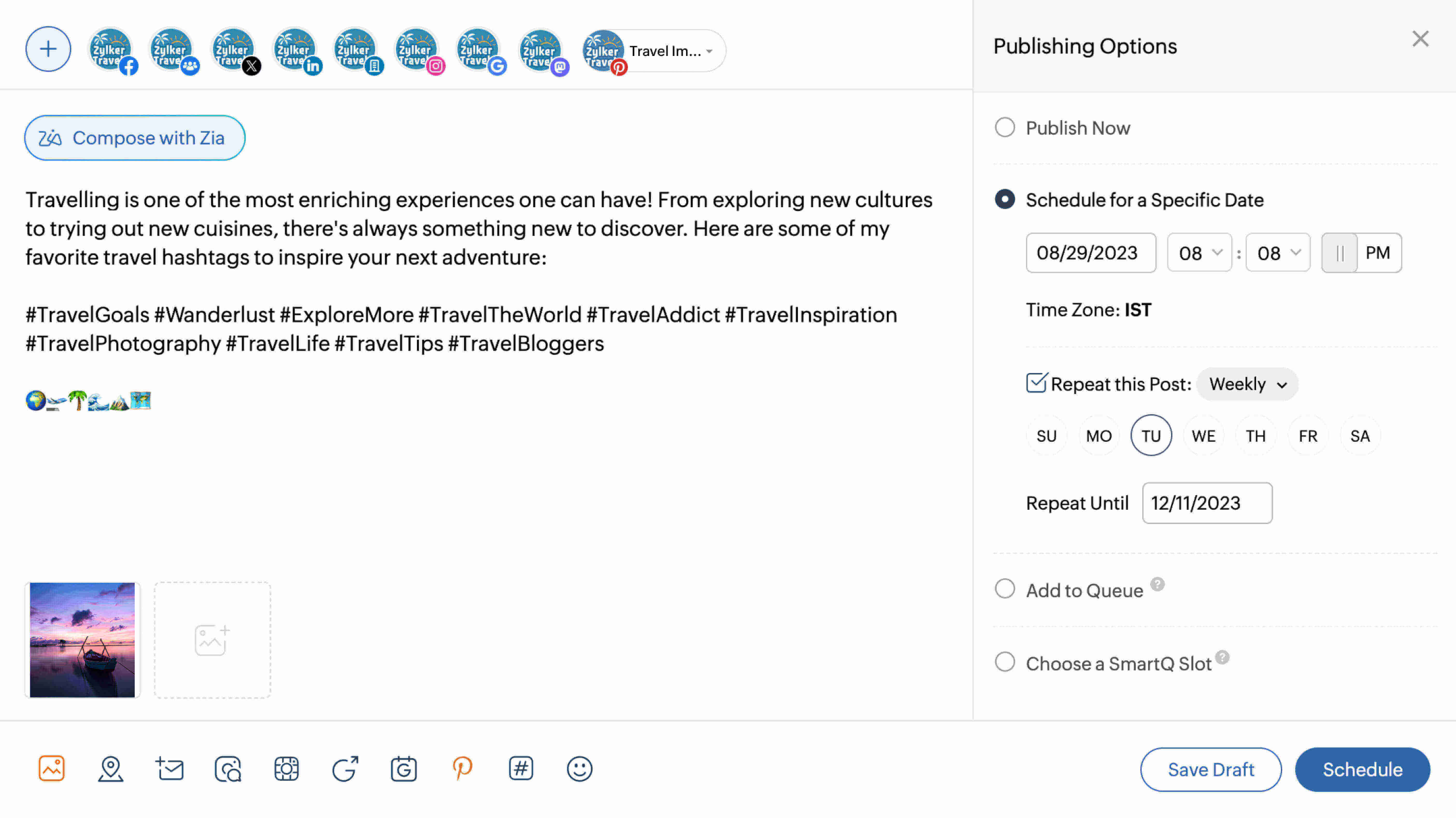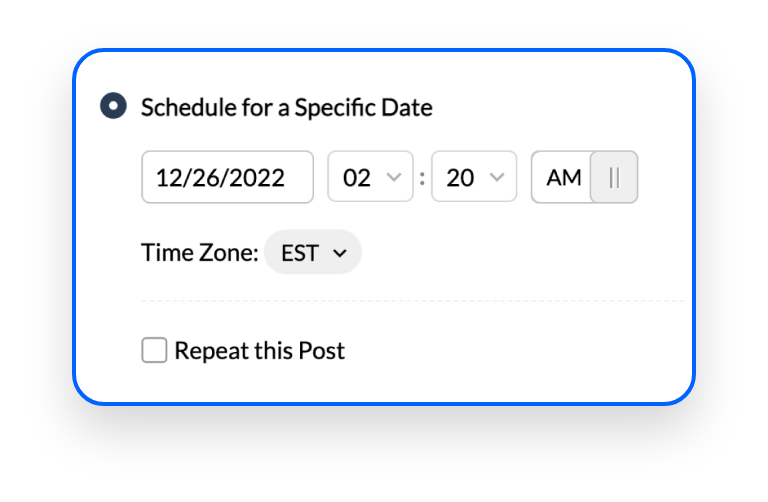 Step 3
Schedule the post
To schedule a post, go to the calendar and click on the pen icon to create a post. Choose the platform, date, and time and then upload your media. You can also upload all the media to the media library and choose from there.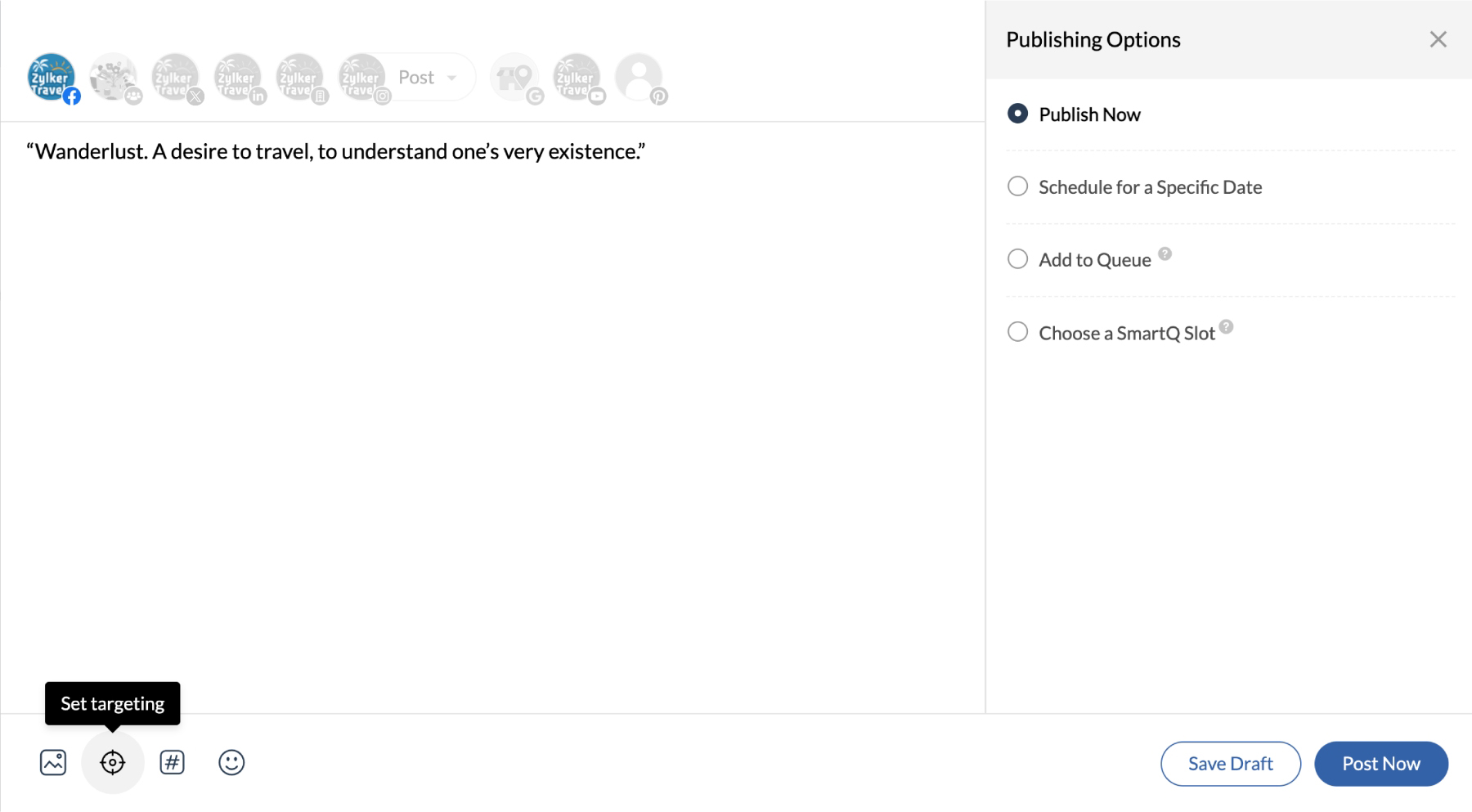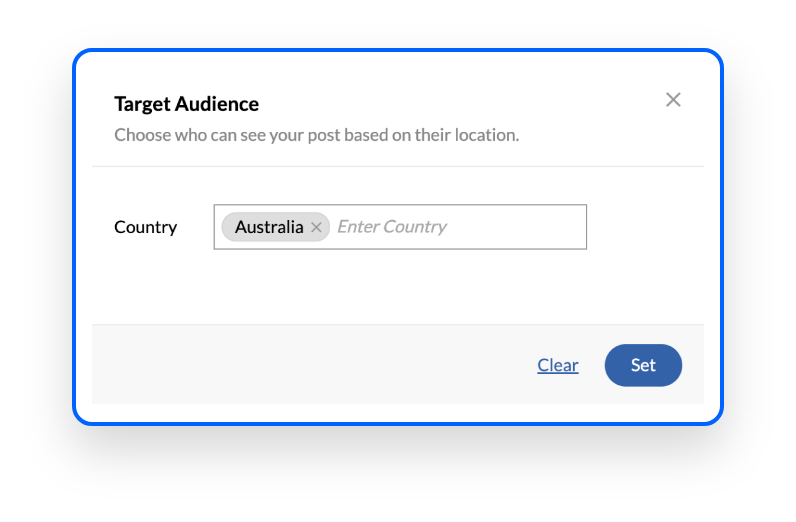 Step 4
Set a target location on Facebook
If you're posting on Facebook, you can also set your target country if you want the post to be visible only for that particular country. Here we are picking a post to be displayed only for Australia.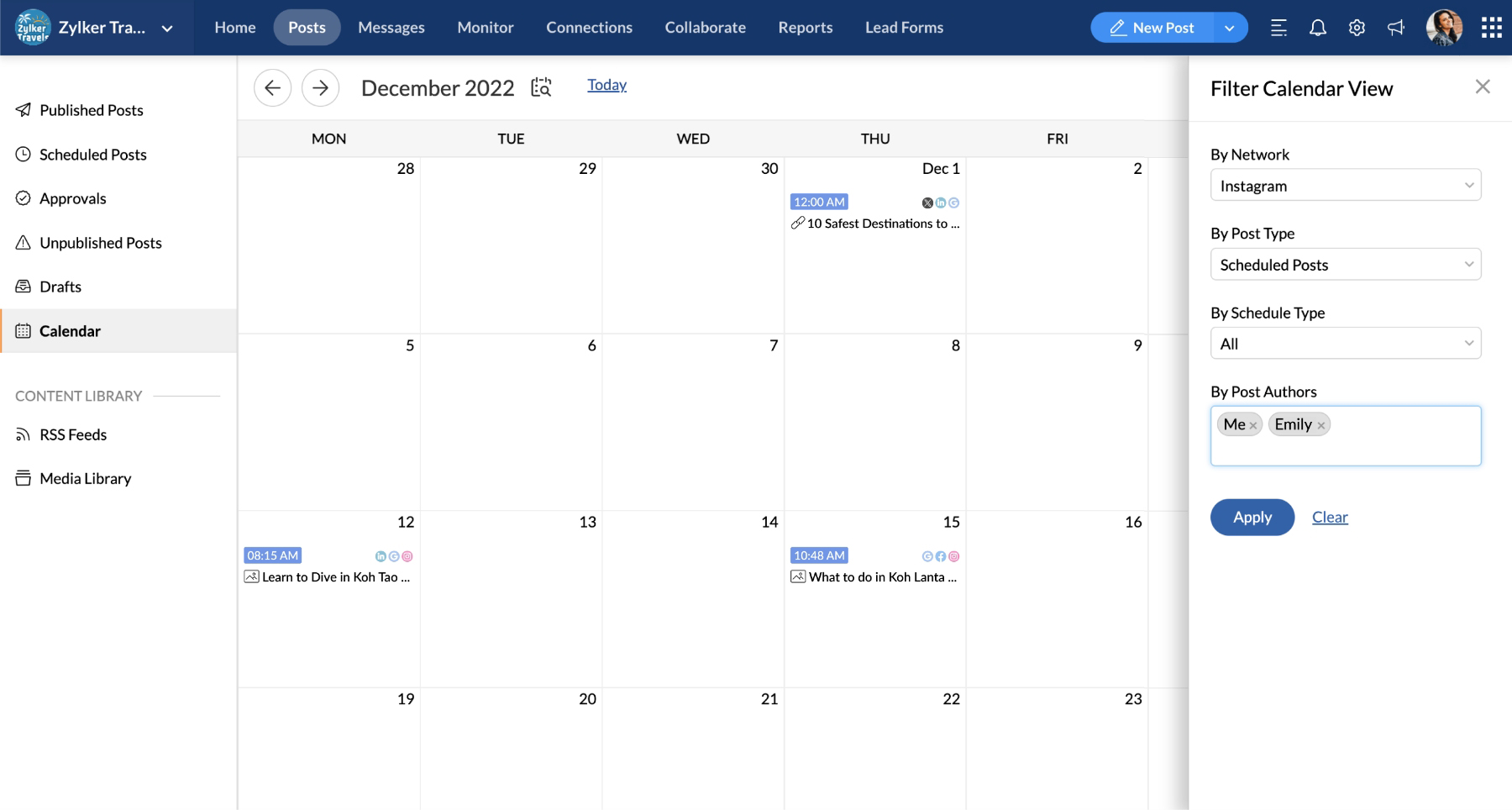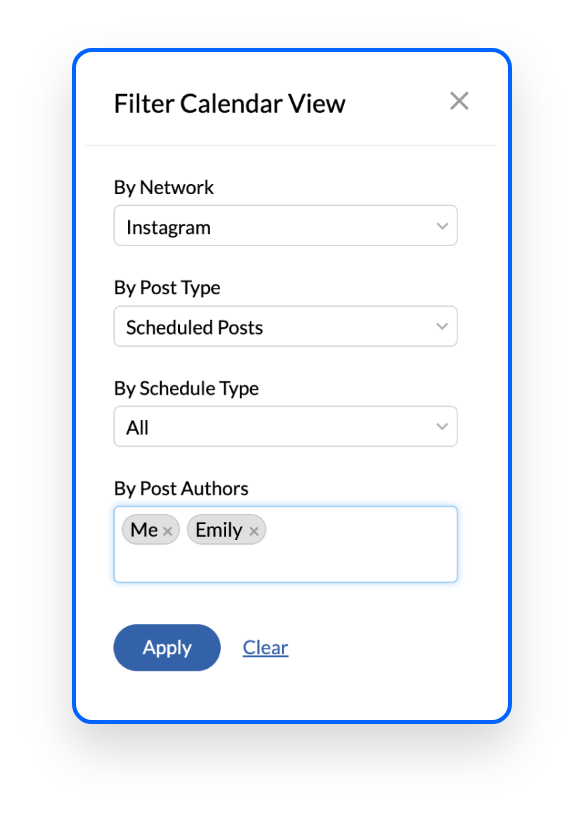 Cross-check
Step 5
You can view the platform icons on the dates you have scheduled posts on. This will help you ensure that you have scheduled posts for the desired platforms and find out if you have missed any. By using the filter option, you can apply filters based on the network, post type, and authors.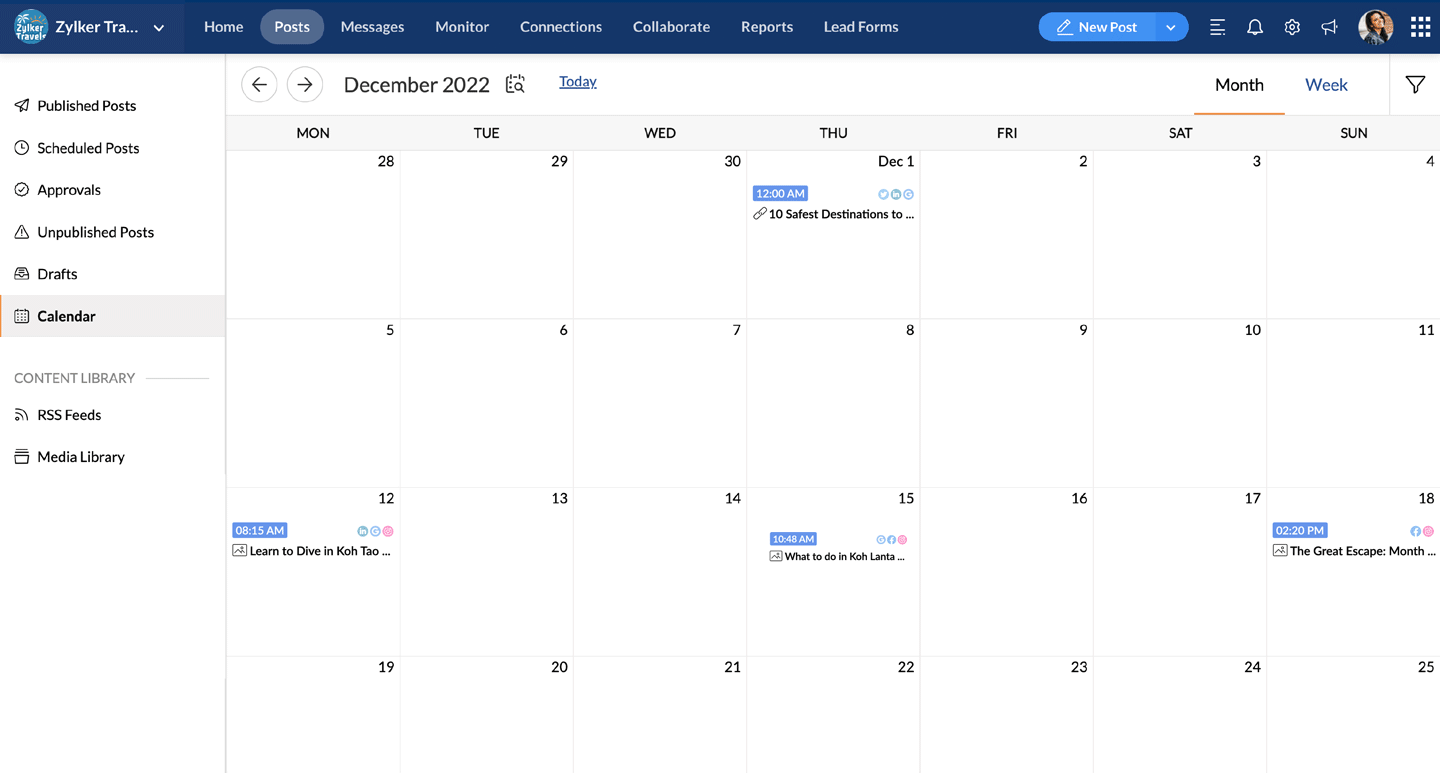 Step 6
Rescheduling a post
You can reschedule a post by dragging it from a particular date and dropping it on the date you want it to be posted on.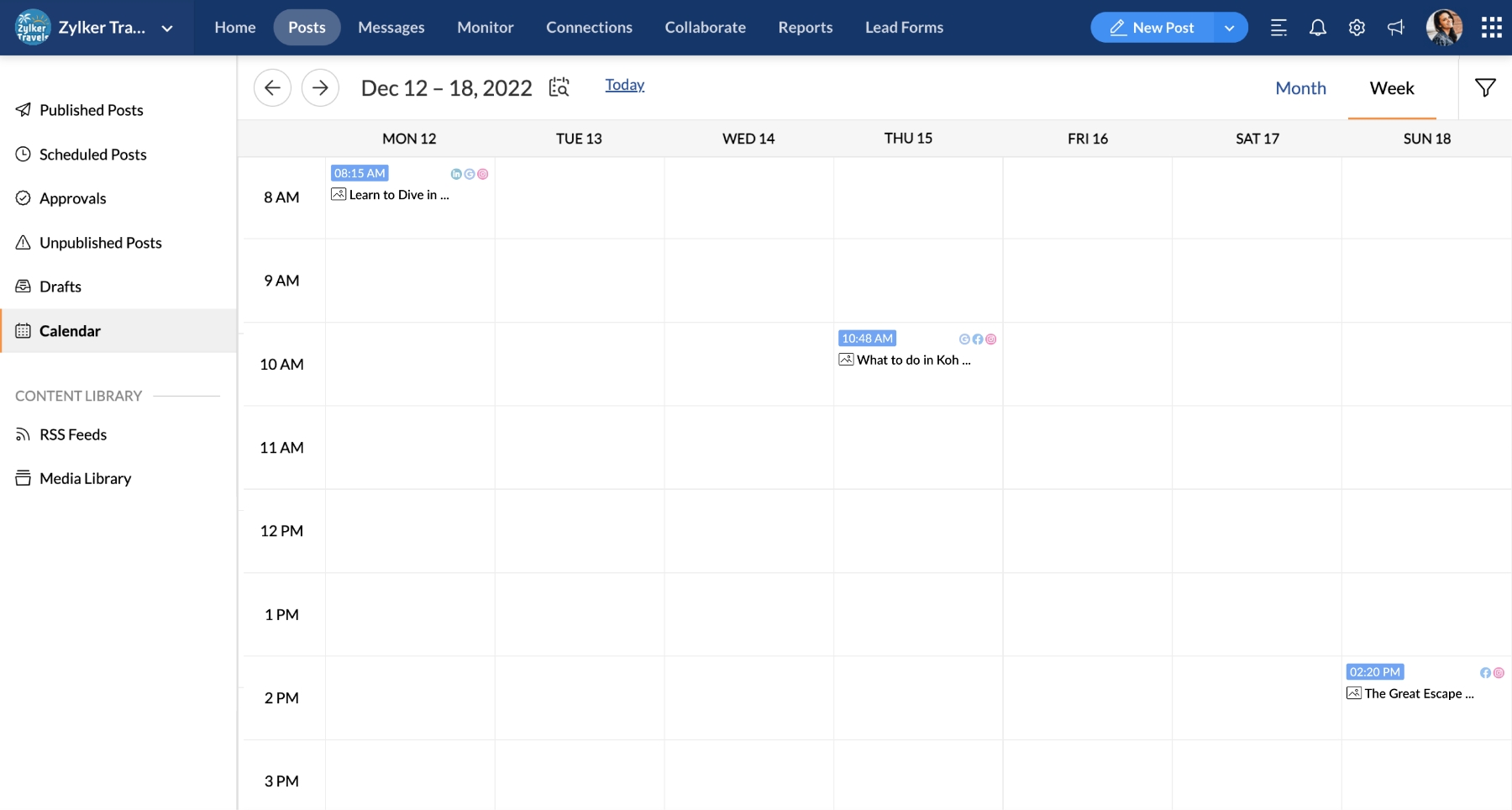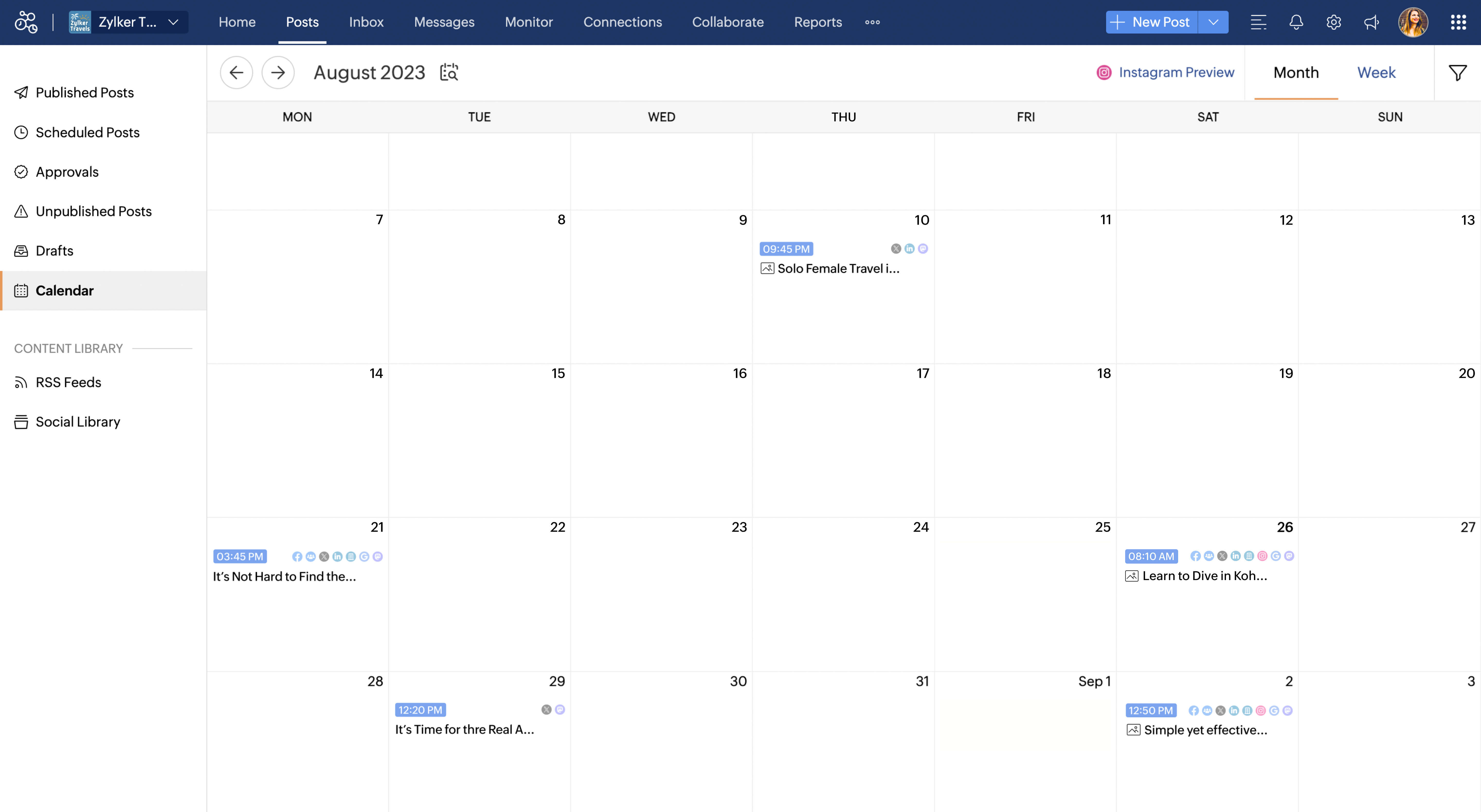 Step 7
Using the calendar to cut down the hassle
When you create a social media calendar, you are sorted for a particular period of time. With Zoho Social's calendar, you can opt for two views—monthly and weekly. Getting a high-level view of your upcoming posts like this can keep you from accidentally posting too much or too little.
Frequently asked questions
What should a social media calendar have?

A social media calendar should basically have every element that would help with posting activity such as:

Event name
Caption copy
Image/video file links
Website links (if any)
Instructions

Who should be part of the social media calendar creation in the process?

It depends on the team you're working with for your brand. Here are the roles with whom the social media calendar can be shared:

Social media manager
Copywriter
Designer
Marketer

How many planned days should a social media content calendar have?

This is depending on the number of days you decide to post. You can plan a cycle ranging from one week to one month.