Leverage Facebook Marketplace for your business
Last Updated: November 27, 2020
2.9K Views
3 Min Read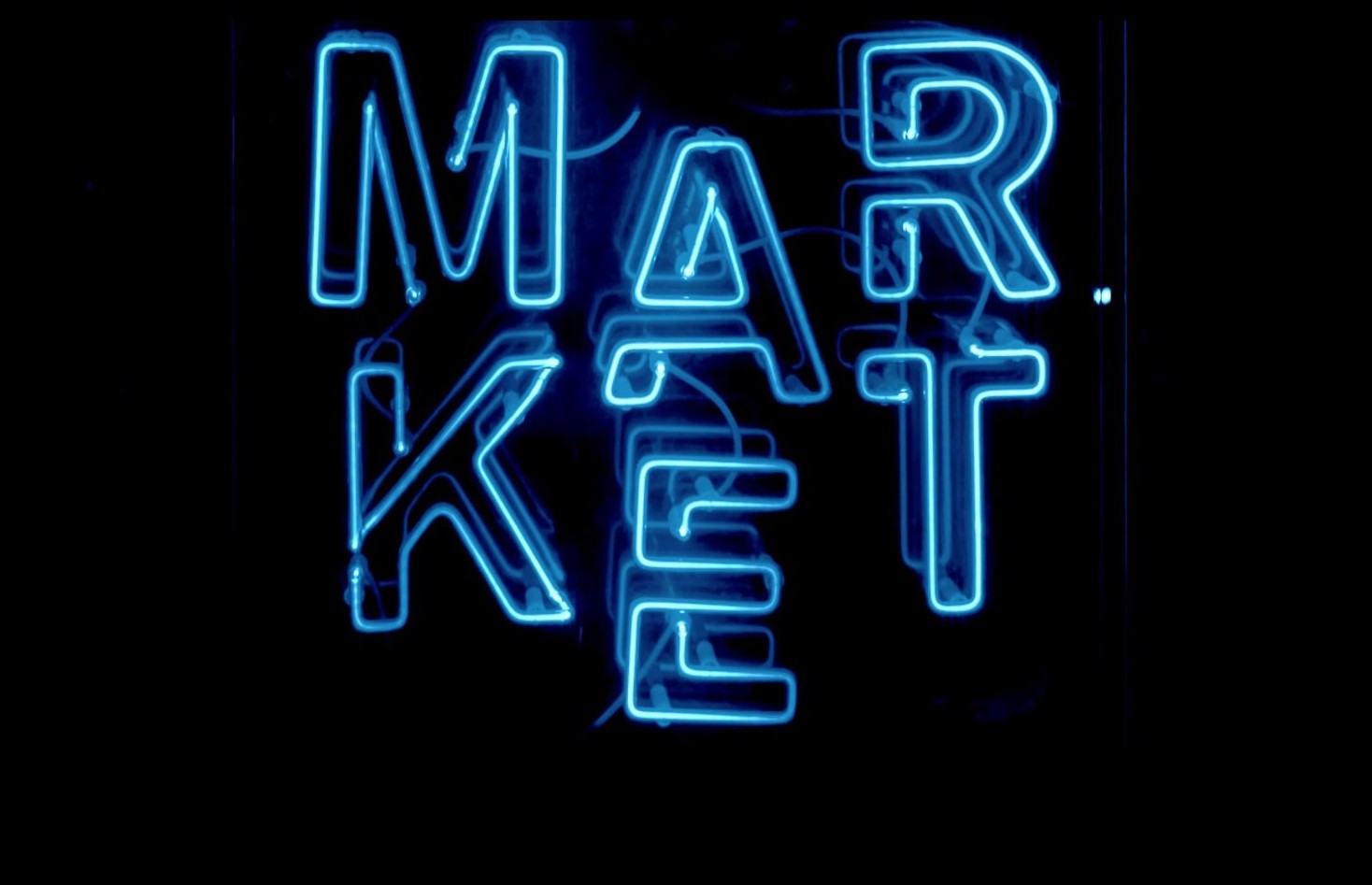 If you are a regular Facebook user, you would know that Facebook Marketplace has been around for a while. However, recently, it has taken a centerstage with the Facebook brand's recent focus on the e-commerce market. It's also now a key tab on Facebook's Homepage. This has been noted with the testing of commercial services on its other platforms such as Instagram's Shopping tab and Whatsapp's Payments.
When it started off, Facebook's marketplace seemed to be informal and without a lot of organization. It was simply a platform for users to sell things to others in their area, encouraging peer-to-peer selling, much like Craigslist. Now, with better moderation and categorizing, Facebook has refurbished marketplace to encourage B2C selling to encourage small businesses to bring their shops online.
So, why Marketplace? Let's take a closer look:
Advantages of Facebook Marketplace
People all over the world now regularly shop through social media. Marketplace is now available in over 110 countries. With Facebook's algorithm, marketplace can link your products to users who are on a searching for products related to your listings. The biggest selling point is that Facebook Marketplace has a much lower commission rate compared to other shopping sites. Facebook charges a decent 5% compared to Amazon's exorbitant rates starting from 15%.
Going with the current trend of digital spaces taking over, Marketplace also a great way to help start up a new business online before setting up at a physical location.
Let's take a look at how to use this platform and what Facebook Marketplace has to offer for small/medium businesses.
How to sell on Marketplace
You can create a listing on Facebook's marketplace super quickly, it's a matter of a minutes. Here are the steps:
Head to the marketplace tab on from Facebook's homepage, this is the place to find all your local listings and for creating your own.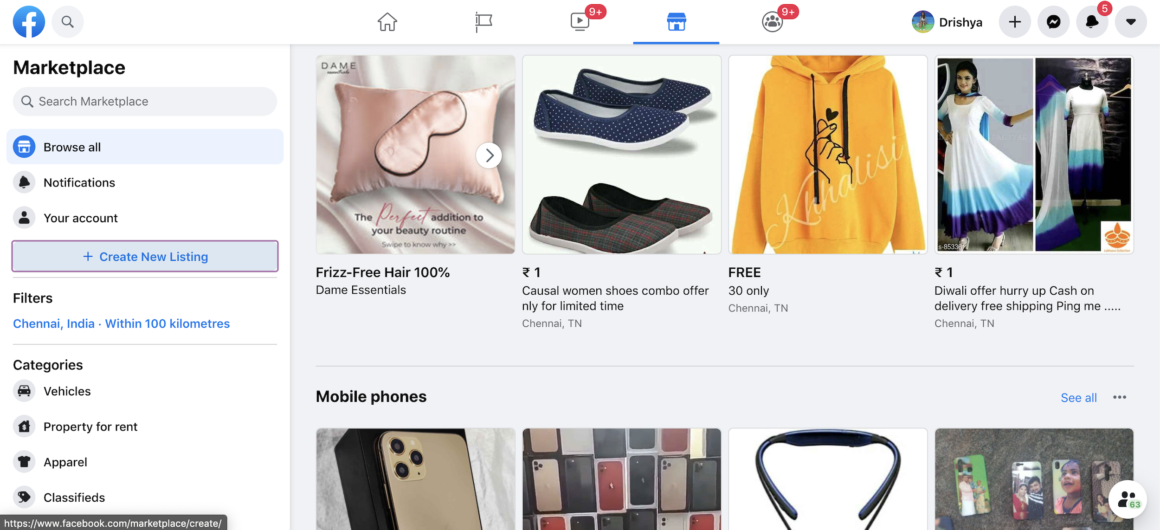 2. Click on the "Create new listing" button fro the sidebar to find the following options: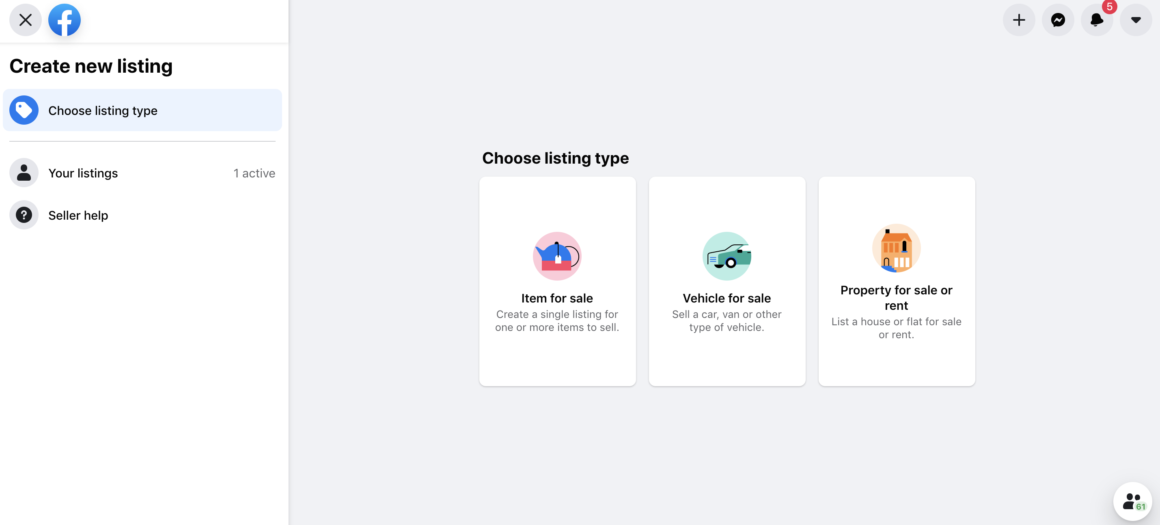 3. Fill out the simple form and you're ready to set up your first listing! just hit the "Send" button when you're done.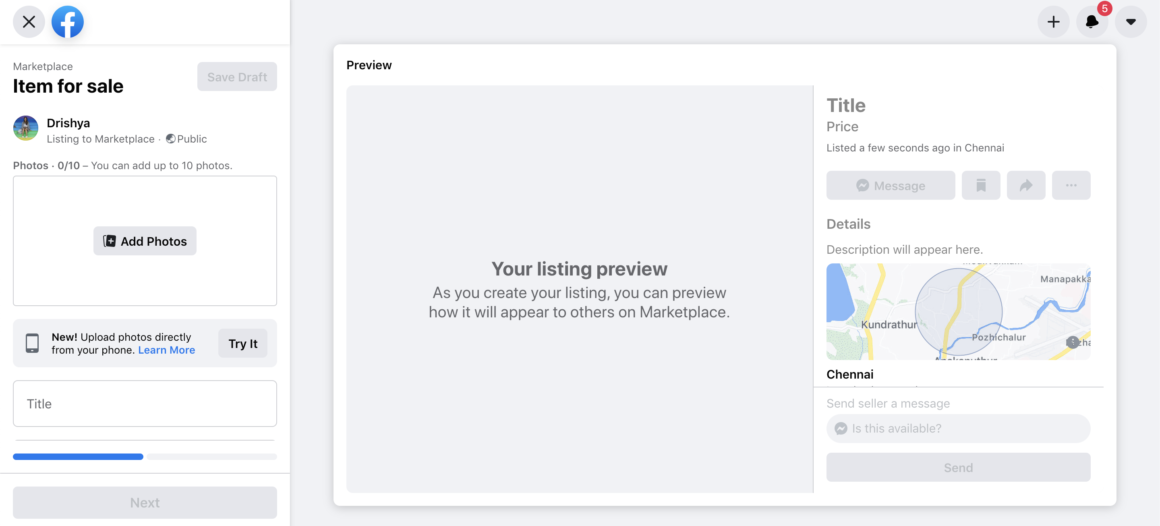 The same can be done with Facebook Mobile App.
Tip: Don't forget to add multiple, high quality photos to make a trusty listing.
Application in marketing
Research Trends: Facebook is also connecting its Groups to marketplace to make shopping convienient. Join market groups from your Industry on Facebook to see what people are looking to buy and what's selling good. Learn the patterns of what your audience demographic is looking at and you can also sell your products on these groups.
Highly personalized shopping: With Facebook's audience targeting, you can reach the right target audience with your products. For this, your listing must have specific keywords which are used for shopping searches. A concise listing with all form details filled in can help customers find you better. For example, if you are looking to sell cosmetics, Facebook will display your listing to users who have shown interest in cosmetic or adjacent brands previously.
Increase discovery: Helps people in your business' locality discover your brand and products/services. If an interested customer buys your product. You can connect with them further, and successfully grow your customer base.
Best of both worlds: Another edge that Facebook has is that, along with its massive user base, you can also advertise your products to Instagram. Which makes it an even more lucrative sell. In some places, which have launched Instagram shopping, you can even synchronize your Instagram shop inventory with that of Facebook marketplace.
In conclusion, we think Facebook's Marketplace is a terrific opportunity for small brands affected by the current crisis to expand their reach in their locality while taking their business online.
Have you tried selling your products on Marketplace? Let us know about your experience in the comments section below.
Leave a Reply
Your email address will not be published. Required fields are marked