All-in-one candidate management system
The current job market is 90 percent candidate driven. Providing the best candidate experience possible is one of the best employer branding strategies a company can have and should be the priority for any recruiter. With Zoho Recruit's robust candidate tracking software, qualifying and ranking candidates is a breeze.
Move candidates through the hiring process
It can be hard to pick up where you left off when you're hurdling through the recruiting system. Zoho Recruit's candidate management software tackles this problem head-on by identifying and efficiently moving candidates through the various stages of the hiring pipeline. Get a consolidated view of all job openings and their associated hiring pipeline as a quick view on your dashboard, and keep a tab on your recruitment CRM.

Rich candidate profile
In candidate management process, every detail counts! Capture all relevant information about the candidate and make a collective decision to hire. With one-click access, you can view all candidate information, send emails, submit the candidate to clients for review, schedule interview, discuss the candidate with your team and rate them, generate assessments, run background checks, and much more. All within the same interface.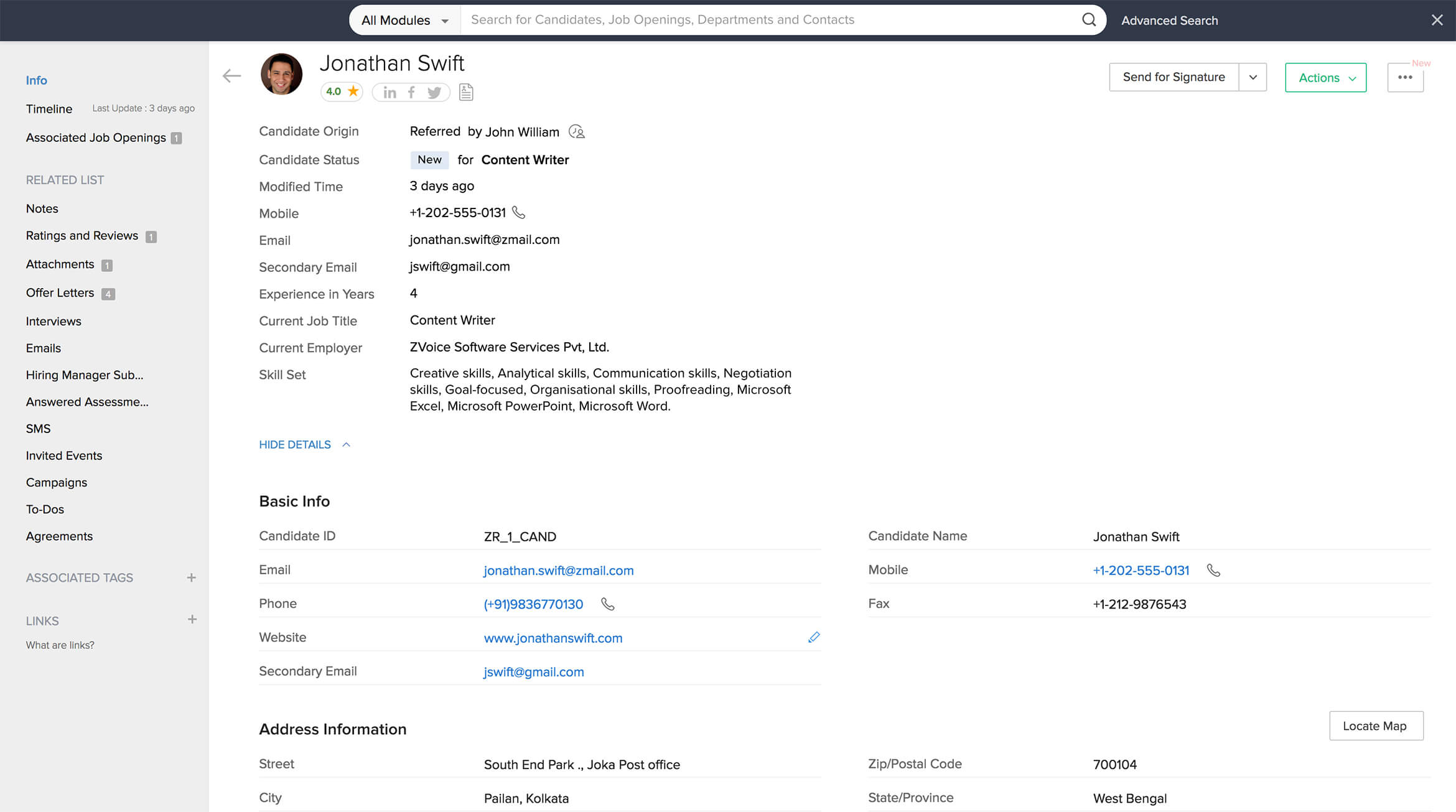 Automation at its best
Collect and sort thousands of resume within seconds through our powerful resume parser. Reduce clicks and accurately parse candidate details by effective field mapping with our candidate relationship management software. Automate your hiring workflows with a set of pre-defined actions (alerts, tasks or field updates). For example, once an interview is scheduled, you can automatically notify the candidate and client about the interview with necessary information.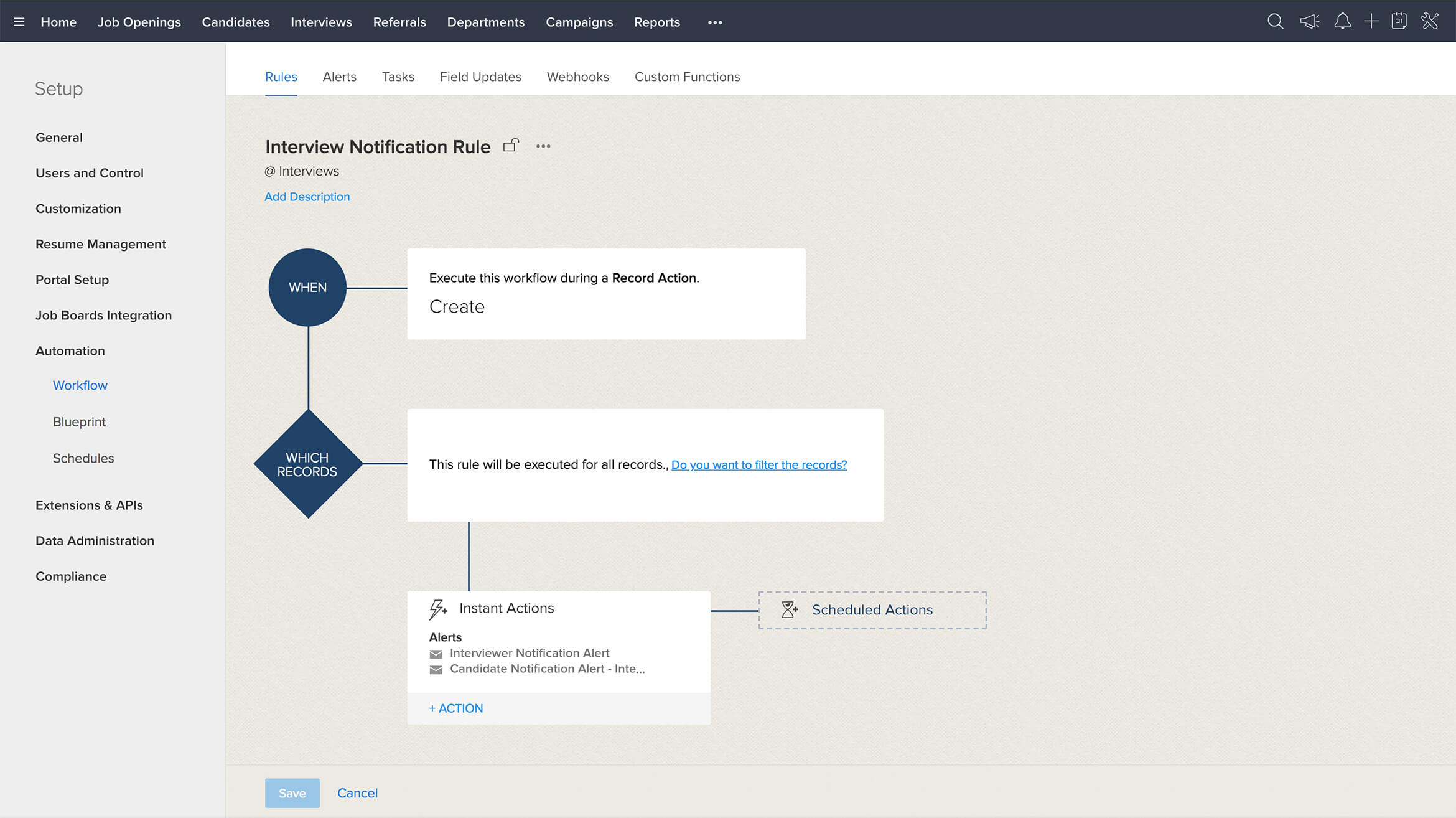 Resumes don't tell the full story
Create a structured hiring process and ensure every candidate is accessed consistently and fairly. Before the interview even begins, create an assessment with a set of default questions and add it to a job or send it to the candidate directly. Zoho Recruit's applicant tracking system allows you to use templates for consistent assessment.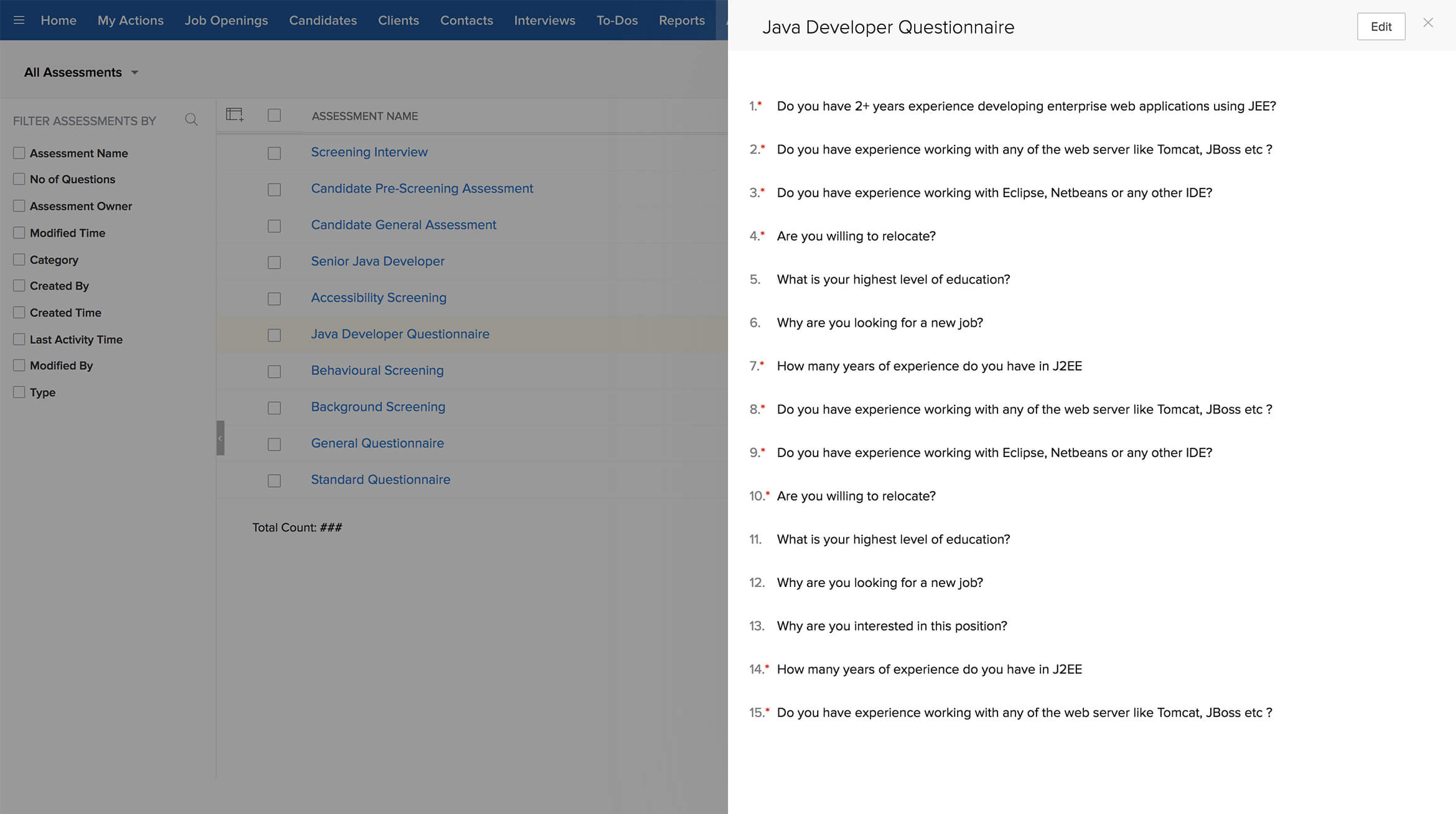 Evaluate candidates with ratings
Once the candidates complete the assessment, they're available for review by the team. Depending on the job requirement the hiring manager/client evaluates the candidate and provide ratings based on their performance. With our candidate management solution, bring your hiring on board, assess the candidates, add comments and @mentions, and make collaborative hiring decisions.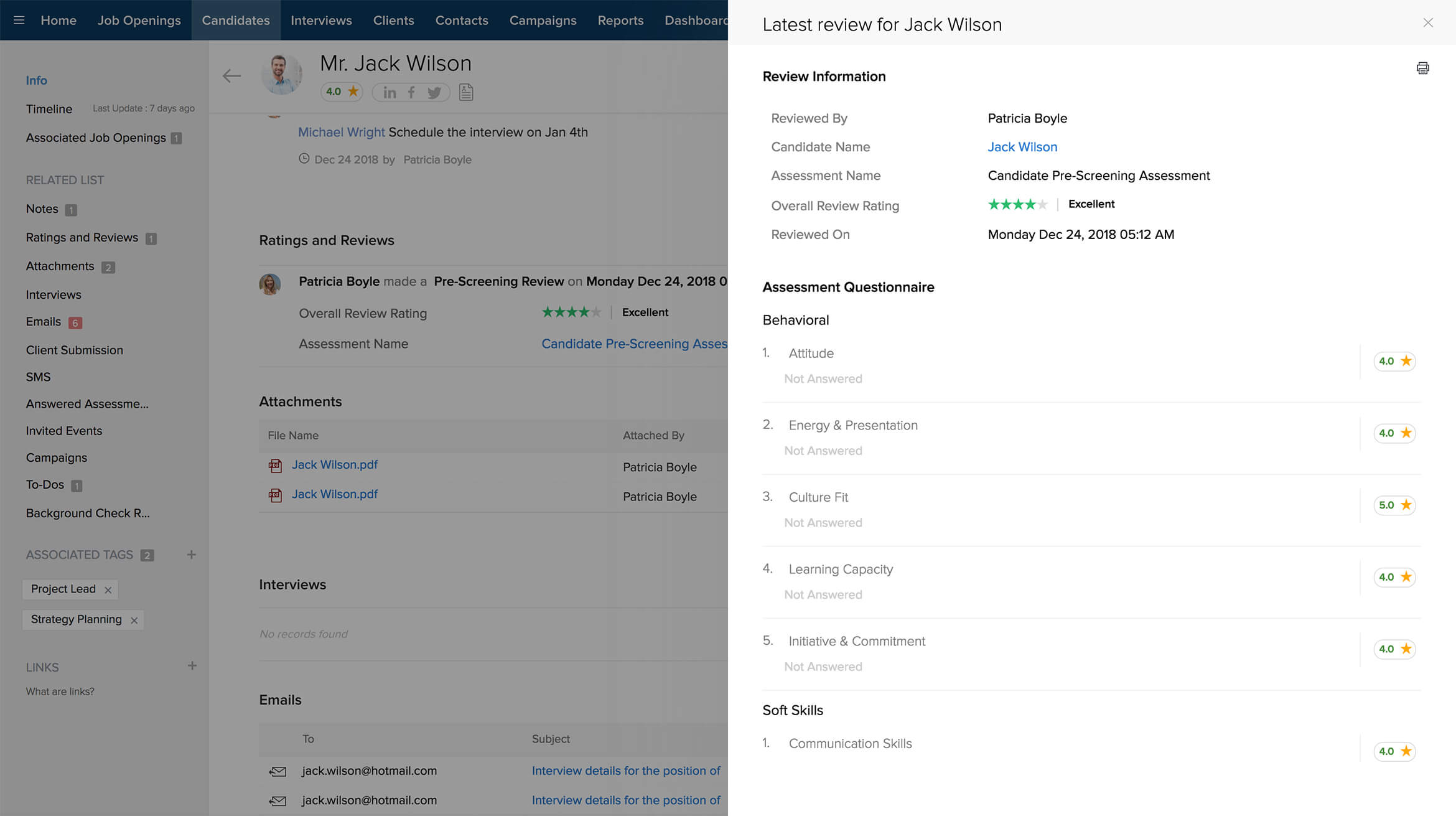 Run background checks
Investing time and effort in recruiting a new employee is vital to maintain the candidate relationship management. Conduct 35 percent faster background checks with Zoho Recruit and Checkr. Maintain safe, compliant, and inclusive hiring practices by running background checks with the all-in-one recruitment management system. Export candidate details directly to Checkr, and once the screening is done, reports are automatically sent back to Zoho Recruit.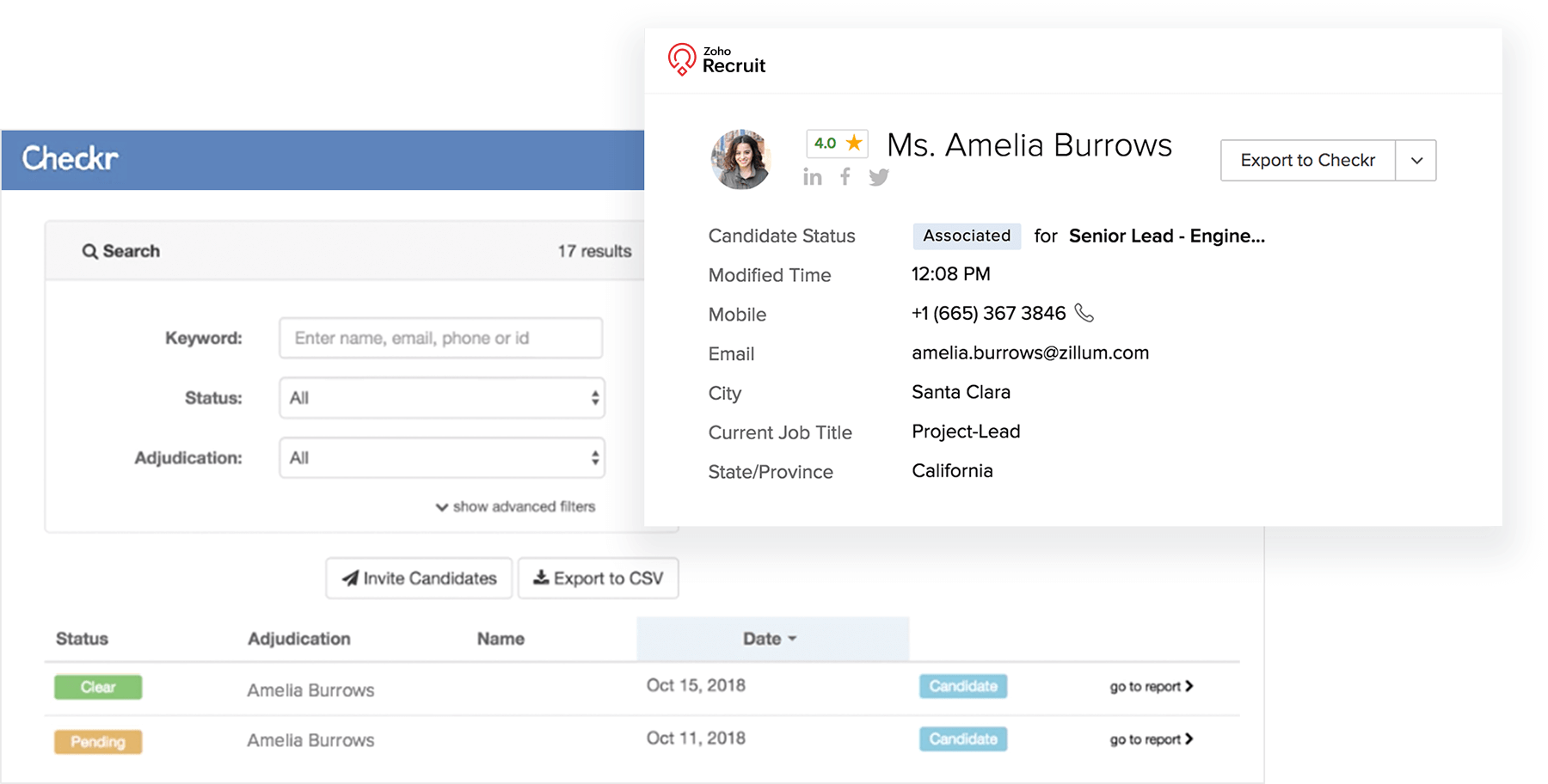 Build an employer brand
Recruiting the best candidates starts with creating the best first impression. Make it count with Zoho Recruit's custom careers site. Create a better candidate experience with a beautiful career site and make it easier for candidates to apply. Update and customize the look and feel of the information displayed in your career site and match your existing branding.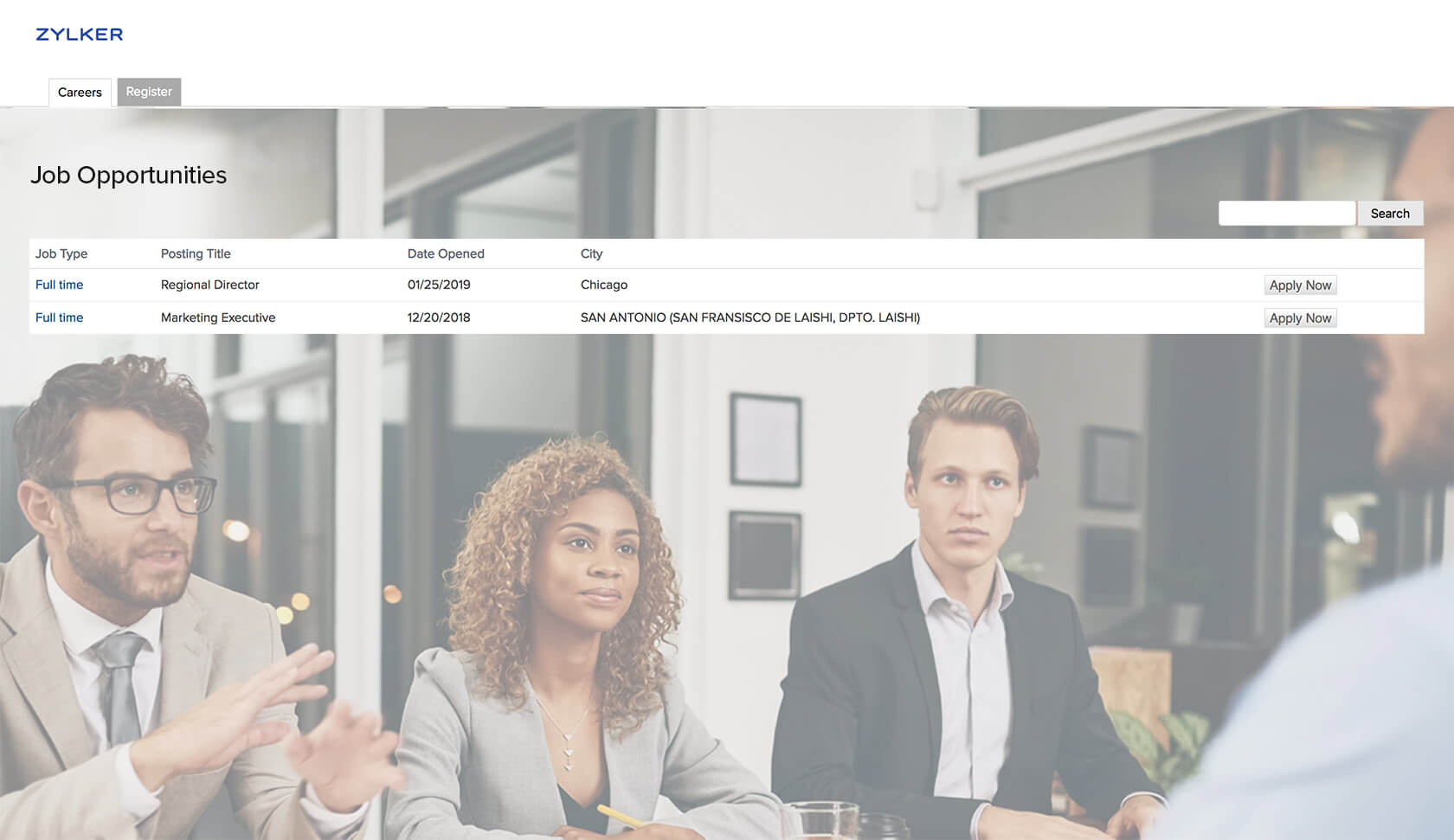 Offer letter with e-sign
Streamline the final stage of your hiring process. With our candidate tracking system create and customize offer letter templates and ensure job offers are accepted on time along with e-signature. Set the expiration date for offer letters so that no one is left in the dark. You can also analyze key metrics like offer acceptance rate, time-to-fill, time-to-hire, and age of job as a report on your dashboard with Zoho Recruit's recruiting software.