Why do you need
recruiting CRM software?
For a recruiter, it's essential to build effective relationships with both clients and candidates to keep a business running seamlessly. Cloud CRM for recruiters enables hiring managers to:
Reduce time-to-hire by eliminating manual data entry and building proactive hiring pipelines that allow you to engage with candidates.
Build better candidate relationships, get a holistic view of your jobs, and keep candidates in the know.
Increase productivity with collaborative hiring. Get quick responses from colleagues using @mentions, add comments, and hire faster than ever.
Easily add and view candidate data on-the-go with Zoho Recruit's mobile recruiting.
Candidate sourcing
Quality candidates become the cornerstone for any company, the greatest and most elusive asset. It only makes sense that finding and engaging them should be the top priority of a recruiter.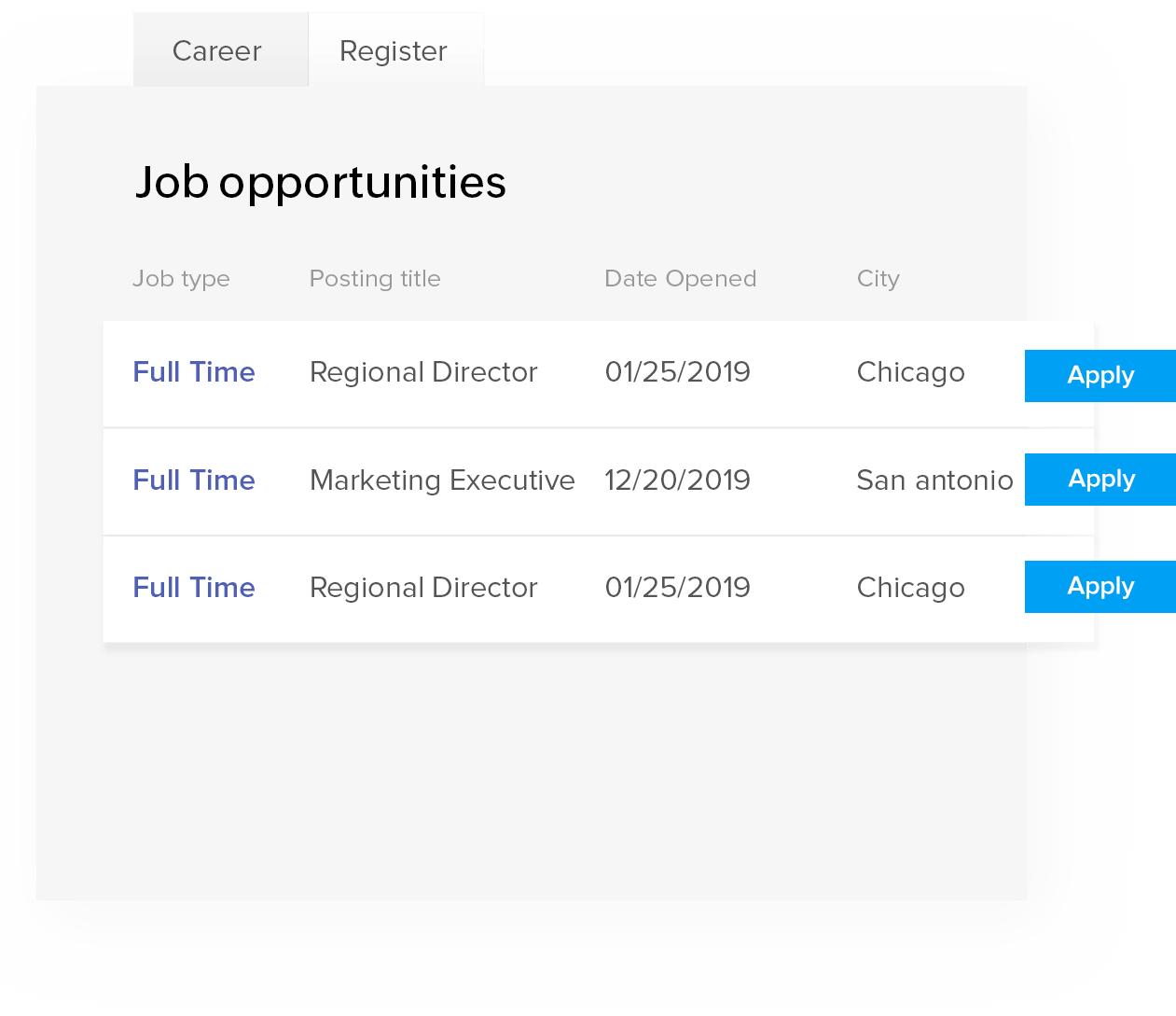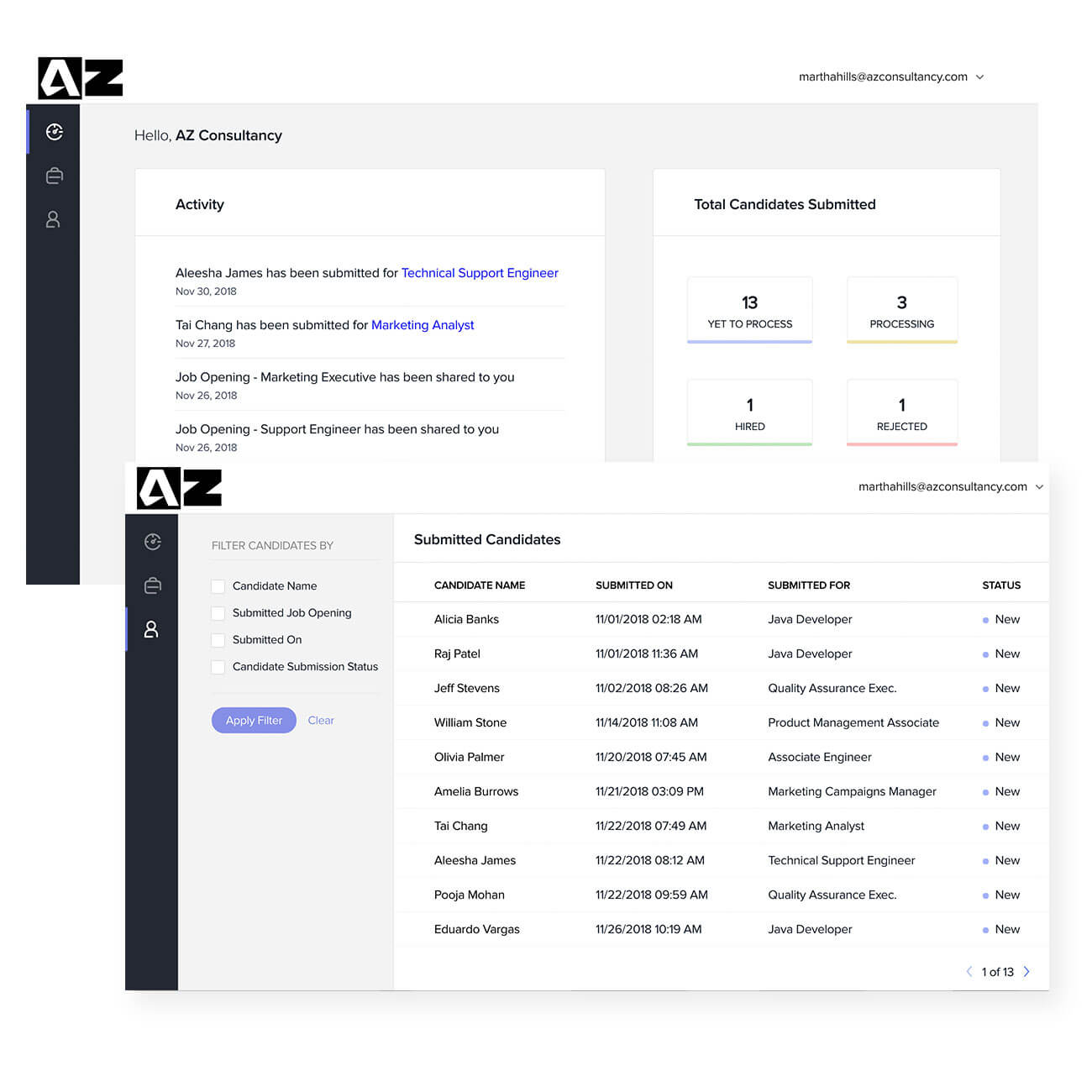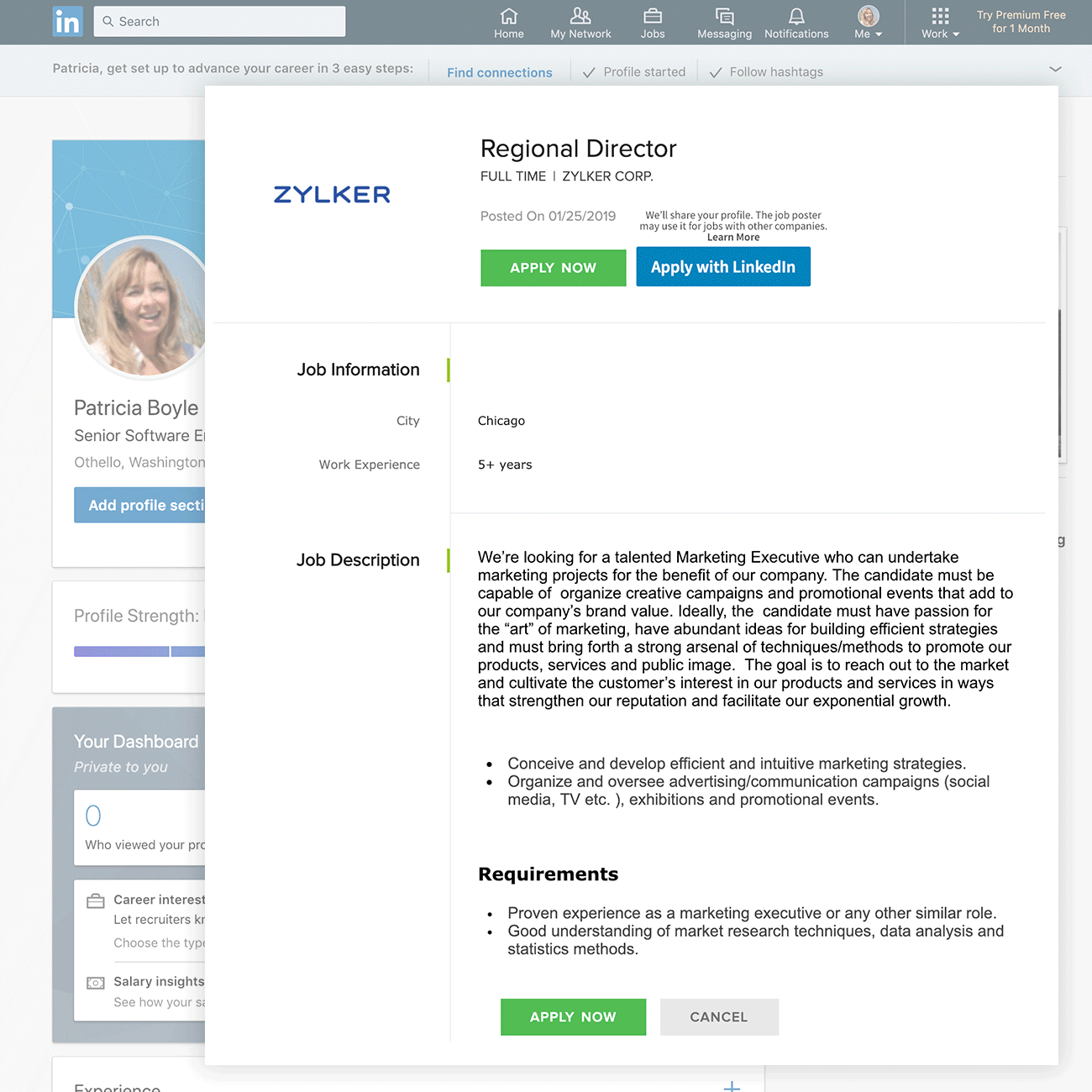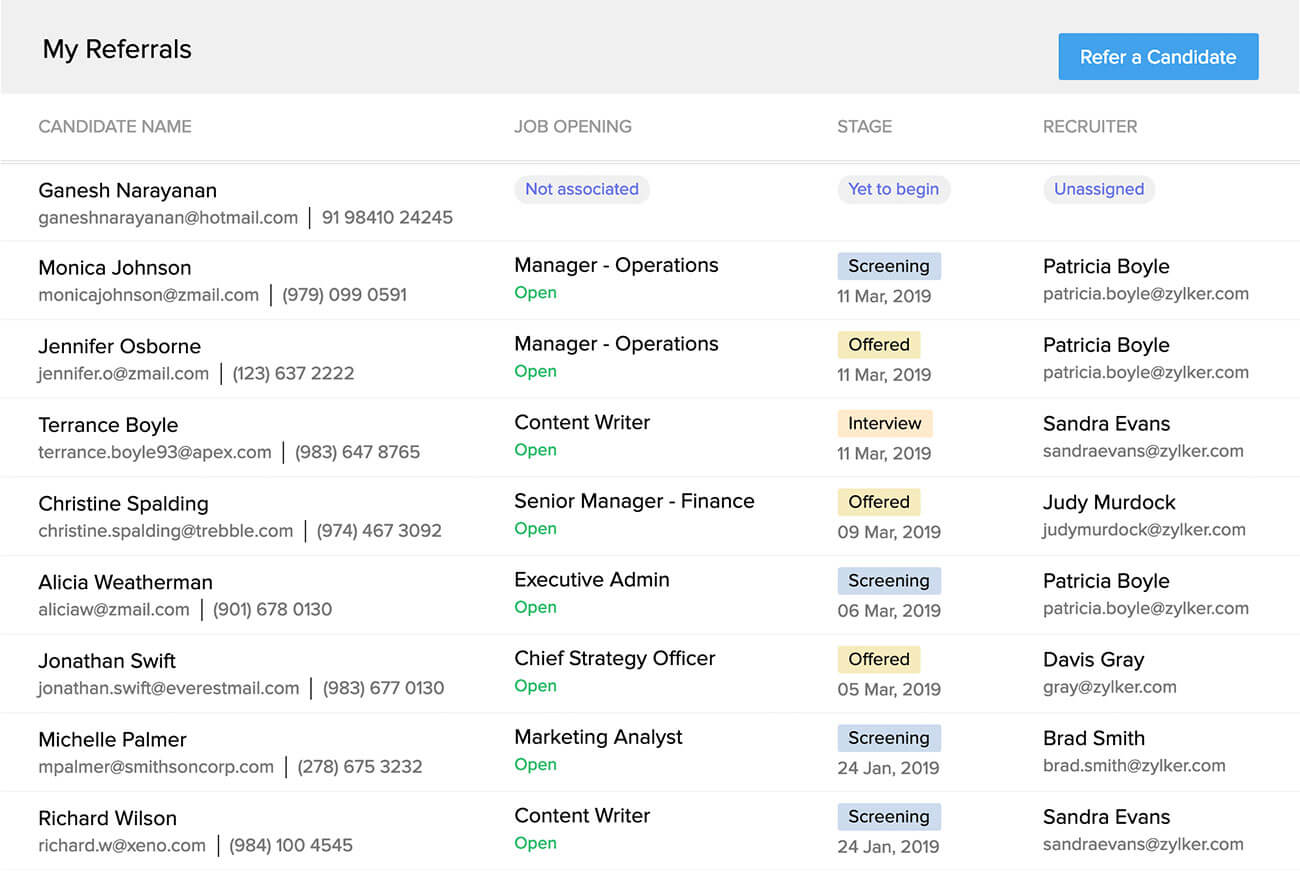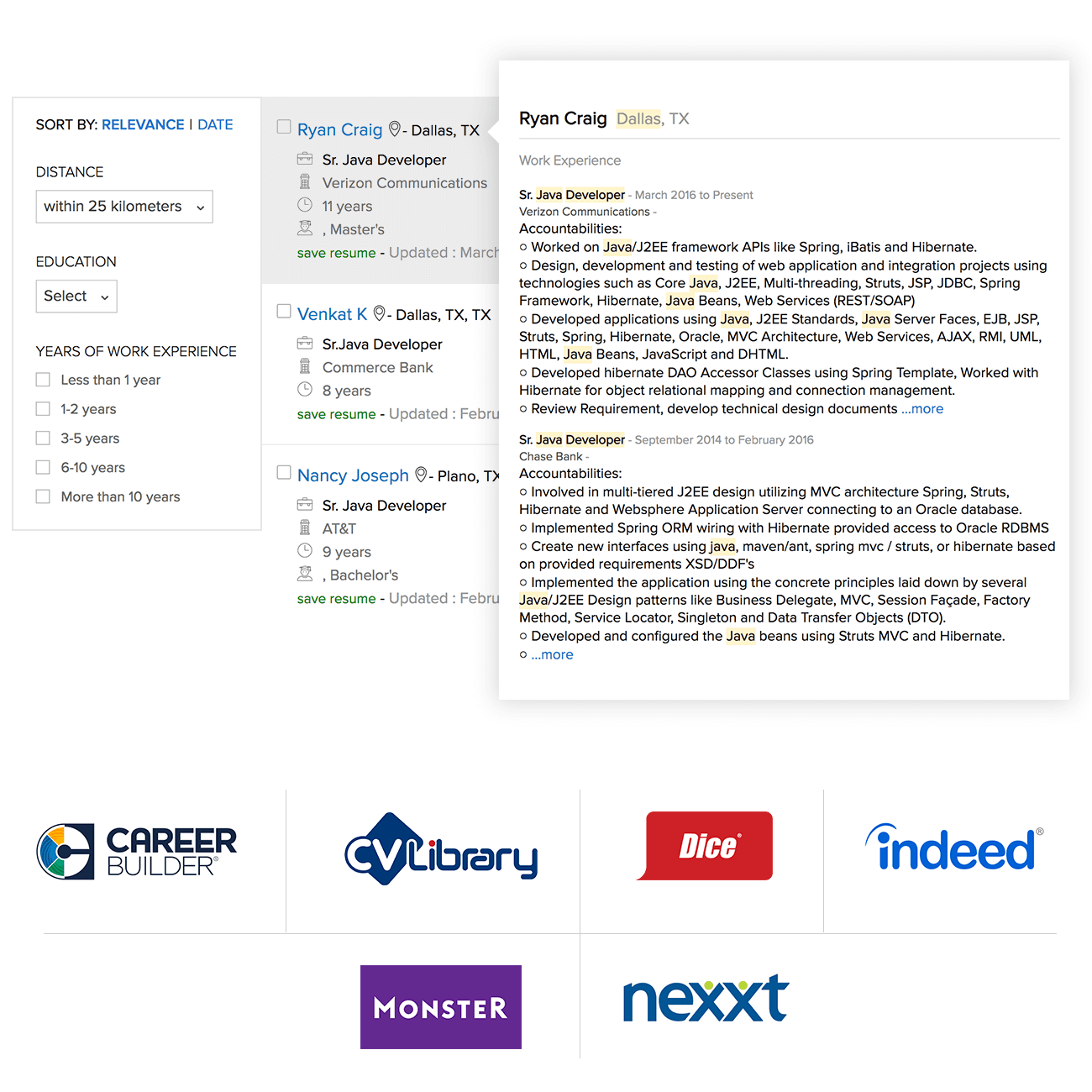 Career site
Vendor portal
Social sourcing
Employee referral
Source boosters
Career siteAttract top talent by showcasing your brand and how your organization stands out from others. Create the best first impression for your company with a beautiful career site.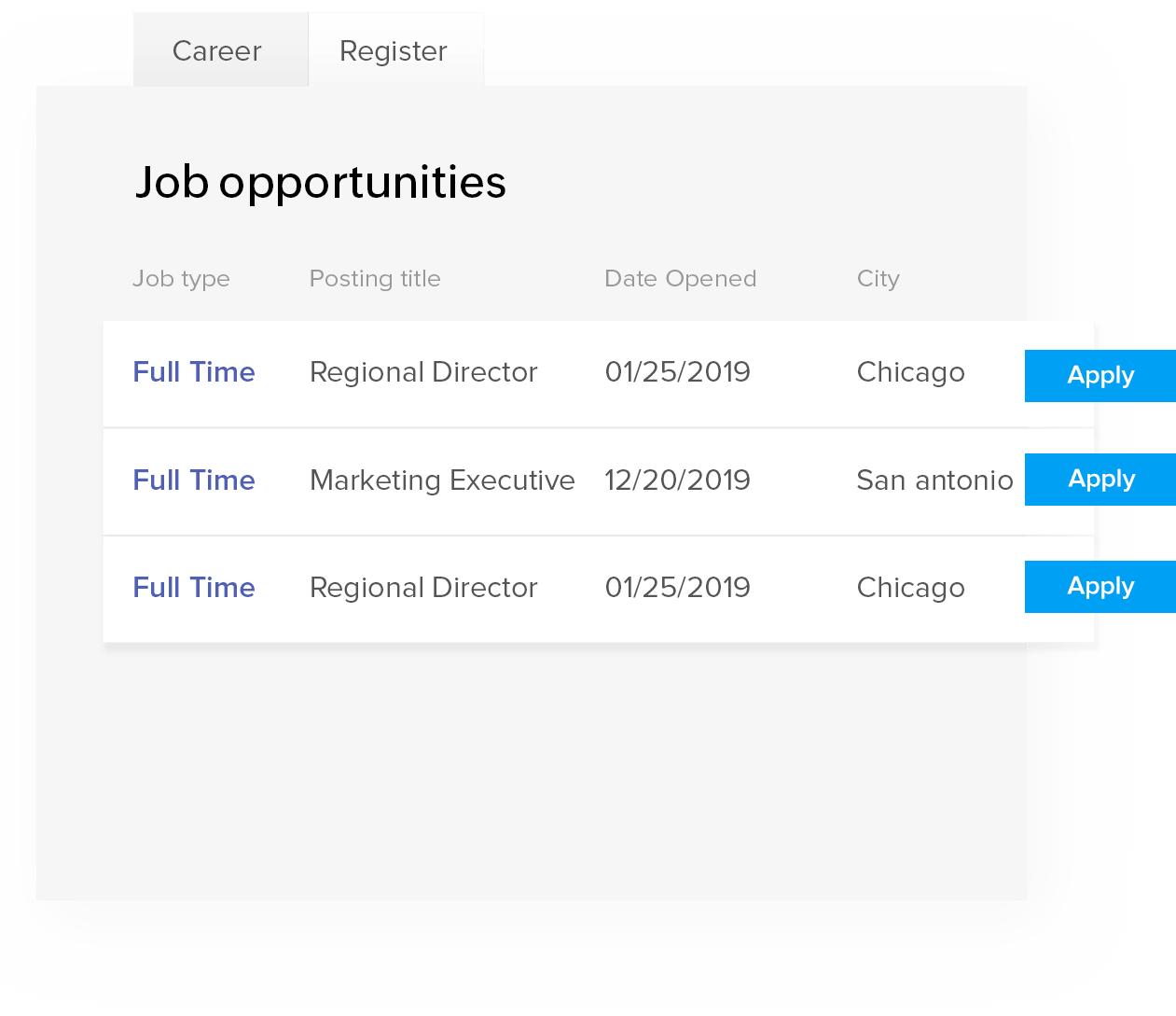 Vendor portal Easily manage your job requirement needs with vendor portal. Recruiter vendors access all job requisitions posted on the vendor portal and provide the best suitabe candidates for you.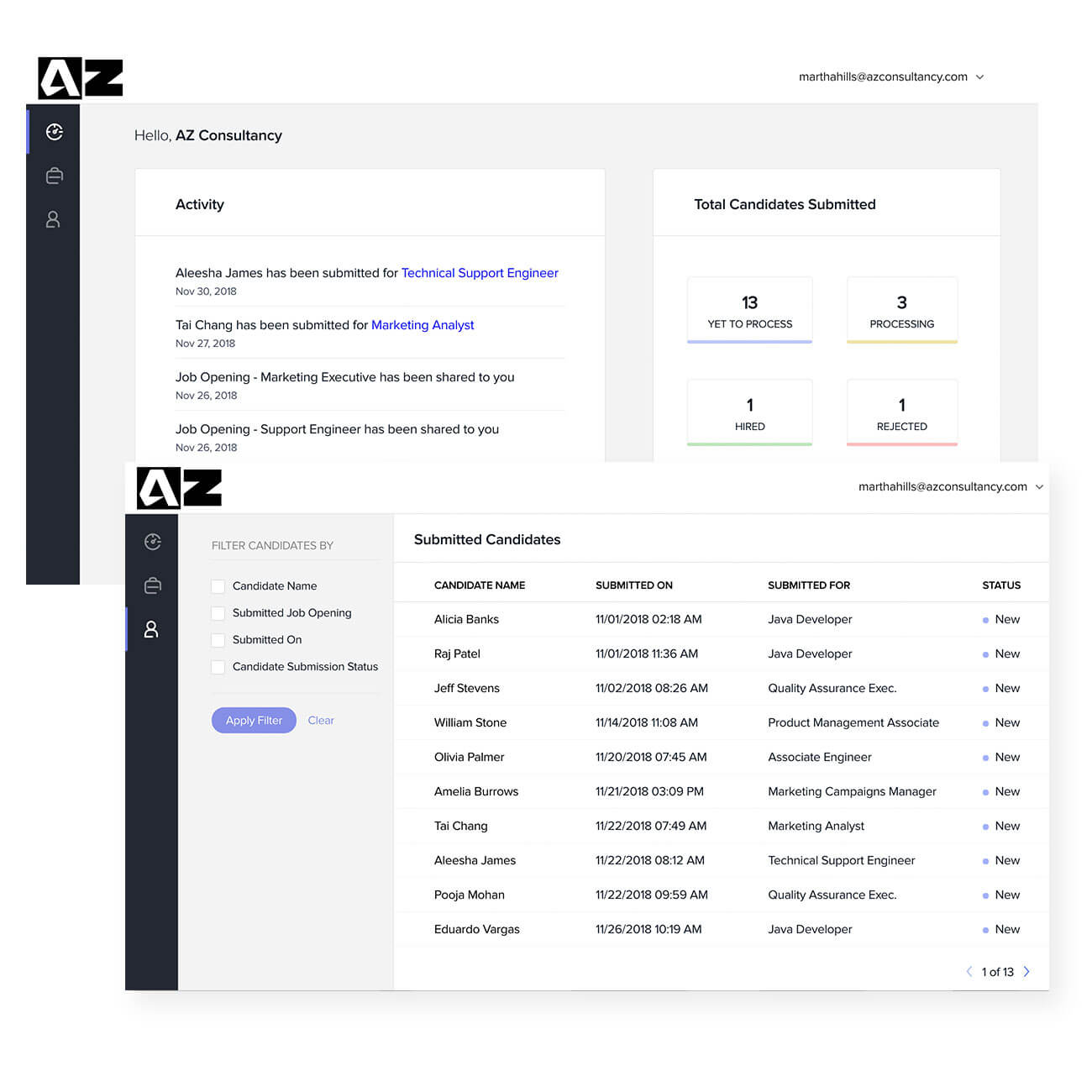 Social sourcing Have access to the millions of online job seekers right at your fingertips. With Facebook job posting and Apply with LinkedIn features, connect with people who match your criteria within seconds.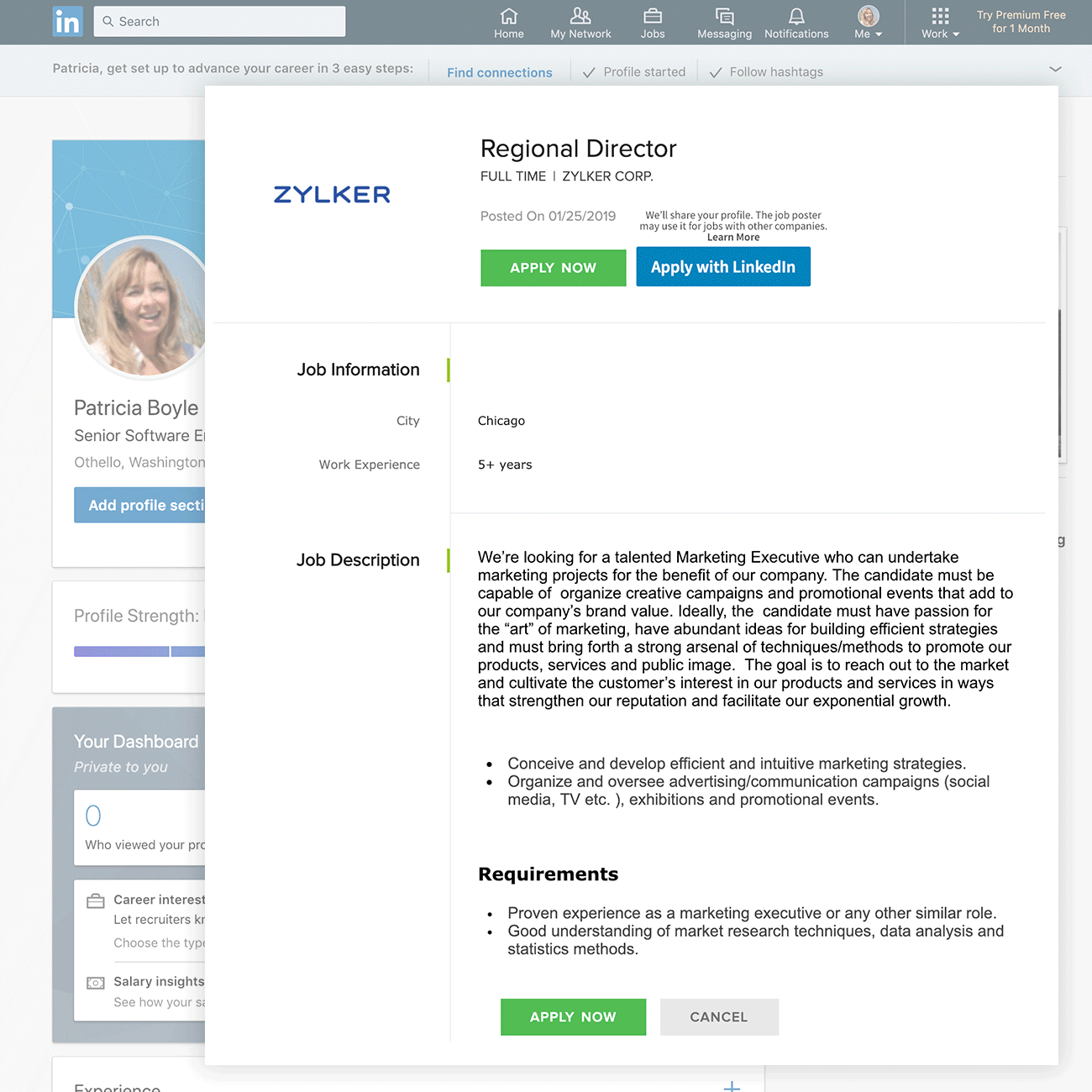 Employee referral Use your own workforce as sourcing extensions. Find talent by asking your employees to recommend candidates from their existing networks.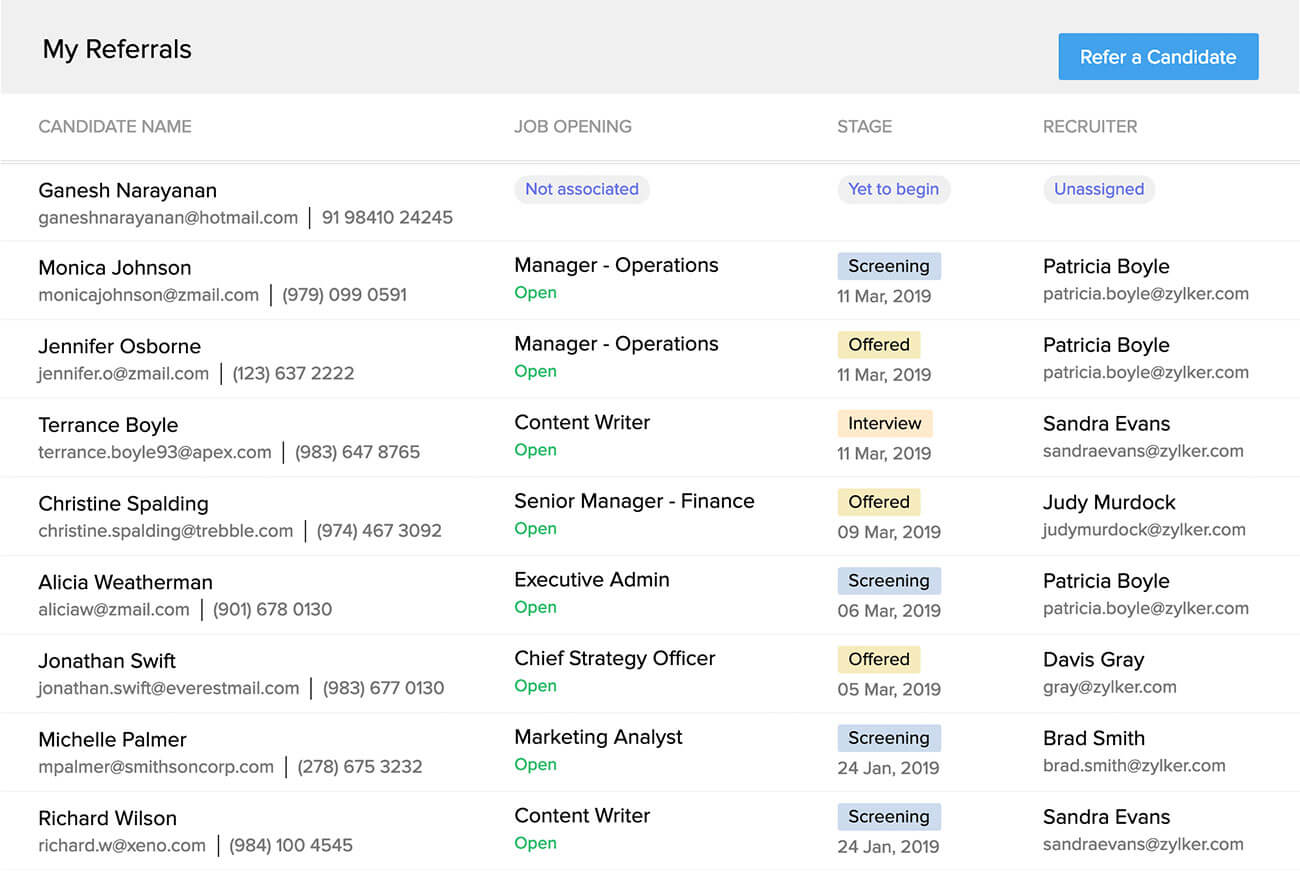 Source boosters Instantly source talent with Zoho Recruit's Source Booster and save time and effort. Search an infinite number of profiles, quickly access their resume, and directly add them to your Recruit database.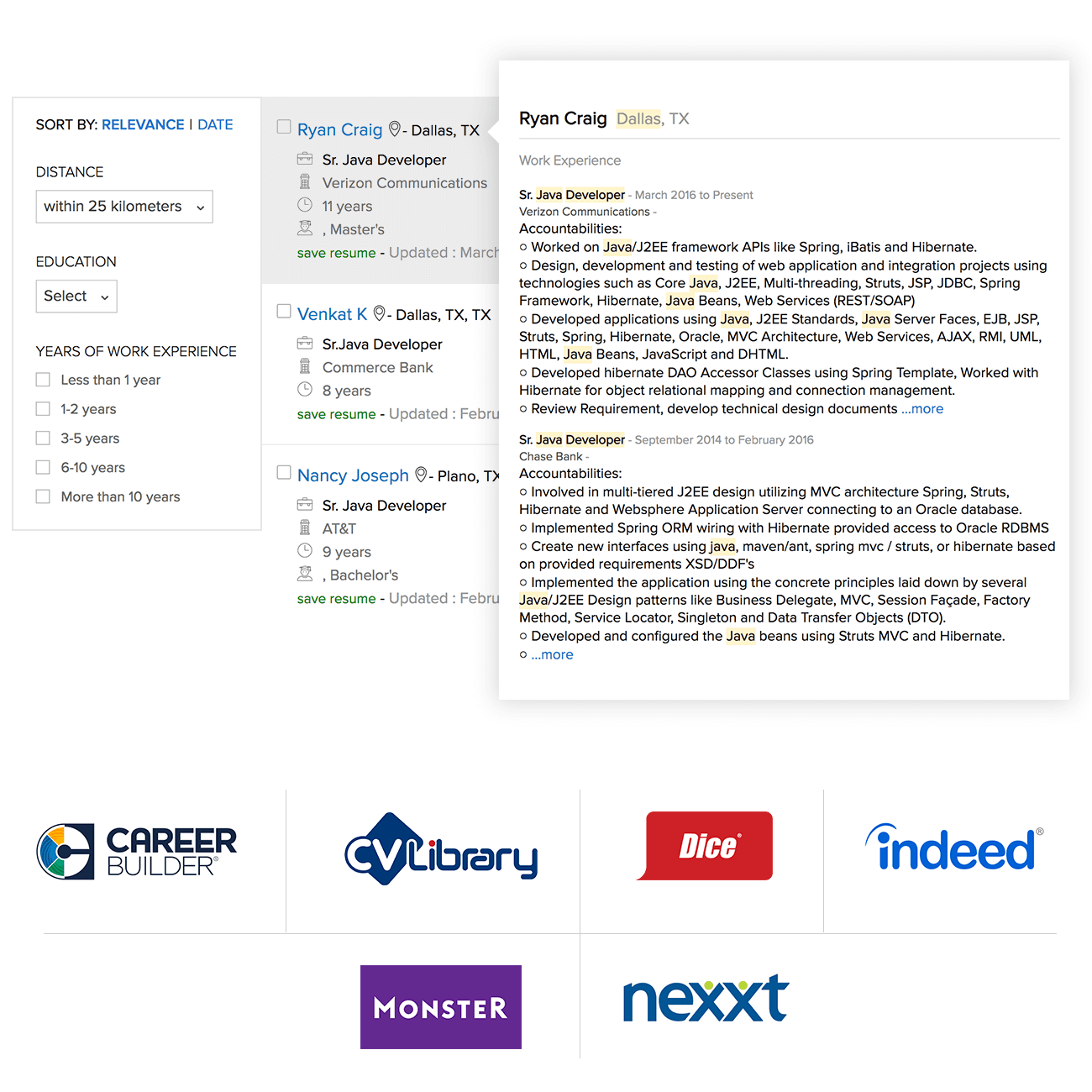 Applicant tracking
The more insights you have in your business, the better. Make informed hiring decision with advanced analytics. Turn all your data into dashboards and charts that are automatically updated and always accurate.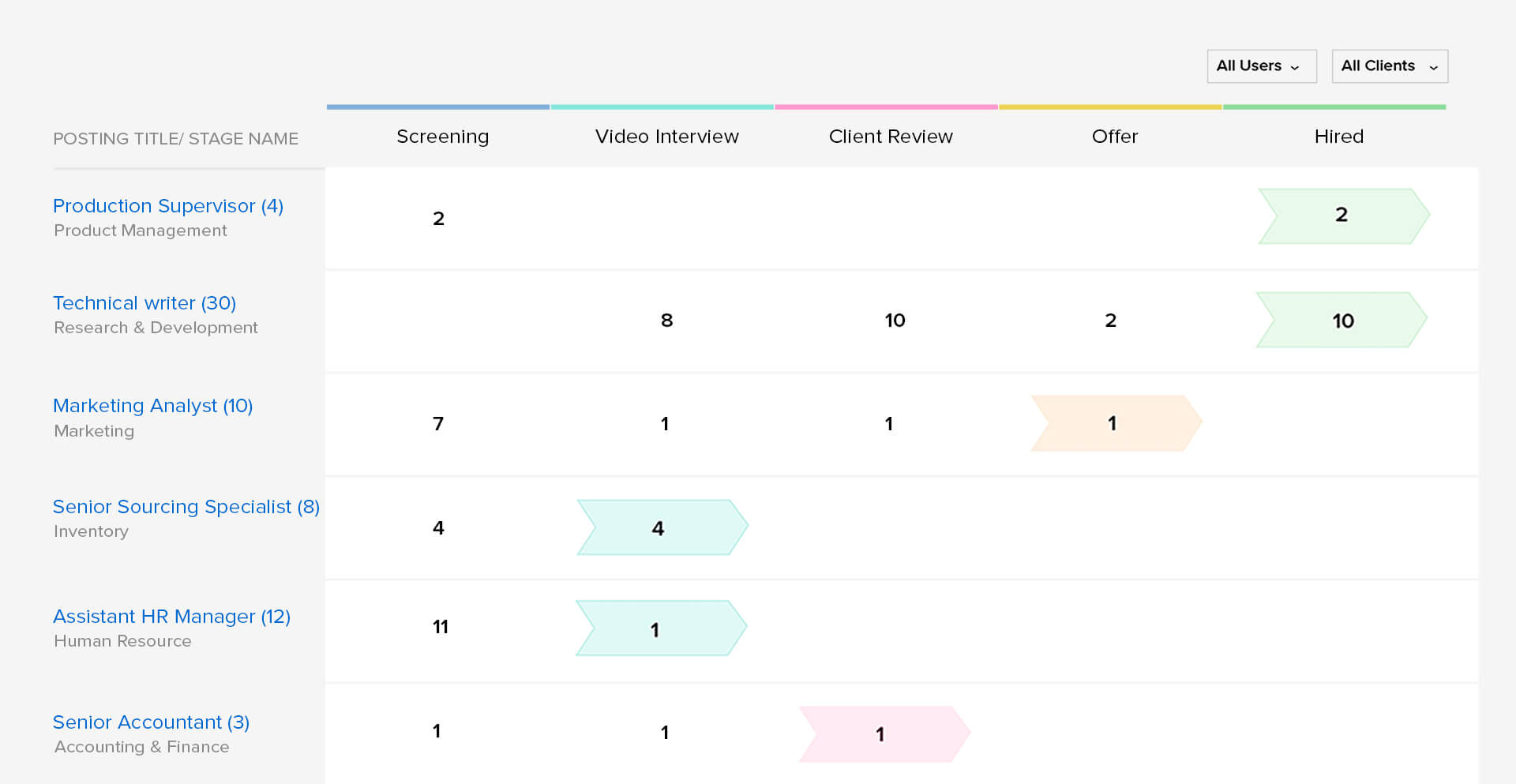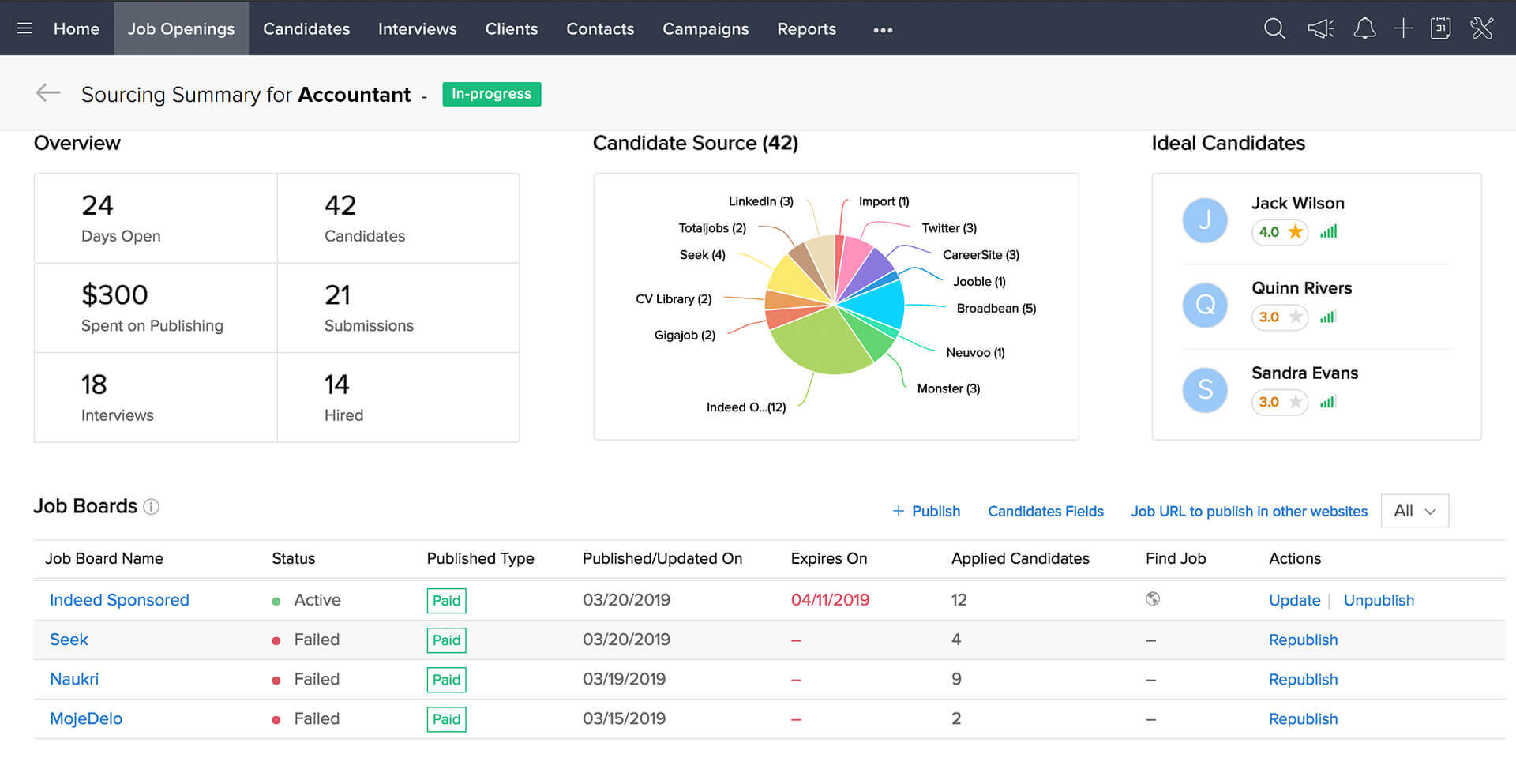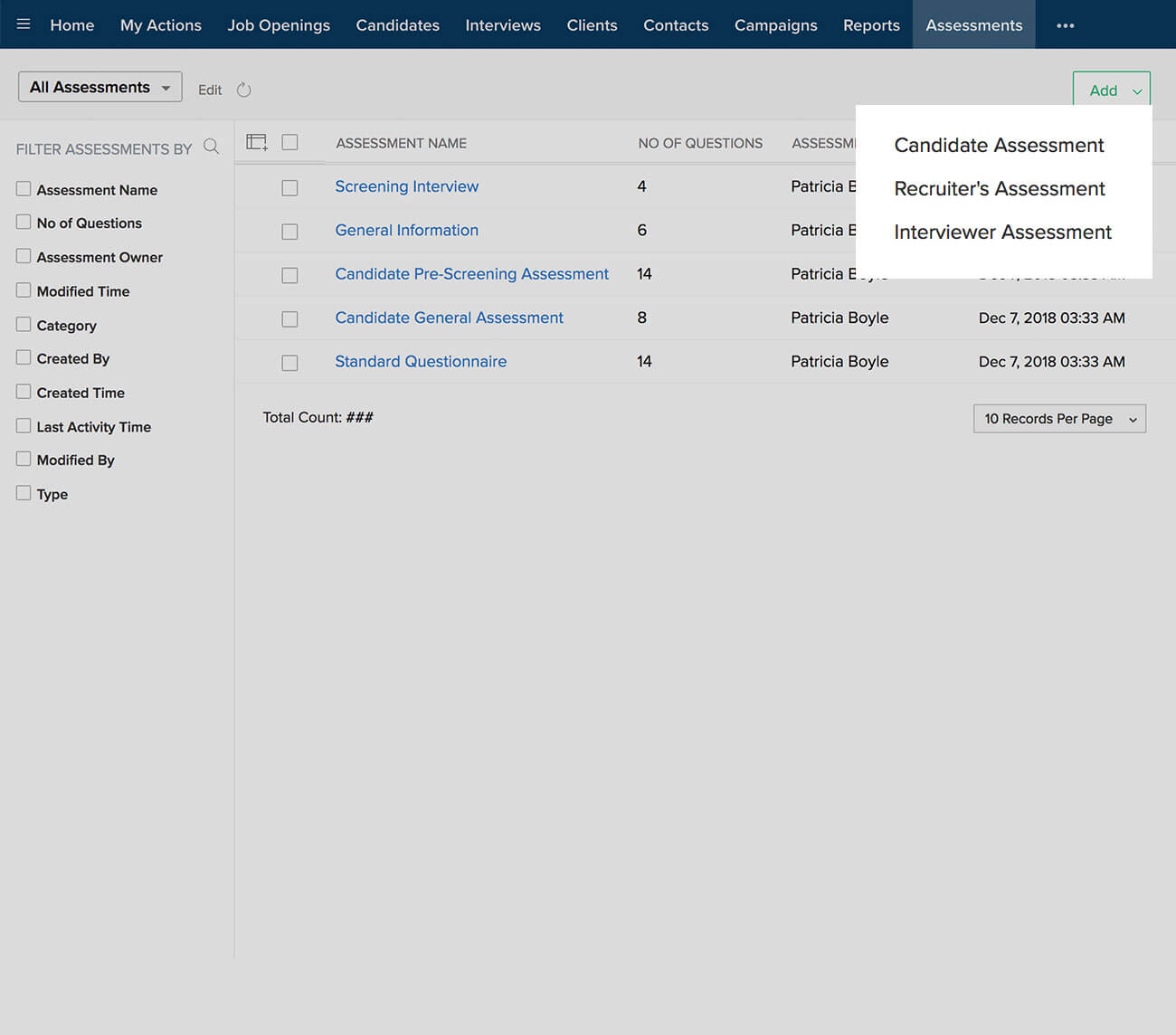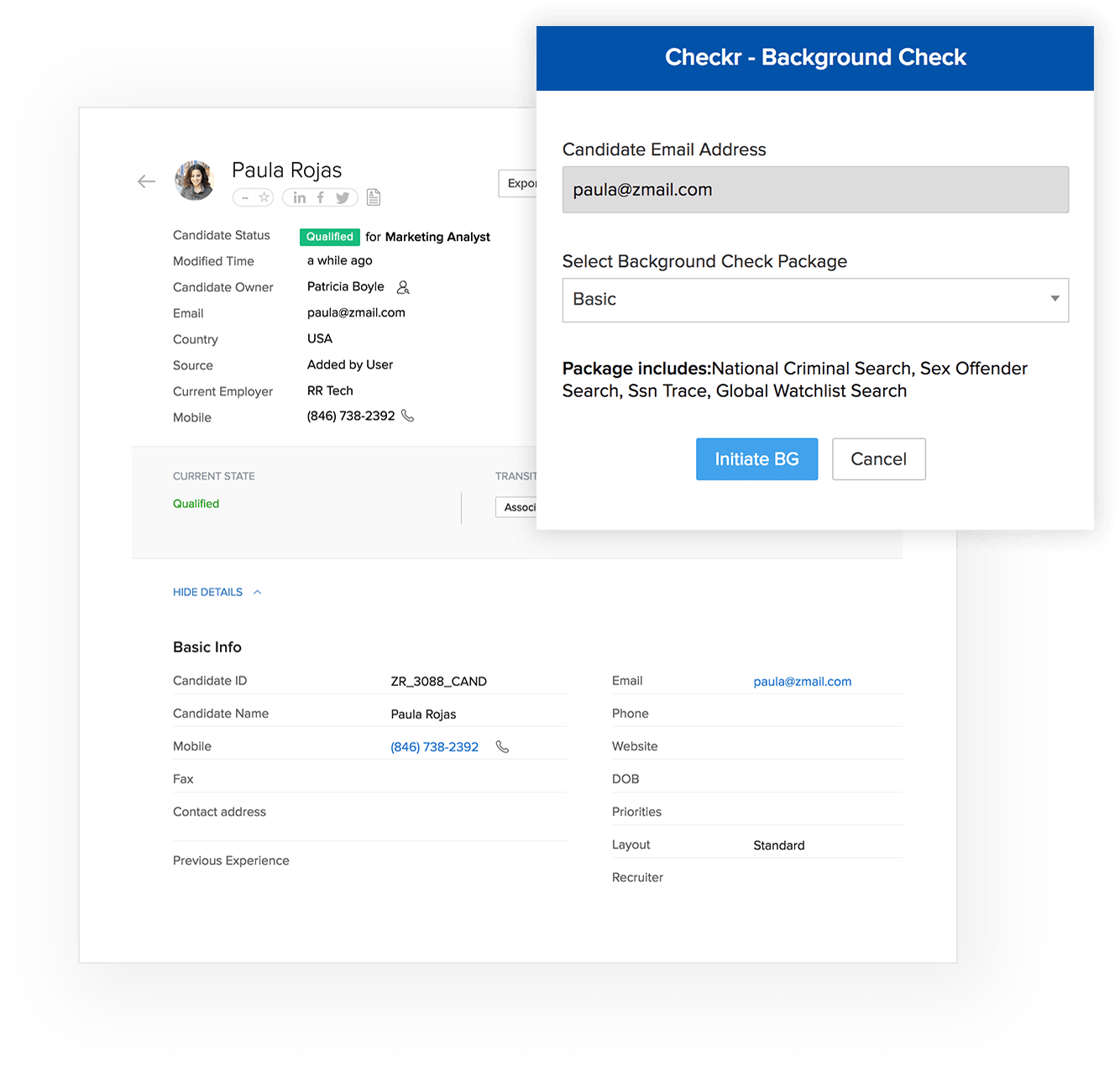 Hiring pipeline
Recruiting KPIs
Sourcing summary
Assessments
Background screening
Hiring pipeline Get a holistic view of the candidates hiring pipeline. From screening to hire, view the candidate status in the recruitment process.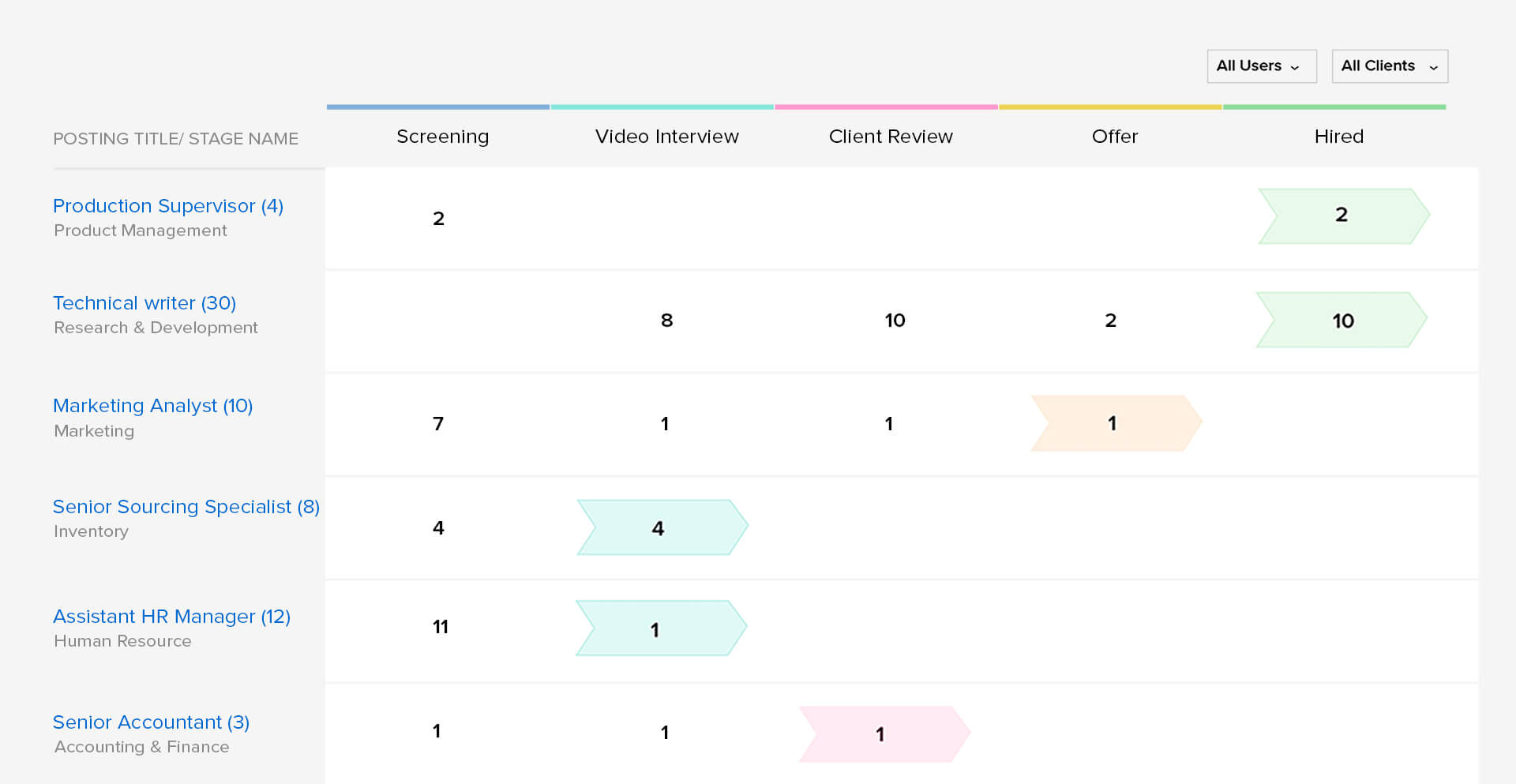 Recruiting KPIs Make data-driven decisions by tracking key performance indicators like time-to-fill, time-to-hire, age of job, and offer acceptance rate.
Sourcing summary Know where your candidates come from. Monitor the status of your job openings with sourcing summary. Track the performance of each job board and select more quality hires faster.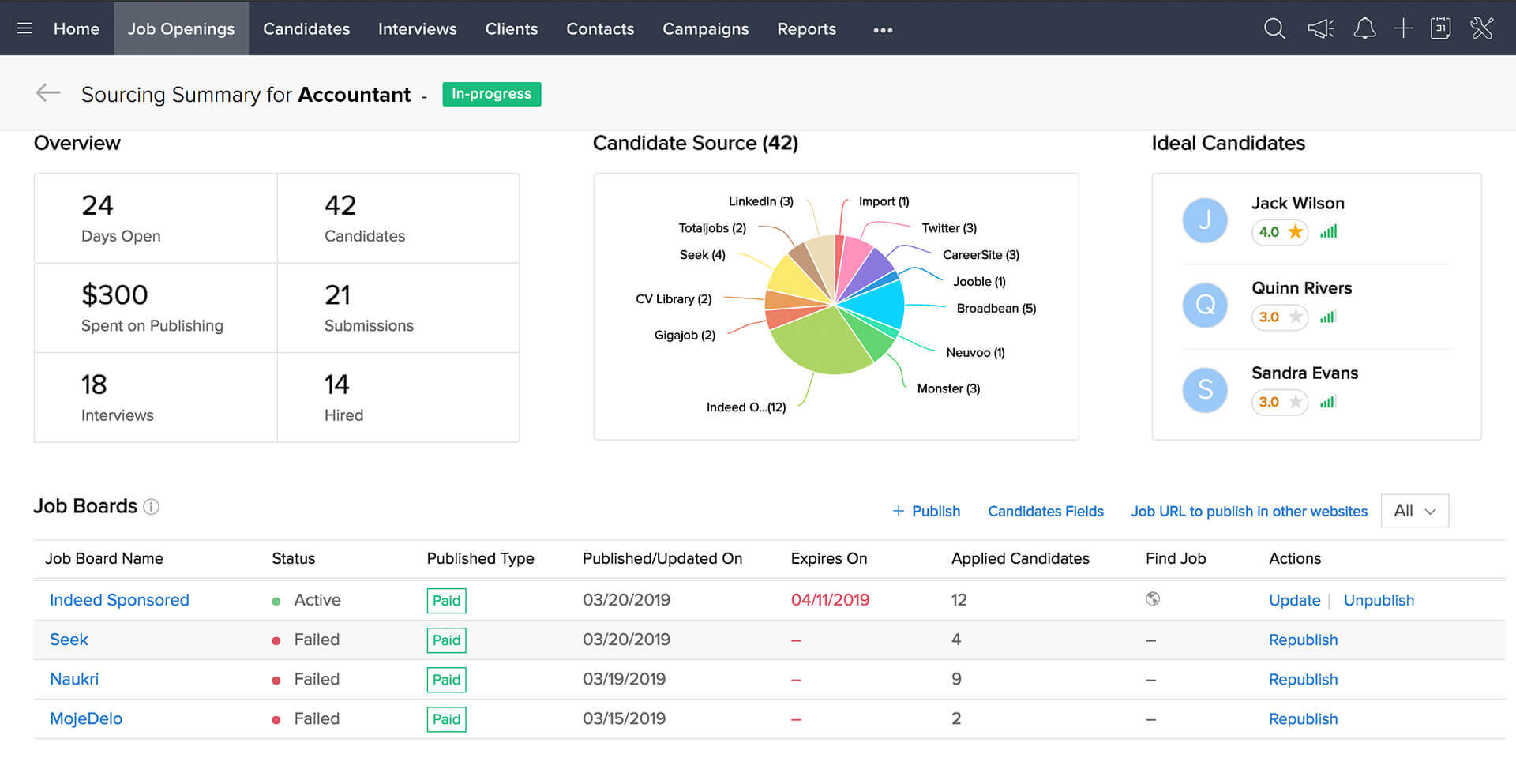 Assessments Mitgate bias and measure candidate skills with a set of pre-defined questions. Create a structured hiring process and ensure every candidate is assessed consistently and fairly.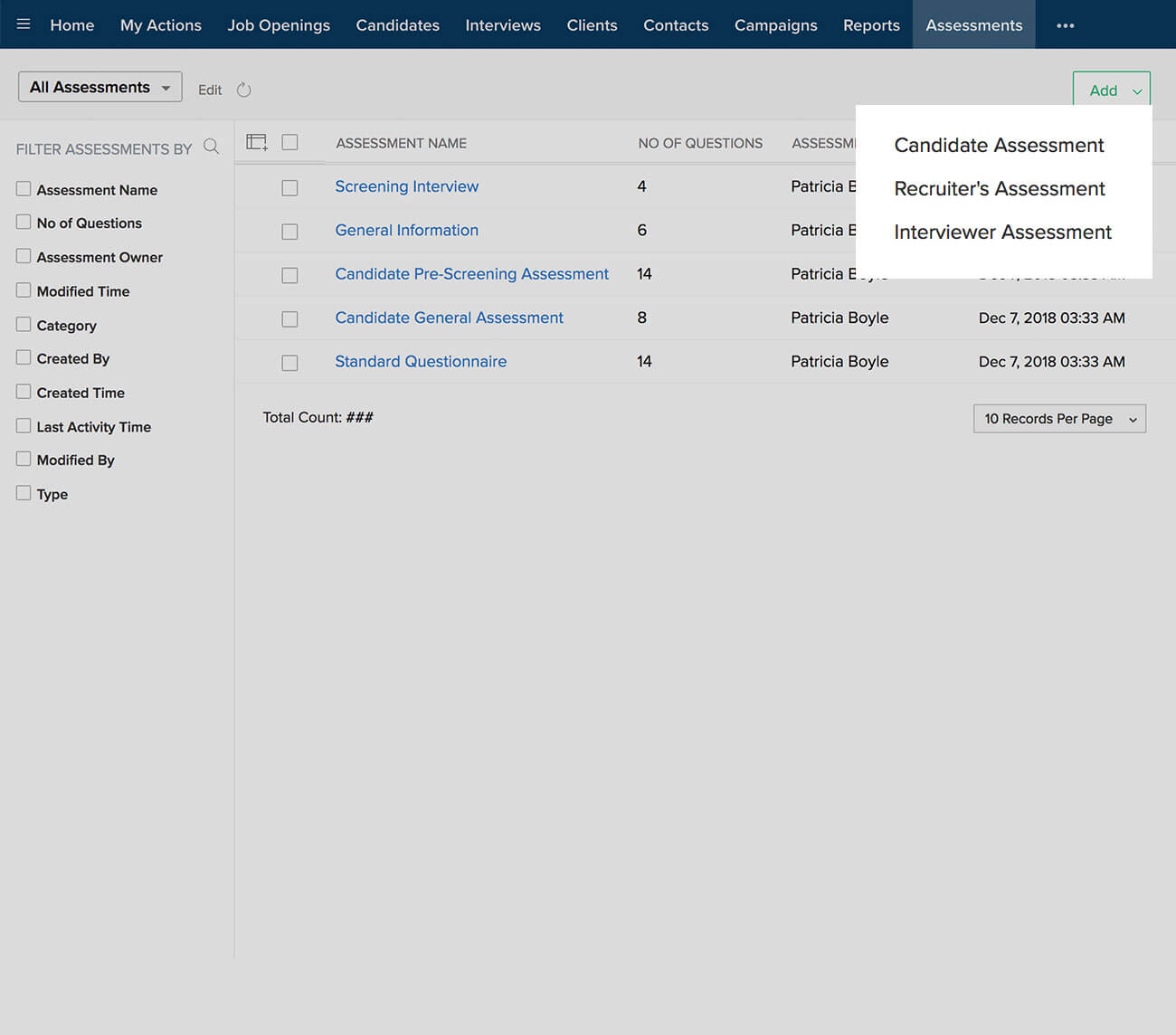 Background screening Conduct background checks 35 percent faster with Zoho Recruit's Checkr integration. Export candidate details directly to Checkr and generate automatic reports to your recruit database.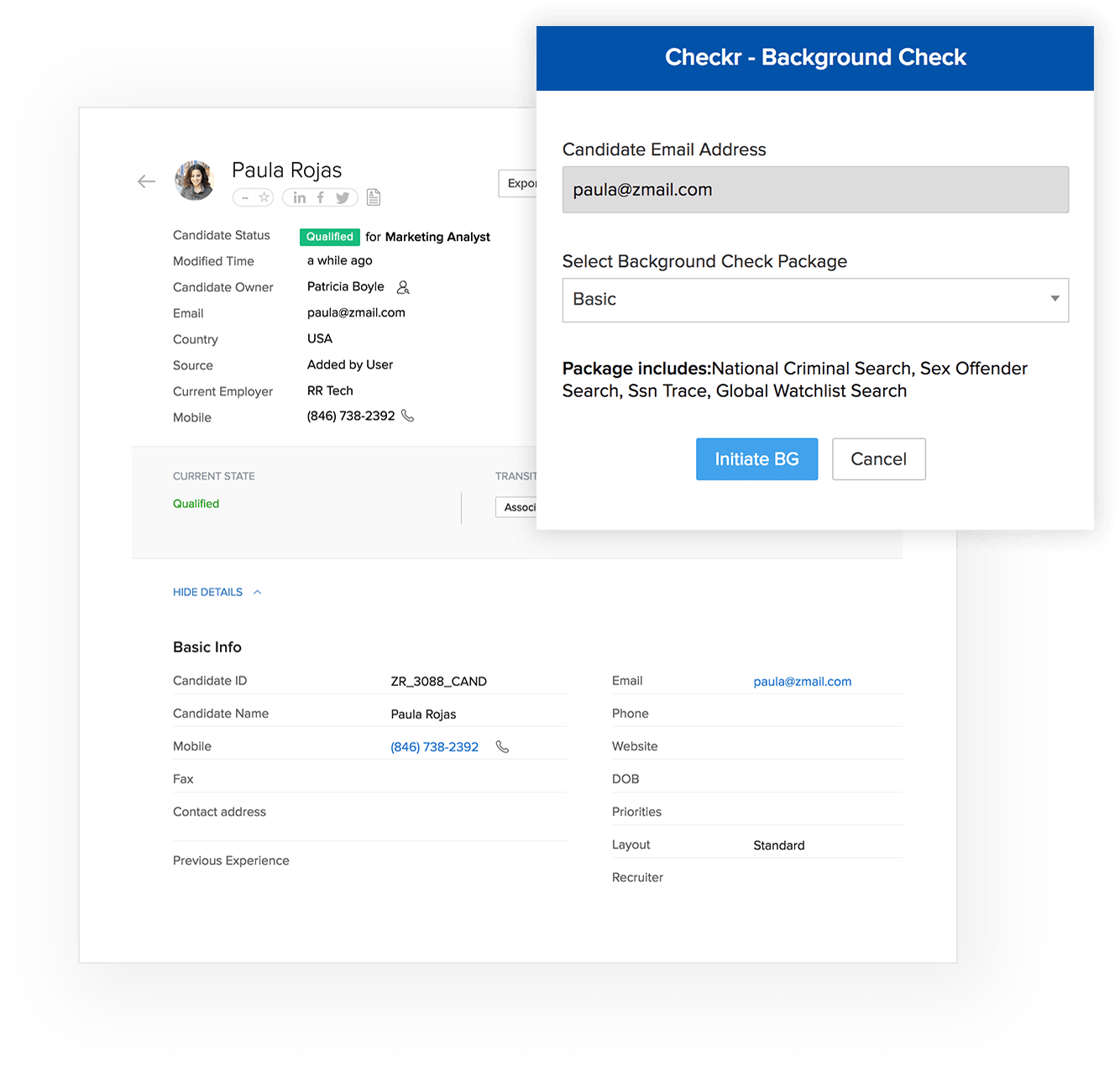 Resume Management
Upload, parse, and search for resumes quickly and effectively with Zoho Recruit's resume management system.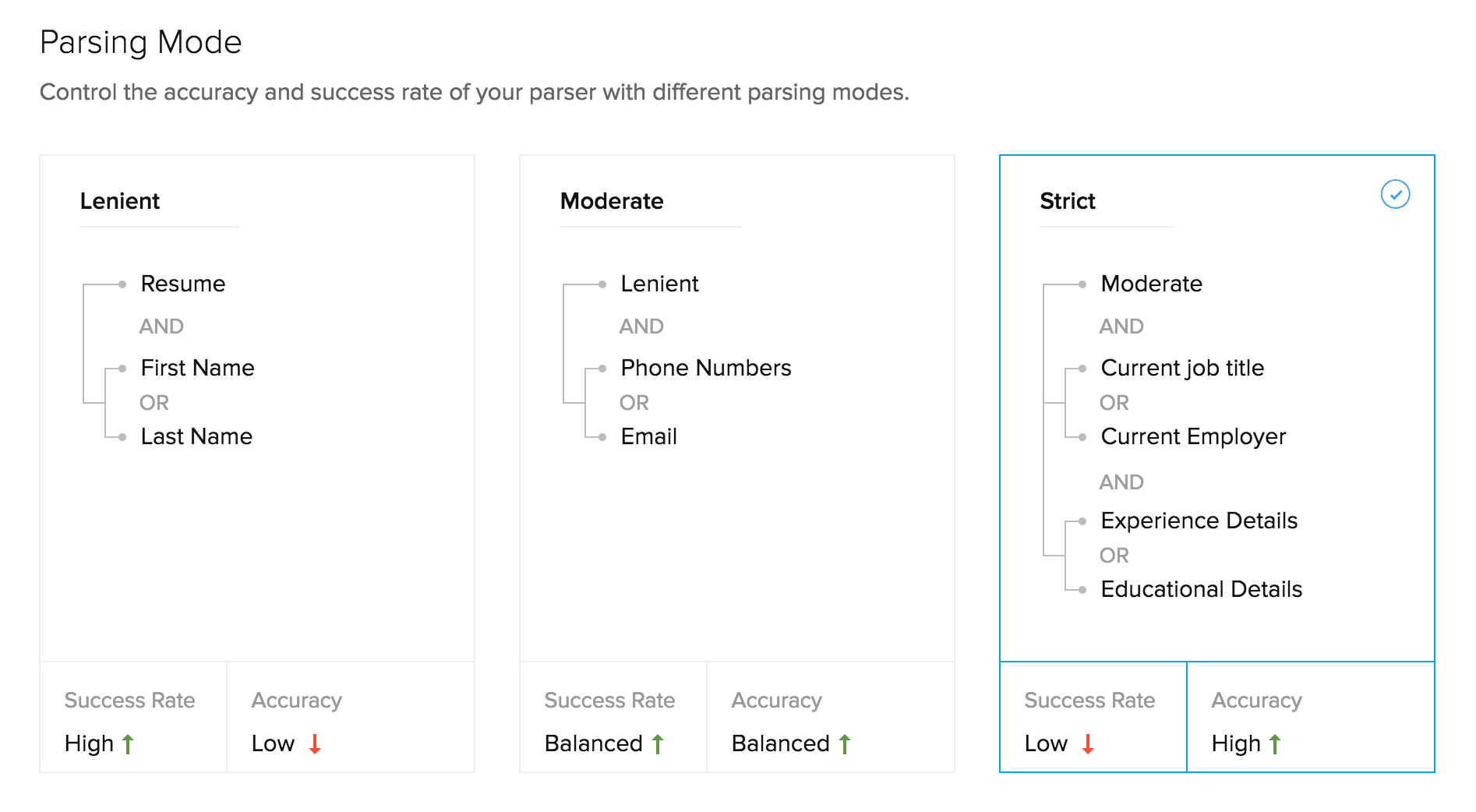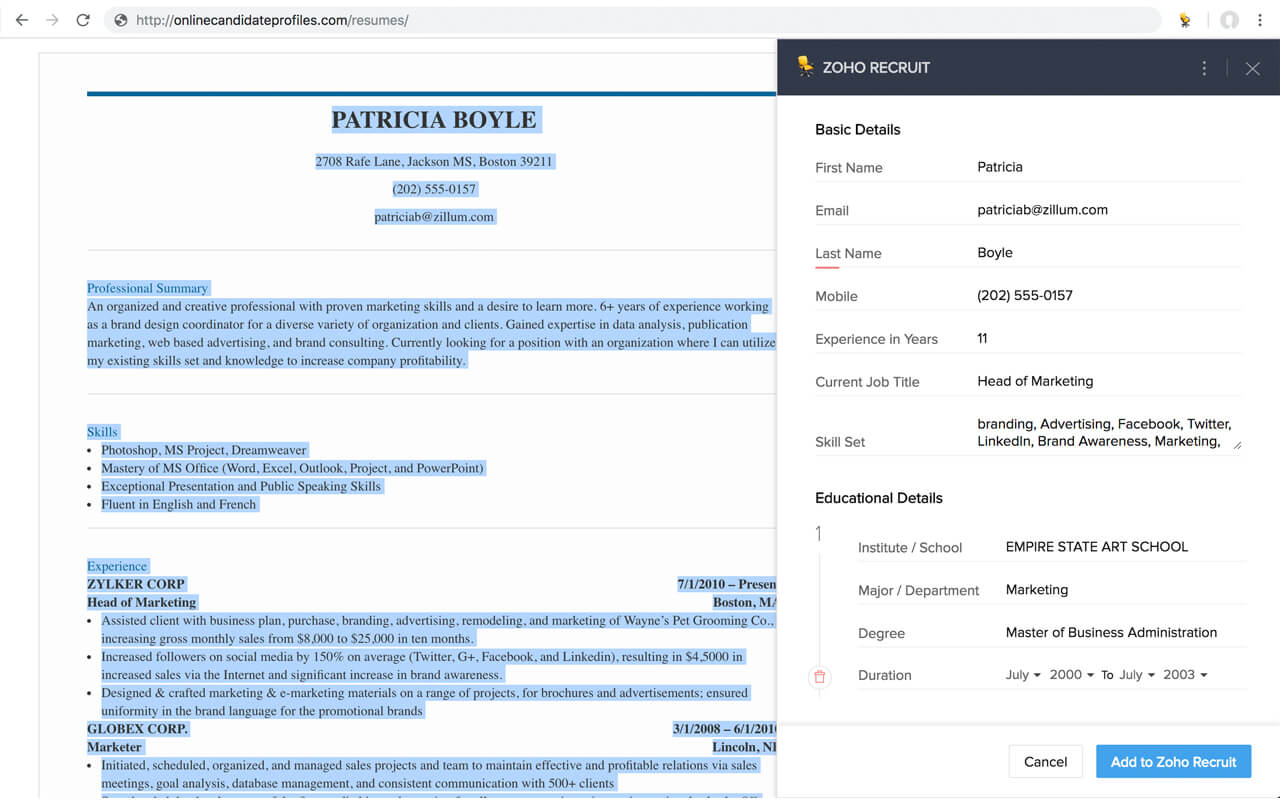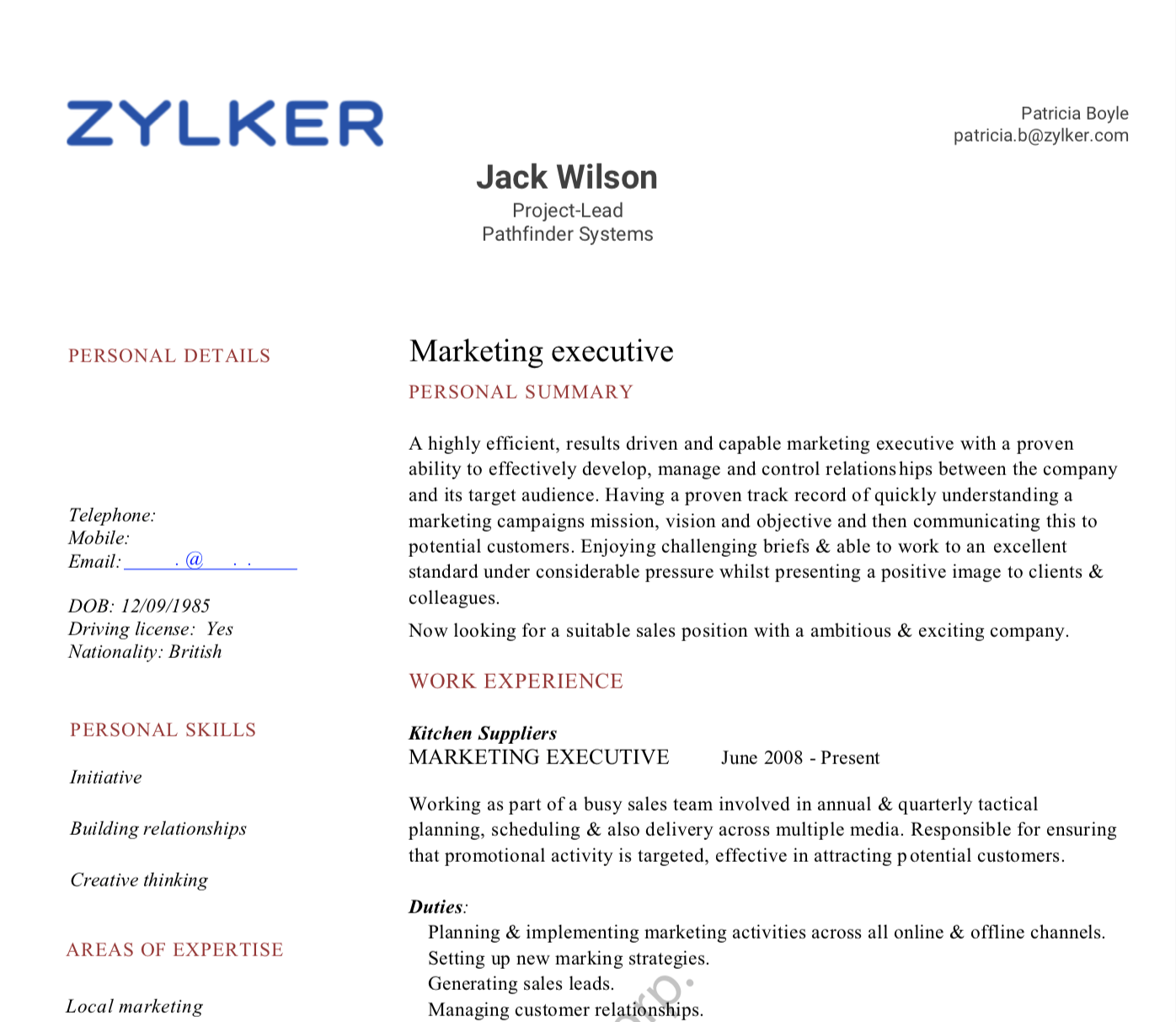 Resume parser
Resume inbox
Resume extractor
Formatted resume
Resume parser Reduce clicks by leveraging Zoho Recruit's resume parsing tool to extract details and populate candidate, contact, and job records.
Resume inbox Stop wasting time sifting through every email to find a potential candidate resume. Automatically parse resumes from any email account to your recruit database.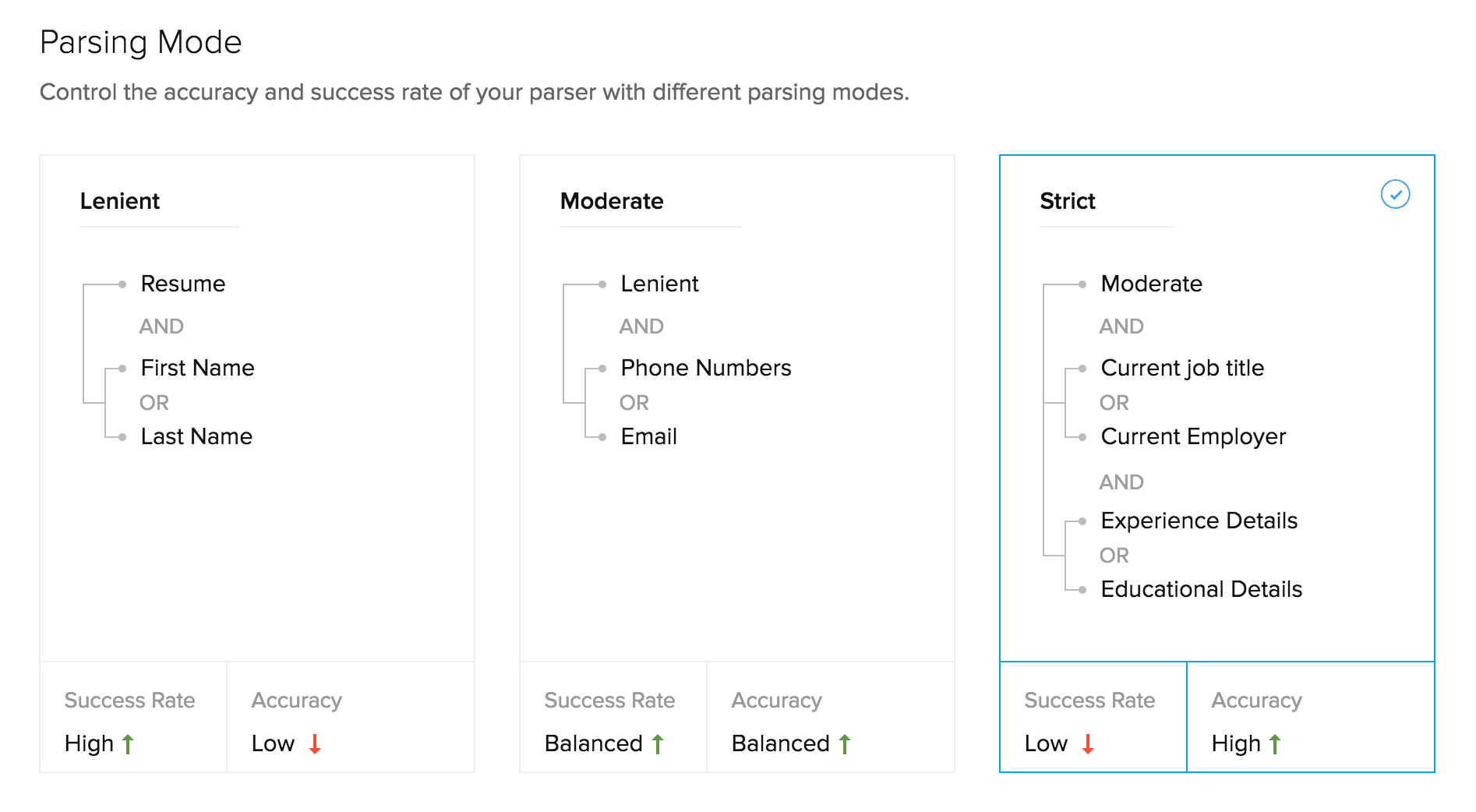 Resume extractor Find an interesting resume online that fits your job description? Zoho Recruit's Chrome browser plugin can parse content from almost any webpage and add them as a candidate record into your account.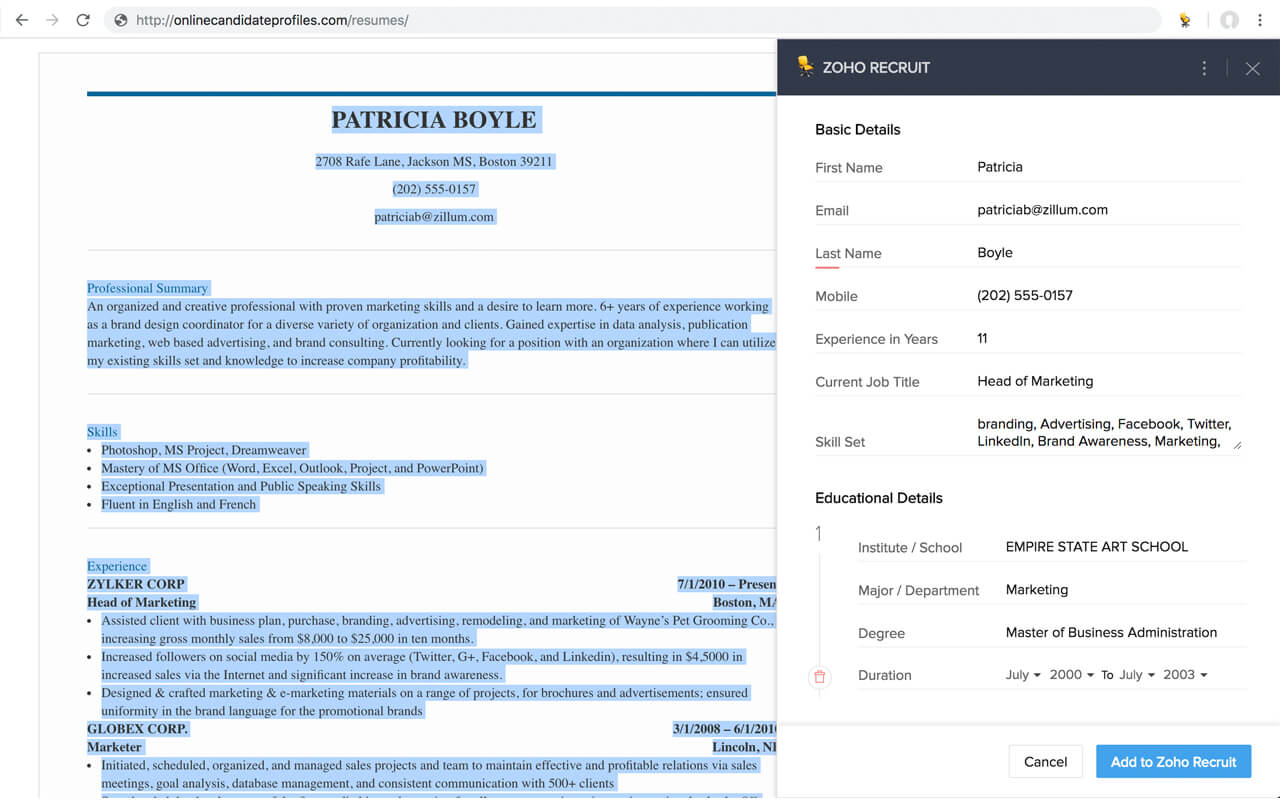 Formatted resume Generate your own resume format and brand them with your company theme before submitting them to your clients.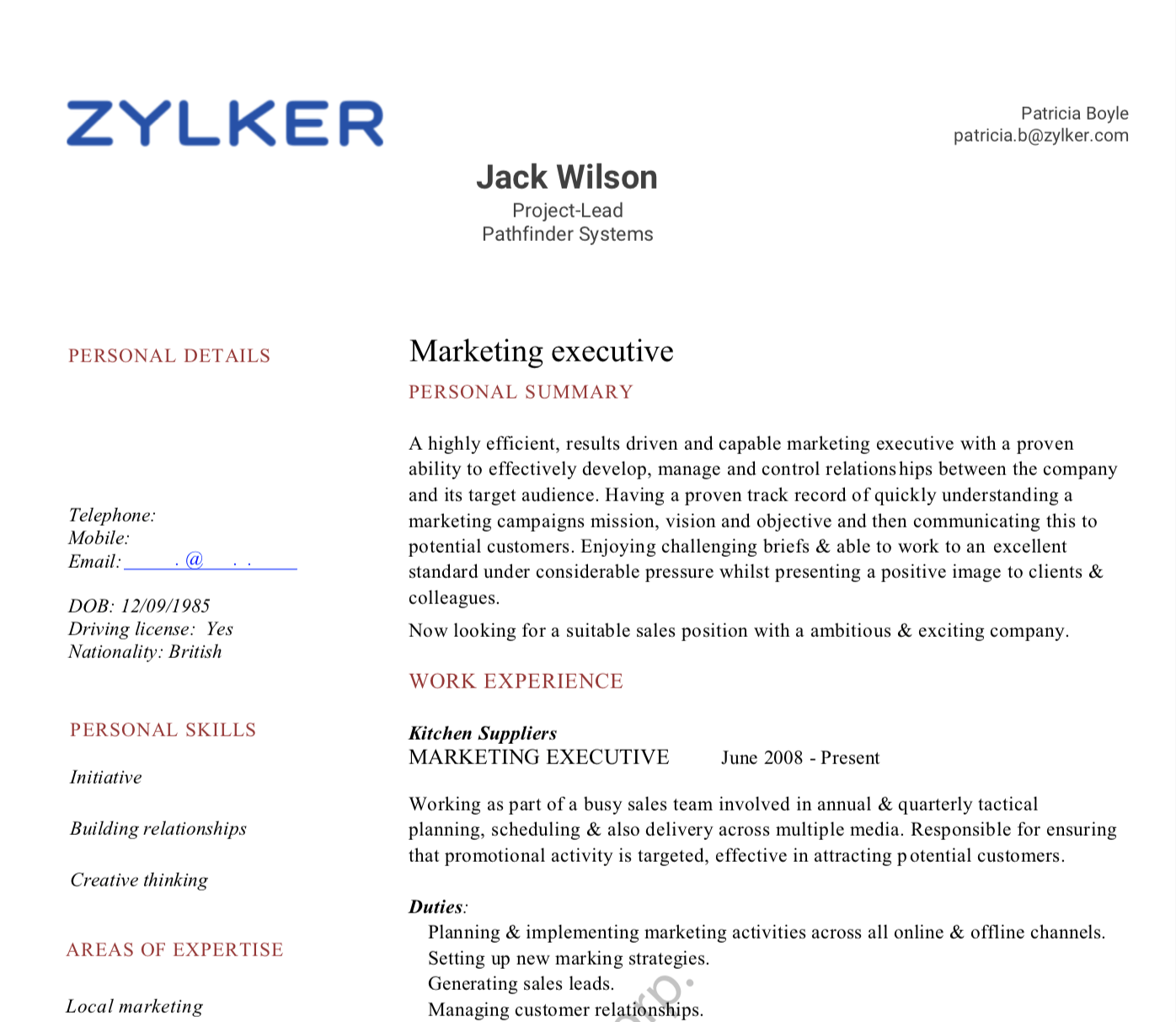 Collaborative Hiring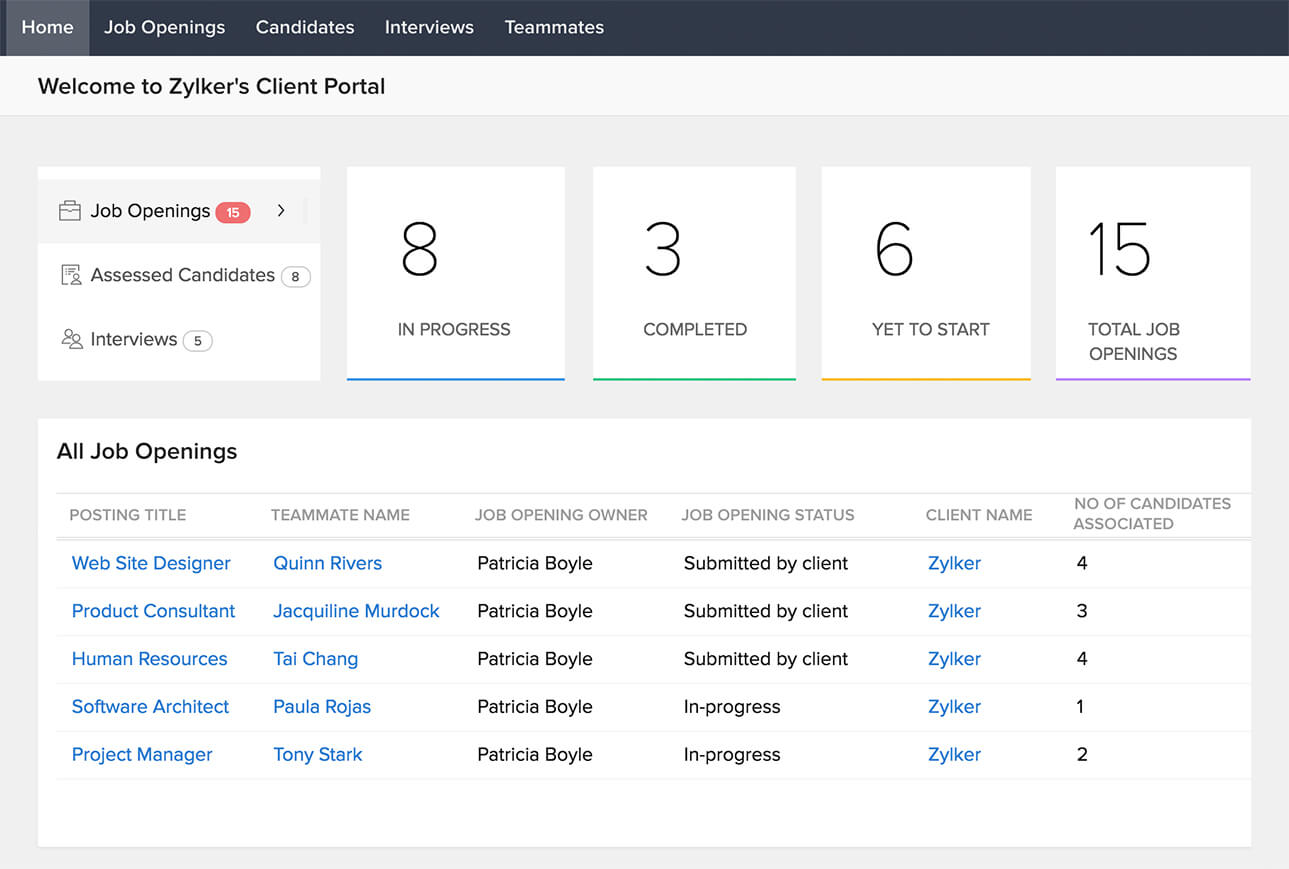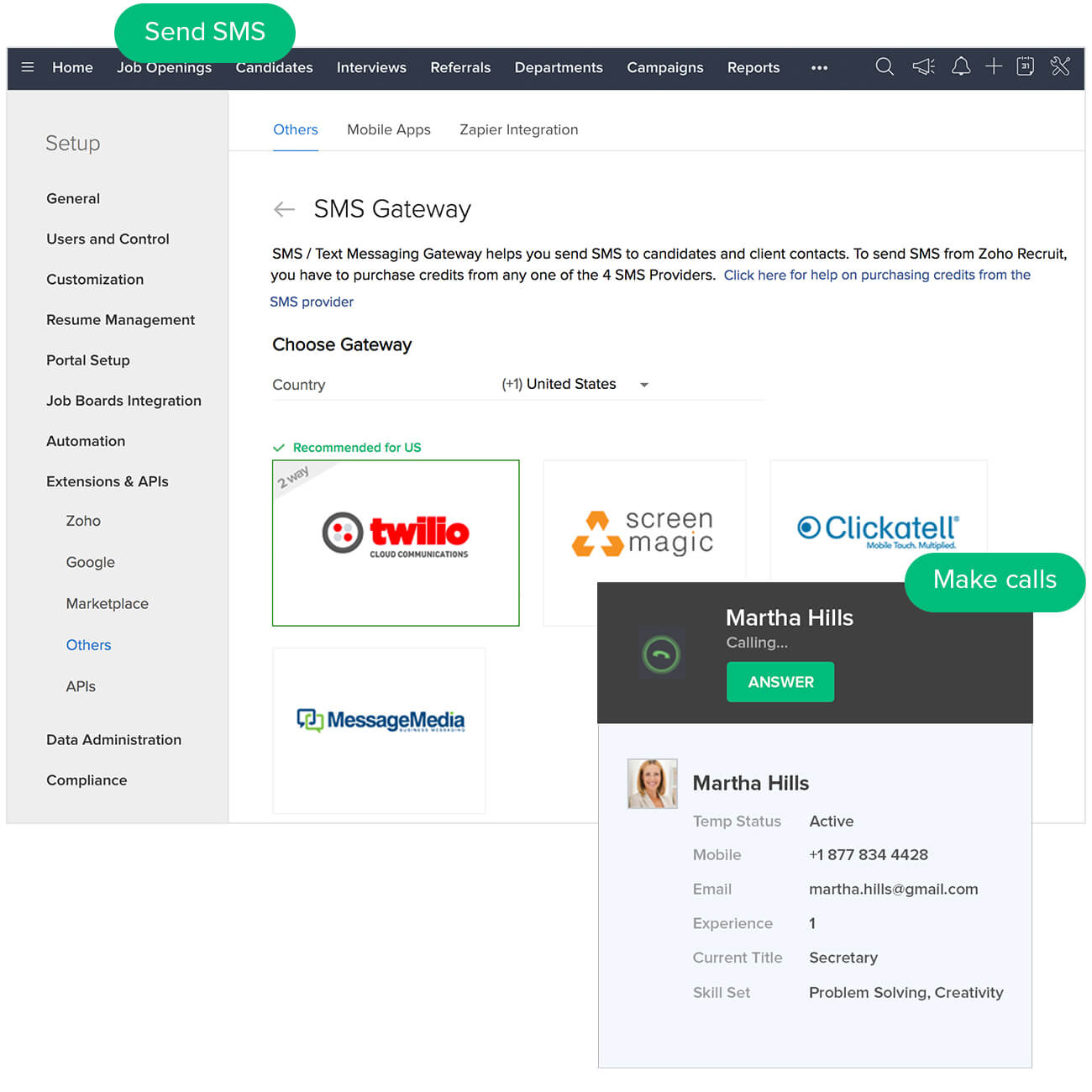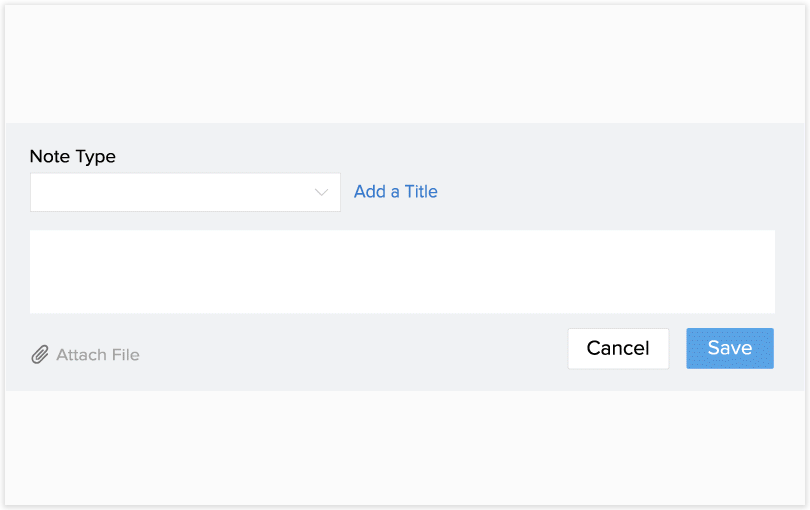 Client Portal
SMS/Phone
@mentions
Client Portal Stay in touch with your client and have great conversations. With Client Portal, you can create new job openings, send feedback about candidates submitted for review, and make interview decisions.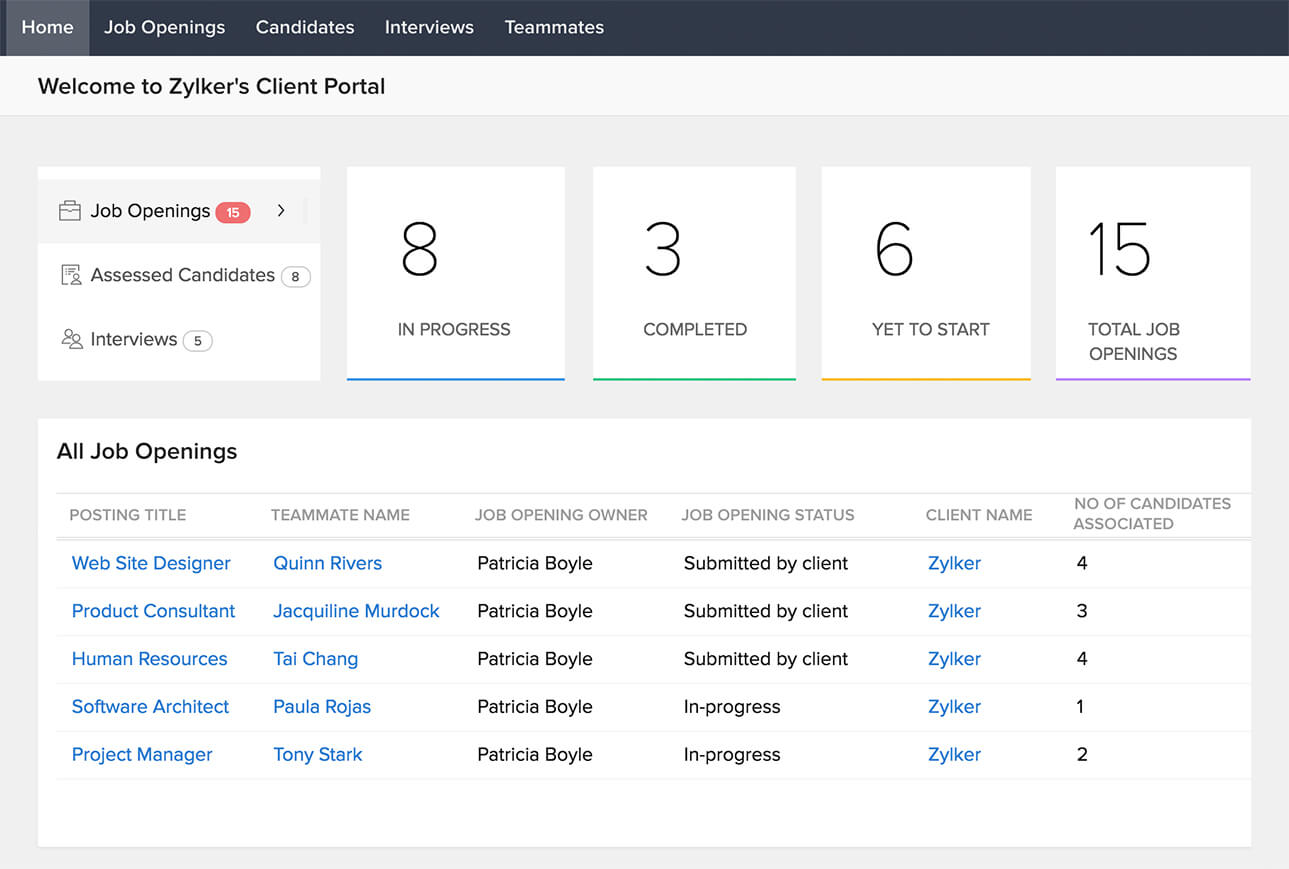 SMS/Phone Always be engaging. Never miss out on messages or calls from your candidates and clients. Send interview reminders, jot down a call description during or after the call, and much more.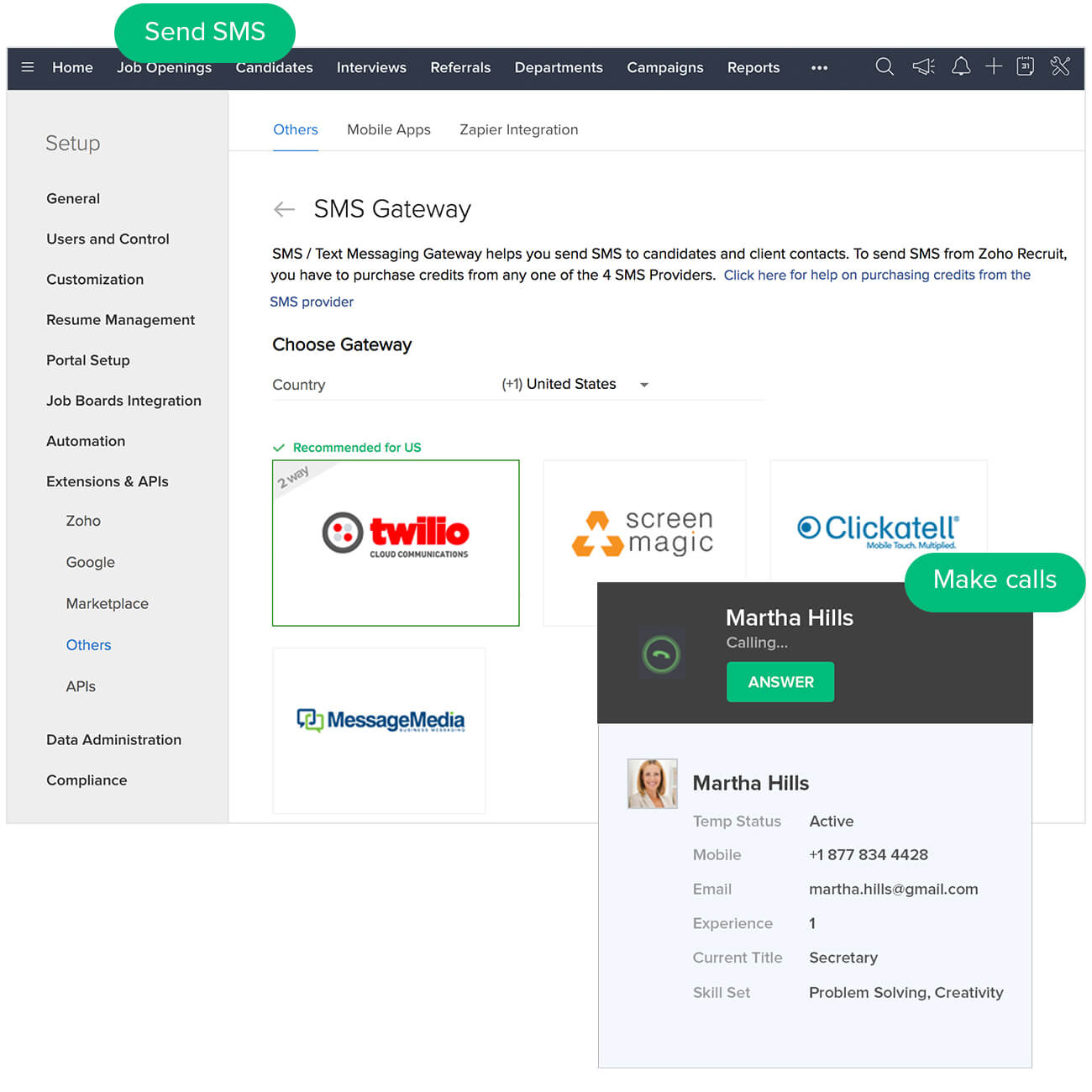 @mentions Keep your colleagues in the loop with @mentions. Like any other tagging function, Zoho Recruit's @mentions sends a push notification so your team can stay on top of their game.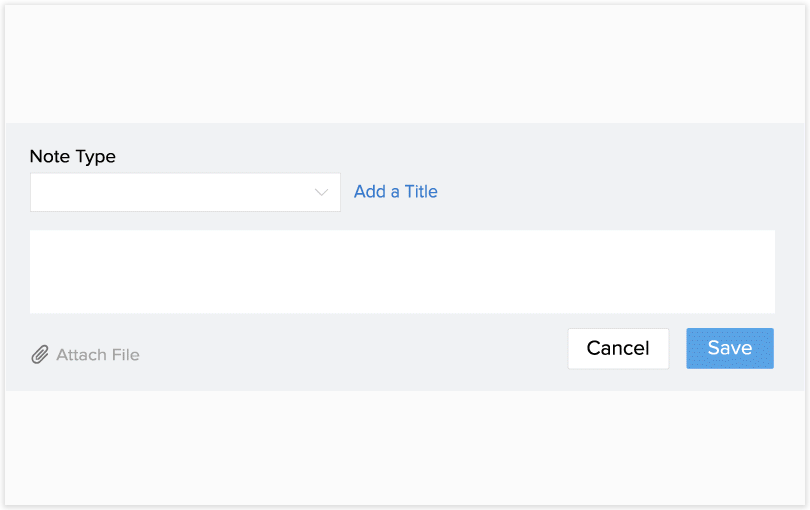 Recruitment Automation
Speed up your end-to-end recruitment process by automating time-consuming tasks. Set up automatic replies, alerts, and notifications in advance and more with our recruitment software.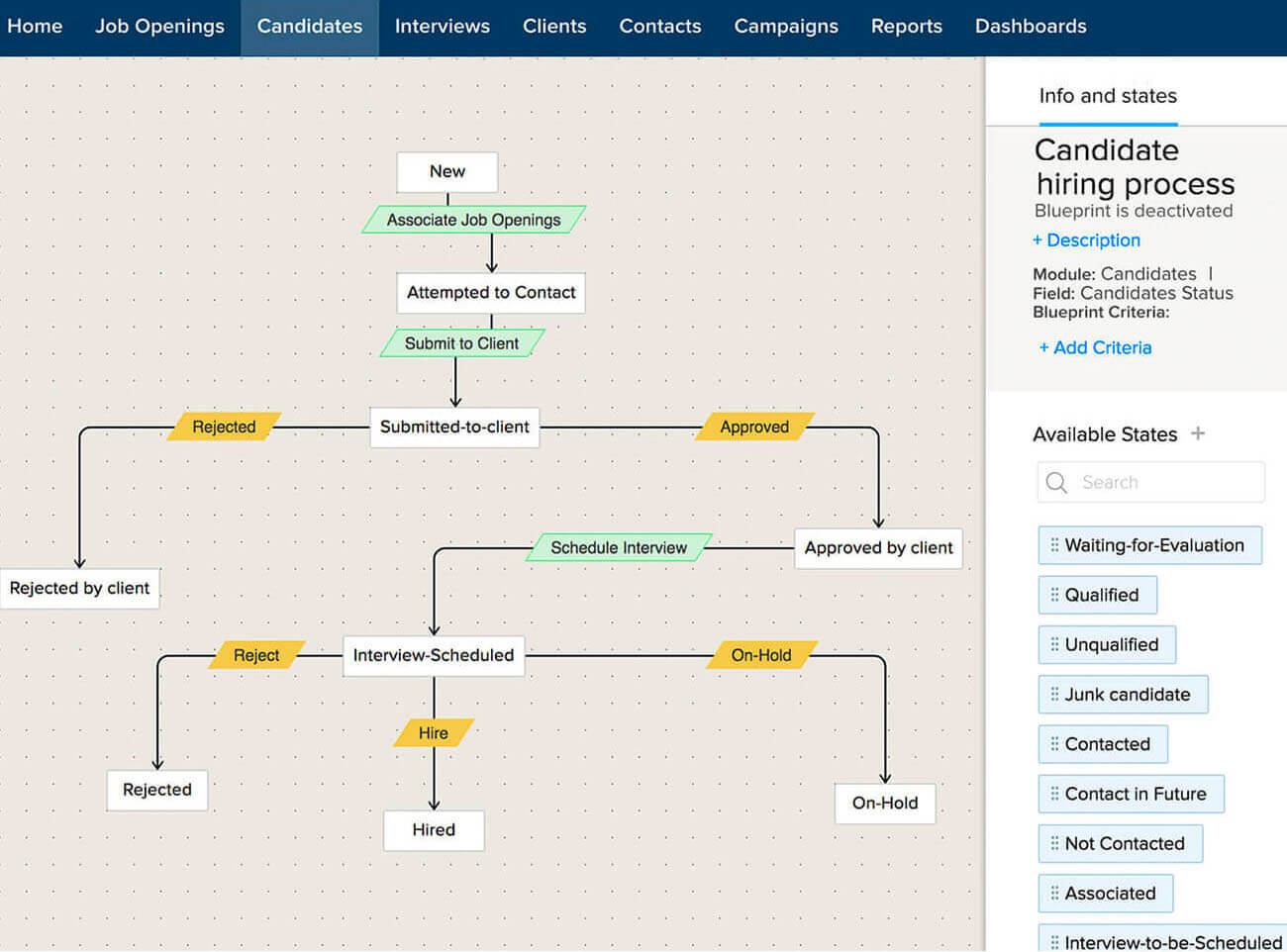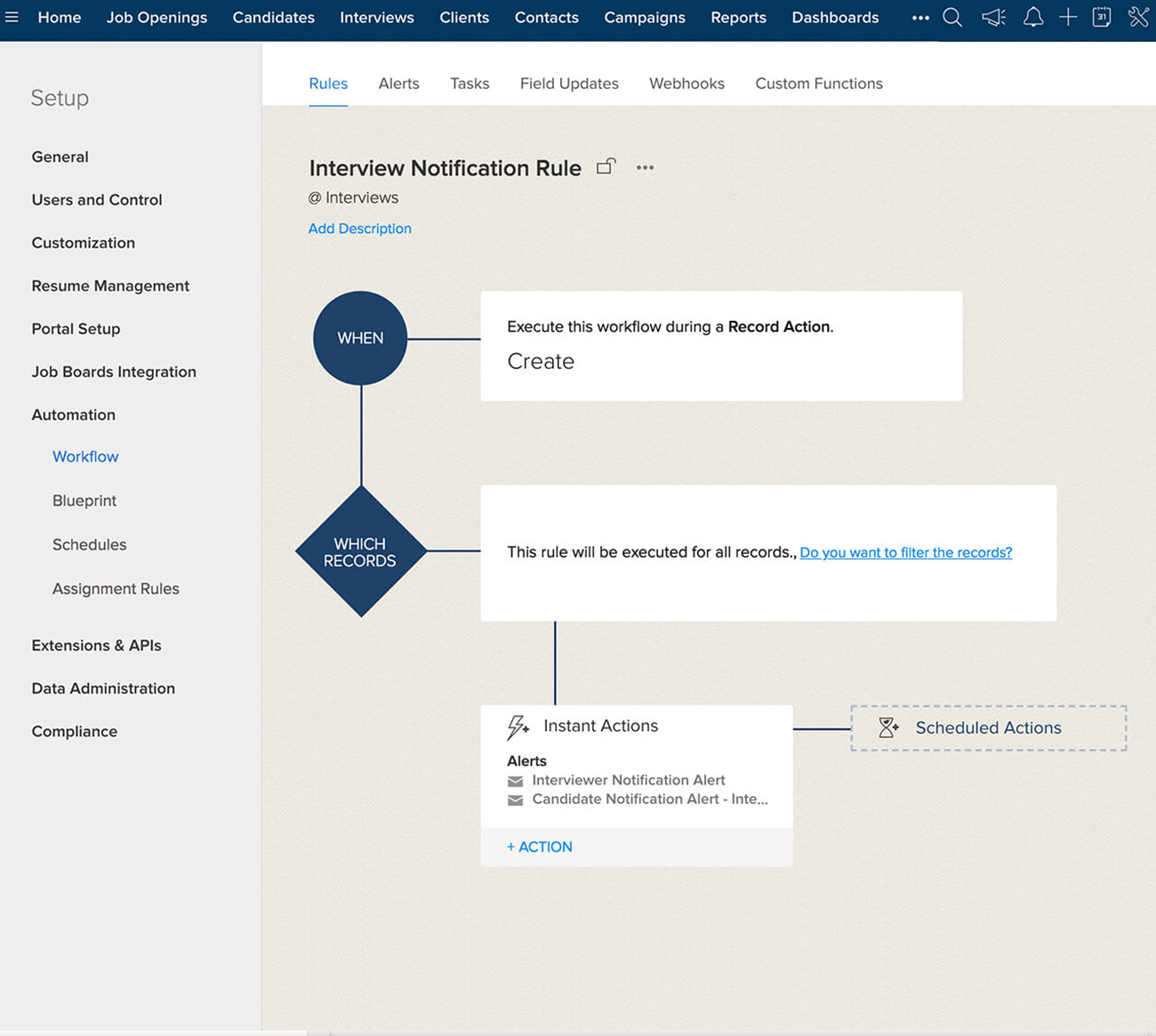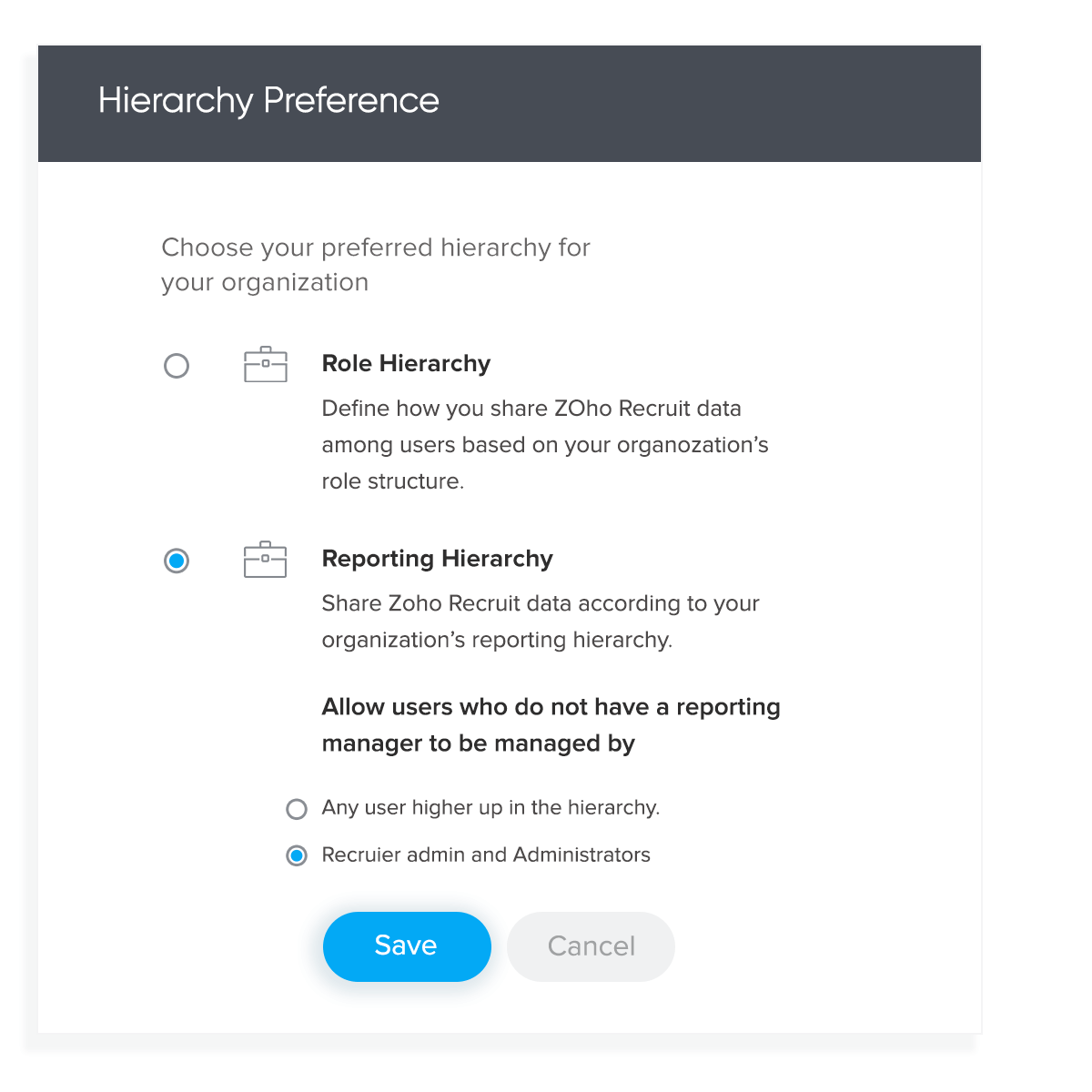 Blueprint
Workflows
Reporting hierarchy
Blueprint Keep your teammates on the same page with a structured hiring process. With Blueprint, show users what actions need to be taken at what time and prompt them for the right information in the right sequence.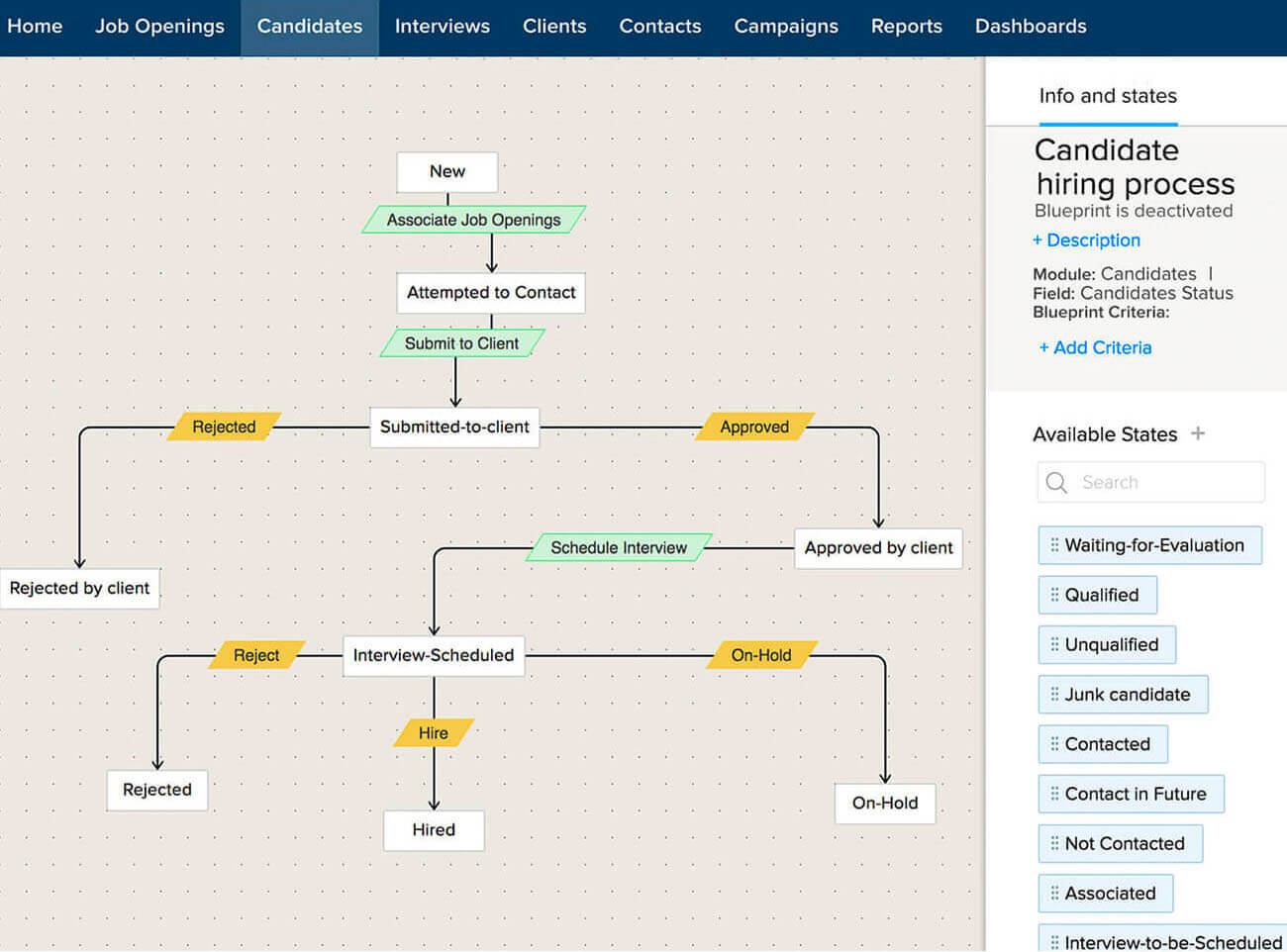 Workflows Automate your recruiting process with pre-defined rules. When a rule is triggered, the alerts , tasks, and field updates associated with the rule will perform the action.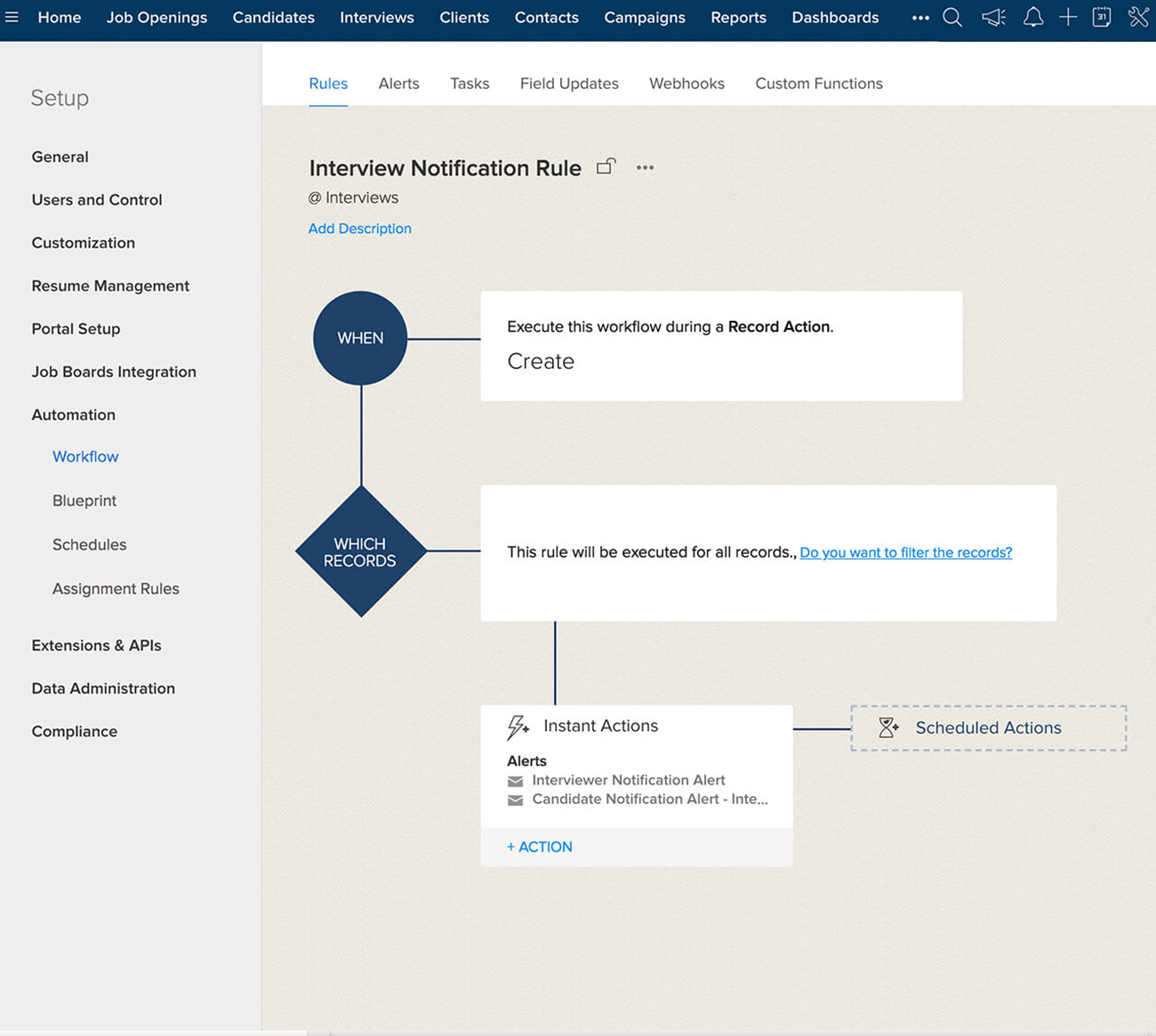 Reporting hierarchy Ensure controlled access of information by setting up your organization's hierarchy structure based on the roles and reporting managers.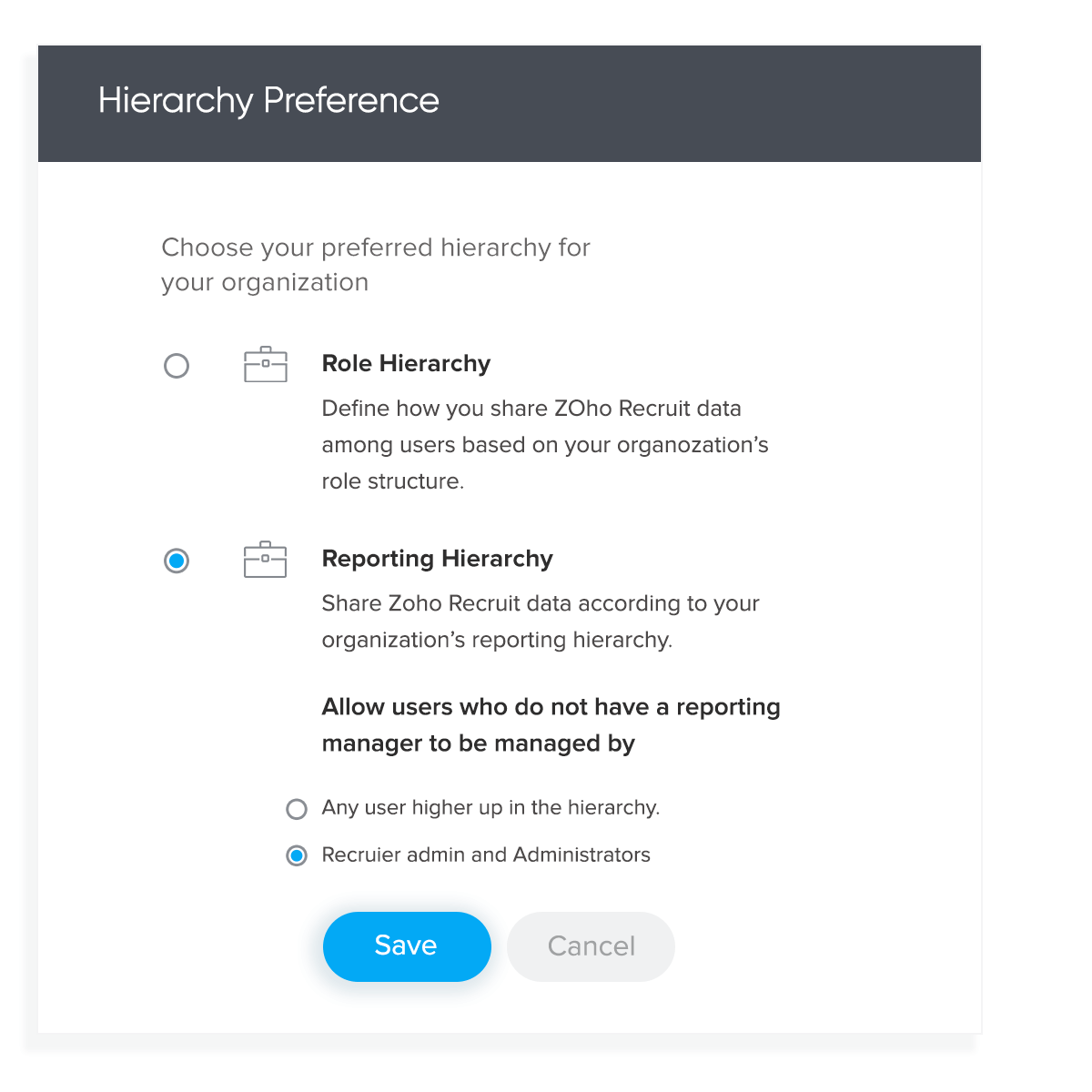 Simple. Foolproof. Guided.