Gantt Chart Software
Gantt chart software is a means to visualize your project timeline in order to plan and track your project's progress. In case of schedule deviations, it automatically adjusts your timeline and highlights critical tasks to ensure project completion. 
Zoho Projects offers an online Gantt chart software that makes project scheduling easier with a visual representation of milestones, task lists, tasks, and the dependencies between them. You can either view the tasks sorted by the milestones as the Milestone Gantt or by the order of occurrence as the Chronology Gantt. You can also add new tasks, set dependencies, and adjust start and finish dates all within the Gantt chart software online, making your project planning experience visual and effortless.

What is a Gantt chart?
A Gantt chart is a visual representation of the project timeline or schedule with emphasis given to depicting the relationship between your various work items. Gantt chart tools display these relationships or dependencies, making it easier to plan your project as well as to implement changes and track progress in real-time. The best Gantt chart software will facilitate you to manage and work with different types of dependencies. 
Gantt chart software for project management
Online Gantt chart software is the primary tool used for project planning and project scheduling. Named after its inventor Henry Gantt, the earlier versions of it were drawn by hand and had to undergo many iterations to accommodate changes. Project managers later used pieces of paper or blocks so that they can be easily moved when required. Today there are several Gantt chart software for project planning that allow users to create a Work Breakdown Structure, set baselines for checking schedule deviations, analyze critical path, and collaborate online for changes.
Key features of a Gantt chart tool
Some of the key features present in Gantt software include the ability to manage various kinds of dependencies, track real-time progress with the initial plan, replicate your Work Breakdown Structure, customize your view and the information displayed, and share or export your chart. The best Gantt chart tool will have some or all of these functions. Let's check out how Zoho Projects can be used to perform them.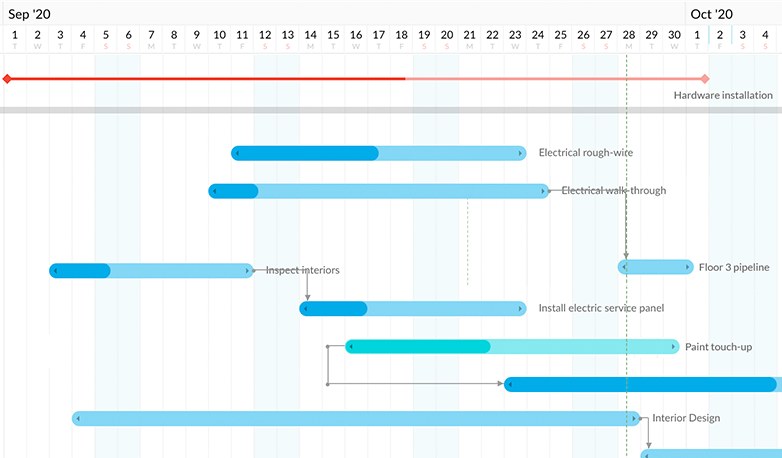 View and manage dependencies
With Zoho Projects, create Gantt charts that support all the four types of task dependencies like Finish to Start, Start to Start, Start to Finish, and Finish to Finish. In our online Gantt chart software, just drag and drop between taskbars to define relationships between them. The clear color distinction helps you quickly get an idea of tasks that are overdue, the status of a task, completed tasks, dependency type, and so on.
Add new tasks
You can now quickly add a new task right from within the Gantt chart tool. More details like the task description, owner, start, and dates can be defined in the pop up that appears. The inserted tasks get added at the same level as tasks or subtasks in our online Gantt chart software.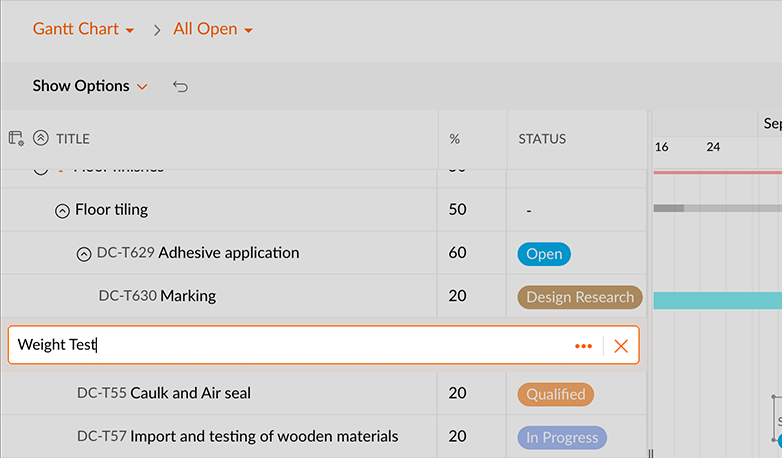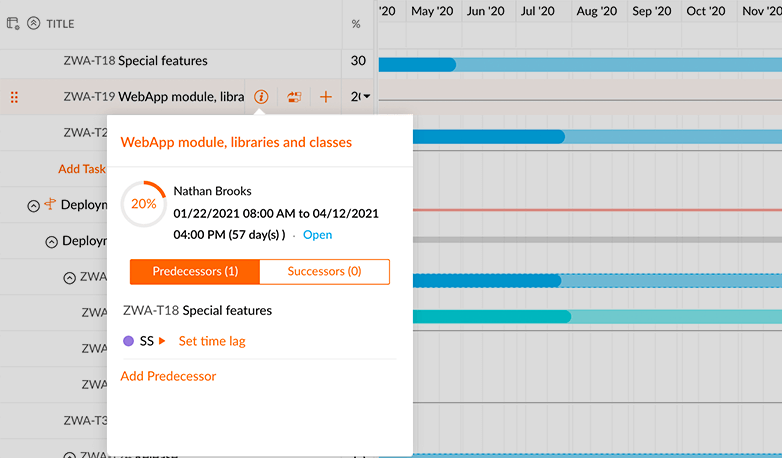 View additional task information
Hovering over the task name displays all additional information like the owner, completion percentage, start and end dates, and a list of all predecessors and successors. You can directly create new dependencies in our online Gantt chart tool or edit existing dependencies.
Share your Gantt chart
If you'd like a copy of the Gantt chart to be sent via mail or used in presentations, you can do so by exporting the chart as a PDF. You can also print the chart as a hard copy. The Expand/Collapse task lists option lets you choose between an exhaustive view of tasks under each task list or a view of only the task list names.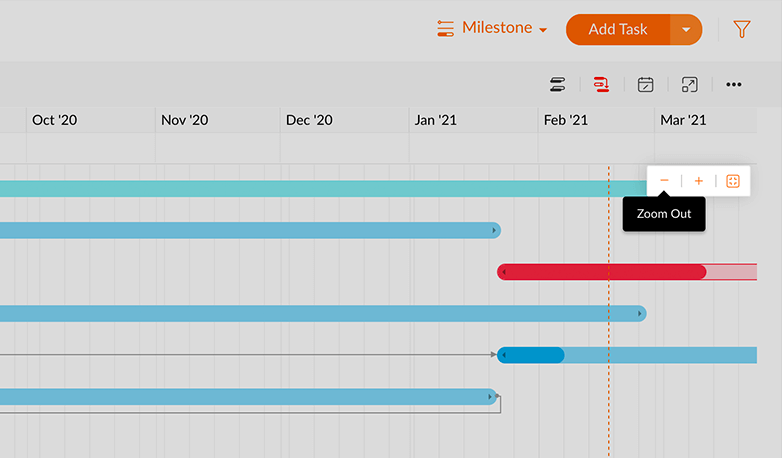 Rescale your Gantt chart
The chart can be rescaled to accommodate more Gantt bars or maximized to have a more clear view of your online Gantt chart software. Rescale the Gantt chart with the Fit and Max icon.