Create and edit dependencies
Sometimes there may be tasks that are related to one another and need to follow a particular sequence. The Gantt chart maker allows you to create four types of dependencies for such tasks, edit and delete them, or adjust the time lag between dependent tasks as needed.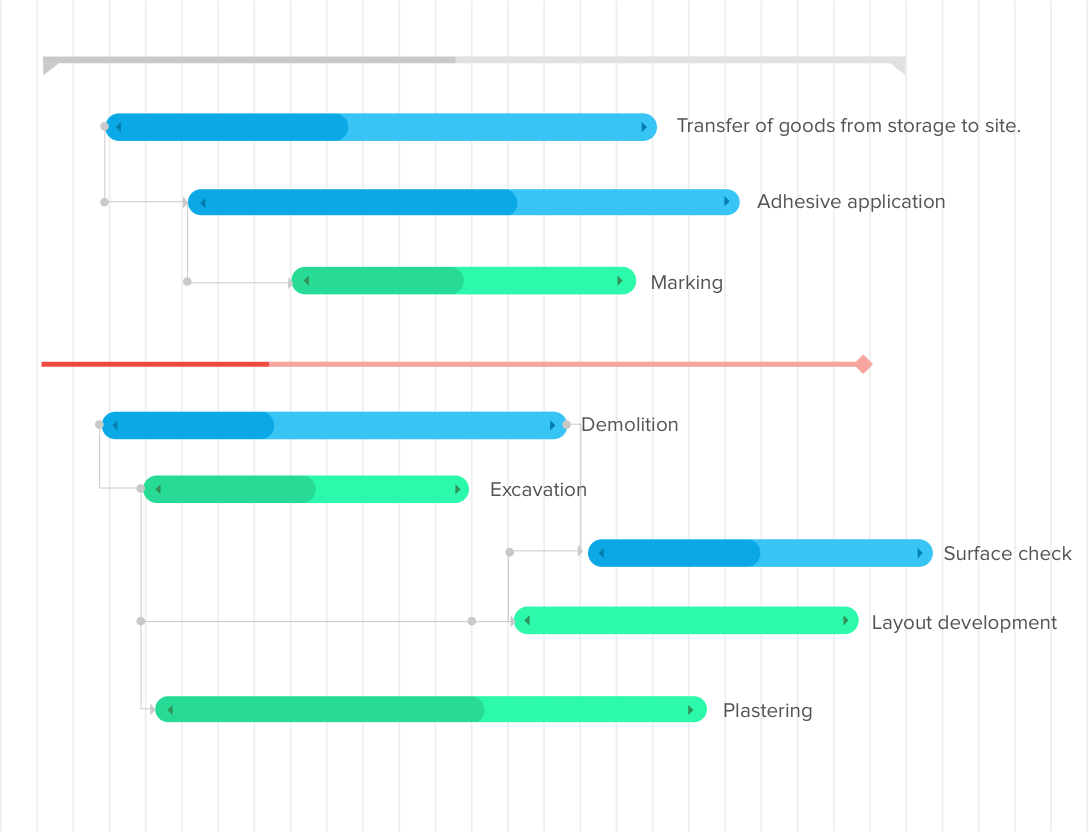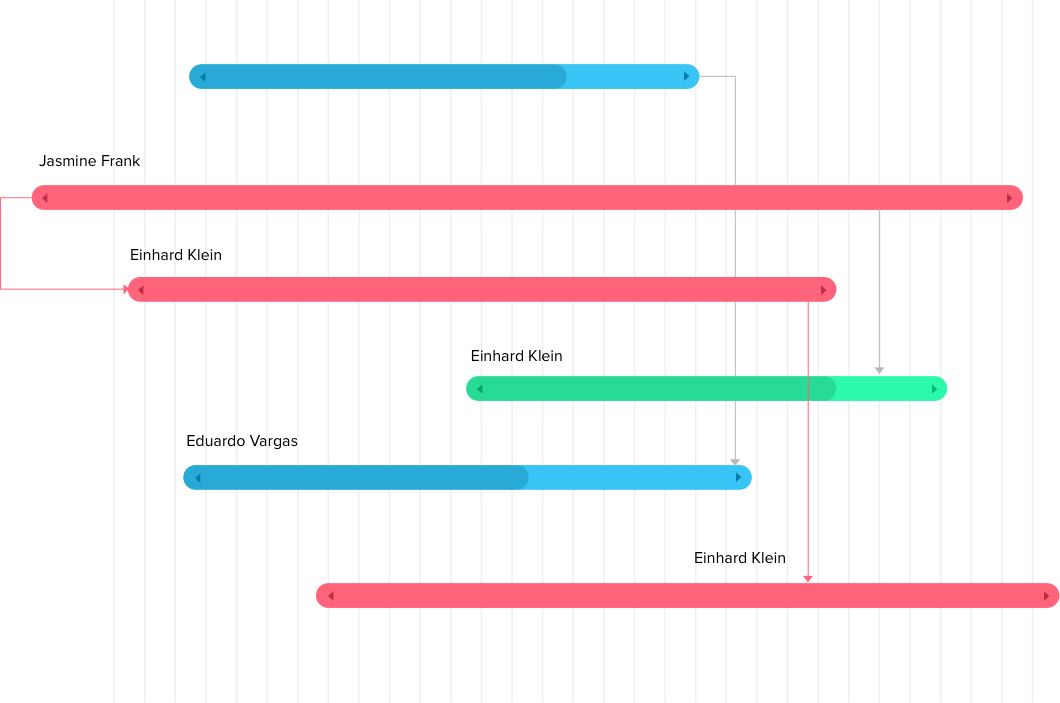 Identify critical tasks
The critical tasks in a project are those tasks that, if delayed, would set back the entire project. When you have a strict project deadline, there is no room for mistakes. Identify these crucial tasks in our online Gantt chart software so you can plan and assign resources accordingly.
Stay on schedule
Set up baselines in the online Gantt chart creator to compare the project progress over different periods of time. Apart from comparing your baseline with actual progress, you can even compare two different baselines at a time. End variance helps you identify the delayed tasks that need to be taken care of, while slippage tracks tasks that haven't started yet but have already slipped from the baseline's end date.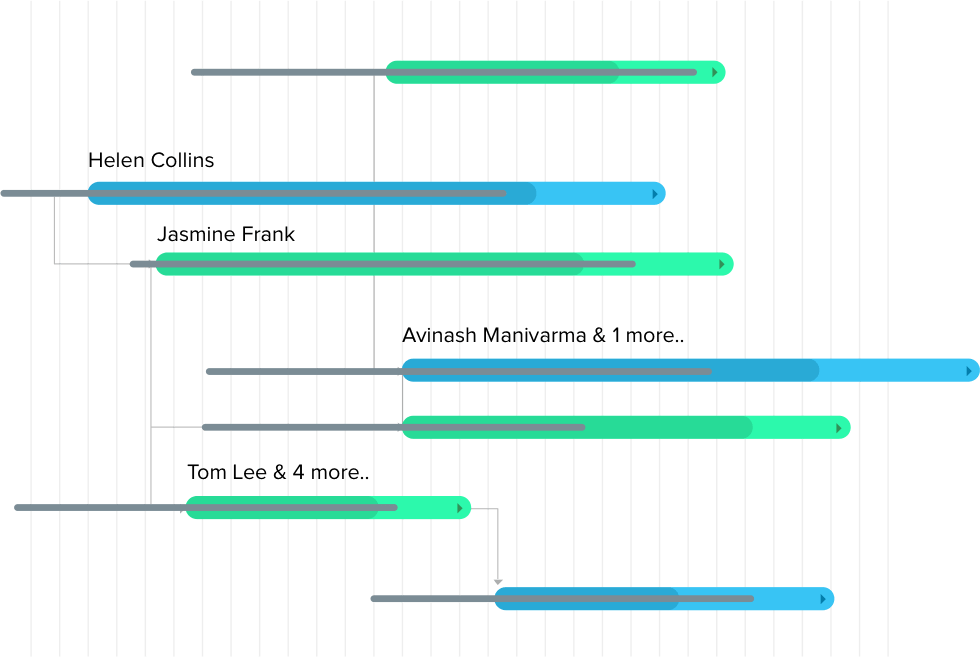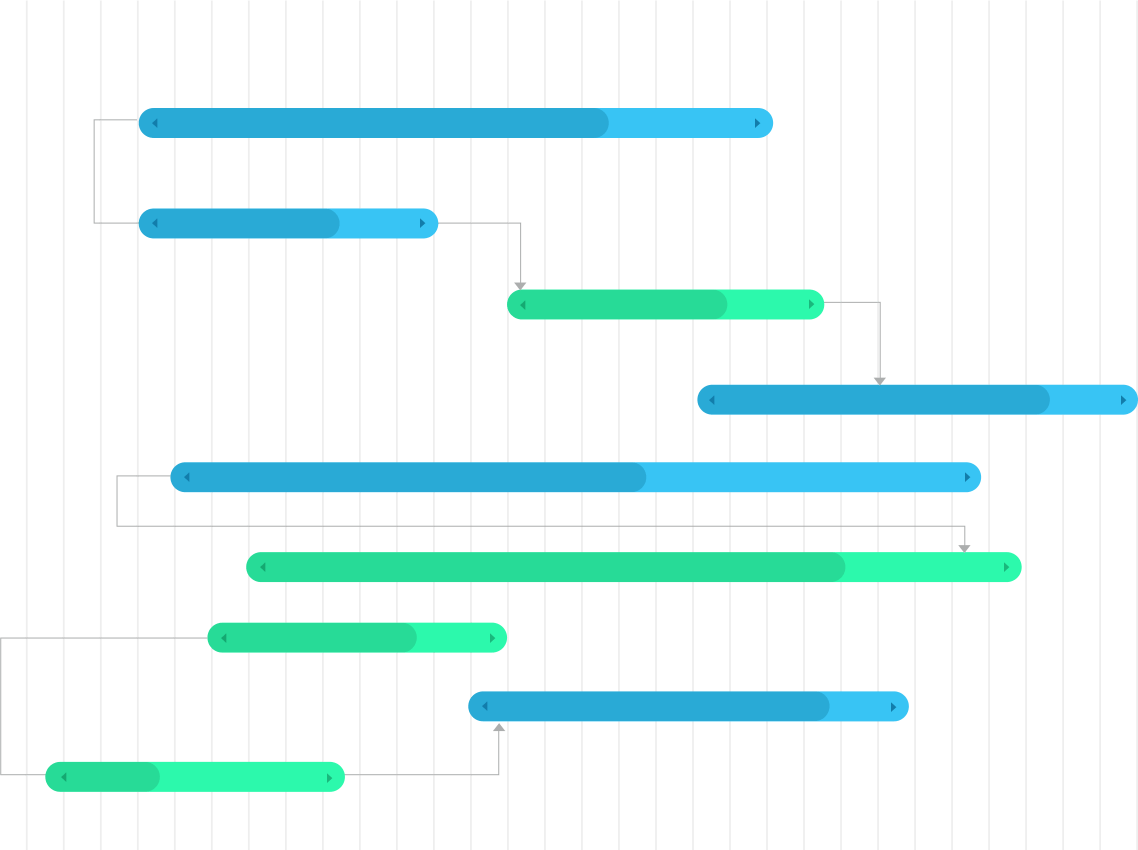 Save time with templates
Depending on the work you do, you may have to run similar projects from time to time. Setting up projects all over again from scratch can be a tiresome process. Create a Gantt chart template or convert an existing project into a template and use these while creating a new project.
Get the details right
From milestones and tasks to dependencies and progress percentage, every small detail is color coded so nothing escapes your attention. You can also customize each task bar with the color of your preference. Furthermore, overdue work items are highlighted in red, and whenever you create a Gantt chart, holidays and weekends are clearly marked out for you.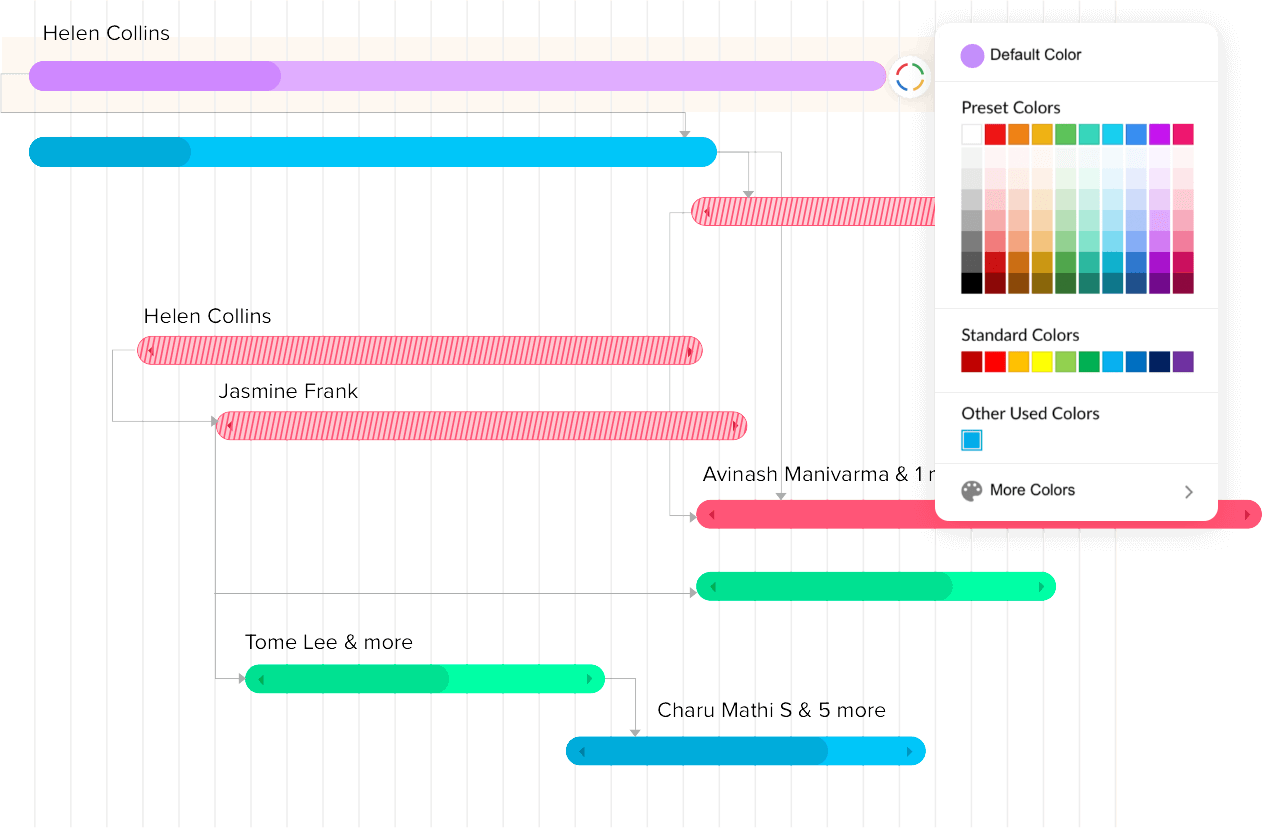 I believe that Zoho Projects is the kind of tool that every company needs to get, because its cloud services and multi-platform support makes it the best management tool ever.
Victor Navarro
MVA Engineering
Why do project teams need online Gantt chart maker?
Better planning

However simple or complex your project may be, in order to reduce scope creep and stay on track of the project schedule, you need a good project plan in place. The Gantt chart helps you visualize your entire project from a single space, plan and prioritize tasks well ahead and assign resources accordingly.

Enhanced visibility

However prompt a person is in doing their assigned tasks, the ability to see how the project is moving forward as a whole is very important. Visibility into the tasks assigned to other team members helps the team better understand how the workload is distributed, what each person is working on, and how each person can contribute to make the project a success.

Improved communication

With increased visibility comes better communication. Most errors in a project arise because of communication gaps either due to teams working remotely or an unavailable team lead. Such errors in the very least result in a project delay. However, when all the necessary information is right there in the online Gantt chart maker, everyone stays on the same page.

Increased flexibility

However well thought a project schedule you have in place, unforeseen circumstances or unavailability of resources will mean that you have to revise your project plans as needed. When all your project information is visible and available on a single page, and rearranging tasks is as simple as dragging and dropping, there's no need to worry.
What is a Gantt chart?
Gantt chart is a chart that helps you visualize your project timeline. It aids in project planning and tracking since it can be used to compare the planned and actual progress throughout the run time of your projects.
History of Gantt chart
Gantt chart is an important tool that aided in managing many worthwhile projects over the years. It not only helped control weapon production in World War I, but also in building the world-famous Hoover Dam.
When Gantt charts were first introduced, they had to be drawn on paper. And they were drawn and re-drawn so many times to reflect any small change. The project managers then started using pieces of paper or blocks to represent Gantt charts so that they can be moved when required. Fast-forward to now, we have several dedicated software like an online Gantt chart maker that can be used to build Gantt charts!
Who uses a Gantt chart?
The original intention behind Gantt charts was to plan production activities in factories. It's now being used in organizations of all sizes and across all industries. Online Gantt charts are an essential part of project management. And just like how project management is used for managing work in many verticals, Gantt charts are too.
As for the people who use Gantt charts everyday, there's a common misconception that it's useful only for managers. But in truth, every stakeholder involved has use for Gantt charts. From the various department heads using it for allocating and tracking work to the mid or entry level employees for checking and updating their progress, this is a tool that's beneficial for all roles.
Importance of Gantt charts
Here are some important reasons why Gantt charts are an important part of your project management process:
Planning powerhouse

During the planning stage, every aspect of your project can look overwhelming. This is where an online Gantt chart can help. It can easily help you allocate time to all the units of your project while making sure you stay within the planned timeline.

Visual aid

A visual representation of your project as a unit of time helps you to get an overview of your entire project at a glance. This is incredibly useful for making adjustments and tracking real-time progress.

Relationship manager

The dependencies between your various work items can affect the deadlines and progress of your entire projects. It's not possible to manually track these inter-dependencies. Gantt charts are a huge help here.
How to make a Gantt chart
Gantt charts can be easily created using any online project management software available in the market today. Here's how to make a Gantt chart:
Define your work

The first step to create Gantt chart online is to define the scope and objectives of your project. This also includes the resource limits you're setting.

Break it down

Once the objective has been established, you can break it down into task lists, tasks and sub tasks required to achieve the set goal.

Assign work

Allocate the broken down work items to the most capable resources based on their skill set and availability.

Allocate time

This is where you estimate and allocate the time for all your tasks, keeping in mind the start and end dates of your project.

Define dependencies

Once you set time for your work, the Gantt chart will be visualized. Now you can define the dependencies between the various work items so that the timeline gets adjusted accordingly.
Gantt chart templates
Templates are available in several online Gantt charts. Based on the type of organization, scope and objective of the project, and the vertical involved, there are templates available online. You can even make Gantt chart in Excel and it provides several such free templates. The most common type are industry-specific ones which are pre-populated with sample work items pertaining to a particular field.
What is a Gantt chart maker?
Gantt chart maker is a tool used to visually depict a Gantt chart online. It aids in the representation of a project time line diagrammatically, thereby making it easy for the users to understand and work with their deadlines. A Gantt chart maker, being a virtual tool, accommodates changes easily and is therefore widely used by project managers worldwide.
Benefits of using Gantt chart maker vs Excel
A quick overview of project status
Performs real-time progress tracking
Aids in optimum resource allocation
Can be used to avoid schedule clashes by working with interdependencies
Helps in identifying bottlenecks and delays
Accommodate risks and changes in real-time
Disadvantages of Gantt charts
Scaling may become complicated when it comes to larger projects
Physical Gantt charts are quite impossible to work with as they cannot accommodate any changes
May require a lot of time to set up
Regular updating is required to reflect progress
Bars do not represent the effort put into the task
Advantages of using online Gantt charts
The advantages of using an online Gantt chart maker are:
Collaboration is easy. A Gantt chart tool has features to support the new work from anywhere model of working.
Change is acceptable. A Gantt chart creator is equipped to analyse such changes smartly and edit the plan accordingly.
Dependencies are taken into account. It's easy to represent and work with the interdependencies that exist between various work items in an online Gantt chart.
Doubles as a task management tool. An Online Gantt chart is more than just a planner, it's capable of performing your everyday task management just as easily.
Delays are identified and fixed. If a bottleneck is holding back your project, it's easy to identify and fix it with a free Gantt chart maker.
Alternatives of Gantt charts
01

PERT chart

The Program Evaluation Review Technique involves a PERT chart where the dependencies between various activities are represented using a network diagram. The scope of a project is mapped and the critical path is calculated using this chart.

02

Kanban boards

These are virtual boards that track lifecycle of your work items from start to finish. It's easy to track and work with, and helps identify bottlenecks by tracking the number of tasks under each status.

03

Checklists

For simple projects, you can create check lists to simply track the open and closed tasks in your project. This can also be used to record the start and end dates, although updating them can be a hassle. This may not work so well for more complex projects.

04

Flowcharts

A flowchart that can be easily drawn to map the workflow of your tasks is another way to manage your project timeline and progress. From start to finish, the various stages and activities involved can be planned and tracked using this.

05

Calendar

A shared calendar is another efficient tool that can help. It provides an accurate representation of your project as a unit of time—similar to how you use a Gantt chart online. Deadlines, resources and meetings can also be tracked using them.
What is the price of a Gantt chart maker?
Gantt chart makers are available in all price points depending on your need and business requirements. You can start by looking for features that are important for your business, the type of software you need, ease of use and onboarding process, customer reviews and number of years in the market, support experience, integration and extension capabilities, and the price point for per user to tie everything together. There are several affordable tools like Zoho Projects which is available starting at just $5/user/month with an array of useful features. A 10-day free trial is also available for you to get acclimatized to the tool. This page on Zoho Projects pricing contains more information on the pricing breakdown of the different plans available.
Why is Zoho Projects the best Gantt chart maker?
Zoho Projects provides an intuitive Gantt chart creator that's easy to understand and work with. Features like critical path, baseline, chart scaler, four types of dependencies and export options make it a must-have tool for project managers. The Gantt chart maker in Zoho Projects is also a full-fledged task management module in itself with the ability to plan and edit tasks from the Gantt chart viewer. It also provides two different types of Gantt: chronological and milestone. Apart from these, a global project timeline Gantt is also available. Are you ready to try Zoho Projects? Just sign up to try our free Gantt chart!
Watch Video