What is a project plan?
A project plan is a critical tool for effective project management. It's a guide for project managers, team members, partners, clients, and stakeholders and the key to ensure that all members are working together with a common objective. It captures every single detail of your project down to the minute details so that the project gets executed smoothly and can be controlled in case of any deviations.
Why do project teams need project planning software?
Project planning software helps project teams to define the way they work in order to achieve their project goals.
For example, your project may be any of the following :
Develop a new product or service
Construct a house or any other structure
Design for a Brand Marketing, PR Firms, Architects, Web Designs
Consult for small businesses to accomplish their business goals
To perform project planning for such projects, you need to set proper deliverables, assign resources, track the length of an activity and estimate cost. For this, you need to have an effective project planning software which is easy-to-use and above all affordable.
To understand why teams require project planning software, we need to first know what is project planning. Project teams can track the scope or the 'why' of their project to see if their objectives are met. Project planning software further allows them to set the work or 'what' is to be done in order to meet the scope, 'who' should be involved, and 'when' the different stages of the project are to be completed.
Key features of project planning software
01

Set project baselines

The performance of the entire project is measured against the project's three starting points i,e the scope, schedule, and cost. These provide the stakes in the ground and are used to determine whether the project is on track during execution. They act as the baseline for the proper execution of the project.
02

Develop project scop

The scope statement is arguably the most important one in the project plan and should include: business needs, objectives, scope, and benefits of completing the project. It can be treated like a contract between the project manager and stakeholder, one that can only be changed with stakeholders approval.
03

Schedule project baselines

Once the project deliverables are confirmed in the scope statement, they need to be developed into a work breakdown structure (WBS) of all the deliverables. The scope includes all the deliverables that need to be produced on the project and therefore identifies all the work to be done.
04

Manage project resources

The next step of your project planning process is to allocate the budget as well as other resources to the broken down partitions of your project scope. This also includes optimum allocation work to all the employees to make sure they aren't overworked or under worked. This stage works in conjunction with project scheduling and may influence each other.
05

Communicate project plan

One important part of your project planning steps is the communication plan. A communication plan must state: who on the project wants which reports and how often, how issues will be escalated, who will solve it, and when and where project information will be stored, in what format and who can access it.
How to create a project plan online?
Project plans can be created online using any work planning software. The project planning steps include:
01. Create your work breakdown structure
Once the scope is defined, it has to be broken down into manageable partitions. In a project planning tool, you can easily record and track these stages. The milestones or major goals which are all contributing factors to the end goal, the tasks involved to achieve each milestone and sub tasks for each such task can all be set in minutes using project planning tools.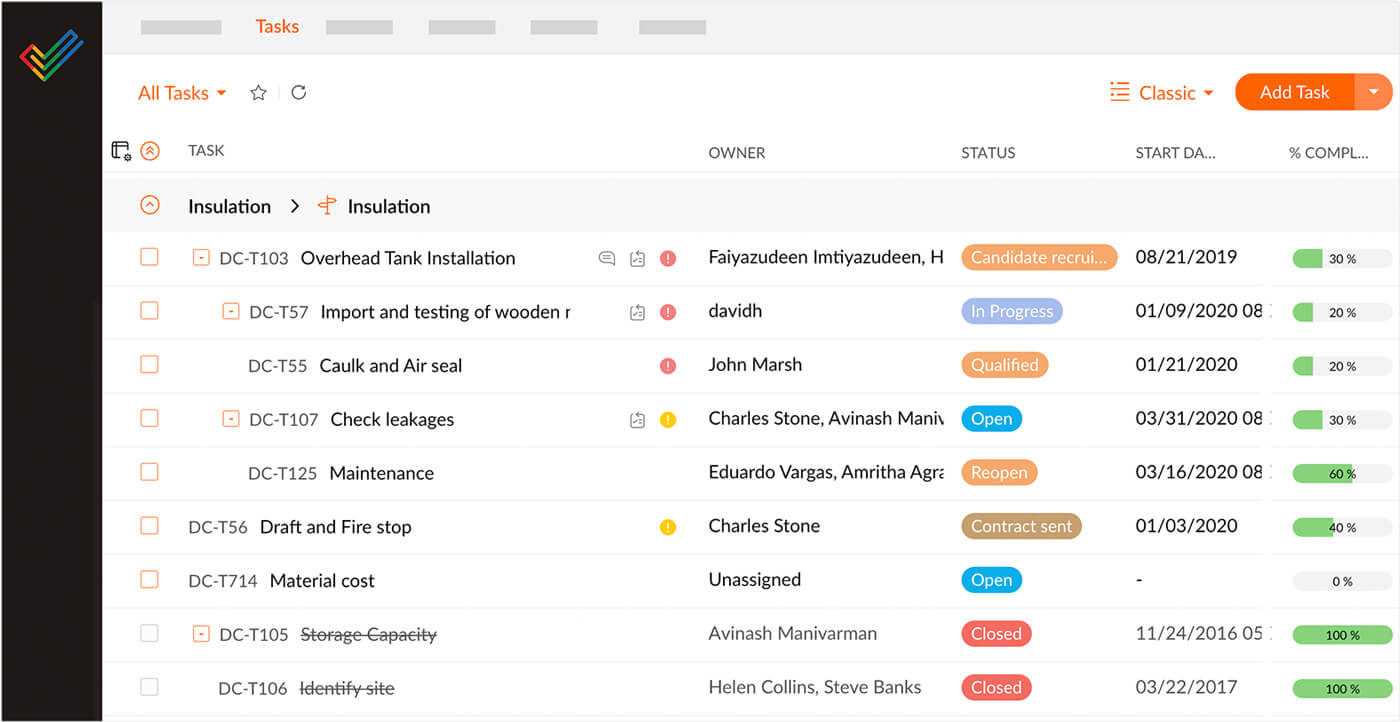 02. Schedule project using Gantt charts
The next step in your project planning process is to schedule the project timeline. It's also important to consider the interdependencies between different work items. This is where the Gantt charts come into play. Use the Gantt chart to schedule tasks, set dependencies, analyze the critical path and set baselines to compare with the real-time progress.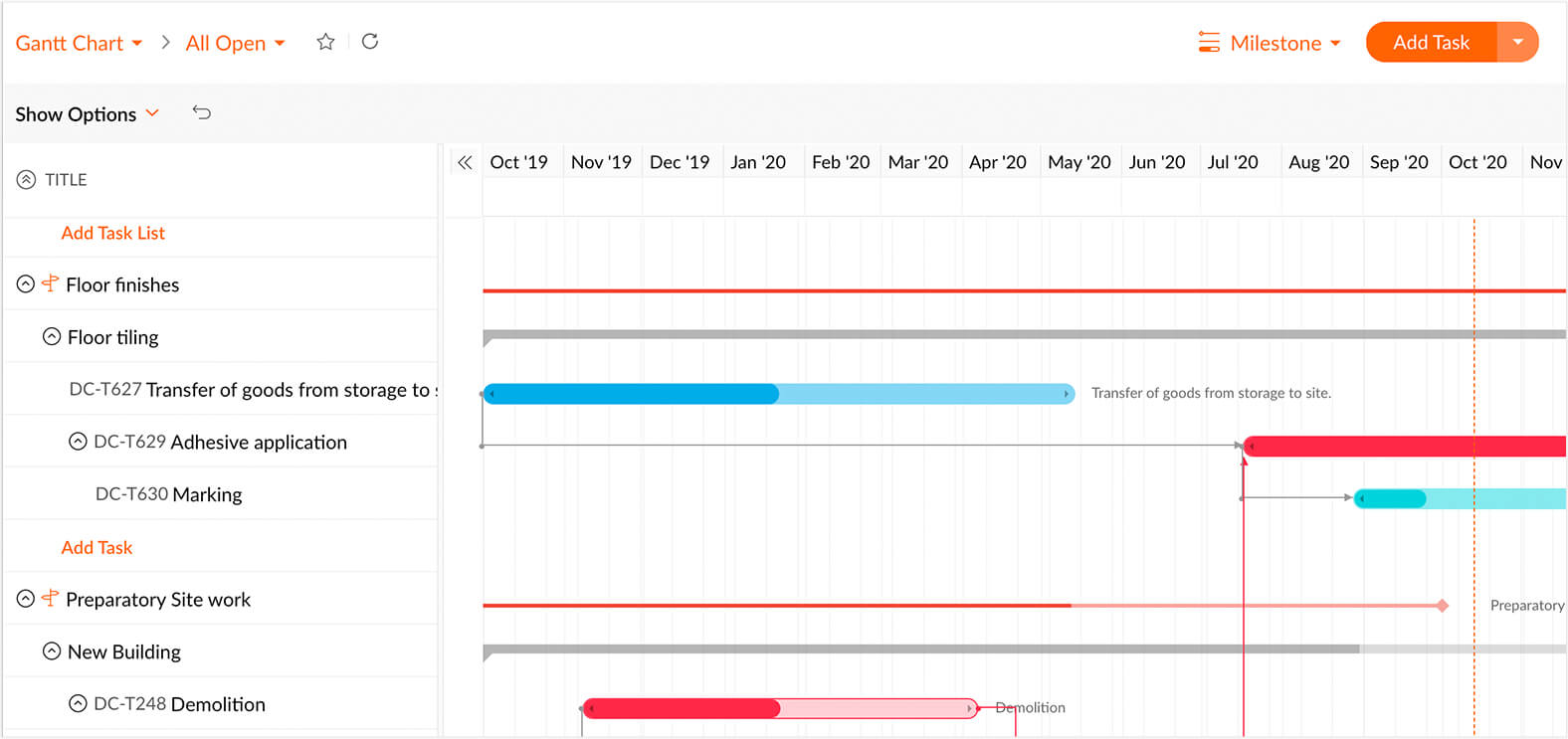 03. Allocate resources in an optimum manner
It's now time to onboard your team and other project stakeholders into the project. Taking into account the skills and specializations of your team, it's important to allocate work to the right people or team. Work planning software ensures this is done optimally by analyzing the workload of employees to check when they're available before allocating work.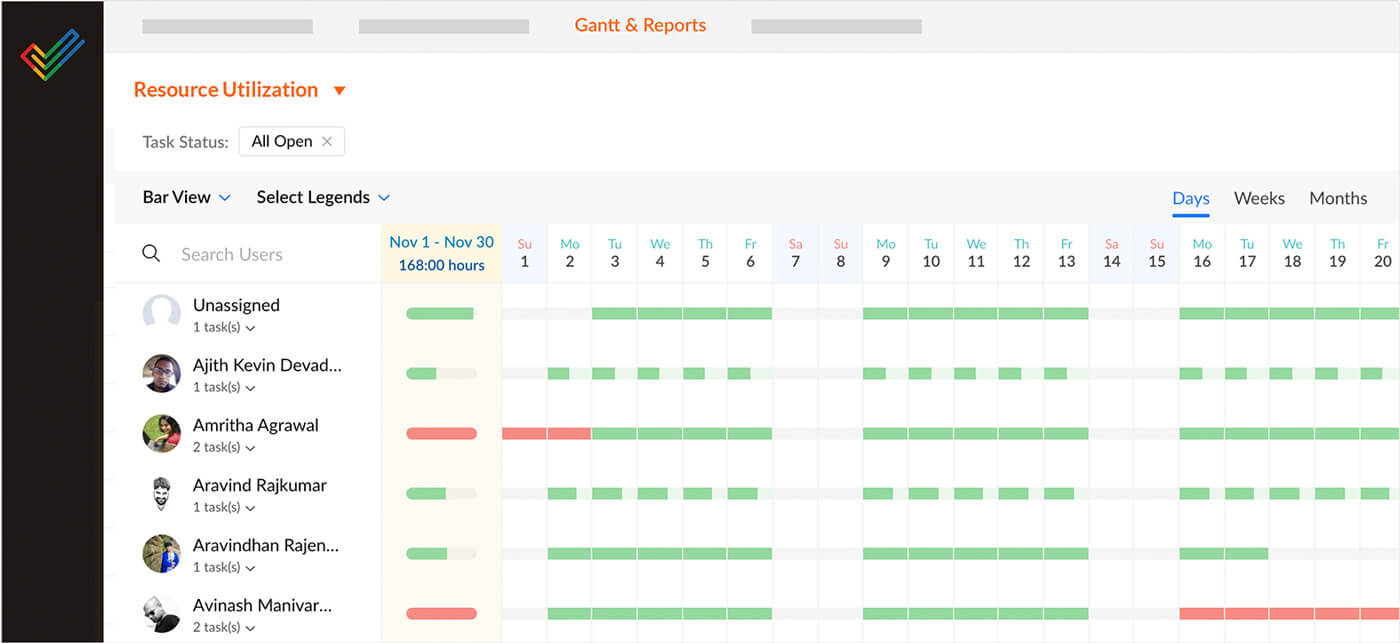 04. Set planned budget
Set a planned budget in order to compare with your actual cost or real-time spending and expenses. Avoid over extending your budget by constantly tracking the amount spent, and by using techniques like budget forecasting, EVM and planned vs actual reports. This is why setting an initial budget for your work items is important in project planning and management.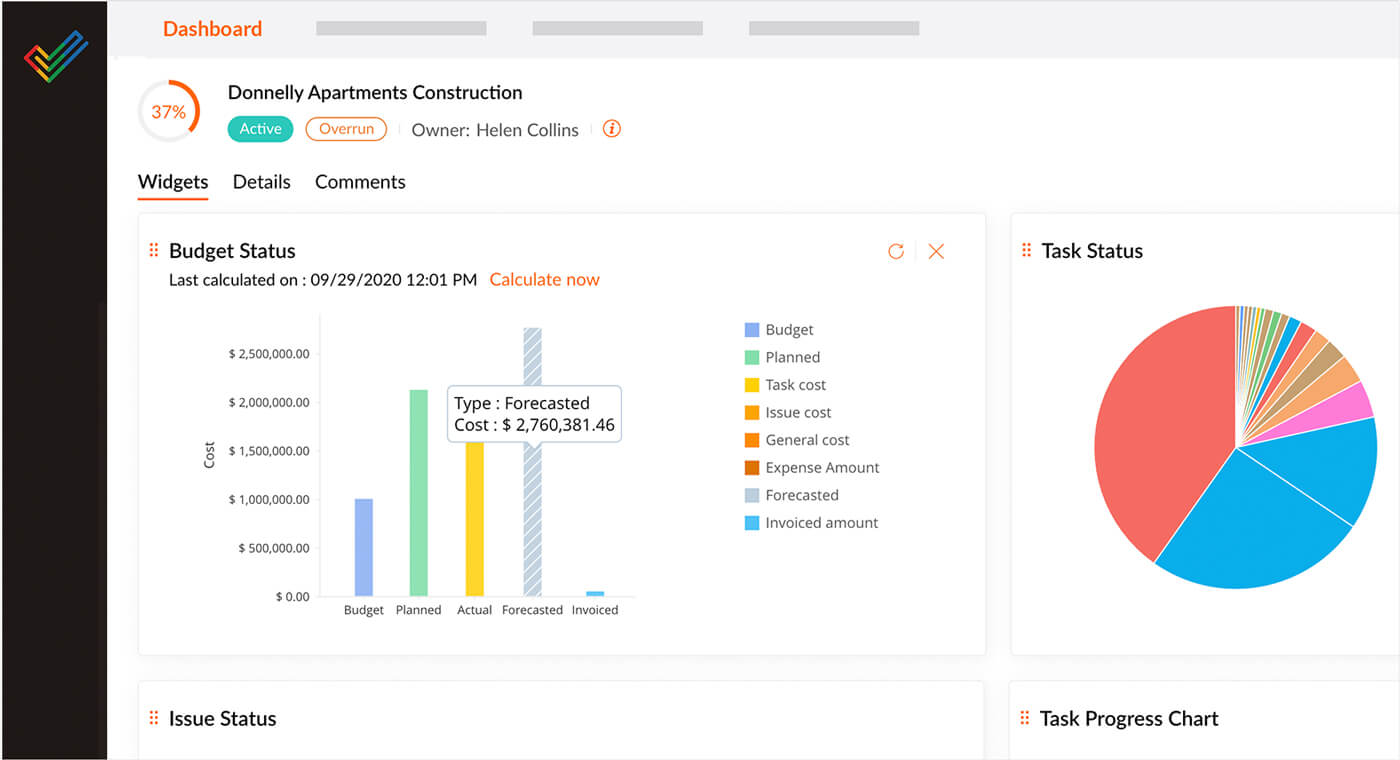 05. Plan for effective communication
The major advantage of virtual tools is the wide array of interactive collaborative features that are available in them. Ensure that knowledge flows to every single project stakeholder by planning for regular status updates, calls, virtual meetings and more. Features like Forums or social media like Feeds also ensure that conversations happen organically.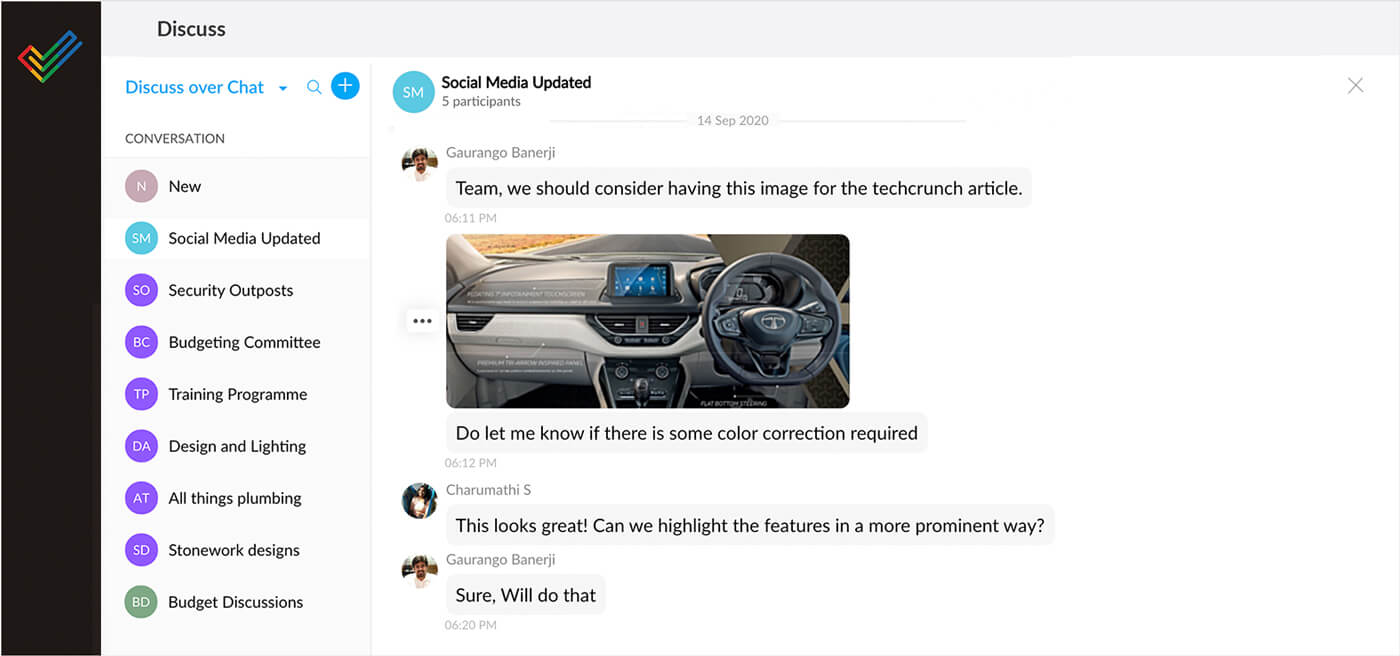 Why is Zoho Projects the best project planning software?
Zoho Projects is not only easy-to-use project planning software, it also has features that cater to every aspect of your project management process. Create a detailed work breakdown structure with its comprehensive task management module that has features like custom views and statuses, reminders, recurrence, and status timeline. Our intuitive Gantt charts with its simple drag-and-drop interface has features like dependency management, critical path, baseline, and chart scaling.
Efficient resource allocation via flexible work hours and resource utilization charts, budget management with planned vs actual reports, budget forecasting and EVM, and effortless collaboration via in-built chat, meetings, Feed and Forums are some of the reasons why Zoho Projects is the best project planning software. It's accessible not only in terms of usage with its mobile applications, but also in terms of cost. Did you know? Even our free plan has a Gantt chart viewer! Check out our pricing details here.
"The Tasks and Milestones features in Zoho Projects keep projects and deliverables organized and manageable in a single, easy-to-access location."
- Jan Hendrik Mensen, ClearDrop
Simple project planning templates
Templates save a lot of time in building your project plan, especially if your organization works on similar projects. In Zoho Projects, we not only provide an on-boarding template for you to edit and make your own, we also provide industry-specific templates. Templates like construction, software development, and automobile manufacturing are available on sign up!
We also believe in the uniqueness that pertains to your business needs. This is why in Zoho Projects, you can create a project plan from scratch once and save it as a template to be used however times you want after that. This can be a simple task breakdown template or a detailed cost breakdown—it's all up to you! Read more about the project template here.