HR automation: What to use it for and why
HR automation: What to use it for and why
Last Updated: July 22, 2020
5.2K Views
6 Min Read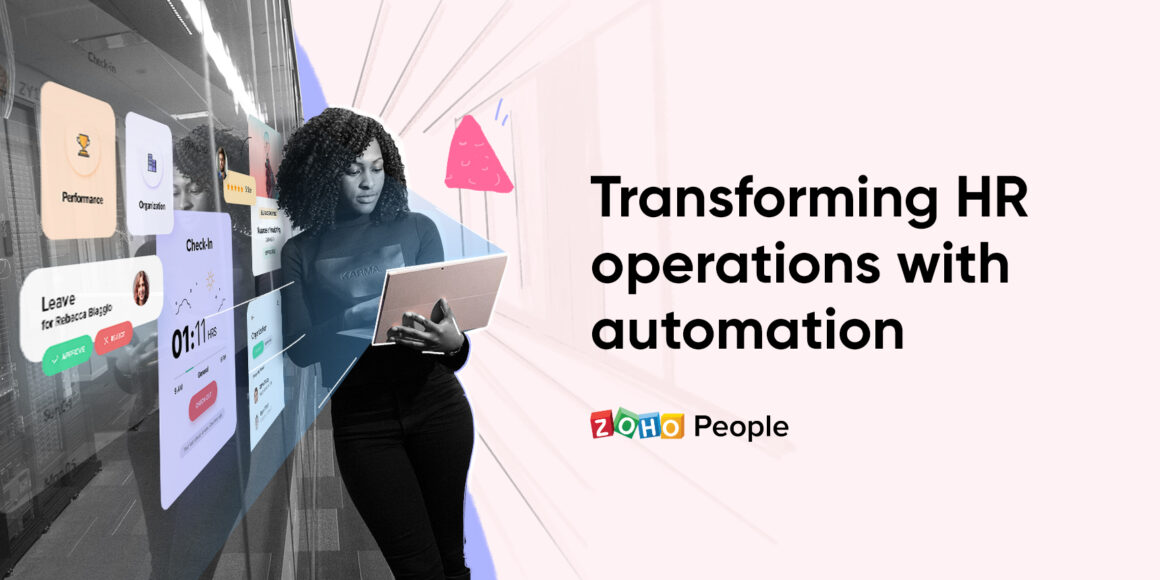 When handled effectively, human resource management can make a positive difference in the way your employees work. HR professionals play a key role in the entire employee journey, from hiring to offboarding. How you run your HR operations sets the foundation for your organizational culture and employee productivity, well-being, and happiness.
Having tedious and repetitive HR processes that take a substantial amount of your employees' time can shift focus away from more important HR initiatives. This can cause frustration to build among your workers, leading to a poor employee experience. Ensuring that the internal HR functions in your organization are updated will help you maintain satisfaction among your modern workforce. This is one reason why HR automation is becoming more popular than ever. Research conducted by Willis Towers Watson has projected that 17% of work processes will be automated by the end of 2020.
What is HR automation?
As the name suggests, HR automation is the process of automating manual, repetitive, and mundane HR tasks to make them more competitive and efficient. This helps you to cut administrative costs and focus on other pressing workplace issues, such as interpersonal conflict, diversity management,performance reviews, change management, and digital workspaces. With HR automation, workflows can be created to simplify everything from day-to-day HR operations to other repetitive tasks like sending emails, creating schedules, and more.
How does automation help your HR department?
Automation is beneficial to all areas of business, but it's especially helpful for your HR department. Without a proper system in place, your HR staff can get loaded down with manual administrative tasks. Here are four ways that automation benefits HR:
HR tech can greatly improve the employee experience in your organization. By automating all essential HR functions, your employees will be able to get their work done much faster. For example, when you automate your time-off management process, employees can apply for time-off with just a few easy steps. Then, you and their reporting managers can approve the time-off with just a click instead of being forced to go through a stack of paperwork. As everything is automated from a single system, employees can also find any information they need online.
The HR department is a major contributor to business expenditure. Automating your manual HR operations can help your organization save a substantial amount of money. Information is stored online, so you can save the money you'd previously spent on paperwork and storage space. With automation, it's much less likely that you'll miss a vital HR task. This prevents the penalties caused due to non-compliance. You'll also have more clarity on what's working and what's not working, thus saving you the money spent on initiatives that aren't producing results.
As an HR professional, you have to deal with tons of employee data. Errors are sometimes impossible to avoid when the data is managed manually. These errors can affect different levels of your organization, reducing the overall efficiency of your operations. HR automation has built-in triggers for automatic data field updates whenever there is a change. This goes a long way in reducing data errors, preventing double work, and keeping your information current and consistent.
With manual HR management, the amount of time spent completing HR tasks, following up with employees, and correcting data errors if there are any is enormous. This hinders your productivity and reduces the time spent on other strategic tasks. HR automation frees you from sending multiple emails and managing hundreds of spreadsheets. Any information you need is just a search away, so you don't have to search through piles of documents or spreadsheets.
Which HR processes should be automated?
The paperwork that comes with new hire onboarding is tremendous, and this can be overwhelming for both you and your new employees. Impediments in the process can lead to negative new hire experiences, reducing employee confidence in your organization. With that being the case, automation is highly recommended for new hire onboarding. All paperwork can be shared, signed, and saved online. Documents that give your new hires information about your company policies, their team, job responsibilities, and more can be included in an employee portal. This streamlined process will appeal to a modern workforce and benefit your organizational culture.
Time-off and attendance management
Attendance and time-off are two of the most essential HR functions, and they have to be managed well to improve employee morale and ensure compliance. By automating time-off and attendance management, your employees can:
Mark their attendance online

Apply for time-off online

Check the status of time-off requests

View their attendance data and time-off balances
Furthermore, you can:
Customize attendance and time-off settings according to your organization

Access time-off and attendance data anytime

Approve or reject time-off requests instantly from anywhere

Generate reports to understand overall attendance and time-off trends
Manually managing multiple projects at a time can be tiring and imperfect. Approvals and billing can take much longer when timesheets are recorded in spreadsheets. With timesheet automation, you can fix these issues. Recording the hours spent on different projects is as simple as switching on a timer. Your employees can send their online timesheet for approval, and you can reject or approve them right away. This makes time-tracking accurate, quick, and error-free, and in turn, that makes payroll and invoicing more efficient.
Automation can make employee training and development seamless by preventing time and geographical constraints. By taking your learning programs online, any number of employees can be trained at once. Multiple courses can be created online, and employees can choose the courses that are relevant to their job responsibilities. They can also complete their assessments online.
Automating data management can be extremely beneficial to the HR department. Employees can track and manage their own personal data, and you can just oversee it. This will take some amount of work off your shoulders. Another big advantage of data automation is that it consolidates all essential data in a single place, which can be used effectively to make business decisions. Automation doesn't mean sacrificing security, either. Everything is password-protected, so your data and workflows remain safe.
Annually conducting manual performance reviews has become a thing of the past. An automated performance management process can go a long way in helping employees to align their performance to organizational goals. It prevents the implicit bias associated with manual performance management by gaining inputs from managers and coworkers easily without the need for face-to-face meetings. It standardizes the whole process, and makes performance reviews continuous and meaningful. With a better employee review system, you can enhance the productivity of your business and improve the motivation of your workers.
Just like onboarding, offboarding also involves multiple steps, including filling out forms, handing over account credentials, and turning in hardware. Automation can make it as smooth as possible for your employees while also keeping the process compliant to all legal regulations. Data that is automatically collected can be used to generate valuable insights and improve the employee retention rate of your organization.
Final thoughts
Over the years, the strategic role of the HR department in the overall development of an organization has increased rapidly. Every HR operation should be managed effectively to improve employee experience and avoid compliance issues. HR automation can make this much simpler. Automation has the potential to free HR professionals from the burden of administrative tasks. Every day, technology is evolving to make this automation process more efficient, so HR professionals have to stay on top of current solutions to stay competitive.
Zoho People, our HR software, can automate and transform all the essential HR functions of your organization. You can use our software the way you want to meet the unique requirements of your workforce. Learn how Zoho People can automate all your HR functions here.
Also read: Why Spicejet Zoho People for better and simpler HR management
Tarika

Content Specialist at Zoho People
Leave a Reply
Your email address will not be published. Required fields are marked