Why SpiceJet chose Zoho People for better and simpler HR management
Why SpiceJet chose Zoho People for better and simpler HR management
Last Updated: November 12, 2020
1.8K Views
3 minutes Min Read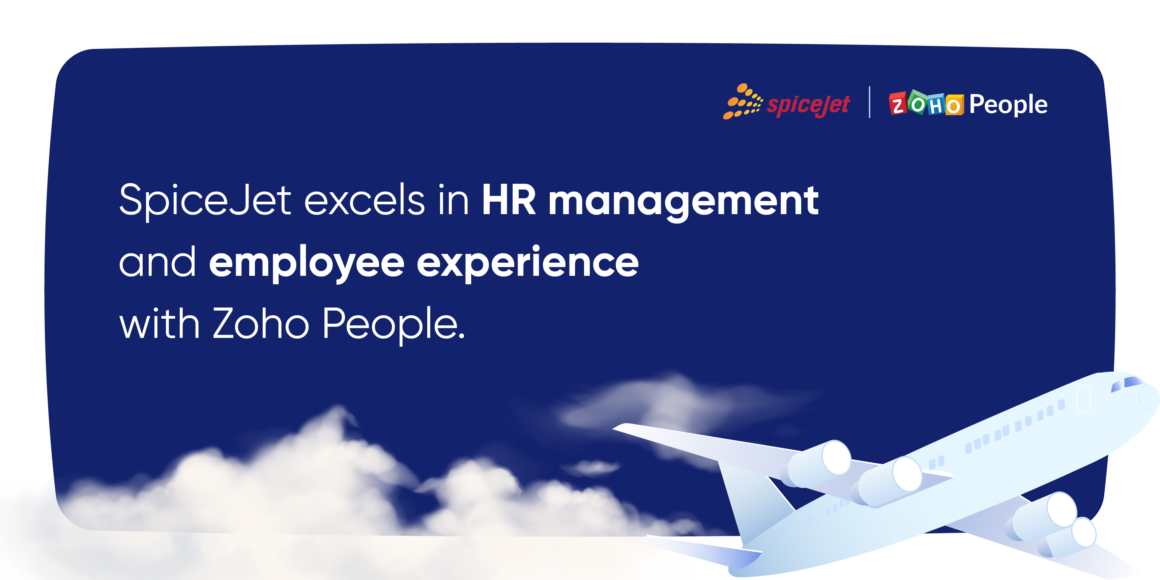 Employee experience is the new customer experience. How employees are managed in an organization can make or break its success. That's why more and more organizations are going above and beyond to provide an exceptional working experience to their employees. The same was the case with SpiceJet, one of India's leading aviation companies. They were looking for a software solution that could enhance employee experience and easily integrate with other existing systems so that their employees could work the same way without too much adjustment. That's when the SpiceJet team looked to Zoho People to automate and simplify their HR workflows.
"Zoho People was cost-effective, with great usability, and was also able to work with our other tools and existing processes." – Ashish Vikram, Chief Technology and Innovation Officer at SpiceJet Limited.
Catering to SpiceJet's dynamic HR needs
According to the Indian Brand Equity Foundation, the civil aviation sector has emerged as one of the fastest growing sectors in India during the last three years. Operating in such a dynamic industry, SpiceJet needed its employees to be able to learn and grow continuously. Having inefficient HR systems can hinder employee progress and organizational growth. With Zoho People, SpiceJet has simplified and automated all of its HR operations, from recruitment and onboarding to employee resignation and exit management. Their employees can now complete all the HR tasks they need from a single, centralized system. Some of the features in Zoho People have been customized to meet the unique policies and requirements of SpiceJet as well.
Streamlining day-to-day HR operations
SpiceJet works around the clock to improve their customer experience. With this being the case, employee shifts have to be managed efficiently in order to prevent shift conflicts and keep employees informed about their shift schedules. Zoho People has made shift management a breeze for SpiceJet. Employees are notified instantly whenever any change is made to their schedule. Also, a new feature called Shift Admin assigns a specific employee to manage the shift schedules for a set group of employees. This helps the entire process run faster and smoother.
One solution for a dispersed workforce
SpiceJet's workforce is spread across more than 30 locations, so they needed a solution that could help their HR team manage attendance and leave from anywhere. Another priority was gathering accurate time and attendance data to sync with their payroll processing. With Zoho People, SpiceJet is now able to easily handle employee work hours and leave. Zoho People's mobile app also empowers their employees to track their own hours and time off. This improves employee experience while taking some of the load off SpiceJet's HR department.
With Zoho People, SpiceJet has been able to improve the efficiency of their HR operations and provide a better experience to their employees working in different locations. They've benefited from higher employee satisfaction and straightforward HR processes, all accessible through the cloud. Check out the full case study to get an in-depth look at SpiceJet's experience with Zoho People.
If you have been using Zoho People and wish to share your thoughts on how Zoho People has helped your organization, please fill out this form. We'd be more than happy to feature your journey with Zoho People!
Tarika

Content Specialist at Zoho People
Leave a Reply
Your email address will not be published. Required fields are marked