A guide to managing time effectively using timesheets in Zoho People
A guide to managing time effectively using timesheets in Zoho People
Last Updated: December 16, 2019
2.6K Views
5 Min Read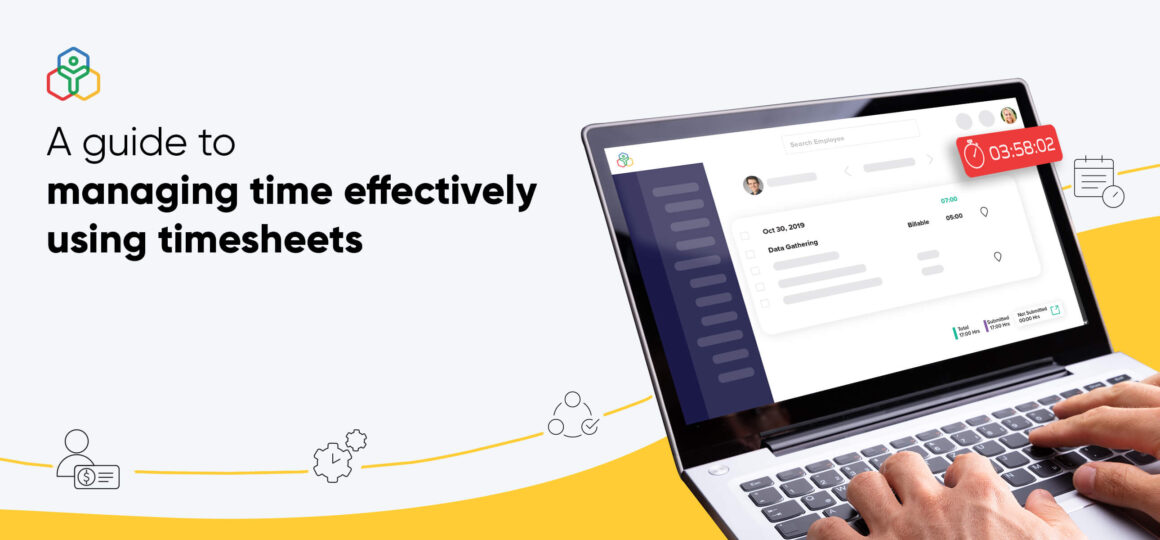 The way we work has changed drastically over the years with the implementation of remote working and virtual offices. Even so, we still fall short in our ability to easily and accurately track our working hours. According to a study by Harvard Business Review, $7.4 billion a day is lost in the U.S. in untracked timesheet hours. Looking at the bigger picture, workforce productivity and organizational efficiency needs to go beyond just tracking time; it should focus on optimizing every aspect of work—time, talent, projects, and spending—as a whole. After all, what good is keeping track of your hours if you're not using them efficiently? Organizations are looking to pay for their employees' "productive presence" more than their physical presence. The best way to avoid low productivity is to organize work, track time, and set up efficient processes.
In the modern era of technology, what time-tracking method makes more sense to ask from your employees?
Filling out a detailed form at the end of the day, describing all the projects they've worked on—which managers will have to consolidate manually every week or month
Tracking their time instantly, and automatically consolidating timesheets—sending them to managers, ready for approval
In the 21st century, the second option just makes sense. In today's workplace, choosing the right technology that manages to complement your needs is half the battle. What you need is a tool that ensures flexibility, automates your processes, cuts down on micromanagement, and empowers employees to be accountable for their work. In this pursuit, a state-of-the-art HRMS like Zoho People can make all the difference.
Time tracking within an HRMS—How does it benefit you?
From calculating time off, allocating work, checking overtime, processing payroll, and billing clients, there's a lot that HR and project managers need to take care of. A system that tightly integrates all these components, lightening the workload of HR, managers, and employees alike is key.
Here are some practical ways that Zoho People can help your workforce stay productive and streamline your project management.
Simplifying time management with Zoho People
The employee and employer
Organizing work
The ultimate goal of any business is to deliver an end product or service that aligns with the needs of their customers. Providing deliverables on schedule and within budget requires smart planning. Zoho People allows you to define your projects in terms of relevant clients, users, estimated time, and cost. You can even set up employee-specific rates.
Did you know? Zoho People lets you track leads from Zoho CRM, too.
Scheduling work and planning resources
Putting together a productive team is hard work. Using your resources wisely requires smart thinking. Often, organizations stumble with common pitfalls like employees doing duplicate work or failing to prioritize their most important tasks. With Zoho People, managers can monitor the progress of a project and make adjustments before going over the estimated cost or time for completion. They'll also be able to keep tabs on any projects that might be overstaffed or understaffed, and reassign resources accordingly. This helps in making sure that work is equally dispersed and employees are not burnt out.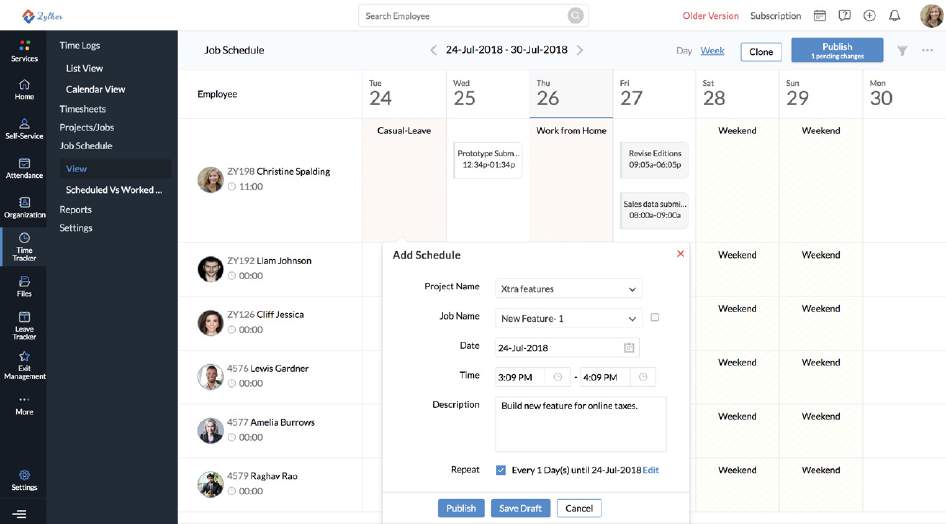 Clocking work hours: Employees take control
An HRMS application shouldn't just focus on managerial problems, it should also be user-friendly for employees. With Zoho People's self-service functionalities, employees can access the system any time to record their work. They can specify the projects they're working on, individual clients, and work items assigned to them. This way, employees can keep tabs on their time, and spend it more productively.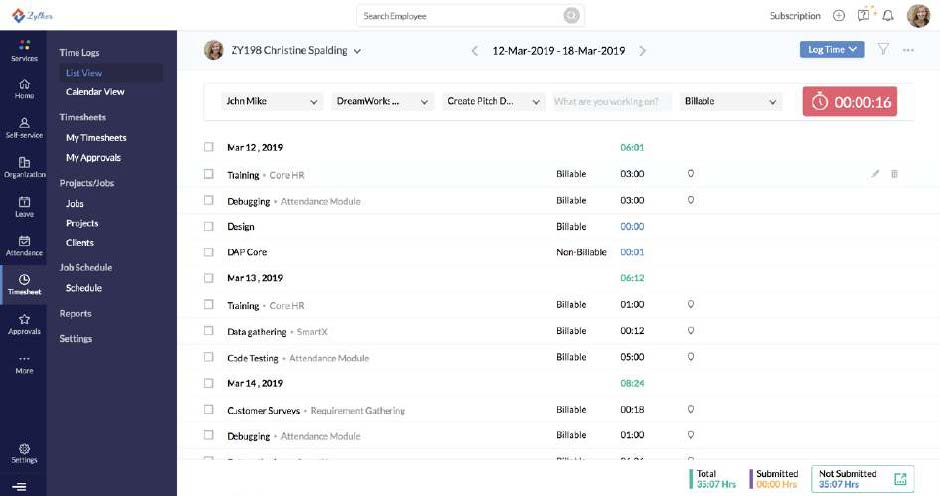 Generating timesheets and approvals
When time is clocked automatically, the potential for errors is significantly reduced. Zoho People consolidates time logs with the click of a button, segregates billable and non-billable hours along with hours that haven't been approved yet, all in a complete timesheet.
We know that signing off on timesheets manually can be a hassle for managers, and submitting them every day, week, or month can be tiring for employees. That's why Zoho People lets you set timesheet schedulers that will automatically submit consolidated reports to their respective project managers for approval. The approval path is in-depth and customizable, with multi-level approvals (up to 10 levels) which managers can use to validate and approve hours, make corrections, and send in for further processing.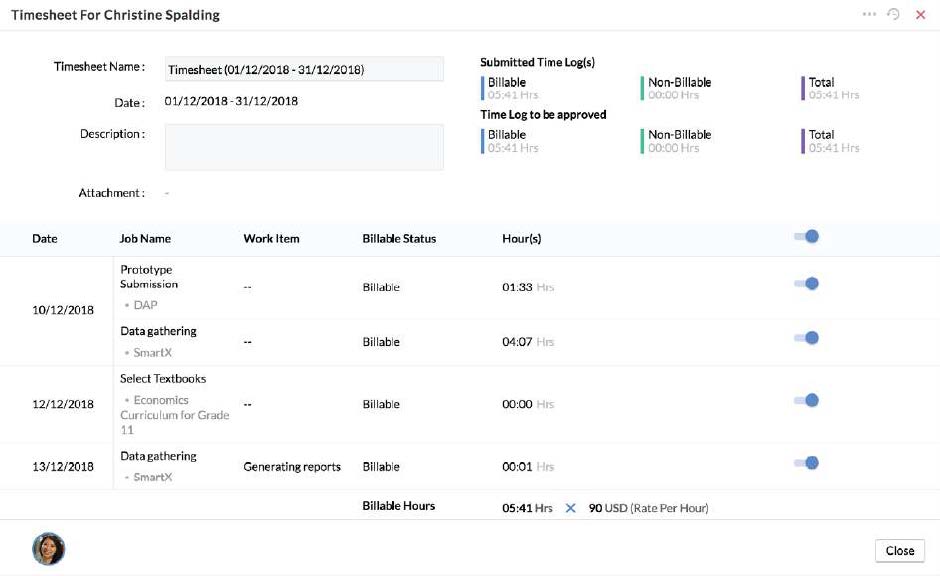 Payroll report
When you have employees working on multiple projects on different schedules, it can become tricky to run payroll. Zoho People's payroll report automatically brings together approved hours, the rate per hour, any overtime hours, and the total amount payable to employees. This report can be pushed to your payroll application and processed without errors.
Other insightful reports
In addition to simplifying your timekeeping processes, Zoho People provides a range of helpful reports using its native analytic engine—hours vs jobs reports, hours scheduled vs worked, and many more. The integration with Zoho Analytics also enables businesses to access advanced analytical capabilities, which you can use to create reports that illuminate the strengths and pitfalls of your existing processes.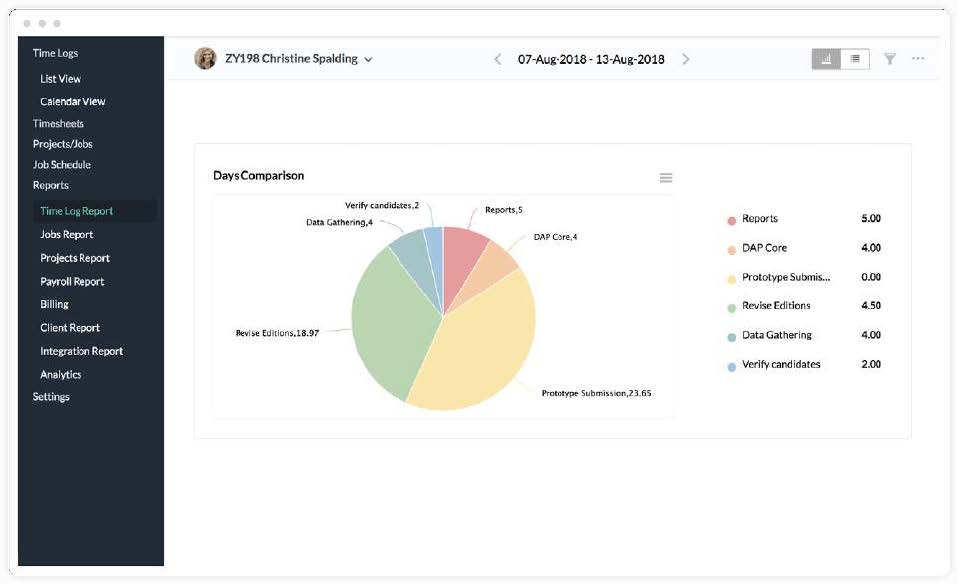 DCAA compliance
The Defence Contract Audit Agency (DCAA) reviews accounting practices and government accounting contractors. It's important for businesses who win government contracts to adhere to some set standards of timekeeping: tracking time on a daily basis, recording time on timesheets, correcting the distribution of hours, and tracking any changes made to their timesheets. Even private businesses these days look for DCAA compliance in time tracking. Check out how Zoho People complies with DCAA.
The Employer and Client
Prompt and accurate billing is key in any client-employer relationship. Shipping deliverables on time will show clients your reliability and commitment. However, this process can often be complicated by inaccurate data, which slows down processing. You need precise data about differentiating factors—individuals can be billed at different rates, and some individuals are billed differently for projects and tasks. Zoho People provides a detailed overview of the hours worked by every employee, segregating these differentiating factors and thereby reducing administrative costs and maintaining a steady cash flow.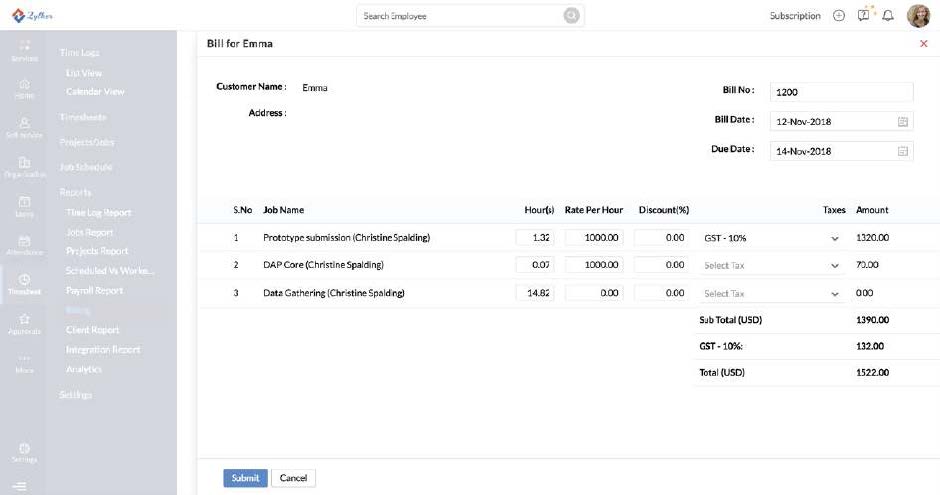 Integrations
Zoho People integrates with Zoho Invoice, Zoho Books, and Quickbooks for invoicing and accounting. Zoho Books and Quickbooks provide client portals where your clients can keep track of all transactions, evaluate expenses, and process their payments.
Time tracking is a rewarding approach that helps you, your employees, and your clients stay on top of productivity. An HRMS like Zoho People provides you with a carefully designed process, an informed allocation of resources, and error-free calculations, all making your work a lot easier.
Get the advantage of a complete HRMS
If you're an organization looking to enhance your HR operations and manage your workforce better with technology, then be sure that Zoho People can always help. Having been serving the HR community for over a decade, Zoho People provides all the tools you need to automate your HR processes and set an efficient system. From onboarding new hires to managing core HR activities like time and attendance to performance, Zoho People also provides you with insights using analytics.
Princy

Content marketer at Zoho People.
Leave a Reply
Your email address will not be published. Required fields are marked