Conversion 101: How to build and optimize a conversion funnel to double your profits
Conversion 101: How to build and optimize a conversion funnel to double your profits
Last Updated: September 27, 2021
160 Views
12 Min Read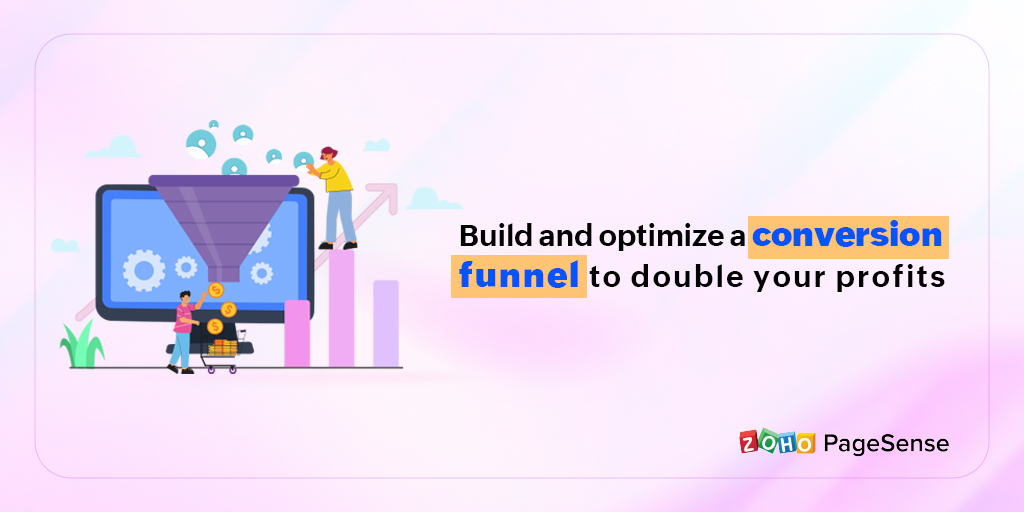 What is a conversion funnel?
A conversion funnel is a visual representation of the different stages website visitors must go through on the way to becoming customers. It's a progressive graphic record of their activities starting from the moment they land on your page until they complete the desired call to action or series of actions. A call to action could simply be subscribing to a newsletter, creating an account, signing up for a service, or purchasing a product. A conversion funnel is also known as the awareness, interest, desire, action (AIDA) marketing model or sales funnel.
The anatomy of a conversion funnel
The structure of a conversion funnel illustrates the gradual drop in the number of potential customers as they are steered through the conversion process. It can be divided into thirds—top, middle, and bottom—which helps you zero in on the right marketing strategy. Each stage depends on the level of product education a potential customer has and the closer they are to making a purchase.
Top of the funnel
Also known as the upper funnel, the top third is where your traffic comes from. This part of the funnel is crucial because knowing where your visitors are coming from may determine how well your conversion strategy will succeed. This part of the funnel is where visitors are just starting to research your product, and they may not be very clear about their exact requirements yet. When they enter your marketing funnel, they're most likely searching through multiple brands trying to figure out which one would best meet their needs.
Middle of the funnel
Here, your visitors start learning about your product. They may subscribe to your newsletter or sign up for a free trial to receive more information about your brand. This is also where they're getting a clearer vision about their requirements. They start building their expectations about what they want. As they weigh their options, they turn down the brands that do not meet their specifications. The mid-funnel is where a random sea of prospects warm up as leads.
Bottom of the funnel
Also known as the lower funnel, this is where you cultivate a relationship with your new leads. You demonstrate value so that you stay in their minds even when they draw comparisons with your competitors. This is where you slowly nudge them to make a decision and move them into the "closed" category. At this stage, your leads start looking for reviews and testimonials about your brand to make an informed decision. At this point, you can start to implement re-targeting techniques to get them off the fence.
What are the four stages of a conversion funnel?
In its most basic form, a typical conversion funnel follows a classic AIDA model: awareness, interest, desire, action. Let's explore each of these stages to better understand how this conversion funnel works.
1. Awareness
The first stage in your conversion funnel is awareness. As the name suggests, this is the stage where you launch your prospects onto your website, show them that your brand exists, and raise awareness about the products and services you offer. Your marketing strategy at this stage of the funnel should focus on enticing and educating your visitors so that they start engaging with your brand. You have many options to make this happen, but the most effective marketing channels are pay-per-click (PPC) campaigns, organic search, blogs, videos, social media, inbound marketing, content marketing, and referrals.
2. Interest
As a visitor moves past the awareness stage and into the interest stage, you'll notice that the funnel narrows down, because not every visitor who lands on your website will be interested in trying out your product. During this phase, you will need to focus on how to pique your visitor's interest in your brand. Engaging content, personalized ads, visually striking designs, and irresistible offers will come in very handy at this stage. At this point, you are still looking to educate and warm up your visitors into becoming leads. Now you can test the waters to see if your marketing tactics are working. Ask them for a small commitment, such as watching a webinar, downloading an ebook, or signing up to your newsletter, in exchange for low-threat information like their email address.
3. Desire
This stage of the funnel is where interest turns into desire. Now that your leads are warmed up and possibly considering making a purchase from you, this would be the right time to expose them to sales-focused offerings such as free trials and live demos. Visitors who have come this far and reached this stage should be considered highly qualified hot leads and nurtured with the utmost care, so they move down to the final stage of the conversion funnel. Product demonstrations, case studies, customer testimonials, and webinars showcasing your expertise can be precious at this point. You can also offer to add them to an exclusive private group, because providing a community for those who show a keen interest in your product or service can move them from prospect to customer.
4. Action
The final—and, arguably, most significant—stage of your conversion funnel is action. Up until this point, your visitors have travelled through your funnel by completing micro-conversions, such as creating an account, signing up for your newsletter, or downloading your ebook. Now, it's time to accomplish your ultimate goal—persuading them to convert and make a purchase. This is exactly when you need to come up with a trigger that'll push your customer to take the plunge. This push is the call to action (CTA). This could be in the form of an undeniable offer or discount that comes with a "valid only for a limited time" tag attached to it. Your CTA needs to create a sense of urgency in your visitor making it hard for them to resist.
Keep in mind that only a small percentage of your visitors have landed on your checkout page because of the churn at each stage of your funnel. This is why your nurturing tactics at every stage will have a significant impact on your overall conversions.
How to build a conversion funnel
Building an effective conversion funnel cannot be done overnight, but the sooner you begin, the better it will be for your business. Let's delve into the six steps that will help you create a conversion funnel that turns more of your visitors into customers.
1. Understand your target audience
The more data you collect about your target audience, the more effective your conversion funnel will be.
You can sign up for a Zoho PageSense account to observe and analyze your visitor behavior. Whether you want to find out what works for your website, why visitors behave a certain way, or what it takes to convert a visitor into a customer, PageSense has the right tools for you.
With heatmaps, you can identify the parts of your website that grab your visitor's attention. Session recordings give you video playbacks of visitor interaction with your website in real time. These key website metrics will help you better understand your buyer personas and refine your conversion funnel.
2. Capture and engage your audience's attention
It's one thing to understand your audience, but it's another thing entirely to understand how to grab their attention and communicate with them effectively. The best way to make sure your content reaches your target audience is to head down the organic road.
Your organic traffic can include non-paid social media traffic, SEO traffic, referral traffic from backlinks on other sites, and direct traffic from people who know about your brand. You should also branch out and try your hand at other different forms of content, like videos, podcasts, social media campaigns, infographics, and more. Besides these, you can create and add polls and pop-ups to your website using PageSense.
Once you have your audience's attention, you can engage with and persuade them to purchase your service or product when the opportunity presents itself.
3. Build a landing page
The content you post and the ads you run should steer your prospects closer to their purchasing decision. This is where your landing page comes in. A landing page is an indispensable part of your conversion funnel. It is, in fact, your first opportunity to reveal your brand to visitors and woo them, so your copy should be catchy and compelling. You should also include a strong call to action that clearly indicates the next course of action with a form to capture your visitor's information, so that you can continue to engage with them.
People might arrive at your landing page from different channels; they might click on an ad, follow a link from your social media handle, sign up for a webinar, or download an ebook. It's always wise to keep track of the source from which visitors arrived to your landing page, so that you can prioritize the ones that bring in the most traffic and try to improve the ones that struggle to bring in visitors.
4. Nurture your leads through email marketing
Now that you've procured leads from your landing page, you'll need to engage with them to strike a cord and nudge them to your desired finish line: the purchase. You can create an email drip campaign to send updates, offers, and other valuable content from time to time. In fact, you can inform your prospects by sending them industry best practices, strategies, useful tips, and other educational content, rather than just promotional content. But before you deliver your final sales pitch, ask yourself, "What obstacle is stopping my leads from buying my product?" Once you have a clear answer, end your drip campaign by making a terrific offer that'll convince your leads to make a purchase right away.
5. Close the deal
Now that you've made your best offer and your lead is exactly where you want them to be, take the final plunge and close the deal. The key here is to make them feel like they've made the right decision by choosing your brand. However, keep in mind that you are now responsible for providing proper support post-purchase so that they don't regret buying from you.
6. Stay in touch
Once your prospect turns into a customer, you can't just forget about them. You need to keep the communication going. Send a thank you note for their purchase and tell them how much you value them. You can send them regular product updates, promotions, or coupon codes that are exclusive to paid customers, and other valuable content that can help them use your product or service more effectively. You can also ask for their consent and add them to your social media circles. This will instill a sense of community in them that will eventually build brand loyalty.
How to track your conversion funnel using Zoho PageSense
If you're looking to experiment with different funnel variations, visualize them, and track their performance, then give Zoho PageSense a try.
All you need to do is create a simple funnel analysis experiment and you'll be able to see where your visitors are dropping off the most, helping you to identify the key pain points in your conversion funnel.
Moreover, setting up a funnel analysis experiment in PageSense is a breeze. Just enter the URL of the pages you want to include as funnel steps. Then, within a couple of minutes, you can launch the experiment and begin tracking your visitors' steps through your website.
PageSense's funnel reports will show you how many users are getting through each stage of your funnel, which pages they use to enter your website, where they navigate to next, and which pages they decide to leave without converting. With this information, you'll discover all the bottlenecks that reduce conversions at every step.