Accepting an Estimate
Learn how your customers can accept an estimate via client portal or to manually update the estimate when your customer acknowledges.
IN THIS PAGE…
Client Portal
Estimates can be accepted by your customers through client portal.
Enable Client Portal for your customer in Contacts.
Your customers can login to their Client Portal.
Estimates you sent will be displayed for your customers in the Client Portal.
Once they are happy with the quote, your customer can accept the estimate in the Client Portal.
As soon as the estimate is accepted, the updated status of the estimate will reflect in your Zoho Invoice account.
Marking an Estimate as Accepted
The estimate can be manually marked as accepted/declined by you on instruction from your client.
To mark the estimate as accepted, the estimate should have already been sent to the customer.

Once your customer agrees for the deal, you can manually update the estimate as accepted by selecting the More drop down and clicking on Mark as Accepted.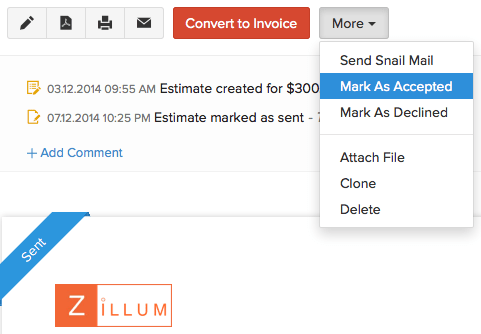 Once the estimate is accepted, you can invoice your customer by clicking on the Convert to Invoice option
Action on Acceptance
Automate the invoicing process after your estimate is accepted. You can choose to have the invoice created automatically and save it in draft or to directly send to your customers.
Navigate to Settings > Preferences and select the Estimate tab, choose one of the options provided under Automatically Convert Accepted Estimate to Invoice section.
---