Zoho CRM integration with Microsoft Office.
Whether it's address labels or form letters, month-on-month bills or mass emails, sharing tailored information with multiple recipients can be quite a challenging task. The Mail merge feature automates creating hundreds of such customized documents to share relevant information with your target audience easily in less time. And with all your business contacts stored in CRM, the Zoho CRM Mail Merge functionality helps you in creating customized documents based on your CRM data instantly. Create and share personalized and pre-addressed documents for multiple recipients using Zoho Writer and Zoho CRM Plug-in for Microsoft Office.
Create personalized module-based templates.
Create mail merge templates for different modules in your CRM using Zoho Writer or Zoho CRM Plug-in for Microsoft Office. Give your document a personalized look by mapping respective standard, custom and look-up fields as data variables, and save time in processing hundreds of personalized documents in few clicks.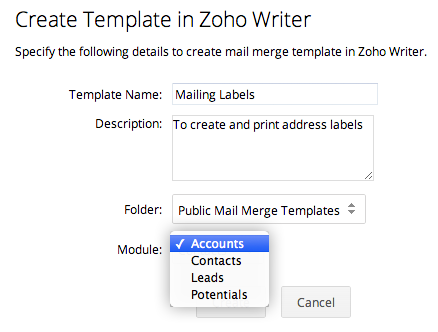 Get updated user info in merged documents.
With a perfect sync between the Microsoft Office Plug-in and your Zoho CRM, merged documents populate updated record information from CRM, without having to enter your CRM account. Even better, with Zoho Writer you can save time in juggling between different platforms, yet ensure updated record details in merged documents.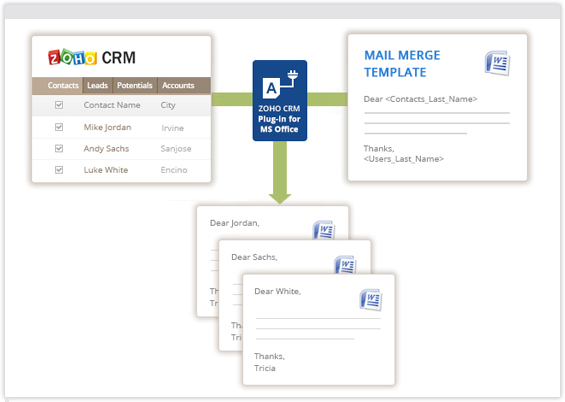 Manage templates in secured folders.
Create and upload your mail merge templates to secure folders in Zoho CRM. What's more, you can also define access to selected users based on tasks involved and organization hierarchy.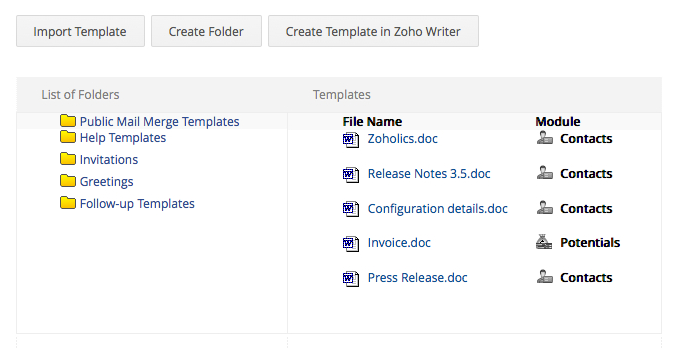 Refer to the following table and choose your preferred mode of creating merged documents from Zoho CRM.
| | |
| --- | --- |
| ZOHO CRM PLUG-IN FOR MS OFFICE | ZOHO WRITER |
| Suits best if you are looking for an offline user-based option. | Suits best if you are looking for an online cloud-based option. |
| Choose Plug-in to create mail merge templates remotely and import into your CRM whenever you need. | Choose Zoho Writer when you want to create mail merge templates and share with your team from anywhere anytime. |
| With Plug-in for Microsoft Office, you can save, edit and print the merged documents. | With Zoho Writer, you can save, edit, print and also email the merged documents. |
| Works best on Internet Explorer 6 and above versions. | Zoho Writer is browser independent and works well on any browser. |