What's New in Zoho CRM 2016
We are pleased to present to you the all-new and improved version of Zoho CRM! We constantly work towards enhancing Zoho CRM's user experience, and as part of these efforts, here is a much simpler and more attractive version of your favourite application. What's more, in addition to the improved interface, there are many new features which are guaranteed to make sales activites more fun and effective.
Browse through this What's New guide to learn some of the top new features in Zoho CRM 2016.
See also: Zoho CRM 2016 - A Transition Guide.  
 Email
Email is one of the primary ways in which you communicate with your customers. Therefore it is vital that you are able prioritize your emails from customers and measure the effectiveness of emails sent from Zoho CRM. Following are the email enhancements that help you achieve exactly that.
 Email insights
Email Insights in Zoho CRM allows you to measure the effectiveness of emails sent from Zoho CRM by offering email statistics. With email insights enabled in your account, you will be able to do the following:
Monitor email response contextually
Use email status to filter records
Gather email analytics
Track email template performance
Learn more: Email Insights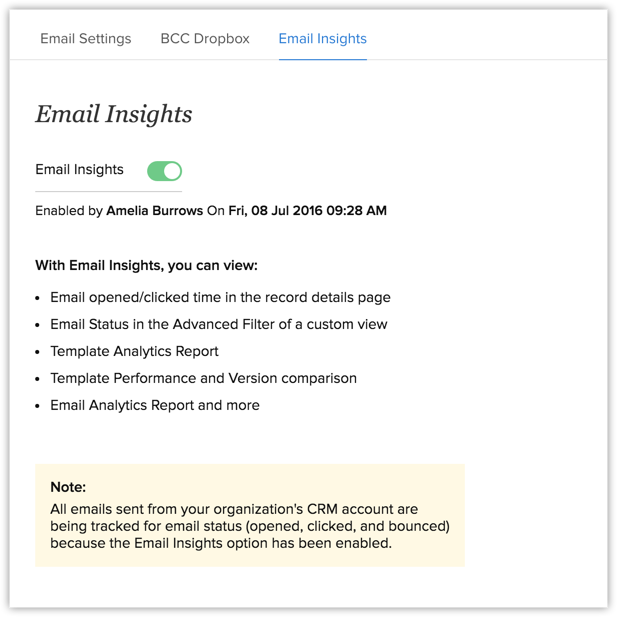 SalesInbox for Zoho CRM
Prioritize your email from customers so that you do not miss important emails from top customers. Following are the major features of SalesInbox from Zoho.
Email Prioritization
Filter emails based on CRM data
Contextual sales data for every email
Learn more: SalesInbox Quick-start Guide 

 Customization
Customization is a vital aspect of any CRM. In Zoho CRM, you can customize a layout by adding fields, sections and so on. You can also customize a related list, search layout, a list view, create custom buttons. Zoho CRM 2016 further extennds the power of customization with the introduction of page layouts for modules.
 Page layouts
Implement multiple business process by creating page layouts in your CRM account. With page layouts, you will be able to create new layouts for different products/services in your organization, and manage workflow processes for the same. When records are created in a module, you can choose which layout they should belong to. Besides these, you can automate record assignment, create reportsa and dashboards, create custom views for a module based on the page layouts.
Learn more: Working with page layouts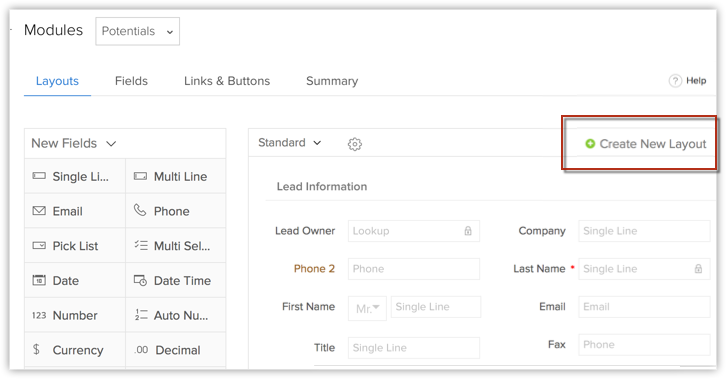 Page layouts will be available both in the older version of Zoho CRM as well as Zoho CRM 2016.
 Sales productivity
Zoho CRM 2016 introduces more features that will help you make better sales. They are as outlined below:
 Advanced Filters
The advanced filter is a powerful search tool that enables you to extract valuable sales information in no time - information, which could otherwise take you much longer to find out. With a regular filter, your search is based on field values - for example, all leads whose State is "California". This is pretty straightforward and ordinary. Whereas with advanced filters, you can run intelligent searches based on the activities associated to the records, such as leads "that have no open activity associated to them". Or "potentials without any notes for the last 6 months".
Learn more: Advanced filters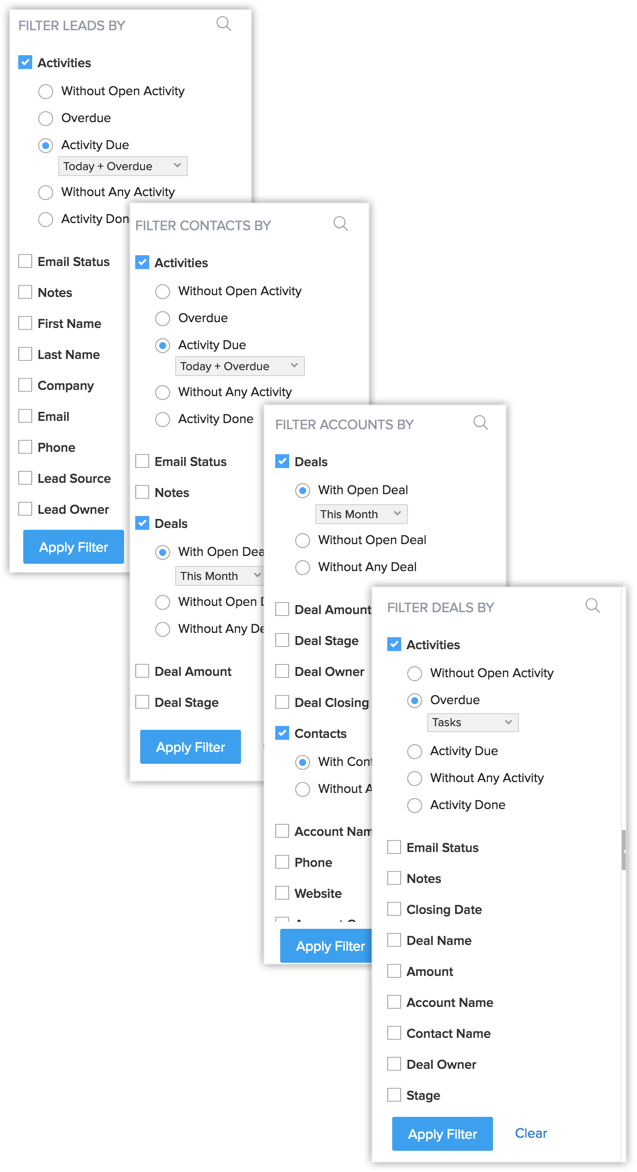 SalesSignals
SalesSignals is a feature in Zoho CRM 2016, which will keep you informed realtime about your customers' interaction with your brand across multiple channels. For example, when a customer has opened your email or you have missed a customer's phone call, SalesSignals will promptly notify you of the details realtime. SalesSignals can be configured for:
Incoming email
Email insights (opens, clicks, bounces)
Missed call
Missed chat
Zoho Survey responses
Zoho Campaigns (opens, clicks, bounces)
Zoho support tickets
Learn more: SalesSignals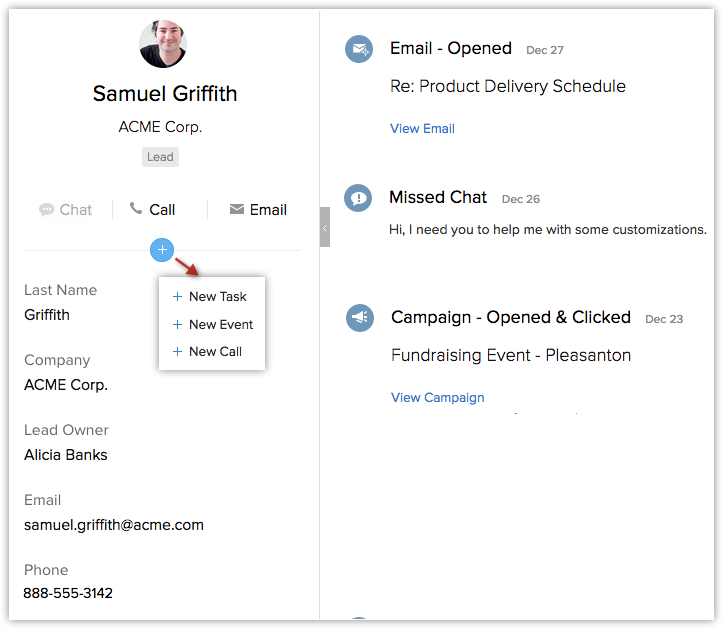 Deals Stage View
The Stage view is helpful when you specifically want to see view deals categorized by their stages. A single glance at the Stage view will tell you which deals are in the Closed Won stage, how many in the Closed Lost stage, Negotiation/Review stage and so on and so forth. This view is also applicable when you customize the Deal Stages.
Learn more: Deals Stage View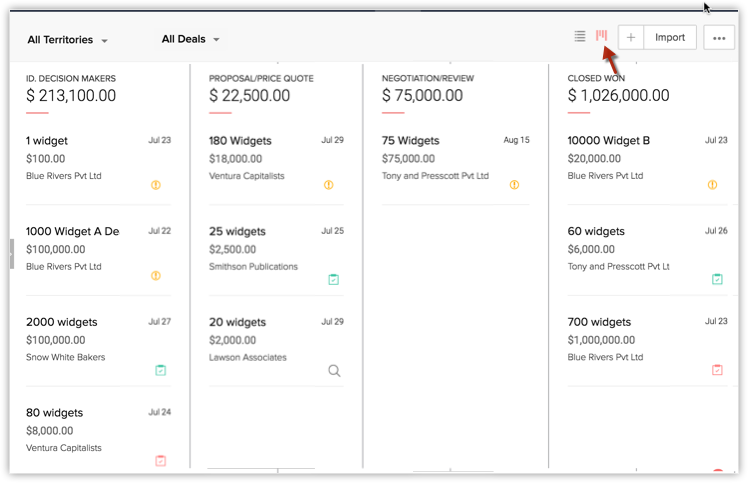 Custom Schedules
Schedules are automated user-defined actions that are performed through custom functions either at a particular time or on a recurring basis. Integrate your CRM data with your company's website/intranet, any third-party applications or other Zoho Apps using Schedules. You can periodically sync up your contacts with other applications, push your CRM data to your legacy systems and also alert users about any idle leads or deals with Schedules.
Learn more: Custom Schedules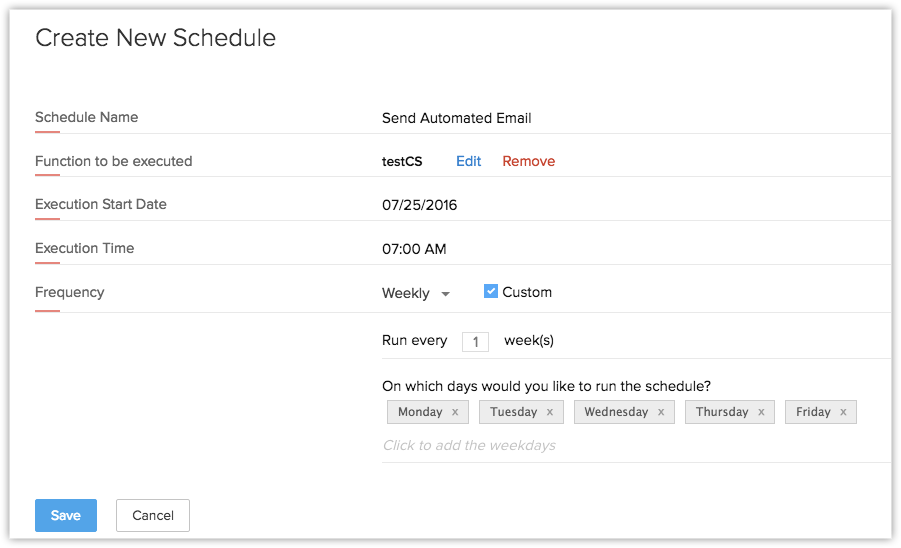 CalDAV
Gone are the days when you had to log in to Zoho CRM every time you wanted to check your work schedule for the day. You can now receive alerts about the next staff meeting on your iPhone or even your Apple Watch, without having to log into Zoho CRM!
Zoho CRM supports Calendar synchronization with any iOS device (iPhone, iPad, MacBook as well as Apple Watch) via CalDAV configuration. The result – any event that you create in Zoho CRM will be synchronized with your iOS Calendar and vice versa.
Learn more: Calendar Synchronization via CalDAV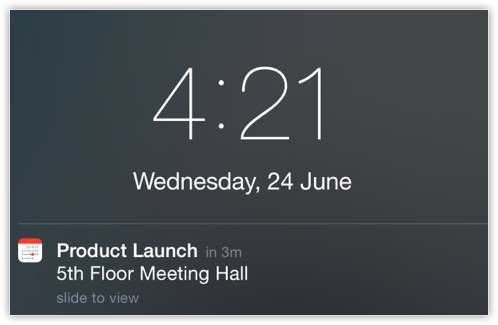 Security and data administration
As your organization expands, you may have to add more people to your CRM account. When you do so, it's important that you take sufficient security measures in order to ensure privacy of data. Now in addition to its existing features, Zoho CRM introduces record-level sharing.
 Record-level sharing
Zoho CRM provides different levels of data sharing, one being the record-level sharing where users can share accounts, contacts and potentials with other users in the organization. The record-level sharing is just an extension to the already existing sharing rule applied to a record. You can share individual records without having to change the profile details of other users.
Learn more: Record-level sharing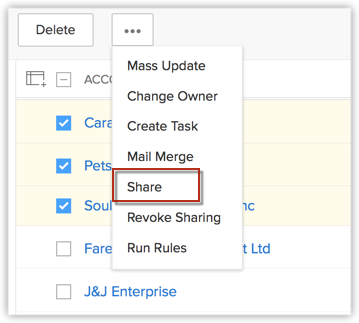 CRM and beyond
Zoho CRM offers integration with several third party applications as well as other Zoho Apps. In addition to this, following are a couple of ways in which you can extend the power of CRM.
 Extensions from CRM Marketplace
Zoho CRM 2016 now offers a Marketplace from which you can find and install extensions for various needs. Marketplace is available in the Enterprise Edition.
Learn more:Installing Extensions from CRM Marketplace 
 Zoho CRM for Office 365
Now add users and sync your calendar from Office 365 to Zoho CRM.
Learn more: Zoho CRM for Office 365 
 Other enhancements
 Gamescope
Gone are the times when you have to wait for the weekend to have some fun! Zoho CRM's inbuilt gamescope feature is guaranteed to make your work day a lot more interesting and memorable than usual. Run sales contexts for your sales teams, set criteria for winning, and award winners with trophies, badges and cool titles. With Gamescope, you can motivate your team not just to do better sales, but just to feel better about themselves.
Learn more: Create sales contests in Zoho CRM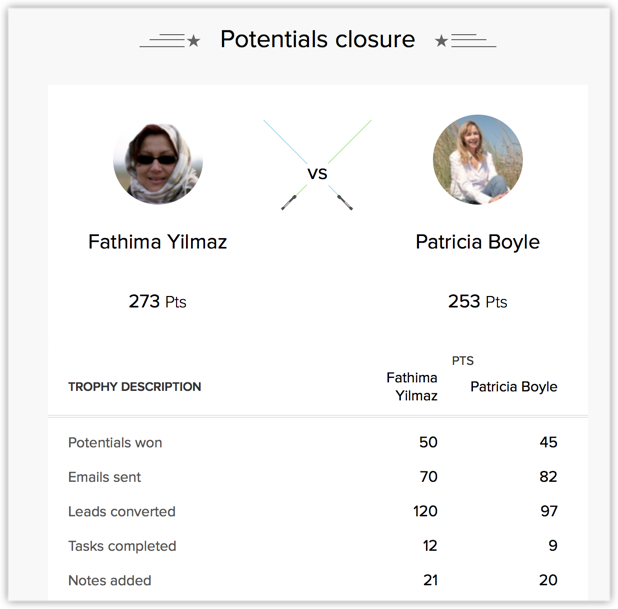 Check-in
Manage your work-related visits easily with the help of check-ins from the Zoho CRM mobile app. Every time you visit a client, check-in to the location on the Zoho CRM mobile app and let your peers know about your visit. Create check-in reports to derive insights about check-ins made in a locality, total check-ins made by a sales-rep, or within a specific period.
Learn more: Associate check-in to an event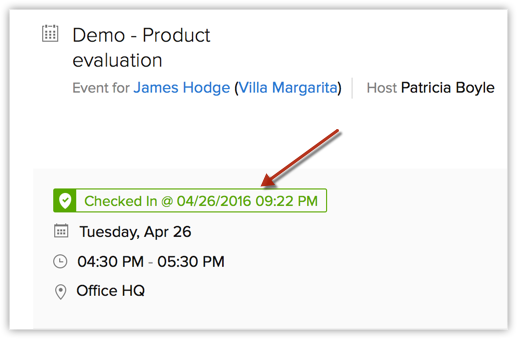 CRM Variables
CRM Variables are pseudo-module fields that are used for storing static and reusable information in your Zoho CRM account. These CRM variables have unique set of values that can be widely used as merge fields in email templates, mail merge, and inventory templates. It can also be used as reusable authentication parameters in custom functions, Webhooks, links and buttons, Related Lists, and APIs.
Learn More: CRM Variables 
 Home Tab and Reports
The Home tab of Zoho CRM has been redesigned for better user experience. Also, earlier in the Customized view of the Home tab, you could only add 5 components. Now, you can add up to 10 components. The components can be resized and moved around to fit well on the page.
As part of improvements in Reports, you can now create charts out of Matrix Reports.