What is software localization?
Software or application localization is the capability of an app to meet the needs of a specific audience through language, culture, or other relevant factors. Translating the app is a vital element of the whole localization process. Zoho Creator's app localization feature enables you to make your apps accessible to a larger audience and connect with your users on a more personalized level.
Languages for a diverse user base
On top of the primary language that your application was designed in, you can have it translated and executed in multiple other languages. Each one is specified by its locality, which is defined by the primary language or the primary region, as some languages vary from region to region.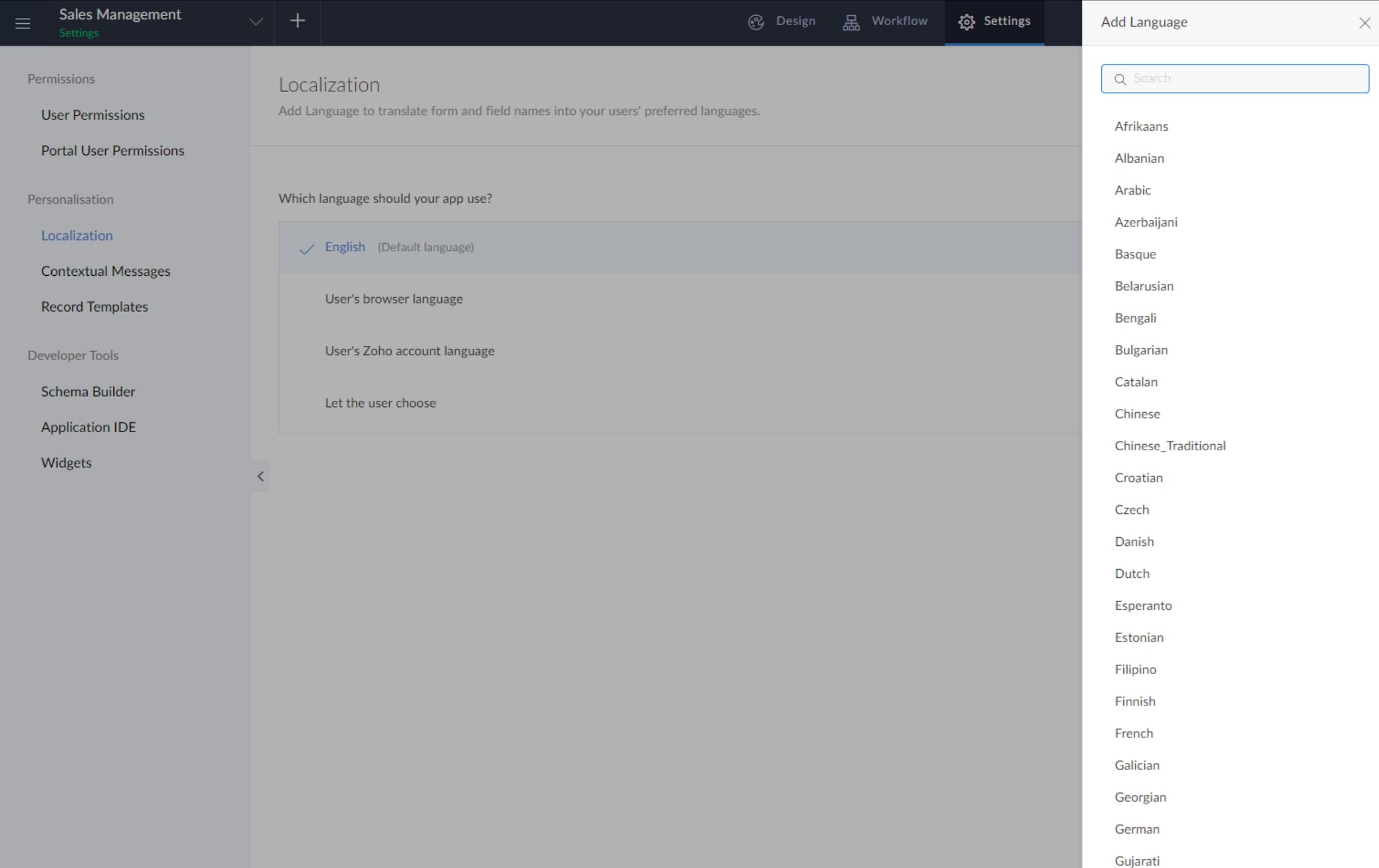 Components to translate
Various elements get translated in the software localization process. Here are just some of the items that will be translated for your customers:
Text on the screen
Screen titles
Button labels
Instructions of human activities
Link text
App section names
Messages displayed to the end user
Learn more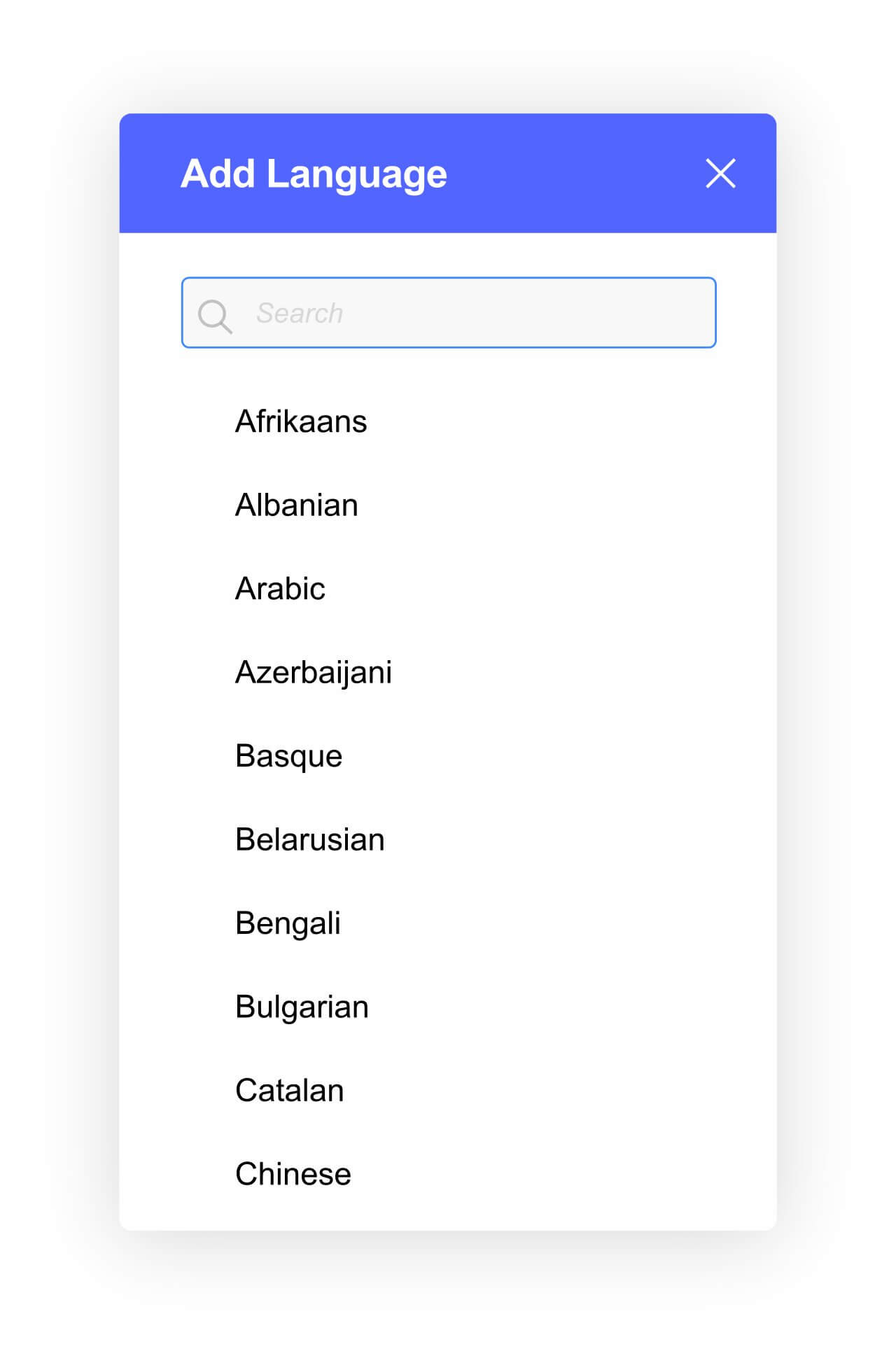 Providing a smooth experience for your users
Zoho Creator offers an assortment of features that ensure your customers are provided with a hassle-free experience when utilizing your application. Some of the more prominent components that contribute to software localization are:
Smart translation options:

Zoho Creator detects a browser's language and displays the app accordingly. The user also has the freedom to set the default app language for their account. Alternatively, while sharing the app, you can give the user the choice to pick the app language.

Customized auto-translations:

This feature allows you to customize any of the translated text. It's not necessary that the translated text is permanent. Allowing you to make alterations to the text helps in capturing the nuances that a machine might miss.

Right-to-left (RTL) layout:

This layout is for languages that are written from right to left, such as Arabic, Azerbaijani, Hebrew, Urdu, Yiddish, and Persian. Using the RTL layout in your application can facilitate better interactions with customers from particular regions.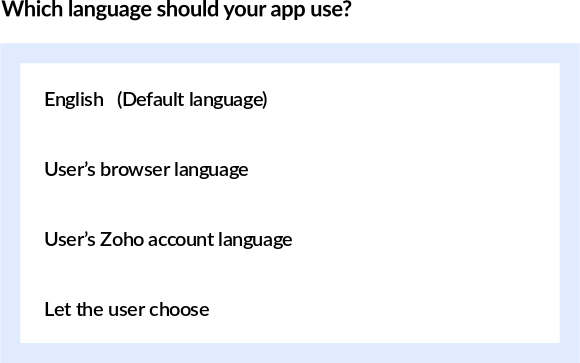 Localize your application in 3 steps
Configuring your app into different languages can seem like a monumental task. But with Zoho Creator, you can now get the job done in a few simple steps.
Translate your app to a different language

Translating your application is the first step to localization. This can be done either manually or automatically.

Learn more

Manage the translations

The next step is to customize and manage the translations. If you chose to auto-translate, the elements will already be translated, but are still be editable. If you chose manual translation, you'll be able to control the translations for any of the elements in your app.

Learn more

Set the language options

As the default language, your app will be displayed in English. However, there are three further options for setting the displayed language—the users' browser language, the users' Zoho account language, or the allowing the user to manually choose.

Learn more
Explore relevant features
Connect to a wider audience with localized software
Try for free
Frequently Asked Questions